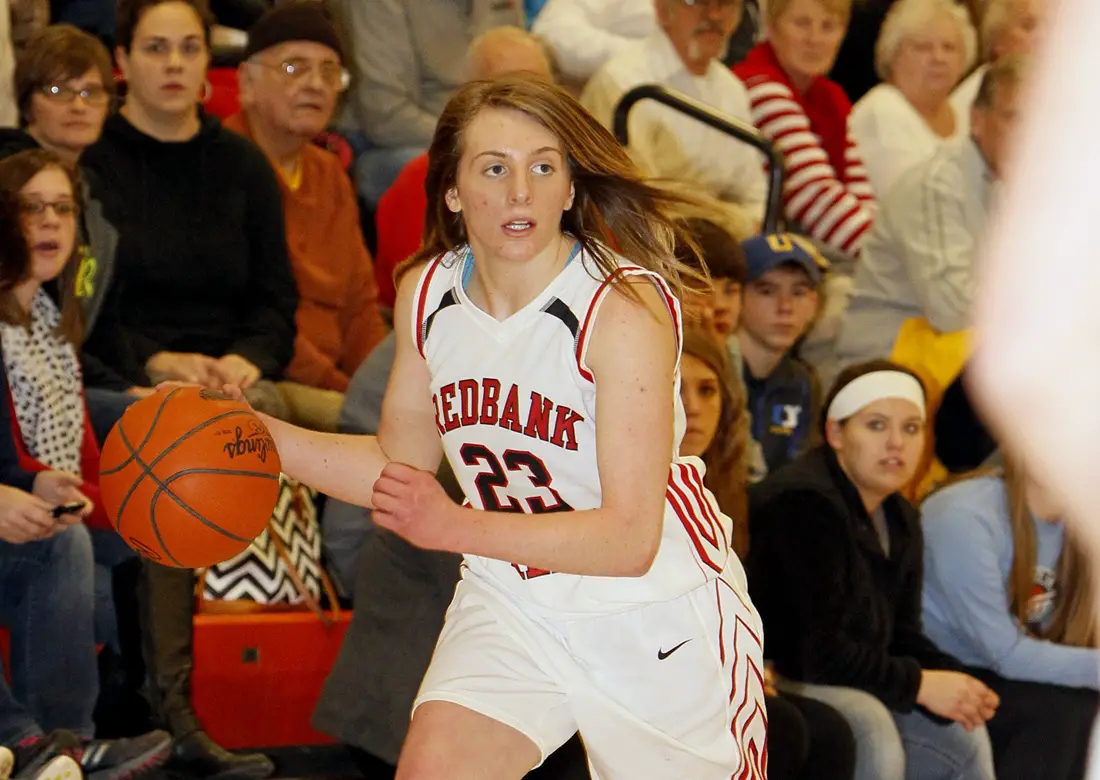 REDBANK VALLEY 61, UNION 33
NEW BETHLEHEM, Pa. – Redbank Valley outscored visiting Union 36-12 in the second half to gain a 61-33 KSAC South victory in the first game of a girls'/boys' doubleheader.
The hosts led by just four, 25-21, at halftime but blitzed the Golden Damsels 19-3 in the third quarter behind nine points from Brooke Hinderliter, who finished with a game-high 22 points to go with 10 rebounds.  
Sam Lander and Macy King each added 12 points for Redbank Valley with King also grabbing nine rebounds, while Lexi Holt had 10 points. Becca Dougherty chipped in seven rebounds.
Shaley Shick had 20 points to lead Union, who only had three players scorer. Lexey Shick chipped in seven points and Frankee Remmick six.
WEST BRANCH 57, CURWENSVILLE 44
CURWENSVILLE, Pa. – Despite getting 20 points from Hannah Dixon, Curwensville dropped a 57-44 decision to visiting West Branch in Moshannon Valley League play.
Dixon scored 10 of her points in the first quarter helping the Lady Tide stay right with West Branch, who led 23-21 at the end of one and 37-33 at halftime.
But the Warriors broke the game open in the third quarter outscoring the hosts 19-6.
Taylor Pedmore led West Branch with a game-high 21 points. Jalee Rockey and Skylar Ceprish each added 13 with Breana Hayward chipping in 12, including 10 in the fourth quarter.
Madison Weber added 13 for Curwensville.
ST. MARYS 39, BRADFORD 34
BRADFORD, Pa. – Rachel Bauer scored 14 of her game-high 20 points in the fourth quarter to help visiting St. Marys rally past Bradford for a 39-34 D9 League victory.
The Lady Dutch, who led 17-11 at halftime, trailed 22-21 at the end of three quarter after being outscored 11-4 in the third quarter before turning the tables on the Lady Owls and outscoring them 18-12 in the fourth quarter.
Bri Wells led Bradford with 13 points.
DUBOIS 50, ELK COUNTY CATHOLIC 32
ST. MARYS, Pa. – Visiting DuBois outscored Elk County Catholic 13-0 in the second quarter on its way to a 50-32 D9 League victory over the Lady Crusaders.
Dayna DeSalve scored 13 points to lead the Lady Beavers with Taylore Uplinger adding 11 and Ashley Hallowell 10 points and 10 rebounds.
Reilly Herzing paced ECC with 11 points.
DUBOIS CENTRAL CATHOLIC 42, JOHNSONBURG 29
DUBOIS, Pa.  – Jordy Frank and Riley Assalone combined to net 20 points to help DuBois Central Catholic top Johnsonburg, 42-29, in AML action at DCC.
Frank scored 12 points to lead the Lady Cardinals with Assalone adding eight. Again in was a balanced attack with DCC with nine different players scoring.
DCC led 10-8 at the end of the first quarter before outscoring the Ramettes 10-4 in the second quarter to take a 20-12 halftime lead.
Skylar Sherry paced Johnsonburg with 12 points. Ashton Watts added eight points and eight rebounds.
COUDERSPORT 70, OSWAYO VALLEY 37
SHINGLEHOUSE, Pa. – Haley Keck led a trio of Coudersport players in double digits with 14 points while adding five assists, as the visiting Lady Falcons rolled past Oswayo Valley, 70-37, in North Tier League action.
Bryce Line added 13 points for Coudersport with Emily Morey chipping in 11. Allie Eston had 10 rebounds.  
Hope Howard and Faith Coole each had nine points and eight rebounds for Oswayo Valley.
GALETON 41, AUSTIN 15
AUSTIN, Pa. – Makaya Shadle and Cortney Parsell combined to score 28 points, as visiting Galeton cruised to a 41-15 North Tier League win at Austin.
Shadle netted a game-high 15 points with Parsell adding 13.
Jordan Brewer led Austin with 11 points, while Madison Hooftallen added two points and 19 rebounds.
PUNXSUTAWNEY 37, BROOKVILLE 27
BROOKVILLE, Pa. – Leah Miller led a balanced effort for Punxsutawney with eight points, and the visiting Lady Chucks slowly pulled away from Brookville for a 37-27 D9 League victory.
Eight different Punxsutawney players scored with Morgan Vanleer and Ivy Ferko each adding six points.
Brooke Shattenberg scored a game-high 12 points and seven rebounds to lead Brookville.
OTTO-ELDRED 53, PORT ALLEGANY 50
DUKE CENTER, Pa. – Otto-Eldred built a 12-point halftime lead and then held off a furious comeback attempt by Port Allegany to claim a 53-50 North Tier League win at Otto.
The Lady Terror were up 26-14 at the break but were outscored 18-12 in the third quarter and 18-15 in the fourth quarter.
Autumn Buchsenschutz had a lot to do with the Lady Gator comeback scoring 24 of her game-high 31 points after halftime. She scored 14 points in the third quarter alone and hit five 3-pointers in the game, four after the break. Buchsenschutz, who now has 101 career 3-pointers, also added five assists.
Hannah Lathrop chipped in eight points for Port.
It was a much more balanced attack for Otto-Eldred with nine different Lady Terrors scoring.
Camryn Thomas had 14 points and 12 rebounds. Emily Smith added 11 points and Tiffany Bair eight points and four steals. Ali Cousins had seven points and four steals.
TYRONE 62, CLEARFIELD 48
TYRONE, Pa. – Tyrone, ranked seventh in the state in Class AA by PennLive.com, used a 15-0 run at the start of the third quarter to erase a one-point halftime deficit and get a 62-48 win over visiting Clearfield in Mountain League action.
Rachel Glenny led Clearfield, which was up 28-27 at halftime, with 21 points and 11 rebounds.  
KANE 48, RIDGWAY 44
RIDGWAY, Pa. – Kane used a game-ending 8-2 run to knock off Ridgway, 48-44, in AML action at Ridgway.
Trinity Clark led the Lady Wolves with 11 points and 17 rebounds. Ella Marconi added nine points and 10 rebounds with Rachel Morgan chipping in six points and 10 rebounds and Camryn Cummings 10 points, six assists and five steals.
Jessica Kifer led Ridgway with 14 points, while Hannah Park had 11 for the Lady Elkers.
SMETHPORT 38, CAMERON COUNTY 37
SMETHPORT, Pa. – Addysin Gross-Benjamin and Abbey Woodard teamed up to score 27 points to help Smethport get by visiting Cameron County, 38-37, in North Tier League action.
Gross-Benjamin netted a game-high 14 points with Woodard adding 13 for the Lady Hubbers.
Madi Guisto and Madison Harrier each scored 12 points to lead Cameron County.