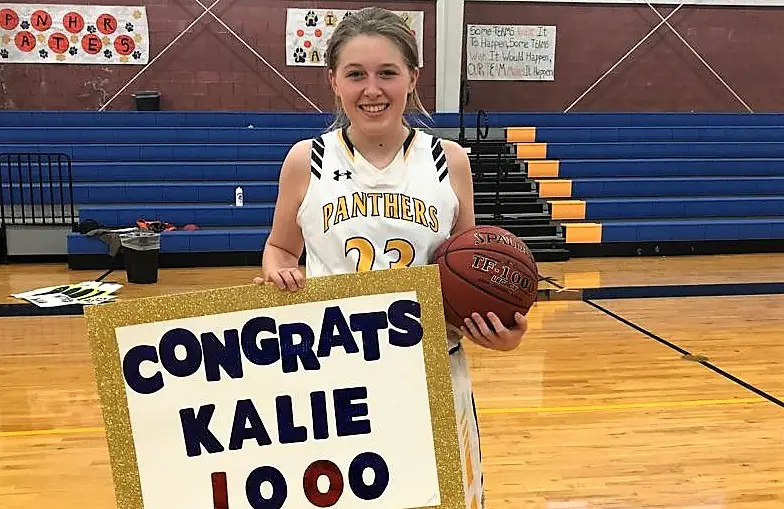 Jan. 27 recaps.
(Photo: Northern Potter's Kalie Cowburn scored her 1,000th career point Saturday. Submitted photo)
GIRLS
NORTHERN POTTER 42, WILLIAMSON 21
ULYSSES, Pa. – Needing 12 points to become the seventh player in school history to reach 1,000 career points, Northern Potter's Kalie Cowburn reached that mark on a second-quarter 3-pointer and went on to score 20 points in a 42-21 win over visiting Williamson.
Cowburn now has 1,008 career points and is the eighth District 9 girls' basketball player to score her 1,000th point this year – two others entered the year with 1,000 career points and Makaya Shadle of Galeton, who plays the majority of her games in the North Tier League despite Galeton being in District 4, also hit 1,000 this season.
Finishing off a double-double with 11 rebounds, Cowburn helped Northern Potter break a two-game losing streak. Mikaya Lewis added nine points and 11 rebounds as well for the Lady Panthers.
No Williamson player had more than four points.
OTTO-ELDRED 56, COUDERSPORT 44
COUDERSPORT, Pa. – In a battle for first place in the North Tier League, visiting Otto-Eldred got 18 points, 15 rebounds, four steals and three blocked shots from Camryn Thomas to knock off Coudersport, 56-44.
Britney Greeley added 13 points for the Lady Terrors, who led 28-21 at halftime and 42-35 going to the fourth quarter. Also for Otto-Eldred, Allison Cousins had nine points, six assists and four steals and Jade Spinney eight points and four assists.
Shaelyn Black led Coudersport with 13 points, while Haley Keck, who didn't score until the end of the second quarter, added 11 points, eight of which came in the third quarter. Sarah Chamber chipped in with seven points.
Otto-Eldred is now 15-1 overall and 10-0 in the NTL, while Coudersport saw its 13-game win streak end. The Lady Falcons are 14-3 overall and 10-1 in league play. The teams meet again Wednesday in Duke Center.
MONITEAU 53, CLARION-LIMESTONE 36
WEST SUNBURY, Pa. – Emma Bair recorded 15 points, seven rebounds and five blocked shots, and Kristin Auvil had 10 points and eight rebounds to help Moniteau vanquish visiting Clarion-Limestone, 53-36.
Izzy Bair also scored 10 tallies for the Lady Warriors, while Aslyn Pry had five points and six steals.
Maddy Craig led C-L with 12 points with Morgan Clark adding 11.
DUBOIS 47, CRANBERRY 42
DUBOIS, Pa. – Behind the play of Chelsea DeSalve and Ashley Hallowell, DuBois won for the 10th time in 12 tries with a 47-42 victory over visiting Cranberry.
DeSalve led the Beavers with 18 points, while Hallowell had her 10th double-double with 13 points and 10 rebounds.
Erin Merryman led Cranberry with 18 points with Malliah Schreck adding 16.
DuBois led 23-21 at halftime but trailed 36-34 going to the fourth quarter before six different Lady Beavers scored in the fourth led by four points from Hallowell to grab the win.
WEST SHAMOKIN 57, KARNS CITY 36
RURAL VALLEY, Pa. – Oliva Fusaro netted 22 points to lead a trio of West Shamokin players in double digits, as the Lady Wolves topped visiting Karns City, 57-36.
Shelby Clowser added 16 points and Madison Valyo 14 for the home team.
Emily Hegedus had a game-high 28 points for Karns City but was the only Lady Gremlin to score more than two points. She was 9 of 11 from the line and made nine field goals including a 3-pointer.
BOYS
BRADFORD 46, BROOKVILLE 30
BRADFORD, Pa. – Deondre Terwilliger netted 20 points, grabbed seven rebounds and dished out five assists to lift Bradford to a 46-30 bounce-back win over visiting Brookville in D9 League play.
Coming off a tough loss that saw them give up a four-point lead in the waning seconds at Otto-Eldred Friday night, the Owls trailed 18-17 at halftime before outscoring Brookville 14-0 in the third quarter to take control of the game.
Tyler Gigliotti, who missed Friday's game, scored 10 of his 13 points in the third quarter for Bradford including hitting a pair of 3-pointers.
Bryan Dworek had 14 points to lead Brookville with Trenton Gilhousen scoring nine points, all in the second quarter.
ST. MARYS 86, GENERAL MCLANE 70
EDINBORO, Pa. – Jared Groll and Nathan Schneider both scored 32 points, as visiting St. Marys ran past General McLane, 86-70.
For Groll it was a career high as he hit 13 shots from the field, including a pair of 3-pointers, while going 4 of 4 from the free-throw line.
Schneider, meanwhile, topped the 30-point mark for the third time this season while scoring 25 or more for the sixth time in seven games. The senior, who is averaging 25.4 points per game, hit 14 field goals, including the 3-pointers, and was 1 of 1 from the line.
A 24-15 second-quarter advantage was the difference in the game for the Dutch with Groll and Schneider each scoring seven points during the quarter. Schneider had 17 first-half points and Groll 12. Groll then exploded for 10 more in the third quarter and 10 in the fourth.
Logan Donahue had 28 points to pace General McLane, which dropped its third in a row and fourth in five games after starting the season 9-2.
GALETON 65, NORTHERN POTTER 33
GALETON, Pa. – Behind 26 Evan Brooks' points Galeton nearly doubled up visiting Northern Potter, 65-33, in North Tier League action.
Isaiah Shuemaker added 19 points for the Tigers.
Holden Cowburn led Northern Potter with 15 points.
COWANESQUE VALLEY 66, PORT ALLEGANY 61
WESTFIELD, Pa. – Tyler Vargeson and Seth Huyler combined to score 41 points, as Cowanesque Valley held off Port Allegany, 66-61.
Vargeson had a team-high 21 points with Hulyer adding 20.
That helped offset a game-high 32 points from Howie Stuckey, who drilled eight 3-pointers, for Port Allegany. Jordan Card added eight points for the Gators.
Cowanesque Valley grabbed 19-14 lead at the end of the first quarter and still led by four, 34-30, at halftime, and again by five, 53-48, at the end of three quarters.