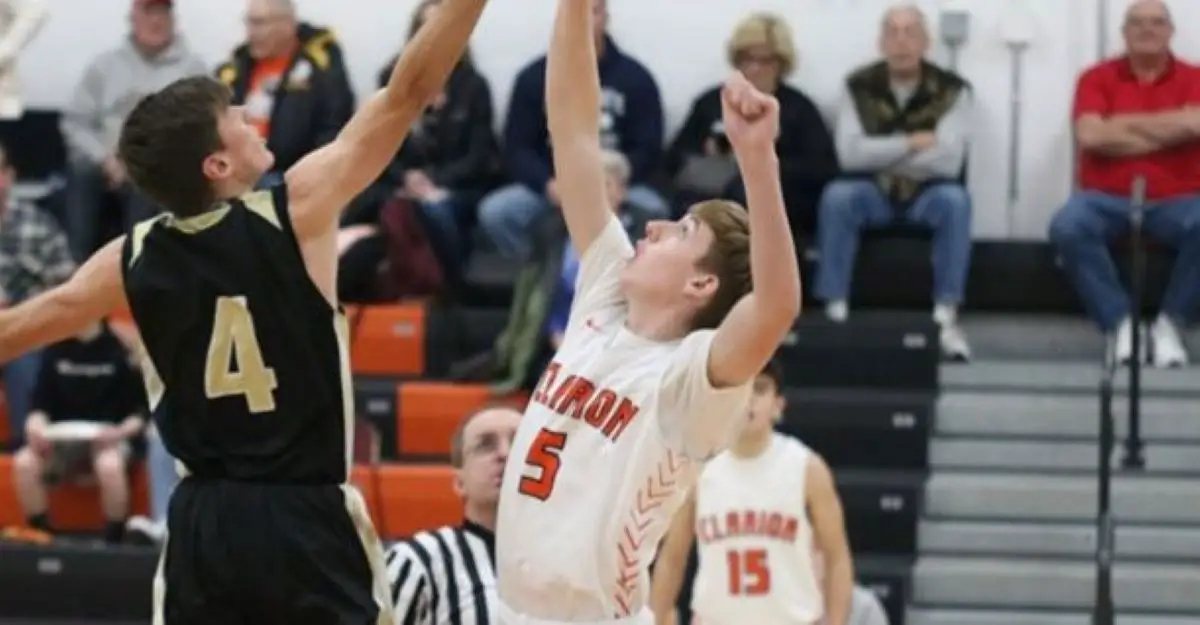 Jan. 27 boys' basketball recaps.
(Photo of Clarion's Beau Verdill, who's layup with nine seconds left gave Clarion the win over Moniteau. Photo by Mary Rearick)
Related story: Early run helps Ridgway beat C-L in AML Spotlight Game
CLARION 46, MONITEAU 44
CLARION, Pa. – Beau Verdill's steal and layup nine seconds left gave Clarion a 46-44 win over visiting Moniteau.
The Bobcats trailed 44-43 following a missed free throw by Moniteau's Gage Neal with just over 30 seconds to play.
On its ensuing possession, Josh Craig got an open look from 3-point range with about 12 seconds left from the left corner that was just a little bit strong.
Kyle Pry grabbed the rebounds for Moniteau but had his pass to the corner intercepted by Verdill, who was standing right next to the basket. Verdill then laid the ball up and in to give Clarion a 45-44 lead.
Following a timeout, Moniteau's Ethan McDeavitt dribbled the ball off his knee out of bounds in front of the scorers' table.
Forced to foul, the Warriors hacked Cal German, who made the first free throw with 3.9 seconds left but missed the second one.
But Pry's contested 3-pointer from just across midcourt came up short to give Clarion the two-point win.
The game was close throughout with Clarion leading 16-14 at halftime and Moniteau taking a 34-33 lead at the end of three.
The lead then exchanged hands throughout the fourth quarter before Clarion pulled it out at the end.
German led Clarion, which played without Nick Frederick (sick) with 16 points with Hunter Craddock adding 11 points, nine rebounds and five steals, Craig nine points on three 3-pointers and Verdill five points and seven rebounds.
McDeavitt had a game-high 23 points to go with four assists for Gage Neal adding nine points and five helpers.
SMETHPORT 46, SHEFFIELD 44
SHEFFIELD, Pa. – Hunter Helsley drained a go-ahead eight-foot jumper with 10 seconds left to give visiting Smethport a 46-44 win over Sheffield.
Tony Richards had a chance to win the game at the buzzer, but his 3-pointer was off the mark.
Sheffield led 34-29 going to the fourth quarter before Smethport rallied to win the game.
Layne Shall led the Hubbers with 13 points, Alex Ognen added 12 points with Helsley and Connor Alfieri each adding nine points.
Tyler Hepinger led all scorers with 20 points for Sheffield with Lucas McNeil adding eight points.
WEST BRANCH 70, CURWENSVILLE 50
CURWENSVILLE, Pa. – Trenton Bellomy and Doug Kolesar combined to score 35 points to lead visiting West Branch to a 70-50 win over Curwensville in Moshannon Valley play.
Bellomy led West Branch with 20 points with Kolesar adding 15.
Trevor Lansberry led Curwensville with 20 points with Adam Miller adding 18 points and Dan McGarry eight.
KANE 56, OTTO-ELDRED 46
KANE, Pa. – Kane hit four third-quarter 3-pointers to rally from a two-point halftime deficit and beat visiting Otto-Eldred, 56-46.
The Wolves trailed 23-21 at the break but got a pair of threes from Matt DeLuca and triples from Chad Greville and Carson Whiteman in the third quarter to take a 39-34 lead after three.
Mason Zuzek then scored six of his 12 points in the fourth quarter to push the lead to double digits.
Zuzek was one of three Kane players to reach double digits with Greville tying for game-high honors with 15 points and Zuke Smith adding 10. DeLuca chipped in eight tallies.
Jake Merry shared game-high honors with Greville with 15 points for Otto-Eldred with Braden Maholic scoring 12 and Cole Sebastian eight for the Terrors.
BRADFORD 56, BROCKWAY 26
BRADFORD, Pa. – Tyler Gigliotti scored 19 points, grabbed seven rebounds and came away with two steals, as Bradford blitzed visiting Brockway, 56-26.
Evan Schmidt added 12 points for the Owls with Cam Austin adding six points and seven rebounds and Steven Knowlton six points and four assists.
Alec Freemer netted 10 points for Brockway.
DUBOIS 68, BELLEFONTE 37
DUBOIS, Pa. – Chase Husted was one of three DuBois players to reach double digits with 18 points as the Beavers beat visiting Bellefonte, 68-37.
Nick Felix added 16 points for DuBois with Lennon Lindholm adding 14 points.
Gannon Brungard paced Bellefonte with 10 points.
BUCKTAIL 58, NORTHERN POTTER 53
RENOVO, Pa. – Gabe Conway's 16 points led a balanced scoring effort for Bucktail in a 58-53 win over visiting Northern Potter.
Devin Serafini chipped in 13 points in the win with Liam Dwyer adding 10 tallies, Dylon Cross nine and Darrin Bruno eight.
Carter Anderson hit five 3-pointers and finished with a game-high 26 points for Northern Potter with Ryan Langworth adding nine points.
PORTVILLE (N.Y.) 51, OSWAYO VALLEY 49
PORTVILLE, N.Y. – Dalton Tobola scored seven of his 17 points in the fourth quarter to help Portville (N.Y.) rally past visiting Oswayo Valley, 51-49.
Portville trailed 41-35 going to the fourth quarter but rallied to win.
Hunter Griffin led the victors with 22 points, including 12 in the first quarter and 16 in the first half, while Zayne Tarr added eight points.
Noah Wichert had a monster game for Oswayo Valley with 20 points, 21 rebounds and four blocked shots with Ian Bilski adding nine points and seven rebounds.