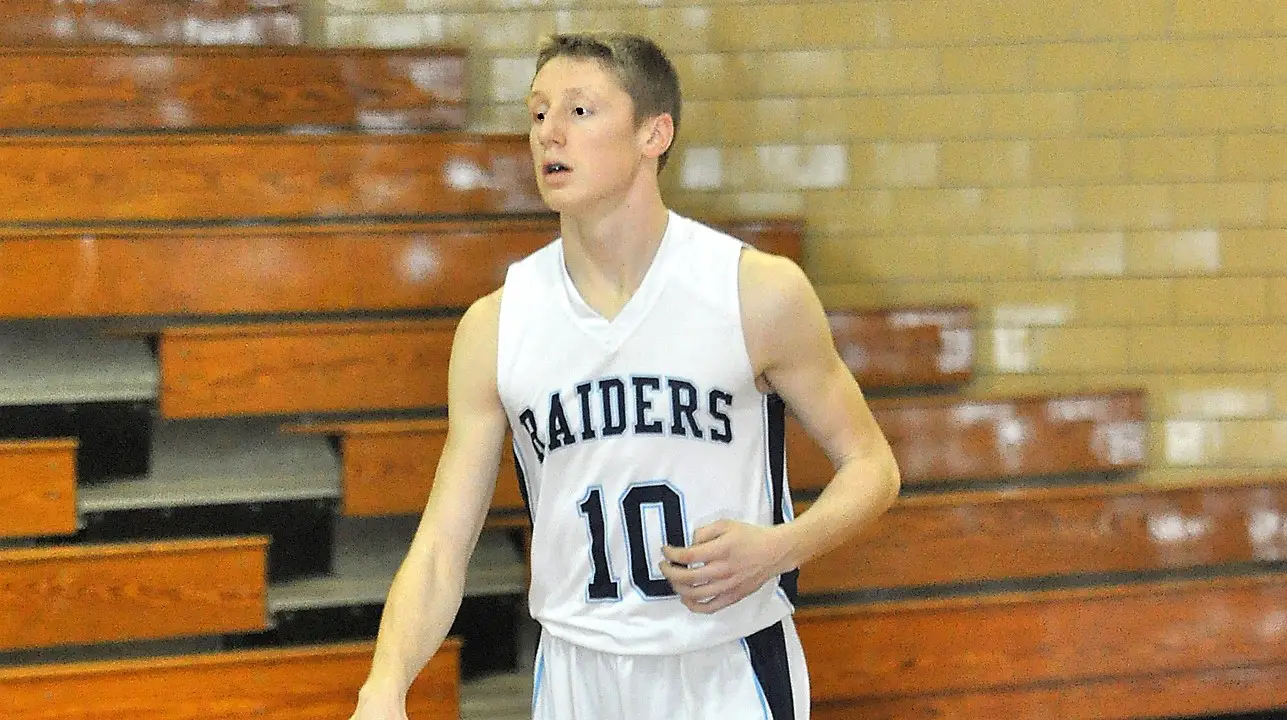 Jan. 27 boys' basketball roundup.
Cover photo of Brookville's Bryan Dworek
BROOKVILLE 44, ST. MARYS 42
ST. MARYS, Pa. – Bryan Dworek's alley-oop off-balance layup off a pass from Aaron Park as time expired lifted Brookville to a 44-42 D9 League road win.
The Raiders led by as many as nine points early in the fourth quarter before the Dutch rallied. They led 42-40 with just over a minute left before a steal and layup by Ben Reitz tied it up.
That set up the game-ending sequence started on a sideline inbounds play with four seconds left. Dworek finished with 11 points while Jimmy Moore led the Raiders with 13 points.
Jeff Wehler and Matt Marconi scored 19 and 14 points respectively to lead the Dutch. Wehler scored nine points in the fourth quarter.
Brookville earned a season split with St. Marys, which beat the Raiders 57-55 at the buzzer in Brookville back on Dec. 23.
RIDGWAY 41, DUBOIS CENTRAL CATHOLIC 24
DUBOIS, Pa. – Justin Kasmierski and Neil MacDonald combined for 23 points to lead Ridgway to a 41-24 AML road victory over DuBois Central Catholic.
Kasmierski led the Elkers with 13 points with MacDonald adding 10.
Austen Cogley's 11 points paced DCC.
KANE 63, SHEFFIELD 44
SHEFFIELD, Pa. – A night after scoring a school-record 56 points, Andrew Bucheit led a much more balanced Kane effort with 15 tallies in a 63-44 road win over Sheffield in AML action.
Chad Greville added 14 points for the Wolves with Davis Gardner chipping in 12 and Frank Truden 10.
Drew Higby had a triple-double for Sheffield with 12 points, 10 rebounds and 10 blocked shots.
ELK COUNTY CATHOLIC 56, JOHNSONBURG 38
JOHNSONBURG, Pa. – Behind 17 points from Gabe Kraus, Elk County Catholic stayed unbeaten with a 56-38 AML road win over Johnsonburg.
Ryan Newton added 10 points for the Crusaders, who also got nine from Frank Singer and eight from newly minted 1,000-point scorer Nate DaCanal. Dan Stauffer chipped in with seven.
Drew Akers had a team-high 16 points for Johnsonburg.
BROCKWAY 75, CURWENSVILLE 53
CURWENSVILLE, Pa. – Visiting Brockway scored at least 15 points in every quarter and had nine different players score including four in double digits in getting a 75-53 AML win over Curwensville.
The Rovers led by seven, 38-31, at halftime and then outscored the Golden Tide 37-22 in the second half.
Quenton Jackson led Brockway with 13 points, Carter Adams and Quade Lundberg each added 12 tallies and Zane Puhala had 10.
Devon Barrett paced Curwensville with 16 points, Christian Bakaysa added 15 and Zach Marshall 11. Barrett and Marshall each hit three 3-pointers.
PUNXSUTAWNEY 75, DUBOIS 51
DUBOIS, Pa. – Punxsutawney raced out to a 13-point halftime lead on its way to a 75-51 D9 League road win over DuBois.
The Chucks were up 39-26 at the break.
Brandon Matthews led Punxsutawney with 20 points, Ethan Riley added 17, Devin Kelly 16 and Jacob Horner 12.
Nick LaBrasca paced DuBois with 18 points.
CLEARFIELD 79, TYRONE 45
TYRONE, Pa. – Tommy Hazel and Will Myers combined for 51 points to help Clearfield to a 79-45 win at Tyrone in Mountain League action.
Hazel led the Bison with 26 point, five rebounds, two assists and two steals with Myers adding 25 points, six rebounds and two assists. Evan Brown chipped in 16 points, seven rebounds, two assists and a blocked shot.
CAMERON COUNTY 43, GALETON 39
GALETON, Pa. – Marcus Brown hit two key fourth-quarter 3-pointers to help visiting Cameron County knock off Galeton, 43-39, in North Tier League action.
The teams were tied at 29 going to the final eight minutes but Brown's long balls helped the Red Raiders pull out the victory.
Adam Shaffer and Jake Walters led Cameron with 10 points each. Brown added nine on three 3-pointers.
Dave Steadman paced Galeton with 10 points. Joel Griffen added nine tallies with Isiah Shuemaker chipping in eight points and seven assists and Evan Brooks six points and 10 rebounds.
OSWAYO VALLEY 42, SMETHPORT 21
SMETHPORT, Pa. – Theo Henry's 18 points helped visiting Oswayo Valley to a 42-21 North Tier League road win over Smethport.
Garrett Babcock added 11 points for the Green Wave, who led 26-11 at halftime.
Eric Szarowicz had six points for Smethport.
COUDERSPORT 79, OTTO-ELDRED 44
COUDERSPORT, Pa. – The Coudersport Falcons stayed unbeaten while improving to 16-0 with an easy win, 79-44, over visiting Otto-Eldred in North Tier League action.
Coudy led 27-16 after one quarter then blew the game open in the second and led 53-25.
Zach Layag and Owen Chambers each scored 23 points while Jared Green added 16.
Dylan Close led Otto-Eldred with 14.
PORT ALLEGANY 70, NORTHERN POTTER 42
PORT ALLEGANY, Pa. – Brandon McCaslin's 29 points helped key a 70-42 Port Allegany win over visiting Northern Potter.
Three other Gators, who have won nine of 11, joined McCaslin in double figures as David Talkington scored 14, Howie Stuckey scored 11 and Jordan Bell added 10.
Port held a slim lead after one quarter, 11-8, before turning it up a notch to take a 36-16 halftime lead.
Turner Kosa led NoPo with 21 points, his fourth 20-point game of the year.
CLARION-LIMESTONE 83, REDBANK VALLEY 62
NEW BETHLEHEM, Pa. – Three players reached double figures in scoring as Clarion-Limestone beat Redbank Valley, 83-62.
Dan Callen led the way for the Lions with 23 points, Deion Deas added 18 points and Sam Leadbetter finished with 16 for the Lions, who led 46-30 at halftime. C-L outscored the Bulldogs, 37-22, in the second half, building a 27-point lead going into the fourth quarter.
The Bulldogs also had three players in double figures, led by Brock Barrett's 18 points and 10 rebounds. Keaton Kahle and Nick Smith scored 17 and 12 points respectively.
NORTH CLARION 66, UNION 56
FRILLS CORNERS, Pa. – Putting up 35 second-half points, North Clarion was able to pull away with a 66-56 KSAC-Crossover win over visiting Union Friday night.
Nathan Banner scored 17 points and pulled down nine rebounds and Zander Hargenrader finished with 13 points to lead the Wolves. Keeven Weaver and Chase Schmader each scored nine points with Schmader adding five assists.
For Union, Lucas Bowser had 19 points and eight rebounds. Gavin Hawk scored 12 points.
KEYSTONE 52, CLARION 47
KNOX, Pa. – Corey Rapp had 16 points and nine rebound while taking a key late charge to help Keystone pick up a key 52-47 win over visiting Clarion.
In a game with Class 2A playoff seeding implications, Keystone led 25-22 at halftime and built the lead to 33-24 halfway through the third quarter before Clarion went on a quarter-ending 11-2 run to tie the contest at 35.
The Bobcats then took their first lead since early in the second quarter, 40-39, on a 3-pointer by Cam Craig, who finished with 10 points, eight assists and five rebounds, before the Panthers answered with a game-closing 13-5 run that including Rapp taking a charge with Keystone up 49-45 with 38.5 seconds left.
Rapp talked about the win.
Nate Wingard added 15 points and seven rebounds for Keystone with Austin Ion chipping in eight points and 16 boards and Dalton Jones nine points.
Reed Anthony hit five 3-pointers to lead Clarion with 15 points, but the Bobcats were 7 of 29 from behind the arc, 16 of 55 from the field and 6 of 16 from the free-throw line on the night. Ceventh Lynch-Skunda also had nine points for Clarion.
KARNS CITY 54, CRANBERRY 24
SENECA, Pa. – Chandler Turner had a double-double of 10 points and 10 rebounds to help lift visiting Karns City to a 30-point, 54-24, win over Cranberry.
Ian McElroy led all scorers with 11 points for the Gremlins, while Jacob Friel added nine tallies and Noah Pollock seven points and six assists.
Cameron Daugherty paced Cranberry with eight points.
MONITEAU 55, VENANGO CATHOLIC 29
OIL CITY, Pa. – Lake Pry turned in his ninth 20-point performance in his last 10 contests with a game-high 27 points to help visiting Moniteau to a 55-29 win over Venango Catholic.
Pry is averaging 26.6 points per game over his last 10 games.
Jared Lominski added 10 points for the Warriors.
Hunter Lancaster and Josh Puleo each had nine points for Venango Catholic.
A-C VALLEY 73, FOREST AREA 43
MARIENVILLE, Pa. – Behind a career-high 22 points from sophomore Dalton Callander, visiting A-C Valley rolled to a 73-43 win over Forest Area at East Forest.
Jeff Ginn, a junior, also had a career high with 17 points while adding 13 rebounds. Callander chipped in seven rebounds and four assists, while Joe Manculich had 14 points and six helpers and Kody Wolfe six points and 10 assists.
Seth Berlin led Forest Area with 17 points with Cody Slater adding 12.