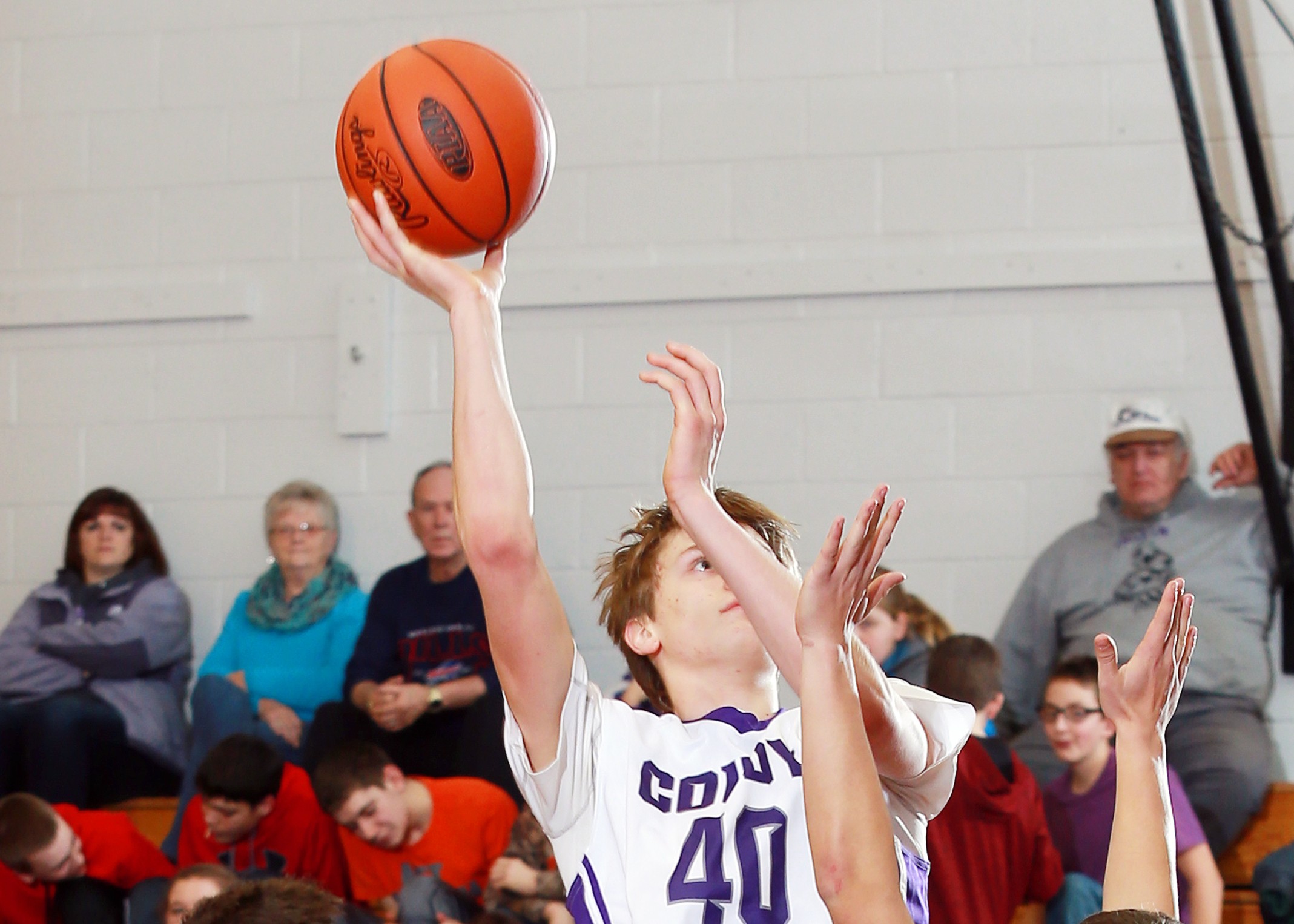 COUDERSPORT 73, CAMERON COUNTY 36
EMPORIUM, Pa. – Four players scored in double digits for Coudersport to help the visiting Falcons to a 73-36 win at Cameron County in North Tier League action.
Darren Keglovits led Coudy, which used a 23-8 second-quarter run to take a 39-23 halftime lead, with 19 points. Jared Green added 16, Owen Chambers 14 and Aaron Wolfinger 12.   
Trae Smith paced Cameron County with 17 points.
OSWAYO VALLEY 57, PORT ALLEGANY 44
SHINGLEHOUSE, Pa. – Brandon Brabham and Theo Henry combined to net 36 points, as Oswayo Valley beat visiting Port Allegany, 57-44, in North Tier League action.
Brabham scored a team-high 21 points while hitting four 3-pointers. He added five rebounds,four steals and an assist. Henry chipped in 15 points and four rebounds.
Six of Brabham's tallies came in the third quarter helping the Green Wave outscore the Gators 14-4 after the teams were tied at 19 at halftime.
Port started fast and led 13-4 at the end of the first quarter before Oswayo, behind seven points from Henry was able to forge the halftime tie.
Jordan Seefeldt scored a game-high 22 points for Port Allegany, 16 in the fourth quarter. Tre Garzel added 10.  
SMETHPORT 37, AUSTIN 32
AUSTIN, Pa. – Behind 20 points from Caleb O'Neal, who was 9 of 10 from the free-throw line, Smethport snuck past Austin, 37-32, in North Tier League action at Austin.
Austin led 25-21 going to the fourth quarter before the visiting Hubers go 10 points from O'Neal to pull out the victory. O'Neal was 8 of 9 from the line in the pivotal fourth quarter helping Smethport go 12 of 17 from the line in the quarter and 16 of 22 for the game.
Anderson Nicka led Austin with 13 points and 11 rebounds. The Panthers were 7 of 12 from the line.
OTTO-ELDRED 65, NORTHERN POTTER 45
DUKE CENTER, Pa. – A 26-0 run helped Otto-Eldred erase a 13-point deficit and get a 65-45 win over visiting Northern Potter in North Tier League play.
The Panthers led 27-14 in the second quarter before the Terrors ended the half on a 14-0 run to take  28-27 halftime lead.
That run continued into the second half with Otto scoring the first 12 points of the half to go up 40-27.
Heath Stewart scored 15 of his team-high 19 points in the second and third quarters for the Terrors, while Dylan Close added 17 points, 10 in the third quarter alone.
Frank Gardner had a game-high 25 points for NoPo, 17 in the first half including 11 in the first quarter. Blake Jeffers added eight.