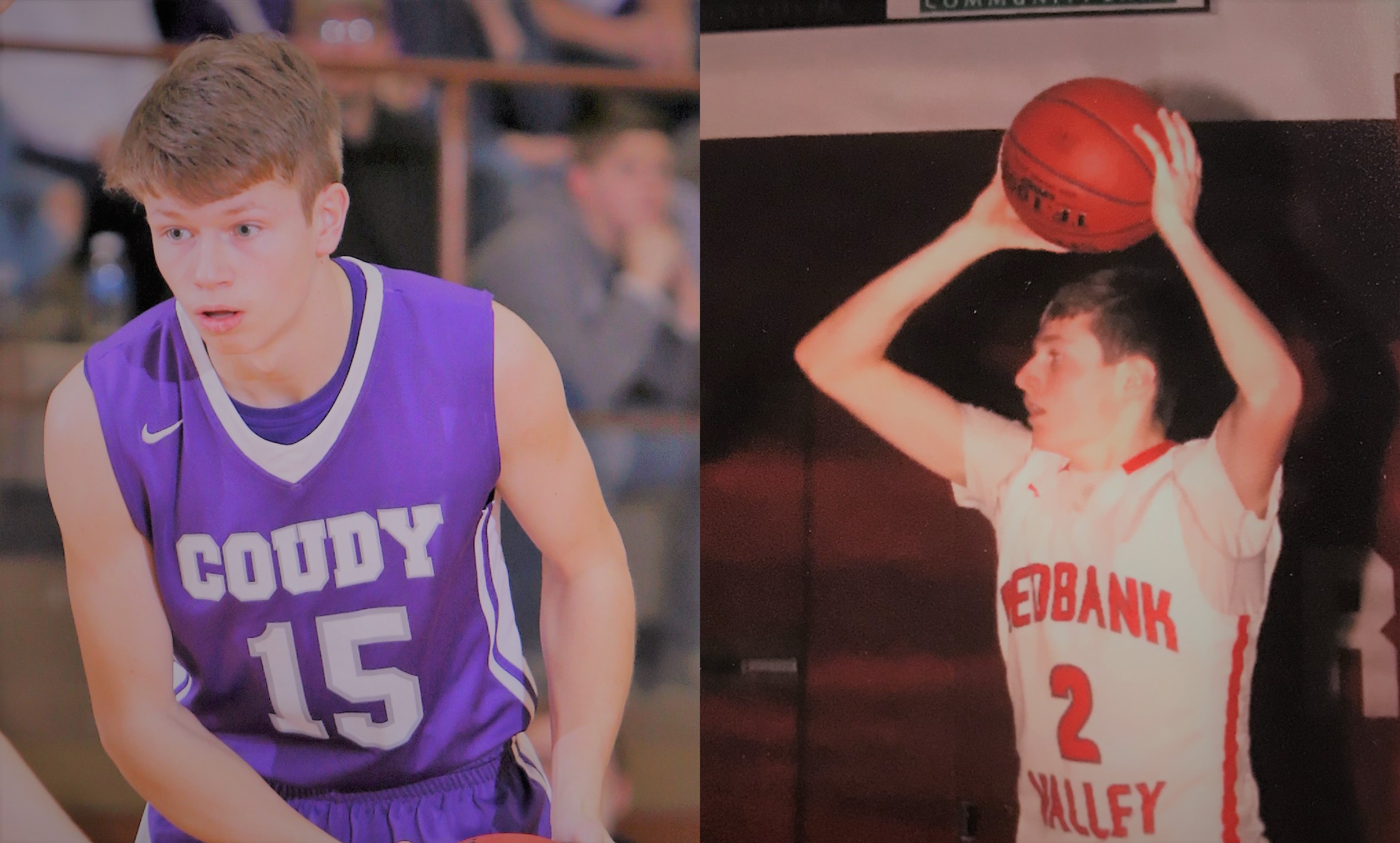 Jan. 28 boys' basketball recaps.
(Photo: Owen Chambers of Coudersport (left) scored 40 points in a win over Johnsonburg, while Nick Smith (right) of Redbank Valley helped the Bulldogs hand North Clarion its first loss of the season. Chambers photo by Paul Burdick. Smith photo by Mike Maslar)
REDBANK VALLEY 86, NORTH CLARION 78
NEW BETHLEHEM, Pa. – Nick Smith and Keaton Kahle combined to score 44 points, as Redbank Valley knocked visiting North Clarion from the ranks of the unbeaten with an 86-78 win.
Smith scored a game-high 24 points with Kahle adding 20 points. Tanner Kerle chipped in 14 points while going 4 of 4 from 3-point range with Declan Fricko and Bryce Bain each scoring 12 points.
The game was tied at 56 at the end of three quarters before the Bulldogs put a 30-spot on the board in the fourth quarter including 17 points from Smith, who hit four 3-pointers in the quarter.
Redbank Valley was also 16 of 23 from the free-throw line in the final eight minutes with Kahle going 11 of 13 from the line in the quarter.
Tyler McCord-Wolbert paced North Clarion with 23 points with Korey Mills adding 20 and Kyle Mills 14.
COUDERSPORT 81, JOHNSONBURG 76
COUDERSPORT, Pa. – Owen Chambers scored 12 of his game-high 40 points in the third quarter, as Coudersport used a nine-point advantage in the frame out of halftime to beat visiting Johnsonburg, 81-76.
The Rams led 32-29 at the break, but behind Chambers and seven points from Hayden Keck, Coudersport grabbed a 53-47 lead after three quarters.
The fourth quarter was a shootout with Johnsonburg scoring 29 points and Coudy 28.
Austin Green put up 16 of his career-high 38 points in the final eight minutes for the Rams, but Chambers countered with 18 of his own points in the quarter giving him 30 second-half tallies.
Keck added 15 points for the Falcons with Travis Gleason scoring 13, including eight in the fourth quarter.
Isaac Scholder added 25 points for Johnsonburg, including 17 after halftime.
With the 40 points, Chambers set the all-time scoring record at Coudersport. He has 1,914 career tallies besting the former mark of 1,907 set by Ryan Jones, who graduated in 2006.
GALETON 58, BUCKTAIL 41
GALETON, Pa. – Evan Brooks recorded his 1,000th career rebound and scored 21 points to lead Galeton to a 58-41 win over visiting Bucktail.
Isaiah Shuemaker added 17 points in the victory for the Tigers.
Richard Perry paced Bucktail with 16 points.
SMETHPORT 62, SHEFFIELD 26
SMETHPORT, Pa. – Caleb Lutz and Brandon Peterson combined for 28 points to lead Smethport to a 62-26 win over visiting Sheffield.
Peterson and Lutz each had a team-high 14 points for the Hubbers. Ben Woodruff and Connor Alfieri both chipped in nine points.
Tyler Hepinger paced Sheffield with nine points.
DUBOIS 68, BALD EAGLE 24
DUBOIS, Pa. – Justin Manduley exploded for 24 points to guide DuBois to a 68-24 victory over visiting Bald Eagle Area.
Lennon Lindholm posted 11 points while Jonathan Cruz added 10 for the Beavers respectively.
Bald Eagle's Jaden Jones paced his team with nine points.
WEST BRANCH 53, CURWENSVILLE 48
CURWENSVILLE, Pa. – Despite 22 points from Christian Bakaysa, Curwensville fell to West Branch, 53-48.
Larry Cowder netted 12 points for West Branch with David Guerra adding 10.
Jeremy Irwin added eight points for Curwensville.
BROCKWAY 54, MONITEAU 37
WEST SUNBURY, Pa. – Zane Puhala's 18 point-performance lifted visiting Brockway over Moniteau, 54-37.
Alec Freemer was not far behind his teammate posting 16 points while Jon Wood had 13 tallies.
Jared Lominski led Moniteau with seven points with Ethan McDeavitt chipping in six.
UNION 56, CRANBERRY 45
RIMERSBURG, Pa. – Nolan Cumberland led a balanced offensive attack as Union defeated visiting Cranberry, 56-45.
Cumberland had a team-high 16 points for the Golden Knights and also hauled in eight rebounds. Truman Vereb added 12 points, Caden Rainey had 10 points and five steals and Karter Vogle chipped in for nine points.
JT Stahlman had a game-high 20 points for Cranberry with Daniel Fisher adding 12.
OTTO-ELDRED 58, KANE 56
DUKE CENTER, Pa. – Braden Maholic led a balanced Otto-Eldred attack with 12 points, as the Terrors held off visiting Kane, 58-56.
Gavin Jimerson chipped in 11 points for O-E with Cole Sebastian scoring 10 and Cameron Grigsby and Andrew Sheeler nine each.
Chad Greville led Kane with a game-high 20 points with Carson Whiteman adding 13 points and Zuke Smith 10.
RIDGWAY 73, PORT ALLEGANY 31
RIDGWAY, Pa. – Jake Reynolds and Will Thompson combined for 46 points to lead Ridgway to a 73-31 victory over visiting Port Allegany.
Thompson had a game-high 26 points to lead the Elkers with Reynolds netting 20. Matt Dush chipped in for 17 tallies.
Howie Stuckey paced the Gators with a team-high 22 points.
BRADFORD 39, CAMERON COUNTY 36
BRADFORD, Pa. – Thanks to a balanced offensive attack, Bradford defeated visiting Cameron County, 39-36.
Tyler Gigliotti had a team-high 13 points for the Owls with Evan Schmidt adding eight and Gavin Babcock seven. Gigliotti also had five rebounds, four steals and two assists.
Caden Beldin paced the Red Raiders with a game-high 16 points.
PUNXSUTAWNEY 76, A-C VALLEY 56
FOXBURG, Pa. – Behind 24 Daren Byers points visiting Punxsutawney beat A-C Valley, 76-56.
Nick Humble added 12 points for the Chucks with Cam Smith and Micah Kriebel each scoring eight.
Levi Orton paced A-C Valley with 16 points with Eddie Stevanus adding 12.