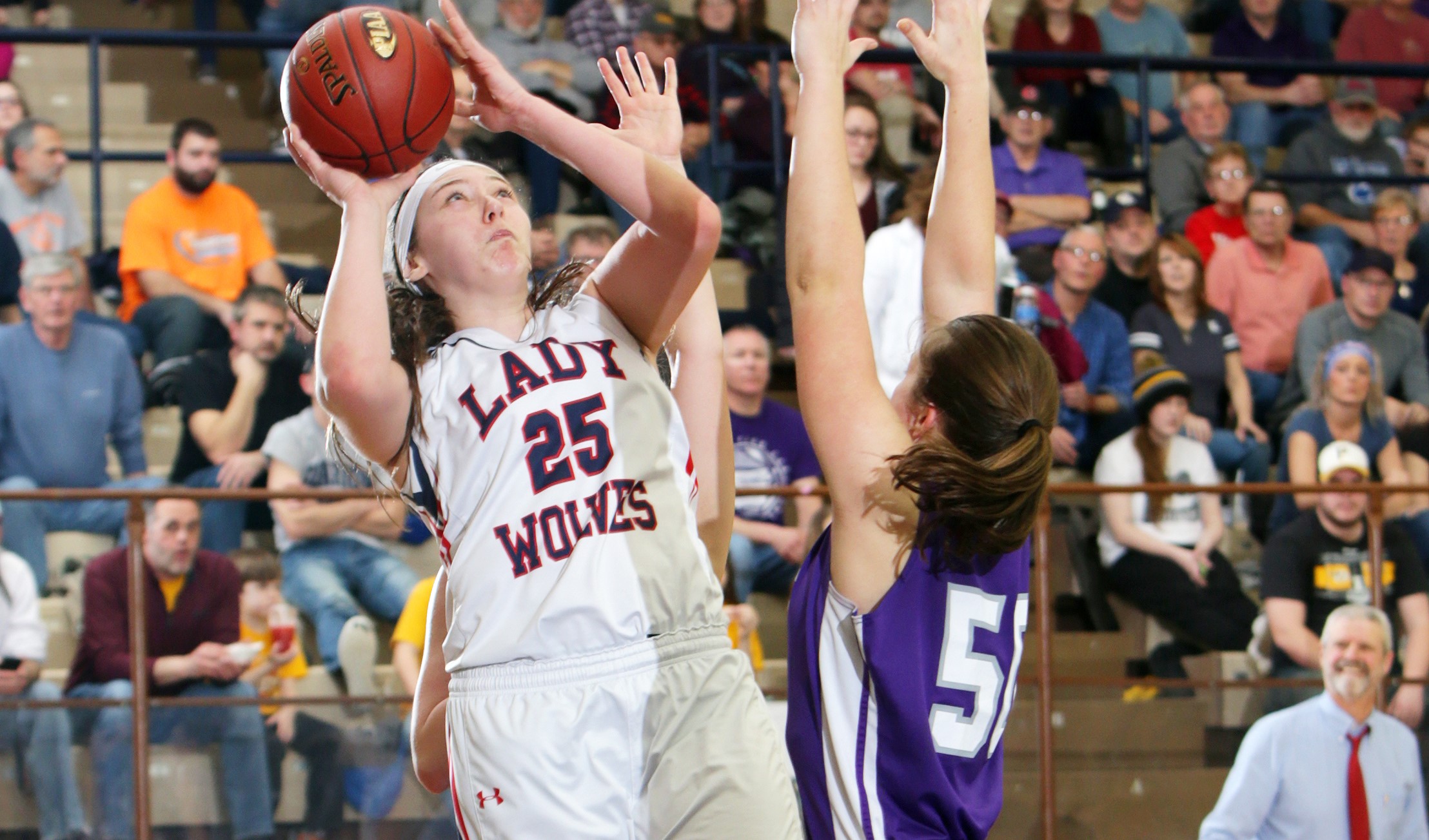 Jan. 28 girls' basketball recaps.
(Photo: Ella Marconi set the Kane career record for rebounds Monday night. Photo by Paul Burdick. Check out more of Burdick's work here)
KANE 69, BROCKWAY 42
KANE, Pa. – Ella Marconi recorded her 1,000th career rebound and set the school record for rebounding in the process in a 69-42 Kane win over visiting Brockway in AML action.
Marconi had 18 points, 11 rebounds and four blocked shots. She needed seven rebounds coming into the game to reach 1,000 in her career and eight to tie Trinity Clark's school record of 1,001. She finished the night with 1,004 rebounds.
Hannah Buhl added 14 points and five assists in the win for the Lady Wolves with Sarri Swanson adding 11 points and five rebounds. Also for Kane, Audri Marconi and Emily Bucheit each scoring nine points. Bucheit added six rebounds and four assists, and Audri Marconi chipped in five rebounds.
Selena Buttery paced Brockway with 15 points and 10 rebounds. Danielle Wood added 12 points.
CRANBERRY 36, SHARPSVILLE 34
SENECA, Pa. – Kaylie Bruce scored the game-winning basket with 1.5 seconds left, as Cranberry beat visiting Sharpsville, 36-34.
Bruce finished the night with 10 points for the Berries, while Malliah Schreck had a double-double with 18 points and 13 rebounds.
Schreck scored nine of her points in the third quarter to help Cranberry erase a 16-13 halftime deficit and take a 28-25 lead after the third quarter.
Claire Staunch led Sharpsville with 10 points.
BRADFORD 42, DUBOIS CENTRAL CATHOLIC 40
DUBOIS, Pa. – Hannah Lary and Erica Marshall combined for 25 points to lead visiting Bradford to a 42-40 win over DuBois Central Catholic.
Lary led the Lady Owls with 13 points with Marshall adding 12. Makenzie Maley added nine points for Bradford.
Ashley Wruble and Martina Swalligan each had 13 points with Shay Gulvas chipping in eight points.
BROOKVILLE 57, KARNS CITY 25
KARNS CITY, Pa. – Morgan Johnson's 20-point night helped Brookville pick up a 57-25 road victory over Karns City.
Madison Johnson was also in double-figures with 11 points while Lauren Hergert added eight tallies for the Lady Raiders.
Emma Johns had a team-high 10 points for Karns City.
PUNXSUTAWNEY 61, ELK COUNTY CATHOLIC 36
ST. MARYS, Pa. – Abby Gigliotti netted 14 points and hauled down four rebounds to help visiting Punxsutawney stay unbeaten with a 61-36 D9 League win over Elk County Catholic.
Kate Horner added 12 points, six assists and three rebounds for the Lady Chucks with Riley Presloid also scoring 12 points to go with two helpers and two steals. Sarah Weaver handed out six assists and grabbed three boards to go with her five points.
Taylor Newton had a game-high 20 points for ECC.
JOHNSONBURG 46, RIDGWAY 31
JOHNSONBURG, Pa. – Johnsonburg's balanced offensive night led the Ramettes to a 46-31 win over visiting Ridgway.
Lindsay Kocjancic led the Johnsonburg attack with 12 points, Maria Jones had 11 tallies and Cassidy King 10.
Alyssa Kasmerski guided Ridgway with nine points, three rebounds and a steal while Christina Fullem added eight points, seven rebounds and three blocks. Casey Woodford chipped in five points and Gabby Rohr had four. Woodford and Rohr each grabbed five rebounds for the Lady Elkers.
ST. MARYS 65, REDBANK VALLEY 28
ST. MARYS, Pa. – Megan Quesenberry scored 16 of her game-high 19 points in the first half, as St. Marys rolled past visiting Redbank Valley, 65-28.
Alyssa Schlimm added 13 points for the Lady Dutch with Kyla Johnson adding 12.
Tara Hinderliter and Lauren Smith each scored 11 points for Redbank Valley.
CLARION 48, UNION 22
RIMERSBURG, Pa. – Behind 15 Kait Constantino points visiting Clarion beat Union, 48-22.
Wendy Beveridge added nine points for the Lady Cats with KK Girvin and Jordan Best each scoring eight.
Dominika Logue paced Union with seven points.
NORTH CLARION 53, MONITEAU 47
FRILLS CORNERS, Pa. – Mackenzie Bauer scored a career-high 22 points and added six steals to lift North Clarion to a 53-47 win over visiting Moniteau.
Abbey Gatesman added 15 points for the She-Wolves with Haley Sherman grabbing 12 rebounds to go with three points.
Kristin Auvil had game-high 23 points, 12 rebounds and five steals for Moniteau. Aslyn Pry added nine tallies for the Lady Warriors.
KEYSTONE 49, CLARION-LIMESTONE 25
KNOX, Pa. – Emily Lauer and McKenzie Hovis combined for 27 points to lead Keystone past visiting Clarion-Limestone, 49-25.
Lauer led the Lady Panthers with 14 points with Hovis adding 13.
Maddy Craig paced C-L with seven points with Emma Smith chipping in six.