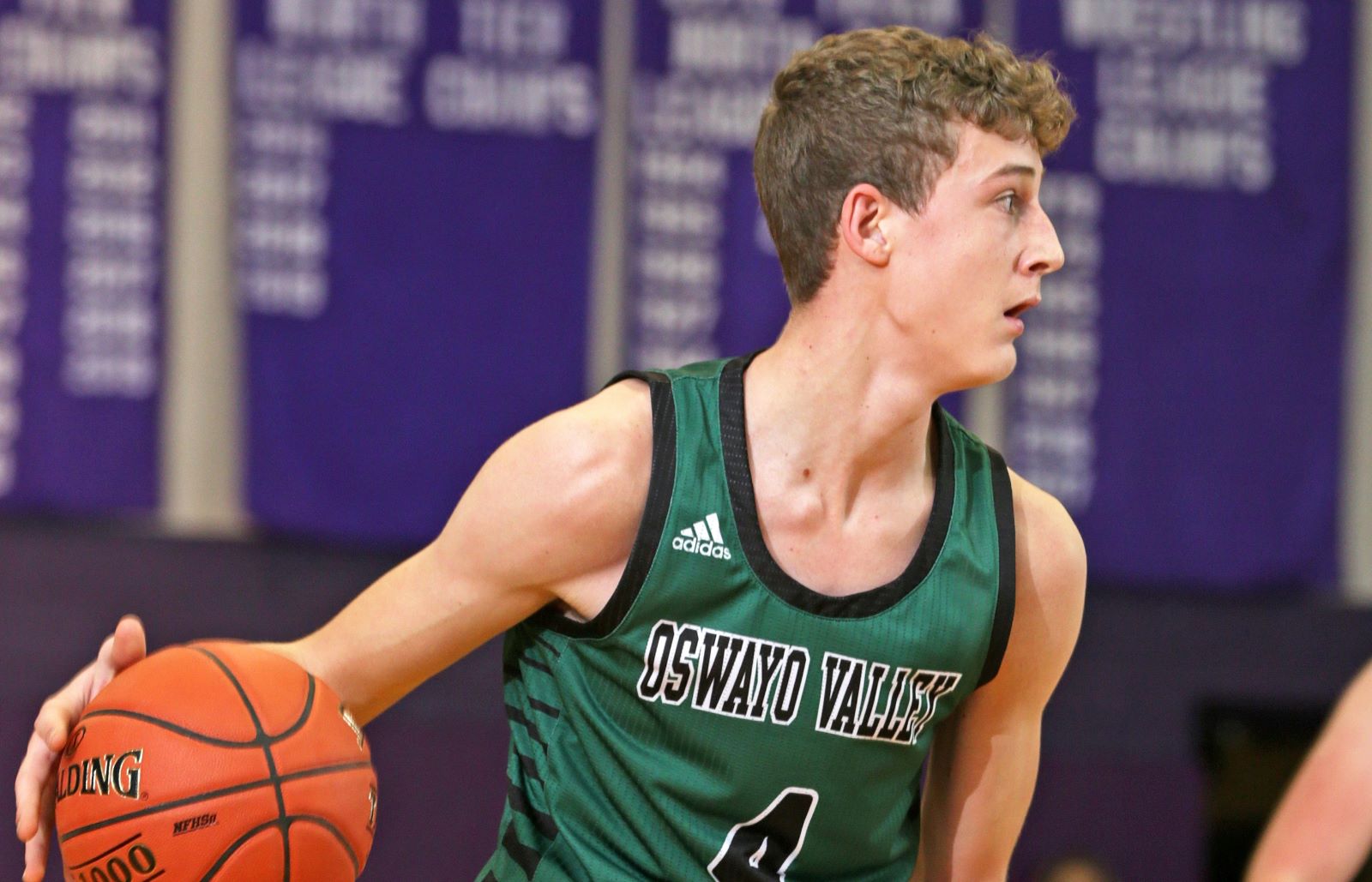 Jan. 28 boys' basketball recaps.
(Photo of Oswayo Valley's Noah Wichert, who scored 18 points in the double-overtime win over Galeton. Photo by Paul Burdick. Check out more of Burdick's work here)
Also see: Keystone Takes Control of KSAC South with Win Over Karn City
BOYS
OSWAYO VALLEY 70, GALETON 64, 2 OTS
GALETON, Pa. – Visiting Oswayo Valley outscored Galeton 9-3 in the second overtime to claim a 70-64 double-overtime victory on the road against the Tigers.
Ian Bilski had the play of the game for the Green Wave when he rebounded a missed shot and put it back in as time expired in the first overtime to tie the game at 61 and force the second extra session.
Ty Stover had helped get the game to overtime in regulation when his layup knotted the contest at 55 with under a minute to play in regulation.
That layup completed a comeback from an eight-point halftime deficit for winless Galeton, which trailed 30-22 at the break but got within one, 44-43, going to the fourth quarter thanks to 12 third-quarter points from Stover, who finished with a game-high 33 points.
Stover, though was the only Tiger to reach double digits with Noah Shutt adding nine points, Hunter Crowell eight and Trey Kalacinski seven.
Noah Wichert paced Oswayo Valley with 18 points, 12 of which came in the first quarter, while Gunner Bean had 11. Cayden Black chipped in nine tallies and four players – Carter Steadman, Honor Gross, Bilski and Alex Phillips each scored eight points in the victory.
BROOKVILLE 57, OIL CITY 46
BROOKVILLE, Pa. – Robert Keth was a perfect 10 of 10 from the free-throw line while scoring a game-high 17 points to lead Brookville to a 57-46 win over visiting Oil City.
Aaron Park added 12 points and seven rebounds in the win for the Raiders with Logan Byerly and Jack Krug each scoring nine points.
Holden Stahl paced Oil City with 11 points and eight rebounds with Spencer McFall adding nine points.
CLARION-LIMESTONE 60, VENANGO CATHOLIC 22
OIL CITY, Pa. – Behind 23 points, 14 rebounds and three blocked shots from Hayden Callen, visiting Clarion-Limestone shook off Monday's loss to Ridgway by blowing past Venango Catholic, 60-22.
Deion Deas added eight points, six assists and two steals for the Lions with Mitch Knepp chipping in seven points, Jordan Hesdon and Braden Rankin each scored six points, Bryson Huwar had four points and three steals and Kaden Park added seven rebounds and two steals.
Andrew Burda led Venango Catholic with eight points with Reza Reese scoring seven.
AUSTIN 57, DUBOIS CENTRAL CATHOLIC 35
AUSTIN, Pa. – Joseph Glover Jr. scored a game-high 17 points to help Austin to a 57-35 win over visiting DuBois Central Catholic.
Jackson Glover added a double-double for the Panthers with 10 points and 10 rebounds while adding four assists, and Skylar Crawford (12 points) and Caden Rees (11 points) also reached double digits in the win.
Alex Jenkins and Harrison Starr each scored seven points for DCC.
A-C VALLEY 78, FOREST AREA 43
FOXBURG, Pa. – Eddie Stevanus and Levi Orton each recorded double-doubles to help A-C Valley to a 78-43 win over visiting Forest Area in KSAC North play.
Stevanus had 19 points, 12 rebounds, six assists and four steals for the Falcons with Orton adding 18 points, 13 rebounds and five steals.
Tanner Merwin (13 points) and Eli Penny (11 points, five assists, four steals) also reached double digits for A-C Valley, and Russ Carr added four points, four assists and three steals.
Franklin Meals tied Stevanus for game-high honors with 19 points for Forest Area with Noah Burke adding 10 points.
NORTH CLARION 41, UNION 27
RIMERSBURG, Pa. – Devon Walters scored 13 points to lead North Clarion to a 41-27 win at Union in KSAC North action.
Drew Gatesman added nine points and five rebounds for the Wolves with Matson Higgins scoring seven points and handing out four assists and Jacob Bauer chipping in seven points, five rebounds and four steals.
Caden Rainey led Union, which took the air out of the ball and slowed the game down according to North Clarion head coach Andy Bish, with six points.
COUDERSPORT 85, NORTHERN POTTER 58
ULYSSES, Pa. – Hayden Keck scored a game-high 28 points and added six steals to lift Coudersport to an 85-58 win over Northern Potter on the road in NTL play.
Kolby VanWhy chipped in 15 points in the win for the Falcons with Dillon Keglovits adding 12 points and seven rebounds, Dalton Keglovits 11 points and Derek Easton 10.
Carter Anderson scored 21 of his team-high 25 points in the middle two quarters for Northern Potter while Ryan Langworthy added 10 points, Tre Slawson nine and Ezra Sprow eight.
SMETHPORT 44, PORT ALLEGANY 31
PORT ALLEGANY, Pa. – Layne Shall scored 12 of his game-high 15 points in the fourth quarter, as Smethport used a big second half to pick up a 44-31 road NTL win over Port Allegany.
The Hubbers and Gators were tied at 13 at halftime before Smethport took a 24-19 lead going to the fourth quarter thanks in part to five third-quarter points from Conner Alfieri.
Then in the fourth quarter, Shall hit a 3-pointer and went 9 of 10 from the free-throw line to salt the game away.
Alfieri chipped in nine points for the Hubbers with Richie McDowell adding seven.
Howie Stuckey scored 10 points for Port Allegany and was the only Gator to record more than five tallies.
CAMERON COUNTY 62, OTTO-ELDRED 36
EMPORIUM, Pa. – Four players scored between 13 and 15 points to lift Cameron County to a 62-36 home NTL win over Otto-Eldred.
Hayden Brown led the Red Raiders with 15 points with Dino Brown, Dylan Guisto and Caden Beldin each scoring 13 points.
Gavin Jimerson paced Otto-Eldred with nine points.