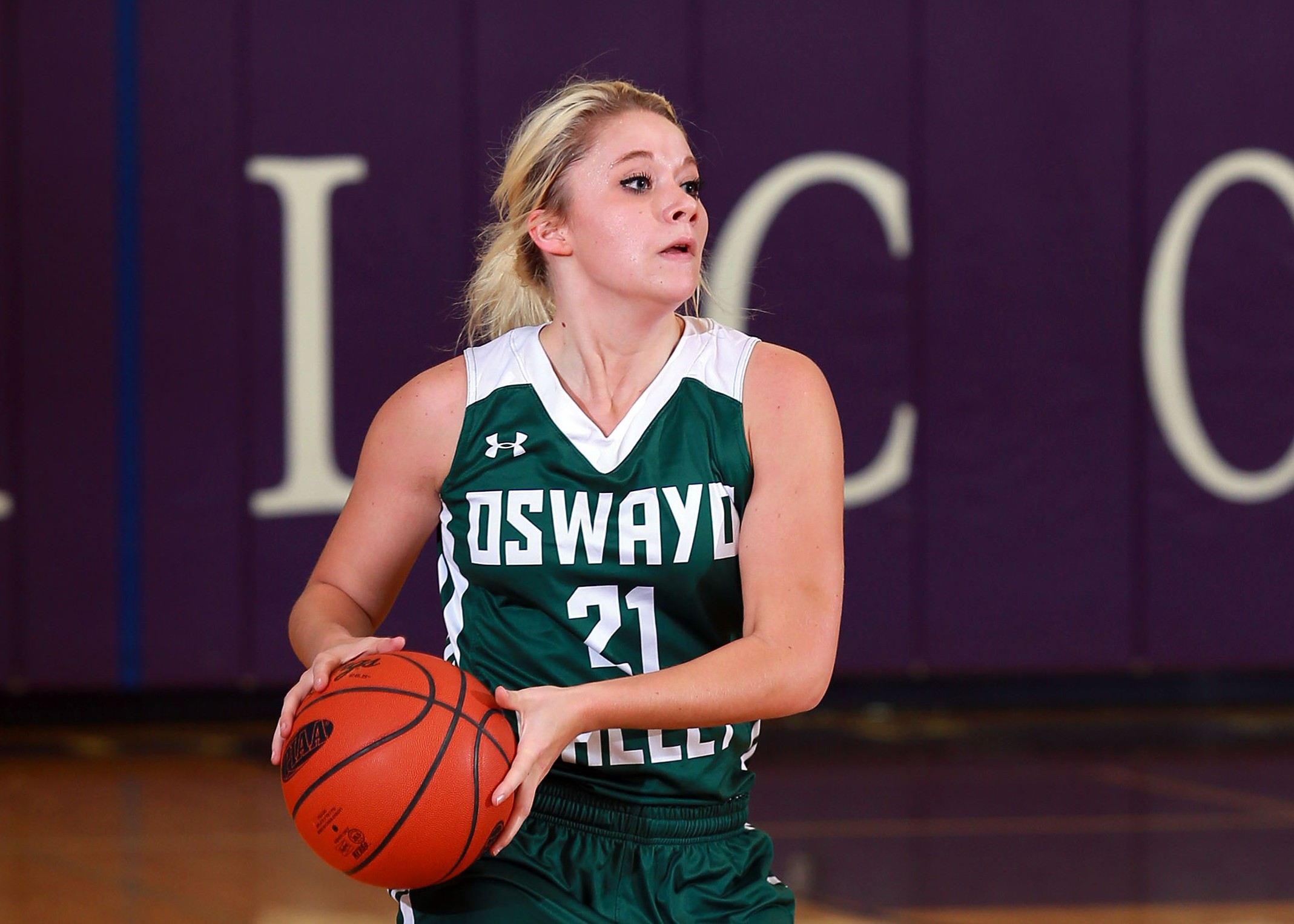 OSWAYO VALLEY 43, PORT ALLEGANY 42, OVERTIME
PORT ALLEGANY, Pa. – Kelsie Pease hit the game-winning 3-pointer with 10 seconds left in overtime to lift visiting Oswayo Valley to a 43-42 North Tier League win at Port Allegany.
Pease finished with 12 points for the Green Wave, who also got 13 points and 18 rebounds from Hope Howard and 12 rebounds from Allison Miller.
RIDGWAY 51, SHEFFIELD 24
SHEFFIELD, Pa. – Jessica Kifer, Hannah Park and Emily Fullem combined to net 40 of Ridgway's 51 points in a 51-24 road win at Sheffield in AML action.
Fullem and Kifer each had 14 points and 10 rebounds for the Lady Elkers with Park adding 12 points, seven rebounds, four assists, a block and a steal. Kifer also had two steals, a block and an assists, while Fullem chipped in three steals, a block and an assist. Taylor Gaudino added 10 rebounds for the Lady Elkers to go with three points, two steals and a helper.
Lexi Lyon led Sheffield with 12 points.
JOHNSONBURG 53, CURWENSVILLE 38
JOHNSONBURG, Pa. – Johnsonburg kept alive its hopes of an AML playoff spot with a 53-38 win over visiting Curwensville.
The Ramettes improved to 6-3 in the AML North, a ½ game back of Elk County Catholic for the second and final playoff spot awarded to the North. A Johnsonburg win at Brockway Feb. 10 would tie the Ramettes with ECC – Kane has two losses in division and still must play Brockway and Curwensville. The tiebreaker could come down to overall winning percentage or the winning percentage of the teams both have played.
In the victory over Curwensville, Cassidy King had 17 points, six rebounds and five steals, while senior Ashton Watts, added 12 points and seven rebounds on Senior Night and Nicole Myers added 11 points and seven steals.
Hannah Dixon and Madison Weber each scored 14 points to lead Curwensville.
KANE 39, DUBOIS CENTRAL CATHOLIC 36
DUBOIS, Pa. – A 10-0 first-quarter run helped lift Kane to a key AML win, 39-36, at DuBois Central Catholic.
The Lady Cardinals grabbed an early 2-0 lead before Kane rolled off the next 10 points. The Lady Wolves never trailed again.
Freshman Ella Marconi led Kane with 23 points, 14 rebounds and seven blocked shots. Trinity Clark had 10 rebounds and Sydney Dyne six assists for the Lady Wolves. 
Riley Assalone had a team-high 18 for DCC.
With the win, Kane continues to control its own destiny in the AML North. If the Lady Wolves beat Curwensville and Brockway to close out the season, they will win the AML North title.
PUNXSUTAWNEY 40, ELK COUNTY CATHOLIC 36
PUNXSUTAWNEY, Pa. – Punxsutawney overcame a slow start to capture at least a tie of the  D9 League title with a 40-36 win over visiting Elk County Catholic.
The Lady Chucks, who hadn't won a D9 League title since 2007, can grab the outright crown with a win in any of their final three D9 League contests or one loss by DuBois in any of the Lady Beavers final three games. The teams meet Feb. 5 in Punxsutawney.
Punxsy scored just three points in the first quarter and trailed ECC 7-3 at the end of the quarter before catching fire in the second eight minutes to take a 17-14 halftime lead.
Hope Bridge led the Lady Chucks with 11 points, while Leah Miller added 10.
Reilly Herzing paced ECC with 15 points.  
DUBOIS 53, ST. MARYS 50, 2 OVERTIMES
DUBOIS, Pa. – Taylore Uplinger scored five of her 11 points in the second overtime to help DuBois outlast visiting St. Marys, 53-50, in D9 League action.
The game was tied at 46 after on overtime before the Lady Beavers outpaced the Lady Dutch 7-4 in the second four-minute extra session.
DuBois overcame a 34-31 deficit going into the fourth quarter to force overtime with the score knotted at 40. The two teams then each scored six points in the first overtime with Dayna DeSalve netting four of her five points in the first extra session.
Courtney Chandler led DuBois with 15 points, while Laura Fatula added 10.
Rachel Bauer had a game-high 17 points to lead St. Marys including six in the two overtimes. She scored four of the Lady Dutch's six points in the first overtime. Kaitlyn Barackman added 12 tallies, with Rachelle Armanini adding nine points.
KEYSTONE 48, MONITEAU 47
WEST SUNBURY, Pa. – Taylor Geer's free throw with 1.7 seconds left lifted visiting Keystone to a 48-47 win over Moniteau in KSAC South action.
Geer had given the Lady Panthers a 47-45 lead on two free throws before Moniteau knotted the game at 47. Geer was then fouled again and hit one charity shot to give Keystone the win.
Amber Hess led the Lady Panthers with 18 points, seven rebounds and three steals while Taylor Geer added 14 points, six in the fourth quarter and nine rebounds, and Josselin Geer, back from a sprained ankle that caused her to miss a couple of games, chipped in with 11 points, seven rebounds and three steals.
Moniteau trailed 26-13 at halftime after shooting just 19 percent in the opening 16 minutes but stormed back in the second half outscoring Keystone 14-11 in the third quarter to get within 10, 37-27, before outscoring the Lady Panthers 20-11 in the fourth quarter.
Sara Hull led Moniteau with 17 points and eight rebounds, while Kristina DeMatteis added 15 points, including eight in the fourth quarter, and 11 rebounds.
Moniteau went just 11 of 22 from the line with Keystone going 9 of 13.  
CLARION 44, CRANBERRY 43
CLARION, Pa. – Freshman Wendy Beveridge's 3-pointer with time running out lifted Clarion to a 44-43 win over visiting Cranberry in KSAC North action.
Beveridge's 3-pointer, her only field goal of the game, capped a frantic comeback by the Lady Cats, who trailed 15-2 at the end of a quarter and 27-21 at halftime before outscoring the Berries 11-4 in the third quarter to take a 32-31 lead.
Gloria Kroh led Clarion with 10 points, while Maddy Weaver added eight. All nine Lady Cats who played scored.
Erin Merryman paced all scorers with 14 points for Cranberry with Kendra Shreck adding 11.
NORTH CLARION 64, CLARION-LIMESTONE 32
FRILLS CORNERS, Pa. – Tori Obenrader and Abbie Schmader each recorded double-doubles to help North Clarion roll past visiting Clarion-Limestone, 64-32, in KSAC North play.
Obenrader had 19 points, 13 rebounds and six assists, while Schmader added 14 points, 10 rebounds and three blocks. The 13 rebounds actually ended a streak of eight straight games for Obenrader having 15 or more rebounds. She has recorded double-digits rebounds in all 19 games this season and is averaging 17.4 rebounds per game with 18 double-doubles.
For Schmader, it was her third straight double-double and her 15th double-double on the season. She is averaging 10.5 rebounds per game.
Josie Stitt led C-L with 15 points.  
KARNS CITY 50, UNION 32
KARNS CITY, Pa. – LeeAnn Gibson, Emily Hegedus and Mackenzie Craig all scorer in double digits to help Karns City to a 50-32 win over visiting Union in KSAC South play.
Gibson netted 15 points with Hegedus and Craig each adding 13 for the Lady Gremlins.
Kali Flick led Union with eight points with Hailey Schrecengost adding seven.
VENANGO CATHOLIC 32, FOREST AREA 27
TIONESTA, Pa. – Venango Catholic outscored Forest Area 13-7 in the fourth quarter to grab a 32-27 KSAC North victory at West Forest.
Ava Homan led the Lady Vikings with 14 points.
Morgan Silvis pace the Lady Fires with 13 points.
REDBANK VALLEY 67, A-C VALLEY 56
FOXBURG, Pa. – Behind 28 points and seven rebounds from Brooke Hinderliter, Redbank Valley fought off A-C Valley, 67-56, in KSAC South play in Foxburg.
Becca Dougherty added a double-double for the visiting Lady Bulldogs with 13 points and 10 rebounds, while Sam Landers chipped in 12 points.
Ellie Thompson led A-C Valley with 21 points, Morgan Cratty added 13 and Olivia Bookcs 12.
CLEARFIELD 60, BALD EAGLE AREA 30
CLEARFIELD, Pa. – Rachel Glenny scored 16 points and Emily Ryan added 11 to help Clearfield to a 60-30 Mountain League win over visiting Bald Eagle Area.
COUDERSPORT 51, CAMERON COUNTY 31
COUDERSPORT, Pa. – Eight different Coudersport players scored, as the Lady Falcons downed visiting Cameron County, 51-31, in North Tier League action.
With the victory, Coudersport is within a win of the outright NTL title. The Lady Falcons can finish no worse than in a tie for first at this point.
Macy Gleason led Coudersport with 12 points, Emily Morey added 10 and Kiara Perkins nine. Allie Easton chipped in six points and seven rebounds, and Haley Keck had six points, four assists and three steals.
Amily Schatz had three points and 10 rebounds to lead Cameron County.  
OTTO-ELDRED 55, NORTHERN POTTER 47
DUKE CENTER, Pa. – Behind a double-double from Camryn Thomas, Otto-Eldred pulled a mild upset win over visiting Northern Potter, 55-47, in North Tier League play.
Thomas had 16 points, 13 rebounds and three steals to lead the Lady Terrors. Ali Cousins added 13 points and four steals, while Tiffany Bair had six points and four assists.
"Freshman Britney Greeley came in and played some key defense," Otto head coach Barb Close said. "Jamie Smith also hit back-to-back threes in the third quarter to give us an extra spark offensively."
Kalie Cowburn led all scorers with 24 points for Northern Potter.
MARION CENTER 40, BROOKVILLE 31
BROOKVILLE, Pa. – Visiting Marion Center limited Brookville to just five field goals through three quarters and notched a 40-31 non-conference win.
The Lady Raiders were tied with the Stingers at 8-8 after the first quarter, but Marion Center outscored them 25-9 in the second and third quarters to take a 16-point lead into the fourth quarter.
Brookville's Elaina Powell scored 23 points with seven 3-pointers, four of them coming in the fourth quarter.
Laken Ryen scored 15 points for Marion Center.
SMETHPORT 57, AUSTIN 12
SMETHPORT, Pa. – Abbey Woodard scored 18 points and grabbed 10 rebounds to lead Smethport to a 57-12 North Tier League win over Austin.
Addysin Gross-Benjamin added 10 helpers for the Lady Hubbers.