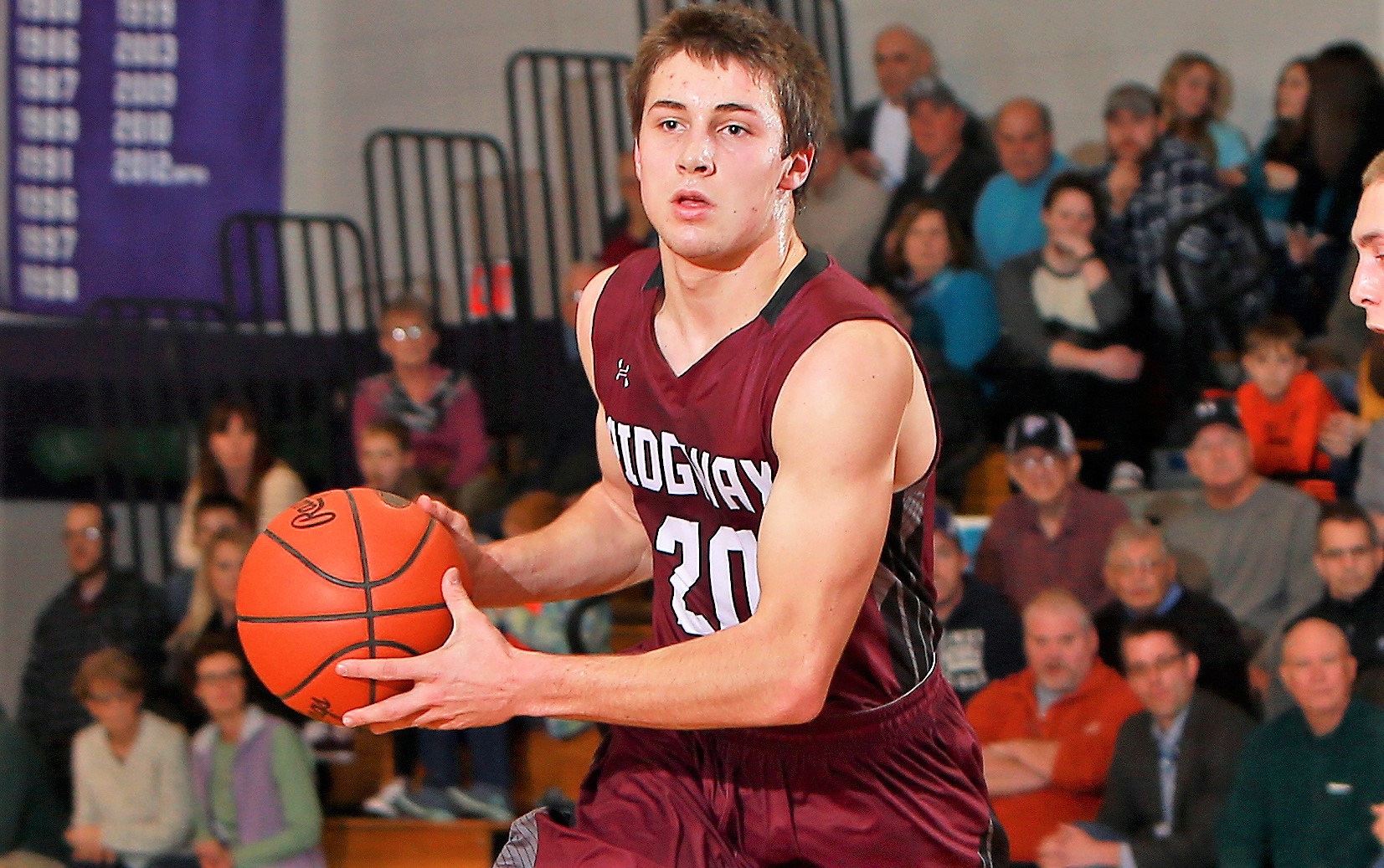 Jan. 29 recaps.
(Photo: Neil MacDonald, Ridhway. Photo by Paul Burdick. Check out more of Burdick's work here)
RIDGWAY 41, JOHNSONBURG 32
RIDGWAY, Pa. – Ridgway used an 8-2 run at the start of the fourth quarter to help secure a 41-32 win over visiting Johnsonburg in AML action.
The unbeaten and state-ranked Elkers clung to a one-point, 23-22, lead going into the fourth quarter but quickly pushed the advantage to seven with the early run.
Daunte Allegretto led a balanced attack for Ridgway with 10 points, while Neil MacDonald and Josh Thorwart each added nine points and Johnny Mitchell six.
Kacey Raubenstrauch paced Johnsonburg with 12 points. Ben Freeburg added eight for the Rams.
Johnsonburg's free-throw shooting kept it in the game. The Rams were 13 of 16 from the line compared to 11 of 19 for Ridgway.
ELK COUNTY CATHOLIC 64, PUNXSUTAWNEY 43
ST. MARYS, Pa. – Behind a career-high 19 points from Alex Wehler, who hit five 3-pointers, Elk County Catholic cruised past visiting Punxsutawney, 64-43, in D9 League play.
Alex Breindel added 11 points for the Crusaders who also got 10 from Logan Hoffman.
Brandon Matthews led Punxsutawney with 12 points with Ethan Blose adding 11.
CLARION 43, KEYSTONE 42
CLARION, Pa. – Cam Craig's driving layup with 1:48 to play lifted Clarion to a 43-42 win over visiting Keystone.
The game was marred by an injury to Nick Frederick with 6.9 seconds left and Clarion up one. Frederick, diving for a loose ball, hurt his leg, which had to be put into an aircast. He was taken from the gym on a stretcher.
After a delay that lasted nearly 20 minutes, Keystone had two chances on inbounds plays to win the game. But an errant Corey Rapp pass on an inbounds play with 5.4 seconds to play ended up in the hands of Clarion's Archer Mills allowing the Bobcats to escape with the win.
Craig led the Bobcats with a game-high 16 points and talked about the win after the game.
Keystone, which trailed 33-30 going to the fourth quarter, took a 37-35 lead on a Rapp basket with 5:08 to play.
But freshman Calvin German got a big offensive rebound and putback to tie the game at 37 with 4:49 to go, and then Josh Craig, a sophomore, nailed a 3-pointer with 3:41 to go to put Clarion up 40-37.
Dawson Steele answered with a three and a steal and layup for Keystone to put the Panthers back in front, 42-41, with 2:19 to play before Cam Craig's game-winner.
Nate Wingard led Keystone with nine points and eight rebounds.
CLARION-LIMESTONE 88, CRANBERRY 48
SENECA, Pa. – Ian Callen nearly recorded a triple-double to lead visiting Clarion-Limestone to an 88-48 KSAC North victory over Cranberry.
Ian Callen had a game-high 28 points to go with 12 steals and eight assists. His younger brother, Hayden Callen, a freshman, added 22 points and 10 rebounds for a double-double of his own, while Deion Deas netted 14 points and Christian Smith 13. Julian Laugand dished out 10 assists to go with two points.
Matt Meehan paced Cranberry with 14 points with Dan McQuaide adding 11 and Tommy Flinspach nine.
UNION 71, FOREST AREA 57
RIMERSBURG, Pa. – Lucas Bowser hit five 3-pointers on his way to a game-high 32 points, as Union pulled away from visiting Forest Area, 71-57.
The Golden Knights led by just four, 43-39, going to the fourth quarter but got 12 points from Bowser in the fourth quarter to pull away.
Reice Saylor had an all-around solid game for Union as well with 10 points, eight rebounds and four steals, while Nolan Cumberland added 11 points and nine rebounds and Hunter Johnston three points and five assists.
Seth Berlin, the leading boys' scorer in the KSAC, had another big night with 25 points, 16 rebounds and three blocked shots for Forest Area. Franklin Meals added 10 points for the Fires with Jarrett Kahle chipping in six points and four assists.
BROOKVILLE 57, REDBANK VALLEY 41
NEW BETHLEHEM, Pa. – Visiting Brookville piled up a big lead early and grabbed a 57-41 non-league road win at Redbank Valley.
The Raiders led 18-2 after the first quarter and 30-9 at halftime before leading by as many as 30 at 43-13 late in the third quarter before Redbank Valley's 23-12 fourth-quarter edge.
Aaron Park, one of nine Raiders in the scoring column, finished with 17 points while A.J. Lachnicht scored 11 points.
Nick Smith hit three of his four 3-pointers in the fourth quarter and led the Bulldogs with 17 points.
WEST SHAMOKIN 56, KARNS CITY 54
KARNS CITY, Pa. – Drew Orlosky scored 14 of his 20 points after halftime to help visiting West Shamokin rally past Karns City, 56-54.
The Wolves trailed 21-20 at halftime before taking the second half by three.
Carson DeWitt added 12 points for West Shamokin with Tyler Lighteap chipping in nine.
Chase Beighley had a double-double for Karns City with 16 points and 10 assists, while Nolan Riley added 13 points and seven rebounds.
TIDIOUTE CHARTER 64, VENANGO CATHOLIC 42
TIDIOUTE, Pa. – Jared Veasey led a trio of Tidioute Charter players in double digits with 19 points, as the Bulldogs knocked off visiting Venango Catholic, 64-42.
Julian Gillenwater added 15 points for Tidioute and Patrick Shields chipped in with 11.
Josh Puleo and Parker Slagle led Venango Catholic with 13 points each.
EISENHOWER 57, KANE 36
KANE, Pa. – Tajah Warren scored a game-high 23 points to lead visiting Eisenhower to a 57-36 win over Kane.
Jaydon Hayes added 13 points for the Knights.
Chad Greville paced Kane with 14 points.
OTTO-ELDRED 61, OSWAYO VALLEY 32
DUKE CENTER, Pa. – Otto-Eldred built a 16-point lead after a quarter and never looked back on its way to a 61-32 North Tier League win over visiting Oswayo Valley.
The Terrors, on the strength of 13 Trey Dalton first-quarter points, led 23-7 at the end of a quarter and 37-15 at halftime.
Dalton had a double-double with 22 points and 10 rebound, while Jordan Sherwood added 10 points for Otto-Eldred and Dylan Close nine.
Theo Henry netted a team-best 21 points for Oswayo Valley.