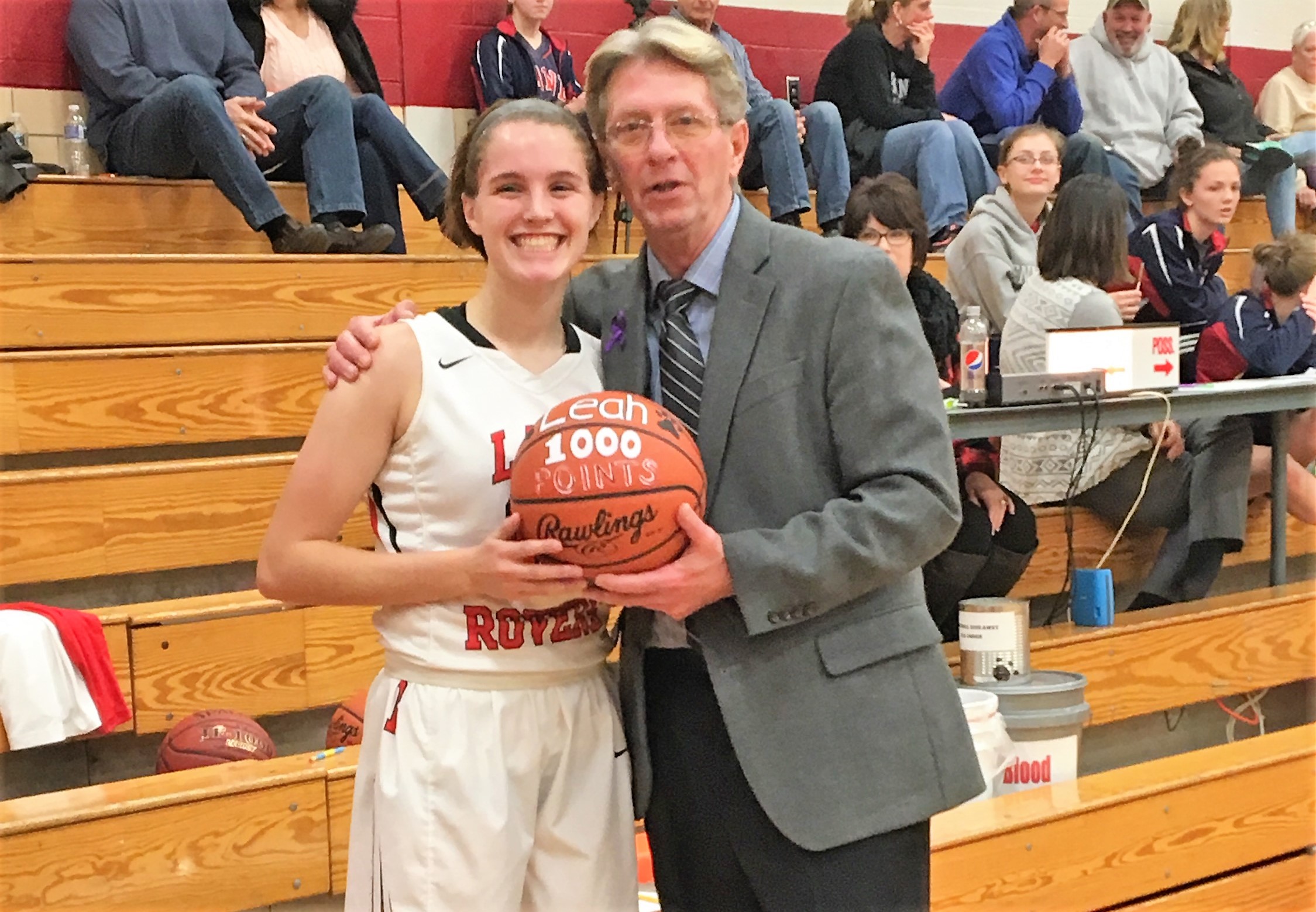 Jan. 29 recaps.
(Photo of Leah Lindemuth of Brockway who scored her 1,000th career point Monday. She is pictured with Brockway head coach Dick Esposito. Photo submitted by Esposito)
KANE 46, BROCKWAY 33
BROCKWAY, Pa. – Needing 15 points to become just the fourth girls' player in school history to 1,000 career points, Brockway senior Leah Lindemuth hit the milestone on a fourth-quarter bucket that gave her exactly 15 points and exactly 1,000 in her career.
She is the first Lady Rover to score 1,000 career points 18 years. Miranda Rhed, the school's second-leading scorer with 1,259, was the last to achieve the feat in the 2002 season. Mary Barrow (1,678 points in a career that ended in 2001) and Kim Tonsch (1,066 in a career that ended in 1997) are the other Brockway girls' players to 1,000 career points.
The milestone came in a 46-33 loss to visiting Kane, who got 12 points each from Caitlin O'Hara and Ella Marconi and nine from Rachael Morgan. Marconi finished off a double-double with 14 rebounds while adding eight blocked shots, while Morgan chipped in seven rebounds. Hannah Buhl had an all-around solid game for Kane with six points, five assists, five rebounds and three steals.
Kaitlyn Morelli added 14 points for Brockway.
RIDGWAY 58, JOHNSONBURG 50
JOHNSONBURG, Pa. – Another monster night from Emily Fullem helped visiting Ridgway topple rival Johnsonburg, 58-50, in AML action.
Fullem had 33 points, 13 rebounds, three blocked shots, two steals and an assist in the win, while Alyssa Kasmerski added 14 points and four rebounds for the Lady Elkers with Christina Fullem chipping in six points and four rebounds and Casey Woodford five points, five rebounds, four assists and two steals.
Cassidy King led Johnsonburg with 21 points with Rylee Casilio chipping in 12.
PUNXSUTAWNEY 55, ELK COUNTY CATHOLIC 30
PUNXSUTAWNEY, Pa. – Leah Miller exploded for 23 points and 16 rebounds to help Punxsutawney to a 55-30 home D9 League win over Elk County Catholic.
Sarah Weaver added 10 points, seven rebounds and three steals for the Lady Chucks with Kate Horner chipping in eight tallies and Abby Gigliotti seven points.
Taylor Newton netted a team-best 14 points for ECC.
KEYSTONE 62, CLARION 34
CLARION, Pa. – Taylor Geer scored 16 of her game-high 27 points in the third quarter, as visiting Keystone pulled away from Clarion for a 62-34 victory.
The Lady Panthers led by just a point, 20-19, at halftime before outscoring the Lady Cats 25-3 thanks to Geer.
Geer finished an impressive double-double 27 points and 15 rebounds and also added five steals.
She talked about her performance and the victory.
Tessa Weaver added 12 points and seven rebounds for Keystone.
Kait Constantino paced Clarion with 14 points.
UNION 50, FOREST AREA 42
TIONESTA, Pa. – Frankee Remmick netted a game-high 26 points to lead visiting Union to a 50-42 win over Forest Area at West Forest.
Hannah Atzeni added nine points for the Golden Damsels and Bryn Davis added eight points.
Jasmine Ginnery led Forest Area with 16 points.
REDBANK VALLEY 63, CLARION-LIMESTONE 44
STRATTANVILLE, Pa. – Tara Hinderliter and Lexi Holt combined for 39 points, leading visiting Redbank Valley to a 63-44 win over Clarion-Limestone Monday night.
Hinderliter scored 13 of her game-high 20 points in the second half while Holt finished with 19 points.
Maddy Craig and Jes Ball scored 15 and 11 points respectively for the Lady Lions.
COUDERSPORT 73, AUSTIN 20
COUDERSPORT, Pa. – Led by 14 points each from Haley Keck and Shaelyn Black, Coudersport got points from 14 different players in a 73-20 win over visiting Austin in North Tier League play.
Jordan Brewer led Austin by 10 points.
NORTHERN POTTER 48, OSWAYO VALLEY 41
SHINGLEHOUSE, Pa. – Kalie Cowburn netted a game-high 21 points to lead visiting Northern Potter to a 48-41 win over Oswayo Valley in North Tier League action.
Abby Anderson added 10 points for the Lady Panthers.
Karina West had a double-double with 14 points and 13 rebounds and also chipped in four blocked shots for Oswayo Valley. Shayla Bickel had a team-best 17 points for the Green Wave.
CAMERON COUNTY 52, GALETON 32
EMPORIUM, Pa. – Alyvia McKimm netted a game-high 21 points to go with five rebounds, as Cameron County knocked off visiting Galeton, 52-32, in North Tier League play.
Amily Schatz added nine points, 12 rebounds and three steals for the surging Lady Raiders, who have won five in a row and six of seven.
Katelyn Pagano had a team-high 12 points for Galeton.
OTTO-ELDRED 67, SMETHPORT 37
SMETHPORT, Pa. – Camryn Thomas made sure there wasn't a hangover for the Otto-Eldred girls' basketball team following their big win at Coudersport Saturday night.
Thomas scored 20 points, snagged 23 rebounds and came away with three steals to lead the visiting Lady Terrors to a 67-37 win over Smethport in North Tier League action.
Ali Cousins chipped in 18 points for Otto-Eldred, while Abbey Woodard netted 21 points for Smethport.
Otto-Eldred 67, Smethport 37