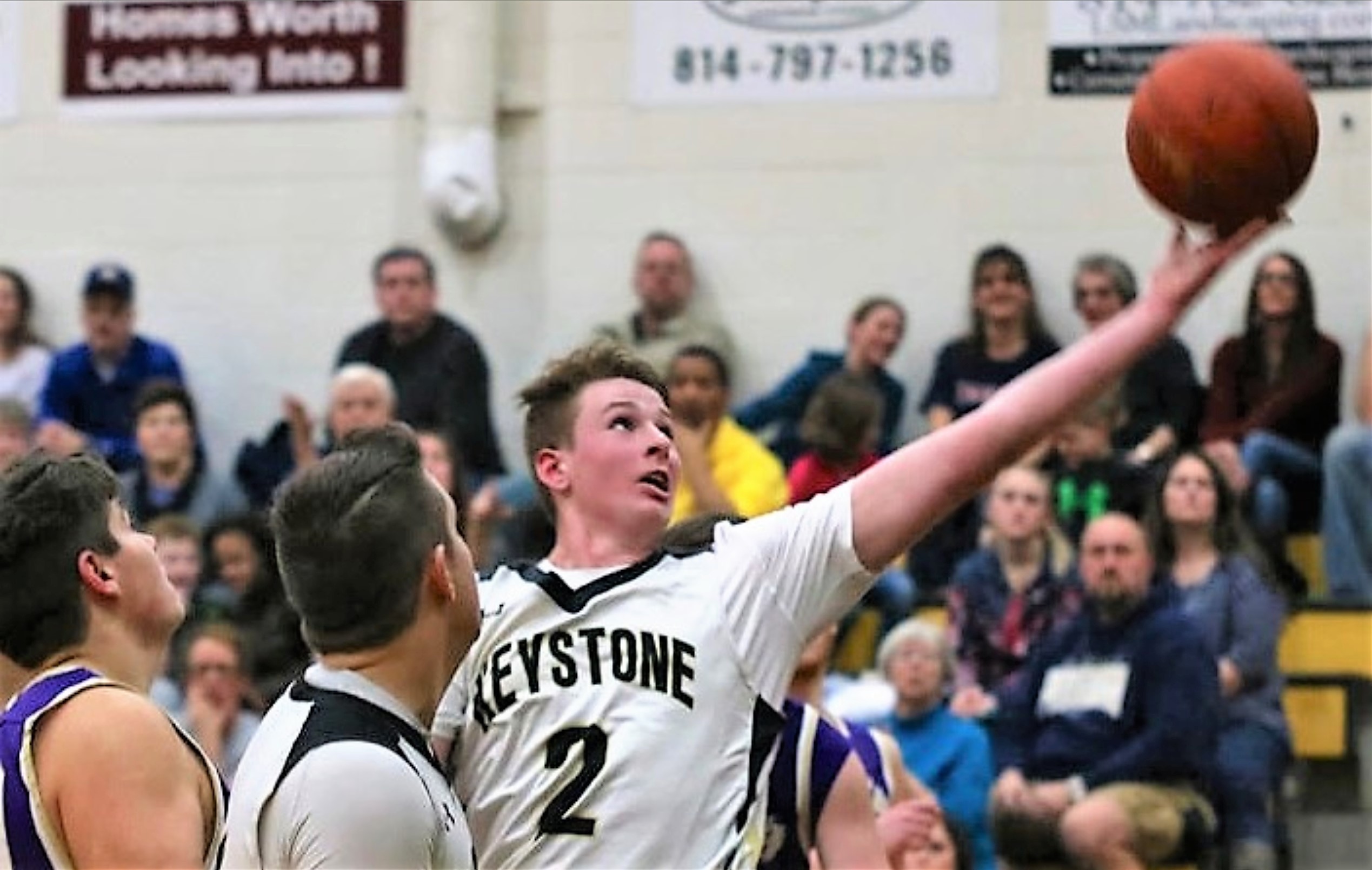 Jan. 29 boys' basketball recaps.
(Photo of Troy Johnson of Keystone. Photo by Mary Rearick)
KEYSTONE 59, KARNS CITY 50
KNOX, Pa. – Racing out to a 20-3 lead, Keystone held off a furious Karns City rally to knock off the visiting Gremlins, 59-50, in a key KSAC South game.
Relisten to the game:
The Panthers didn't allow Karns City a basket until 2:10 into the second quarter and held the Gremlins to 3 of 23 shooting in the first half while taking a 25-12 halftime lead.
The lead grew to as many as 17, 36-19, midway through the third quarter before the Gremlins put on a push and closed within five, 50-45, on a putback by Nathan Waltman with 1:17 to play.
But following a timeout Brooks LaVan hit Andrew Lauer with a home run pass getting the ball inbounds just before being whistled for a five-second violation to start a game-sealing 8-3 run for the Panthers.
Troy Johnson led Keystone with 19 points with Dawson Steele adding 14 tallies and five rebounds and Lauer 12 points and seven rebounds.
Johnson talked about the victory.
Waltman had a game-high 26 points to go with eight rebounds for Karns City. Austin Fahlor pitched in 12 points and six rebounds with Chase Beighley scoring nine points.
The win keeps Keystone in first place in the KSAC South now two games up on Karns City and a game-and-half ahead of Moniteau, who was off Tuesday. The lead over the Warriors is a game in the loss column with one game left between the teams. Keystone owns a win over Moniteau, who still has to play Karns City as well.
Watch the first half of the game on Facebook.
Watch the second half of the game.
DUBOIS CENTRAL CATHOLIC 74, AUSTIN 56
DUBOIS, Pa. – Justin Miknis exploded for 27 points and seven assists to lead DCC to a 74-56 victory over visiting Austin.
Harrison Star added with 11 points with Jonathan Kurtz netting eight for the Cardinals.
Austin also was efficient on the offensive end with Dempsey Glover posting a team-high 22 points, Blake Burgett adding 13 tallies and Jackson Glover 12.
CLARION 65, VENANGO CATHOLIC 52
OIL CITY, Pa. – Cal German had a career-high 35 points to lead Clarion to a 65-52 win over Venango Catholic in KSAC North action.
Nick Frederick also contributed to the Bobcat offense with 15 tallies.
Ben Gillispie and Andrew Burda stuffed the stat sheet for Venango Catholic on the offensive end with the duo each posting 19 points. Gillispie also grabbed 12 rebounds to capture a double-double and Burda was not far behind his teammate with nine boards.
NORTH CLARION 75, CRANBERRY 38
SENECA, Pa. – Bouncing back from its first loss of the season Monday, North Clarion rolled to a 75-38 road win over Cranberry in KSAC North action.
Kyle Mills scored a game-high 20 points to go with six rebounds for the Wolves with Sam and Logan Minich each adding 14 points. Sam Minich also had six assists. Korey Mills chipped in with 13 points, and Tyler McCord-Wolbert had six points and six rebounds.
Zac Kiefer and Daniel Fisher each scored eight points for Cranberry.
CLARION-LIMESTONE 107, FOREST AREA 42
STRATTANVILLE, Pa. – Scoring 79 first-half points, Clarion-Limestone scored the most points in District 9 in 17 years in a 107-42 win over visiting Forest Area.
The Lions led 79-17 at halftime after scoring 36 first-quarter point and 43 second-quarter tallies.
Hayden Callen led C-L with 29 points, 24 in the first half including 16 in the second quarter. Ian Callen had a double-double with 25 points and 10 rebounds scoring 21 points before halftime. Deion Deas netted 15 of his 17 points before the break while Mitch Knepp added 14 points and Curvin Goheen nine points and 10 rebounds.
Jonah Spuck paced Forest Area with 12 points with Franklin Meals adding 11.
The 107 points are the most scored in a District 9 game since C-L put up 109 in a 109-55 win over A-C Valley Jan. 25, 2002. It marked the ninth 100-point game in District 9 since the 2001 season and the third for the Lions, who also beat Forest Area 103-64 last year.
TYRONE 54, CLEARFIELD 32
TYRONE, Pa. – Damon Gripp Blaine Hoover combined to score 26 points, as Tyrone defeated visiting Clearfield, 54-32, in Mountain League action.
Gripp led the Eagles with 14 points with Hoover adding 12. Andrew Ferguson and Corbin Moon each chipped in with eight tallies.
Karson Rumsky had a game-high 19 points for Clearfield.
OIL CITY 72, BROOKVILLE 63
OIL CITY, Pa. – Behind 20 Luke Homer points, Oil City beat visiting Brookville, 72-63.
DeMarco Francis added 15 tallies for the Oilers while Hunter Haun scored 13 points and Cameron Muir 12.
Aaron Park tallied a game-best 21 points for Brookville with Jack Krug adding 16 and Jace Miner 14.