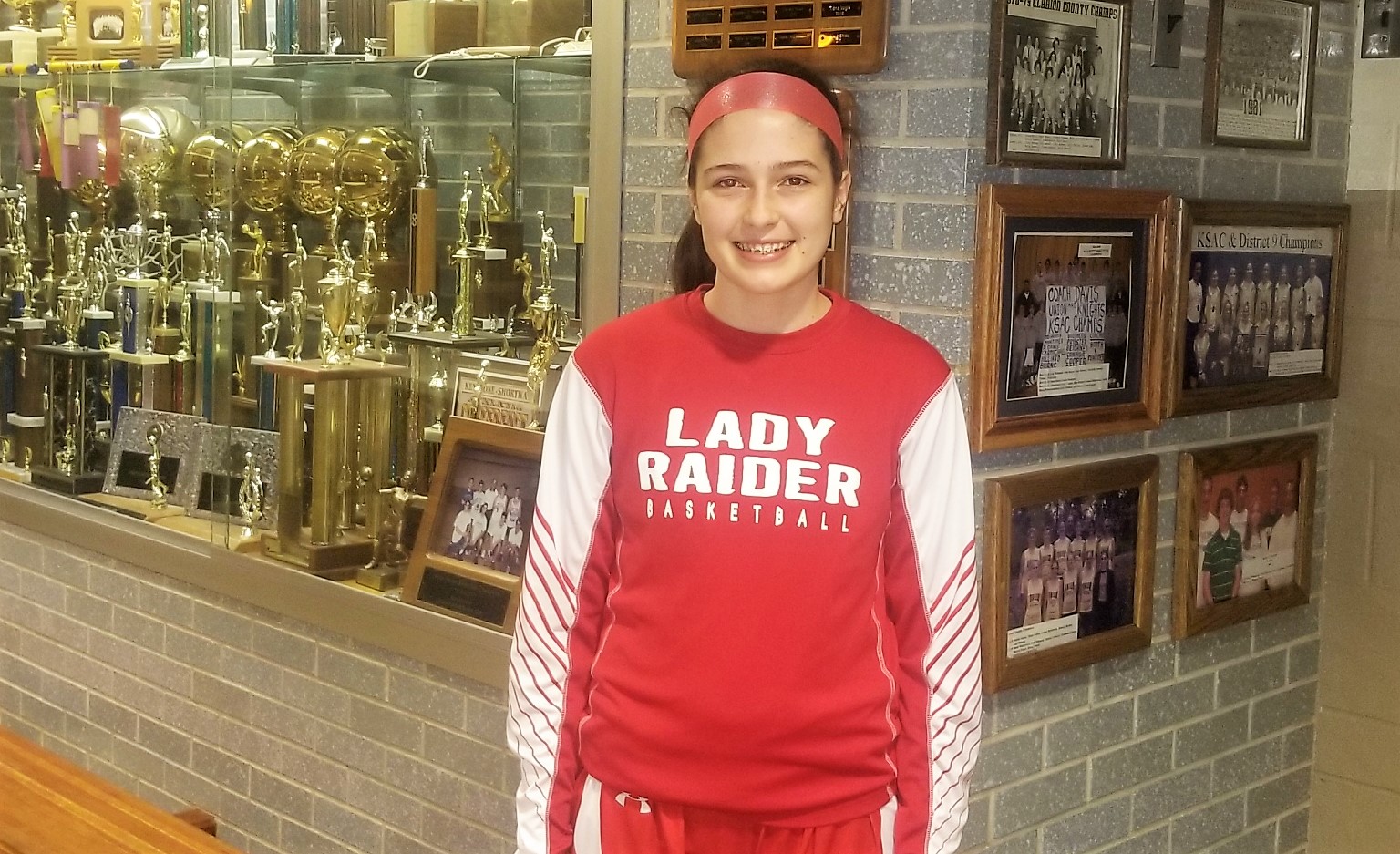 Jan. 29 girls' basketball recaps.
(Photo of Cameron County's Hailey Hilfiger)
CAMERON COUNTY 53, OTTO-ELDRED 48, OVERTIME
EMPORIUM, Pa. – Hailey Hilfiger hit two free throws and then a basket in overtime to help Cameron County outlast visiting Otto-Eldred, 53-48, in a key NTL matchup.
The game was tied at 47 at the end of regulation thanks to a basket off an inbounds play by Cameron County's Kaelee Bresslin with 30 seconds left.
Then in overtime, after Hilfiger gave the Lady Raiders the lead, Bresslin hit two free throws to seal the deal helping Cameron County outscore the Lady Terrors 6-1 in the extra session.
Hilfiger finished with a double-double for Cameron County with 11 points and 13 rebounds while adding three steals. Bresslin added 13 points, while Kamme Guisto had a team-high 14 tallies and Alyvia McKimm added 11.
Haylee Frederick had a game-high 16 points for Otto-Eldred with Britney Greely adding 12.
The game was tied at 25 at halftime, and Otto-Eldred led 37-35 at the end of three quarters.
The win keeps Cameron County a game back of Coudersport in the loss column in the NTL race with the two teams slated to meet in Emporium Feb. 6.
COUDERSPORT 61, SMETHPORT 13
COUDERSPORT, Pa. – Shae Black scored a game-best 21 points to lead Coudersport to a 61-13 win and season sweep of visiting Smethport in NTL action.
Sarah Chambers was also in double-figures for the Lady Falcons posting 12 tallies.
Smethport's Erin Herzog led her team with six points.
OSWAYO VALLEY 36, AUSTIN 12
SHINGLEHOUSE, Pa. – Karina West and Faithe Coole combined for 26 points to guide Oswayo Valley to a 36-12 win and season sweep of visiting Austin in NTL play.
Both players netted a game-high 13 points in the victory.
Julia Latimore paced Austin with six points.
JASPER-TROUPSBURG 34,(N.Y.) NORTHERN POTTER 31
ULYSSES, Pa. – Behind Taylor Aldrich's 11 points, Jasper-Troupsburg (N.Y.) edged Northern Potter, 34-31.
For Northern Potter, Abbi Anderson had a game-best 12 points while Megan Hyde chipped in five tallies.
PORT ALLEGANY 60, GALETON 46
PORT ALLEGANY, Pa. – Port Allegany's balanced offensive attack guided the Lady Gators to a 60-46 victory over visiting Galeton in NTL action.
Cailey Barnett netted a game-best 17 points, Bree Garzel chipped in 13 tallies with Jenna Sprankle and Erin Stauffer each scoring 11 for Port Allegany.
Cara Parsell led Galeton with 13 points while Katelyn Pagano chipped in 11.
TIDIOUTE CHARTER 52, SHEFFIELD 31
TIDIOUTE, Pa. – Nakiesha Krouse netted a game-high 20 points to lead Tidioute Charter past visiting Sheffield. 52-31.
Shelby Proctor added 14 points for the Lady Bulldogs.
Emily Leichtenberger and Alyssa Dunham each scored eight points for Sheffield.