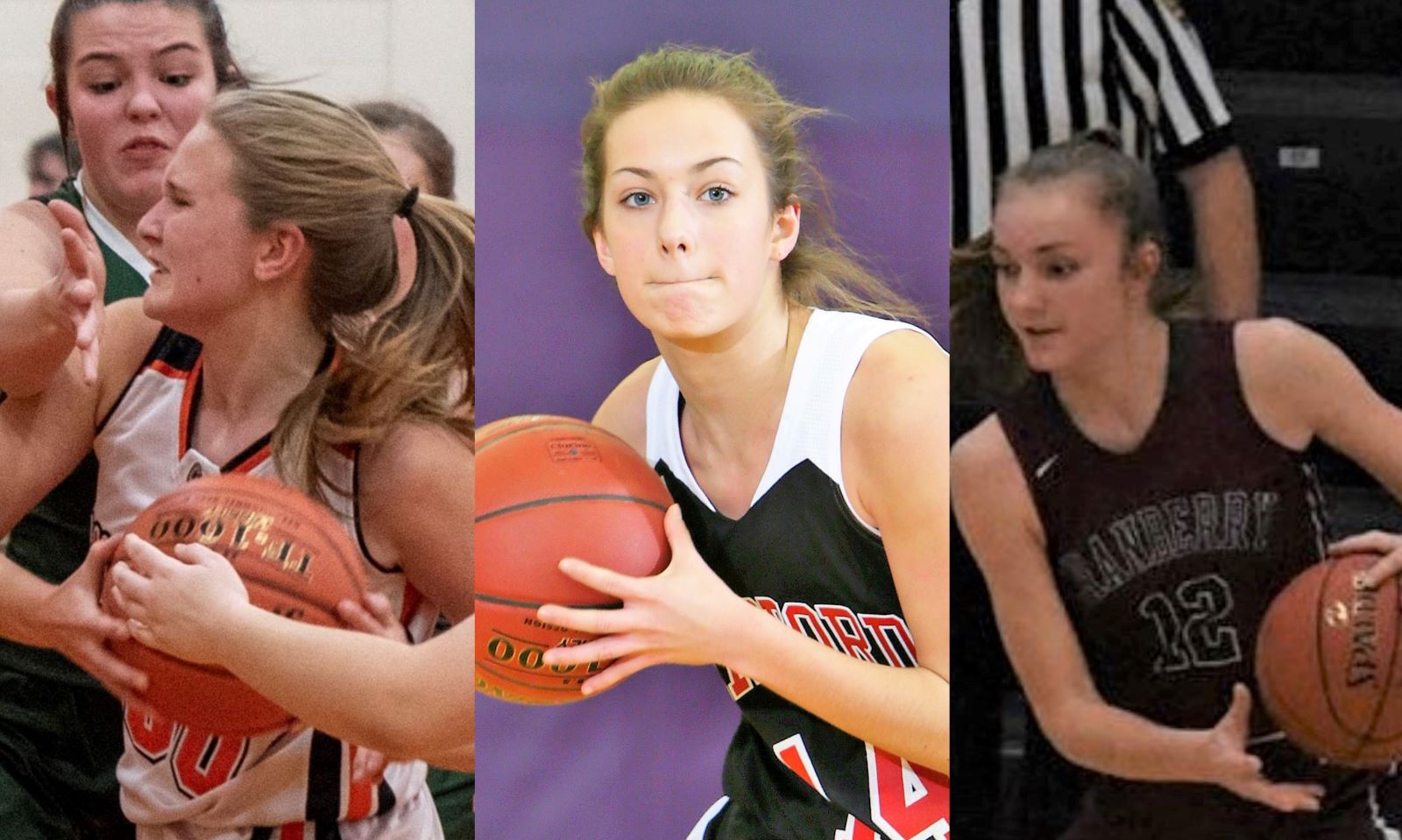 Jan. 29 girls' basketball recaps.
(Photo: (From left) Sabrina Tanner of Smethport, Erica Marshall of Bradford and Ava Ferringer of Cranberry all played key roles in their teams' overtime wins Wednesday)
BRADFORD 57, ST. MARYS 53, OT
BRADFORD, Pa. – Alanna Benson hit a pair of overtime 3-pointers to help Bradford overcome a scoreless first quarter and a six-point deficit going to the fourth quarter to stun visiting St. Marys, 57-53 in overtime.
The Lady Owls, who won in D9 League play for the first time this season, trailed 12-0 after eight minutes, 22-9 at halftime and 33-27 going to the fourth quarter but Benson hit two three 3-pointers in the fourth quarter as well to help force a 48-all tie at the end of regulation. Benson finished with 16 points.
Erica Marshall also played a large role in the comeback scoring all but six of her game-high 27 points in the third and fourth quarters including 15 of Bradford's 18 third-quarter points.
Hannah Lary also chipped in 10 points in the win for the Lady Owls.
Megan Quesenberry led St. Marys, which lost for just the fourth time this season, with 15 points. Samantha Hayes scored 11 and Kyla Johnson added nine.
CRANBERRY 50, REDBANK VALLEY 45, OT
NEW BETHLEHEM, Pa. – Ava Ferringer scored four of her 16 points in overtime to help Cranberry keeps in KSAC South title hopes alive with a 50-45 overtime victory at Redbank Valley.
Cranberry trailed 23-19 at halftime but took a 30-29 lead going to the fourth quarter thanks to third-quarter 3-pointers from Megan Hadden and Ferringer.
Redbank Valley, though, was able to force a 41-all tie at the end of regulation with Lauren Smith scoring six of her eight points in the fourth quarter and Alvia Huffman adding four of her 11 points in the quarter.
But overtime belonged to Cranberry, which was a perfect 5 of 5 from the free-throw line in the extra sessions.
Ferringer completed a double-double with 12 rebounds, while Hadden also had a double-double with 12 points and 10 rebounds. Kaylie Bruce added 10 points, seven rebounds and five steals and Kaia Dean had nine points and 10 rebounds.
Tara Hinderliter scored a game-high 20 points for Redbank Valley but had some foul trouble and finished with just six after halftime including four in overtime.
The Berries are now tied with Redbank Valley and Keystone for first place in the KSAC South identical 5-2 records with each team having three KSAC South games remaining.
Cranberry, which split the season series with Redbank Valley, hosts Karns City Friday and Clarion Tuesday before traveling to Keystone Feb. 7 already owning a win over the Lady Panthers.
Redbank Valley hosts Clarion Friday, hosts Keystone, which it lost to earlier in the year, Tuesday and is at Moniteau Feb. 7.
Keystone, which beat Karns City Wednesday night, hosts Moniteau Friday in addition to its games with Redbank Valley and Cranberry.
SMETHPORT 35, CAMERON COUNTY 30, OVERTIME
EMPORIUM, Pa. – Sabrina Tanner went 9-for-13 from the line, including 4-for-6 in overtime to lead Smethport past Cameron County, 35-30.
Tanner led the Lady Hubbers offense with 13 points while Erin Herzog added 10 tallies and seven rebounds. Mykayla Deyarmin chipped in six points and grabbed four rebounds.
Kaelee Bresslin paced the Lady Raiders offense with 11 points in the loss.
ELK COUNTY CATHOLIC 44, DUBOIS 40
ST. MARYS, Pa. – Building a 20-0 lead at the end of the first quarter, Elk County Catholic held off visiting DuBois, 44-40.
Taylor Newton scored eight of her game-high 21 points in the first quarter and added 11 rebounds for ECC, while Julia Aikens and Tami Geci each added eight points. Geci chipped in five steals.
Abby Guiher hit three 3-pointers on her way to 15 points for DuBois, which got as close as one but never could get over the top, with Olivia Johnson chipping in 11 points.
BROCKWAY 61, SHEFFIELD 21
BROCKWAY, Pa. – Mordan Lindemuth hit a pair of 3-pointers and finished with 19 points to lead Brockway to a 61-21 victory over visiting Sheffield.
Danielle Wood had 14 points and four assists for the Lady Rovers, while Selena Buttery added 11 tallies with seven assists and eight rebounds. Madely Schmader had six points and two blocks off the bench.
Lily Lauffenburger had seven points to pace the Lady Wolverines in the loss.
DUBOIS CENTRAL CATHOLIC 49, JOHNSONBURG 37
DUBOIS, Pa. – Fifteen second-half points from Shay Gulvas helped DuBois Central Catholic earn a 49-37 victory over Johnsonburg.
Gulvas was held scoreless in the first half before scoring nine in the third quarter and six in the fourth. Jordan Kosko added 13 points for the Lady Cardinals while Maia Cogley chipped in nine.
Kaci Stelene paced the Rammettes with 12 points.
KANE 45, RIDGWAY 32
RIDGWAY, Pa. – Emily Bucheit had 16 points to lead a trio of double-digit scorers as Kane took a 45-32 road victory over Ridgway.
Bucheit was 10-for-16 at the line for the Lady Wolves. Ainsely Saf went 6-for-6 and finished with 13 points while Sarri Swanson added 10. Madi Koza and Hannah Brown each had three tallies.
Gabby Rohr had 10 points for the Lady Elkers in the loss. Christina Fullem added eight.
PUNXSUTAWNEY 46, BROOKVILLE 37
PUNXSUTAWNEY, Pa. – Using a strong start Punxsutawney beat visiting Brookville, 46-37, in D9 League action.
The win coupled with St. Marys' loss to Bradford gives the Lady Chucks a two-game lead in the loss column for the conference crown with three games left to play.
Punxsutawney beat Brookville by building a 13-3 lead at the end of the first quarter and then basically played the Lady Raiders even the rest of the way.
Sarah Weaver scored 15 points, came away with three steals and handed out three assists in the win while Riley Presloid chipped in 14 points and three helpers. Ryley Casaday hauled down eight rebounds and added four assists and two points.
Lauren Hergert paced Brookville with 14 points with Madison Johnson adding 11 and Marcy Schindler eight.
CLARION-LIMESTONE 47, VENANGO CATHOLIC 27
STRATTANVILLE, Pa. – Kendall Dunn had 13 points to lead a balanced offensive attack as Clarion-Limestone defeated Venango Catholic, 47-27.
Maddy Wenner netted 10 tallies for the Lady Lions with Janelle Pezzutti chipping in seven. Anna Kennemuth and Frances Milliron each had six tallies.
Venango Catholic was without leading scorer Emma Ekis. Maria Wessell paced the Lady Vikings with 14 points while Hope Winger added 12 points and four rebounds.
NORTH CLARION 66, UNION 29
FRILLS CORNERS, Pa. – Abby Gatesman and Haley Sherman each recorded double-doubles as North Clarion rolled past Union, 66-29, for a home KSAC North victory.
Gatesman had 11 points and 12 assists while Sherman scored a game-high 13 points to go with 10 rebounds..
Also reaching double digits for North Clarion were Mackenzie Bauer with 11 points – she added five helpers – and Gabby Schmader with 10 points. Trinity Thompson tied Sherman for the team lead in rebounds with 10.
Dominika Logue paced Union with 10 points with Maggie Minick adding nine.
A-C VALLEY 47, FOREST AREA 25
MARIENVILLE, Pa. – Meah Ielase and Rachel Cullen each scored 10 points to lead visiting A-C Valley to a 47-25 win over Forest Area at East Forest.
Cullen hit three 3-pointers on her way to the 10 tallies.
Baylee Blauser and Andrea Meals each chipped in six points in the win for the Lady Falcons.
Jessica Wagner led Forest Area with nine points.
KEYSTONE 39, KARNS CITY 13
KARNS CITY, Pa. – Emily Lauer netted 13 points and added six rebounds and led a balanced offensive attack as Keystone rolled past Karns City on the road, 39-13.
Jozee Weaver added nine points for the Lady Panthers offense while Maddie Dunlap and Alyssa Dunlap each tallied six. Natalie Bowser had two points and eight rebounds.
Emma Johns netted four points to pace the Lady Gremlins offense.
MONITEAU 70, CLARION 41
WEST SUNBURY, Pa. – Kristin Auvil exploded for 26 points and 11 rebounds to lead Moniteau to a 70-41 win over visiting Clarion.
Aslyn Pry added 22 points, 10 rebounds and seven assists for the Lady Warriors with Kaitee Chesonis chipping in 10 points and Haley Pry four points and seven assists.
Kait Constantino led Clarion with 23 points, including 17 after halftime, while Payton Simko chipped in seven points.
NORTHERN POTTER 38, OSWAYO VALLEY 13
ULYSSES, Pa. – Behind 13 points and eight rebounds from Courtney Martin, Northern Potter picked up a 38-13 victory over Oswayo Valley.
Alyssa Burchell added six points, eight rebounds and five steals for the Lady Panthers. Abbie Cody netted four points while Chloe Brimmer, Becca Martin and Aubrey Anderson each chipped in three points.
Ella Malogrino paced the Green Wave with six points.
OTTO-ELDRED 57, AUSTIN 11
AUSTIN, Pa. – Hayley Cousins and Katie Sheeler combined for 23 points as Otto-Eldred left with a 57-11 victory over Austin.
Cousins led the Lady Terrors offense with 13 points while Sheeler added 10 tallies and five steals. Reilly Raught and Kayley Heller each grabbed six rebounds and had three steals and two assists. Emmalee Sheeler and Anna Merry each had six points and Bri Heller grabbed five boards.
Taylor Brewer had four points in the loss for Austin.
COUDERSPORT 38, PORT ALLEGANY 30
PORT ALLEGANY, Pa. – Mikayla Gunn and Lauren Stimaker both hit third-quarter 3-pointers to help Coudersport break a tie game at the half and pick up an important 38-30 NTL win at Port Allegany.
The victory puts the Lady Falcons in the driver's seat in the NTL with a two-game lead over Otto-Eldred with three games to play. The best Port Allegany can hope for is a three-way tie for first if Coudersport loses out and Otto-Eldred loses one of its final two.
The game as tied at 17 at the break before Coudersport used the two 3-pointers to take a 30-24 lead heading to the fourth quarter.
Sarah Chambers then scored six of her team-best 13 points in the fourth to help the Lady Falcons keep the lead.
Gunn added 10 points with Stimaker chipping in seven.
Cailey Barnett scored 12 points to pace Port Allegany with Bree Garzel chipping in seven.