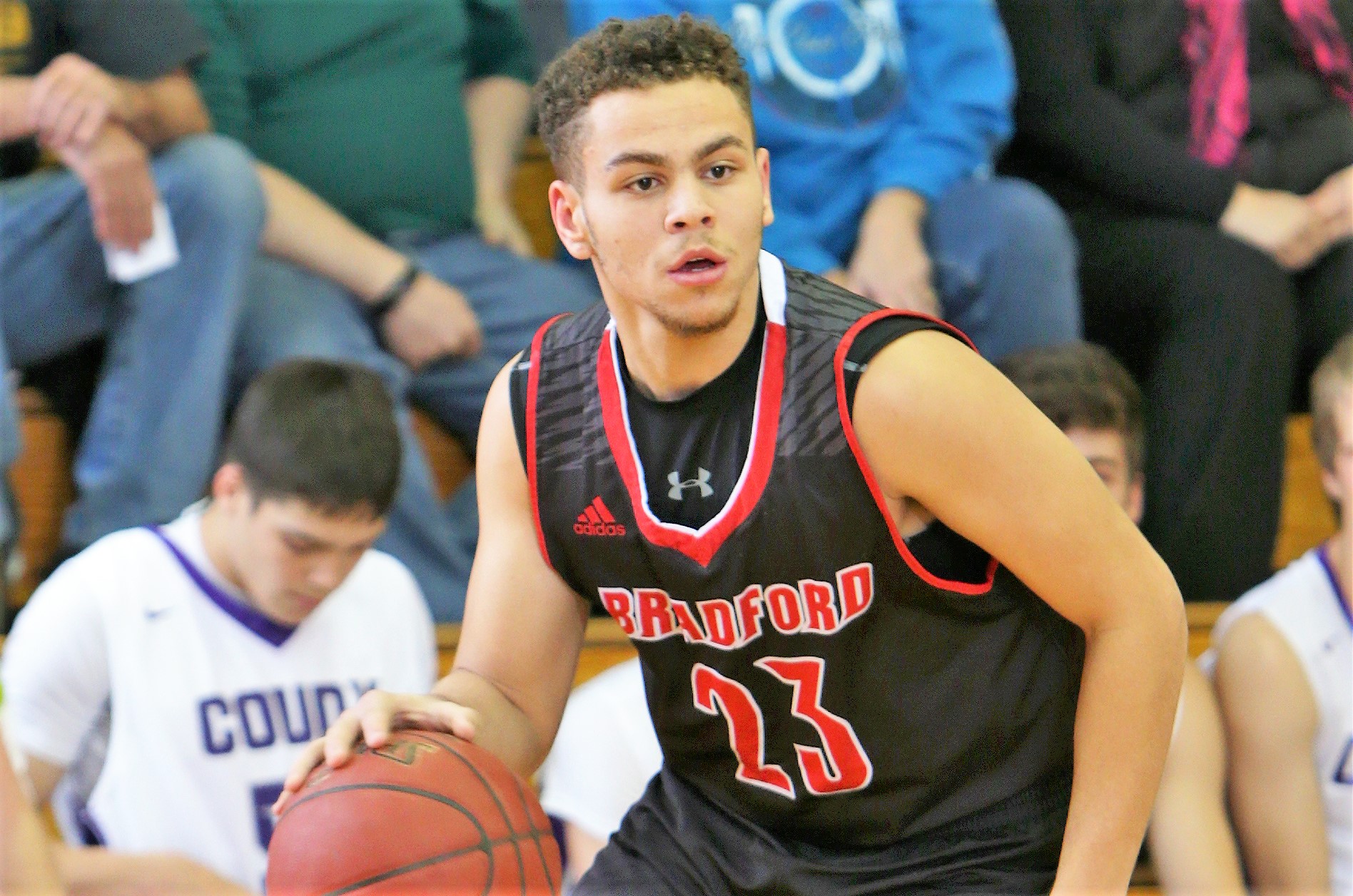 Jan. 3 recaps.
(Photo: Deondre Terwilliger of Bradford, who scored 37 points Wednesday night. Photo by Paul Burdick. Check out more of Burdick's work here)
BRADFORD 74, ST. MARYS 63
BRADFORD, Pa. – Deondre Terwilleger exploded for a career-high 37 points to lead Bradford to a key D9 League win over visiting St. Marys, 74-63.
Terwilliger connected on 15 shots in the game, including five 3-pointers. He scored 23 points after the halftime helping the Owls maintain a 14-point, 34-20, halftime lead that was built on the strength of a 17-5 first-quarter advantage. Terwilliger was a big part of that first quarter surge with eight tallies.
Tyler Gigliotti added 17 points for the Owls, while Danny Manion had 15 rebounds to go with five points. Terwilliger capped off his career night with eight boards helping Bradford out rebound St. Marys, 47-28.
Nathan Schneider led St. Marys with 17 points, Jared Groll added 14 tallies and Mitchell Reiter 11.
DUBOIS CENTRAL CATHOLIC 53, BROCKWAY 42
DUBOIS, Pa. – Justin Miknis knocked down three 3-pointers on his way to a game-high 26 points to help DuBois Central Catholic surprise visiting Brockway, 53-42, in AML action.
The Cardinals used a fast start – they led 19-13 at the end of a quarter – to take a 31-23 halftime lead and then outscored the Rovers 22-18 in the second half.
Thomas Grecco added 13 points for DCC with Carter Adams leading Brockway with 13 tallies. Noah Vokes chipped in 10 for the Rovers.
ELK COUNTY CATHOLIC 73, KANE 27
ST. MARYS, Pa. – Elk County Catholic held visiting Kane to nine second-half points on its way to a 73-27 AML win over the Wolves.
The Crusaders led 47-18 at halftime before outscoring Kane 26-9 in the final 16 minutes.
Ryan Newton paced ECC with 18 points, Bryce O'Leary added a career-best 13 tallies and Logan Hoffman had 12.
Al Rezzelle led Kane with 13 points.
RIDGWAY 52, CURWENSVILLE 32
RIDGWAY, Pa. – Neil MacDonald and Johnny Mitchell combined for 32 points to lead Ridgway to a 52-32 home AML win over Curwensville.
MacDonald led the Elkers with 17 points with Mitchell adding 15. Daunte Allegretto also had eight tallies for Ridgway.
Josh Terry's 12 points led Curwensville.
KARNS CITY 72, A-C VALLEY 61
KARNS CITY, Pa. – Chase Beighley netted 24 points and handed out five assists to help Karns City to a 72-61 KSAC South win over visiting A-C Valley.
Nathan Waltman added 14 points for the Gremlins with Logan Pistorius scoring 11 points and Jacob Friel netting 10 points and nine rebounds.
Dalton Callander paced A-C Valley with 13 points, Eddie Stevanus added 11 and Brendan Price 10.
REDBANK VALLEY 44, MONITEAU 38
NEW BETHLEHEM, Pa. – Ethan Hetrick scored 17 points to help Redbank Valley overcome a slow start and pick up its first KSAC South win of the year, 44-38, over visiting Moniteau.
The Bulldogs trailed 9-5 at the end of a quarter and 19-16 at halftime before outscoring the Warriors, 28-19 in the second half including 18-8 in the third quarter.
Keaton Kahle chipped in seven points for Redbank Valley.
Jared Lomanski led Moniteau with 11 points, eight in the first quarter. Ethan McDevitt and Gage Neal each added eight apiece.
KEYSTONE 64, UNION 28
KNOX, Pa. – Keystone jumped out to an 18-point lead at the end of a quarter and had a 31-point advantage by halftime on its way to a 64-28 win over Union in KSAC South play.
The Panthers led 20-2 at the end of eight minutes and 41-10 at halftime.
Three players reached double digits for Keystone with Nate Wingard leading the way with 14 points and four assists. Dalton Jones added 13 points and Isaak Jones had 12. Corey Rapp chipped in with four points and five steals and Dawson Steele had five assists.
Lucas Bowser's 10 points led Union.
NORTH CLARION 86, VENANGO CATHOLIC 59
FRILLS CORNERS, Pa. – Zander Hargenrader and Nathan Banner both hit the 20-point mark in an 86-59 North Clarion win over visiting Venango Catholic in KSAC North action.
Hargenrader had a career-best 20 points with Banner finishing with a team-high 25 points to go with 10 rebounds and five assists. Kyle Mills also had a double-double for the Wolves with 12 points and 10 rebounds with Jesse Schmader chipping in eight points.
Josh Puleo had a game-high 27 points for Venango Catholic with Andrew Burda chipping in 13 points and Ben Gillispie 10.
CLARION 88, FOREST AREA 57
TIONESTA, Pa. – Cam Craig led a foursome of Clarion players in double digits with 27 points, all in the first three quarters, as the visiting Bobcats cruised to an 88-57 win over Forest Area at West Forest.
Archer Miles, Josh Craig and Calvin German each added 11 points for Clarion with all 11 of German's coming in the second half including eight in the fourth quarter.
Seth Berlin led Forest Area with 18 points and 11 rebounds with Dillion DiCorpo chipping in 12 points.
CLARION-LIMESTONE 78, CRANBERRY 38
STRATTANVILLE, Pa. – Ian Callen had 17 points, 13 assists, nine steals and seven rebounds to lead Clarion-Limestone past visiting Cranberry, 78-38, in KSAC North play.
Deion Deas led the Lions with a game-high 21 points, Hayden Callen added 14 points and seven rebounds and Christian Smith chipped in seven points and seven rebounds.
Dan McQuade, Matt Meehan and Garrett Zerbe each scored seven points to pace Cranberry.
BROOKVILLE 59, PHILIPSBURG-OSCEOLA 40
BROOKVILLE, Pa. – Three players reached double figures in scoring and a fast start helped lead Brookville to a 59-40 non-league win over visiting Philipsburg-Osceola.
The Raiders led 18-8 after one quarter and extended their lead to as many as 18 at 26-8 early in the second quarter before playing the Mounties basically even the rest of the way.
Bryan Dworek scored 10 of his 14 points in the first quarter but was hampered with foul trouble for most of the first three quarters. Aaron Park and Nick Keth each scored 10 points. Park led the Raiders with nine rebounds.
Marcus Wisor led P-O with 20 points.