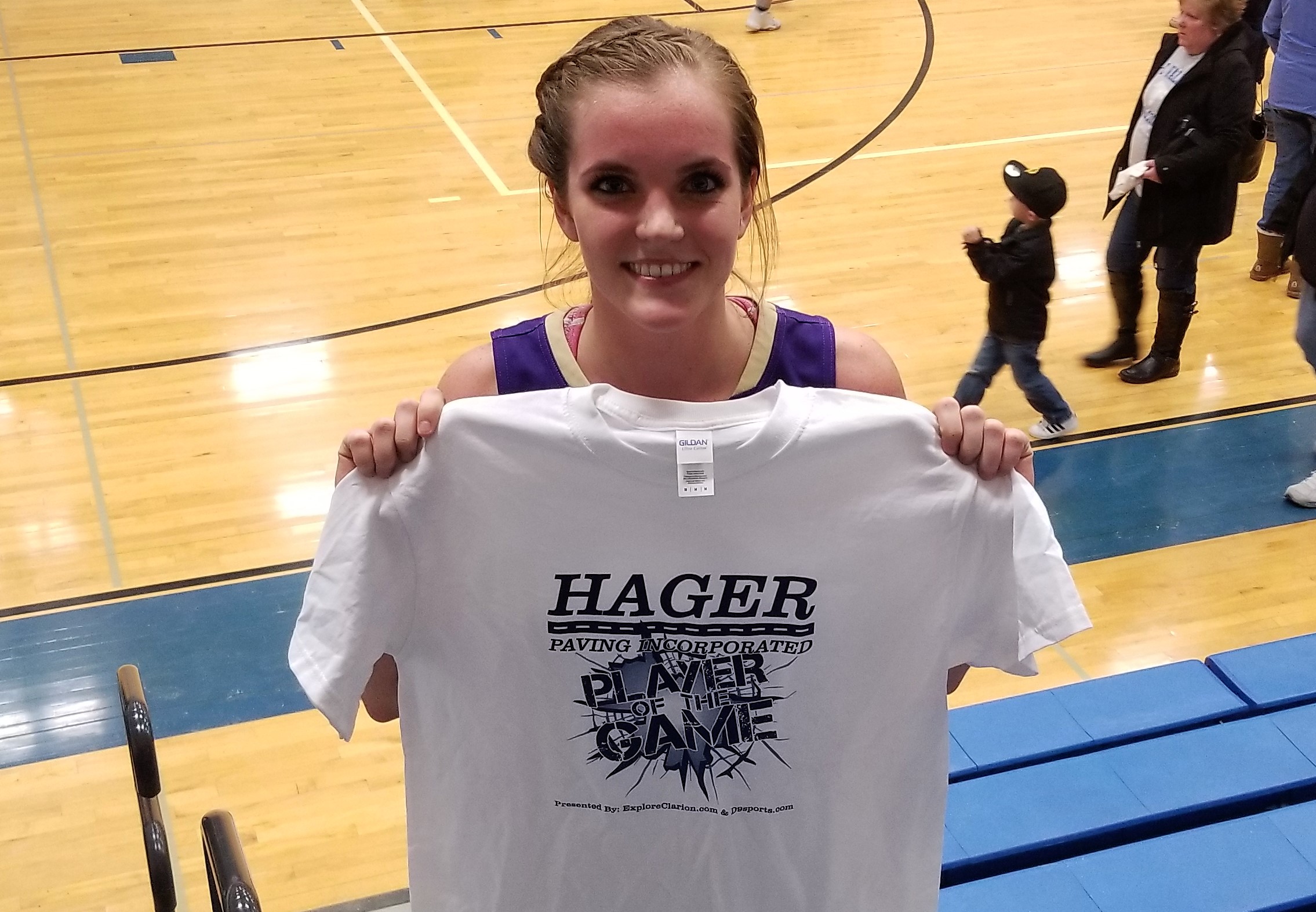 Jan. 3 recaps.
KARNS CITY 51, A-C VALLEY 50, OVERTIME
FOXBURG, Pa. – Emily Hegedus' driving coast-to-coast layup with 6.6 seconds left in overtime lifted Karns City to a 51-50 win over A-C Valley in a key KSAC South game at A-C Valley.
Karns City never trailed in regulation and in fact led the game for nearly 33 straight minutes before Cami McNany's 3-pointer with 14.5 seconds left in regulation tied the game for A-C Valley, which trailed by 18, 28-10, three minutes into the second half.
Liv Andreassi gave the Lady Gremlins the lead back with two free throws with 4.5 seconds to play, but Ellie Thompson sent the game to overtime when she delivered a game-tying shot at the horn that knotted the contest at 45.
McNany then gave A-C Valley its only lead of the game, 48-45, when she hit a 3-pointer 55 seconds into overtime. Hegedus responded with two free throws, but Oliva Boocks answered with a pair of free throws. Hegedus then hit a tough scoop shot with 27.9 seconds to play to make it 50-49, and after Boocks missed a free throw with 15.1 left, Andreassi forced a tie-up on the rebound with the arrow going to Karns City setting up Hegedus winning shot.
A-C Valley had one last hope, but Boocks' layup at the horn wouldn't fall.
Hegedus had a monster game for Karns City with 30 points and nine rebounds and shared her thoughts about the win.
Sara Knox added seven points and 12 rebounds for Karns City with Andreassi chipping in six points and 11 boards.
Boocks led A-C Valley, which started the game 1-for-20 from the floor and while going 3 of 22 in the first half, with 17 points and four rebounds. Thompson and McNany each had 10 points and four boards.
GALETON 49, CAMERON COUNTY 46, OVERTIME
GALETON, Pa. – Haylee Lundington forced overtime with a shot with 10 seconds left in regulation for Galeton and the homestanding Lady Tigers went on to beat Cameron County, 49-46, in North Tier League play.
Lundington's basket knotted the game at 41, and Galeton outscored Cameron County 8-5 in overtime.
Makaya Shadle led Galeton with 17 points, Ludington added 12 and Katelyn Pagno chipping in 14.
Kaelee Bresslin, Kamme Guisto and Alyvia McKimm each scored 11 points to lead Cameron County with Amily Schatz chipping in 10 points.
RIDGWAY 46, CURWENSVILLE 33
CURWENSVILLE, Pa. – Emily Fullem's double-double of 18 points and 12 rebounds helped visiting Ridgway to a 46-33 win over Curwensville in AML action.
Fullem also added four assists, four steals and three blocked shots. Casey Woodford chipped in 10 points, six rebounds and four helpers for the Lady Elkers with Alyssa Kasmerski scoring six points to go with seven rebounds and three assists.
Madison Weber led Curwensville with 12 points.
ST. MARYS 48, BRADFORD 39
ST. MARYS, Pa. – Kaylee Muccio and Megan Quesenberry each scored 11 points to lead St. Marys to a 48-39 D9 League win over Bradford.
Erica Marshall led all scorers with 13 points for Bradford.
KEYSTONE 60, UNION 31
KNOX, Pa. – Taylor Geer had 18 points and 10 rebounds to lead Keystone to its fourth straight win with 60-31 victory over visiting Union in KSAC South action.
Emily Laurer added 14 points for the Lady Panthers with McKenzie Hovis chipping in nine points.
Frankee Remmick led Union with 11 points with Hannah Atzeni adding 10 points.
MONITEAU 61, REDBANK VALLEY 35
WEST SUNBURY, Pa. – Emma Bair had 18 points, 11 rebounds and seven blocked shots to lead Moniteau to a 61-35 win over visiting Redbank Valley in KSAC South play.
Kristin Auvil also scored 18 points for the Lady Warriors with Andie Arblaster adding seven points, nine rebounds and six assists and Izzy Bair 12 points and nine rebounds.
Tara Hinderliter led Redbank Valley with 12 points with Kelsie Elmer adding 10 points.
CRANBERRY 80, CLARION-LIMESTONE 25
SENECA, Pa. – Erin Merryman and Malliah Schreck combined for 48 points to lead Cranberry to an 80-25 win over visiting Clarion-Limestone.
Merryman had a game-high 25 points for the Berries with Schreck adding 23.
Morgan Clark led C-L with 12 points.
CLARION 60, FOREST AREA 42
CLARION, Pa. – Kait Constantino had a triple-double to lead Clarion to a 60-42 win over visiting Forest Area in KSAC North play.
Constantino scored 26 points, grabbed 12 rebounds, came away with a school-record 12 steals and handed out eight assists in the win. The 12 steals topped the previous school mark of 11 set by Kristen Siegel during the 1989-90 season vs. Moniteau.
KK Girvan added 14 points for the Lady Cats with Ali Troese chipping in six points and nine rebounds and Wendy Beveridge nine points and five steals.
Jasmine Ginery led Forest Area with 13 points with Emily Everett adding 10.
NORTH CLARION 69, JOHNSONBURG 54
JOHNSONBURG, Pa. – Tori Obenrader had 29 points and 12 rebounds to lead North Clarion to a 69-54 win at Johnsonburg.
Abby Gatesman added a double-double with 10 points and 10 assists for the She-Wolves with Cierah Manross and Mackenzie Bauer each adding 10 points as well.
Cassidy King and Maria Jones each had 16 points for Johnsonburg with Rylee Casilio adding 14 points.
NORTHERN POTTER 62, OSWAYO VALLEY 34
ULYSSES, Pa. – Mikayla Lewis netted 16 points to help Northern Potter top visiting Oswayo Valley, 62-34, in North Tier League action.
Becca Morgan added 14 points for the Lady Panthers with Abbi Anderson chipping in 10 and Kalie Cowburn eight points and 13 rebounds.
Shayla Bickel had 16 points to lead Oswayo Valley.
COUDERSPORT 79, AUSTIN 14
AUSTIN, Pa. – Shaelyn Black and Haley Keck teamed up to score 45 points as visiting Coudersport rolled to a 79-14 North Tier League win over Austin.
Black led the Lady Falcons with 23 points with Keck chipping in 22. EmmaRae Easton also had 12 for Coudersport.
Jordan Brewer had six points for Austin.
OTTO-ELDRED 59, SMETHPORT 50
DUKE CENTER, Pa. – Camryn Thomas had 23 points and eight rebounds and Ali Cousins added 21 points to lead Otto-Eldred to a 59-50 win over visiting Smethport in North Tier League action.
Alyssa Shelander chipped in four points, six assists and five rebounds for the Lady Terrors with Brittney Greeley adding four points and five boards and Emily Smith two points and five rebounds.
Abbey Woodard had a game-high 24 points for Smethport with Emily Treat adding 10.
ELLICOTTVILLE (N.Y.) 50, PORT ALLEGANY 37
PORT ALLEGANY, Pa. – Lynea Jimerson netted 23 points to help visiting Ellicottville (N.Y.) to a 50-37 win over Port Allegany.
Erin Stouffer led Port Allegany with 11 points.
SHEFFIELD 56, TIDIOUTE CHARTER 35
SHEFFIELD, Pa. – Lexi Lyon's monster game for 24 points and 21 rebounds led Sheffield to a 56-35 win over visiting Tidioute Charter.
Elzia Davidson added five points and 13 rebounds for the Lady Wolverines with Marissa Grubbs and Destiny Wynn each scoring eight points.
Nakiesha Krause had 15 points for Tidioute Charter.
PUNXSUTAWNEY 41, CLEARFIELD 24
HYDE, Pa. – Kate Horner had 18 points, five rebounds and five steals to help visiting Punxsutawney to a 41-24 win over Clearfield.
Leah Miller added a double-double for the Lady Chucks with 11 points and 16 rebounds.
Alayna Ryan led Clearfield with 10 points.