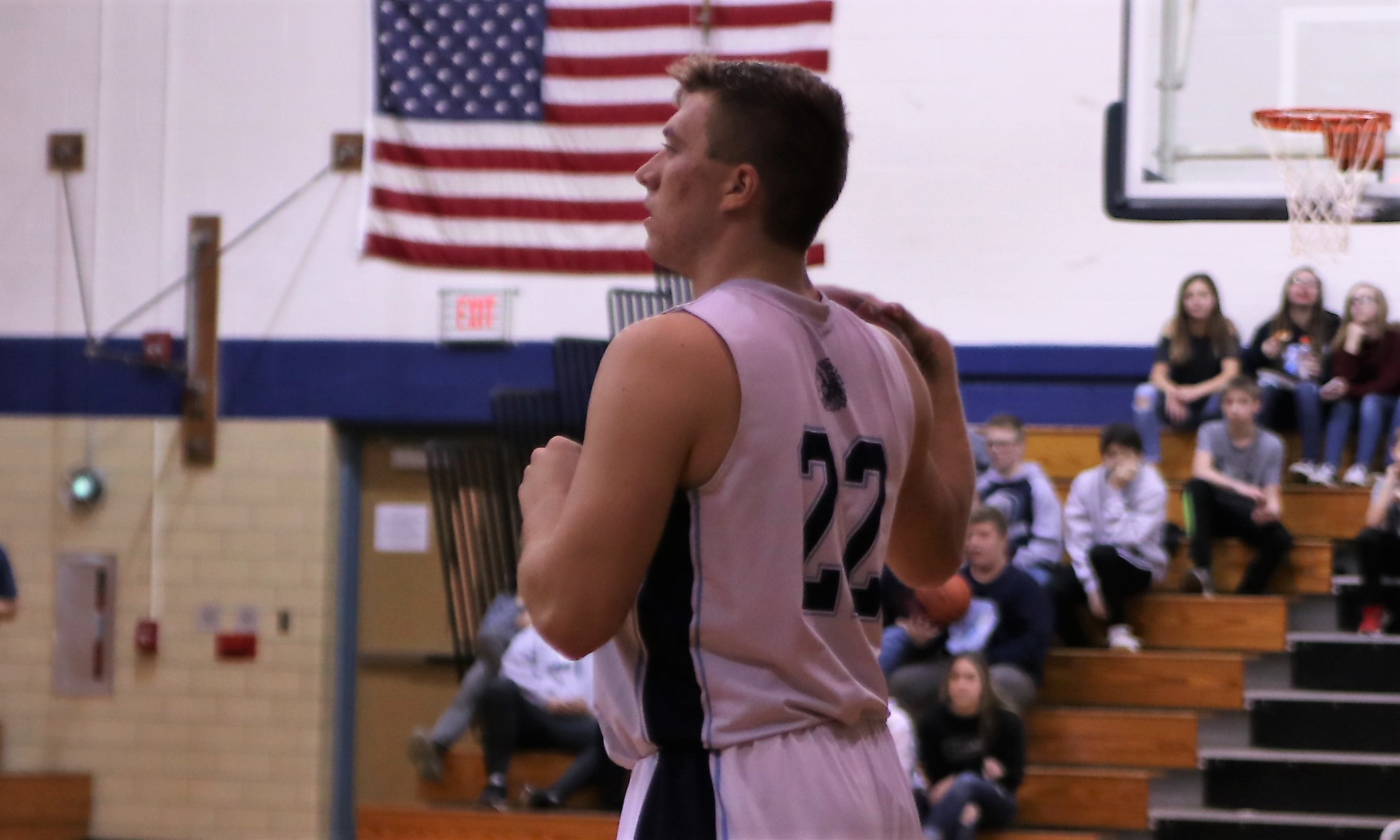 Jan. 3 boys' and girls' basketball recaps.
(Photo of Brookville's Trenton Gilhousen, who had 13 points in the Raiders win over Punxsutawney Thursday. Photo by Jared Bakaysa of JB Graphics. See more of Bakaysa's work here)
BOYS
BROOKVILLE 65, PUNXSUTAWNEY 48
PUNXSUTAWNEY, Pa. – Trenton Gilhousen led a balanced Brookville effort with 13 points, as the Raiders picked up a 65-48 D9 League road win over Punxsutawney.
Aaron Park and Logan Byerly each added 10 points for the Raiders with Robert Keth and Jace Miner scoring eight each.
Ethan Blose paced Punxsutawney with 19 points with Carter Newcome adding 10.
AUSTIN 90, OSWAYO VALLEY 39
SHINGLEHOUSE, Pa. – Jackson Glover had a triple-double, as Austin exploded for 90 points in a 90-39 win at Oswayo Valley in NTL action.
Glover scored 18 points, had 15 steals and handed out 13 assists while just missing a quadruple-double with nine rebounds for the Panthers.
Also for Austin, Blake Burgett had a game-high 27 points and Mason Valenti adding 21.
Honor Gross paced Oswayo Valley with 14 points with Gunner Bean adding 11.
GALETON 57, PORT ALLEGANY 48
PORT ALLEGANY, Pa. – Joel Griffen and Evan Brooks combined for 39 points to give Galeton a 57-48 road NTL victory over Port Allegany.
Griffen led the Tigers with 20 points with Brooks chipping in 19. Isaiah Shuemaker added 12 tallies in the victory.
Jordan Card and Howie Stuckey each scored 16 points for Port Allegany.
COUDERSPORT 83, SMETHPORT 33
COUDERSPORT, Pa. – Owen Chambers hit five 3-pointers on his way to a game-high 34 points, as Coudersport defended its home court with ease in an 83-33 win over Smethport in NTL play.
Hayden Keck added 22 points in the victory for the Falcons.
Caleb Lutz had 15 points to pace Smethport.
CAMERON COUNTY 54, OTTO-ELDRED 43
EMPORIUM, Pa. – Jake Walters had a double-double of 12 points and 12 rebounds to help Cameron County hold back visiting Otto-Eldred, 54-43, in NTL action.
Marcus Brown led the Red Raiders with 13 points with Dino Brown chipping in 12 points and Caden Beldin eight.
Cole Sebastian had 12 points for Otto-Eldred with Andrew Sheeler adding 10 tallies for the Terrors.
TIDIOUTE CHARTER 54, VENANGO CATHOLIC 49
OIL CITY, Pa. – Jared Veasey and Ryan Williams combined to score 31 points to lead Tidioute Charter to a 54-49 road win over Venango Catholic.
Veasey scored a team-best 16 points for the Bulldogs with Williams adding 15. Derek Klos chipped in with 10.
Andrew Burda led Venango Catholic with a game-high 27 points with Parker Slagle adding 11.
GIRLS
JOHNSONBURG 55, NORTH CLARION 46
FRILLS CORNERS, Pa. – A big second quarter helped visiting Johnsonburg to a 55-46 win at North Clarion in a battle of two of the top Class 1A teams in District 9.
The Ramettes trailed 10-9 after a quarter but got 10 second-quarter points from Maria Jones while outscoring the She-Wolves 20-8 in the quarter to take a 29-18 halftime lead.
North Clarion fought back in the third quarter and cut the deficit to 39-34 behind nine points from Abby Gatesman.
The She-Wolves then were within three in the final minute, but Johnsonburg was able to hit some free throws late to secure the victory.
Jones and Cassidy King both scored 23 points to lead the Ramettes.
Gatesman tied Jones and King for game-high honors with 23 points with Mackenzie Bauer adding 12 points, including eight in the first quarter, for North Clarion.