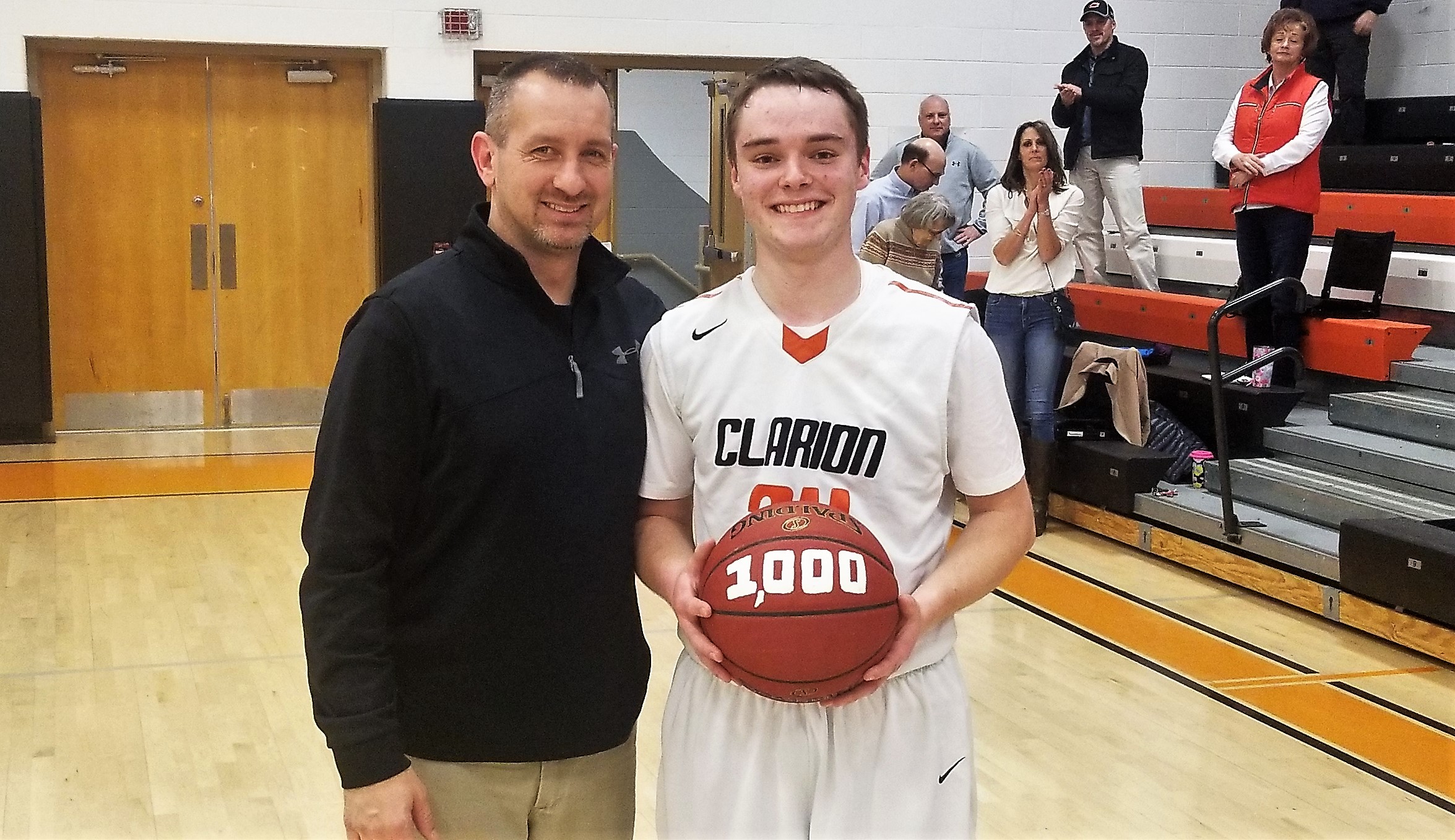 Jan. 31 recaps.
(Photo of Clarion Cam Craig with head coach Jess Quinn after scoring his 1,000th career point Wednesday. Photo by Chris Rossetti)
CLARION 70, VENANGO CATHOLIC 35
CLARION, Pa. – With a 3-pointer with just over two minutes to play in the first half, Cam Craig became the 10th player in Clarion boys' basketball history to score 1,000 career points.
Craig, the first Bobcat to 1,000 since Roland Shannonhouse in 2013, came into the game needing eight points for the milestone. He finished with 13 giving him 1,005 in his career.
Watch Craig drain his 1,000th point.
Craig's milestone came in a 70-35 KSAC North win over visiting Venango Catholic, Clarion's 10th win in its last 11 games.
Austin Hummell led the balanced Bobcats with 14 points with Calvin German adding nine and Archer Mills eight.
Josh Puleo paced Venango Catholic with 11 points while Ben Gillispie and Parker Slagle each had 10.
KARNS CITY 57, KEYSTONE 55
KARNS CITY, Pa. – Karns City built a seven-point halftime lead and then held off visiting Keystone to forge a tie for first place in the KSAC South with a 57-55 win over the Panthers.
Nolan Riley scored nine of his 13 points in the second quarter to help the Gremlins outscored Keystone 18-11 in the quarter to take a 28-21 halftime lead.
But the Panthers rallied in the second half before coming up just short.
Austin Fahlor led Karns City with 14 points with Chase Beighley adding 12 and Nathan Waltman eight. Jacob Friel chipped in five points, eight rebounds and seven assists.
Corey Rapp scored a game-high 22 points for Keystone including 20 after halftime. Isaak Jones added 11 tallies. Rapp added six steals.
If both teams win out in KSAC South play, and they both have three games left, the winner of the KSAC North could determine the winner of the KSAC South.
CLARION-LIMESTONE 103, FOREST AREA 64
MARIENVILLE, Pa. – Clarion-Limestone topped the 100-point mark for the first time in 16 years in getting a 103-64 KSAC North win over Forest Area at East Forest.
Christian Smith and Deion Deas both had career highs in points for the Lions with Smith netting 31 points to go with eight rebounds and Deas adding a game-high 32 points to go with nine rebounds and eight assists. Ian Callen chipped in 26 points, 10 steals, eight rebounds and seven assists.
Seth Berlin made it three players to 30 points in the game leading Forest Area with 30 points, 20 rebounds, four blocked shots and four steals. Jarrett Kahle chipped in 13 points, eight rebounds and four blocked shots for the Fires.
C-L led 27-19 after a quarter and 55-37 at halftime before outscoring Forest Area 33-12 in the third quarter behind 11 points from Deas, 10 from Callen and 10 from Smith.
It is the first time C-L has hit 100 points in a game since beating A-C Valley, 109-55, Jan. 25, 2002.
Prior to Coudersport scoring 100 points in a 100-33 win over Austin Tuesday, it has been over 11 years since a District 9 boys' team had scored 100 points in a game. The last team, prior to Coudersport Tuesday, to net 100 was Johnsonburg when it beats St. Marys in overtime, 104-96, Dec. 29, 2006. Johnsonburg was also the last D9 team to reach 100 in regulation prior to Tuesday when it beat East Forest, 103-46, Dec. 15, 2006.
NORTH CLARION 82, CRANBERRY 47
FRILLS CORNERS, Pa. – Nate Banner and Kyle Mills combined to score 36 points to help North Clarion dispatch visiting Cranberry, 82-47, in KSAC North action.
Banner led the Wolves with 19 points and eight rebounds with Mills chipping in 17 points.
Tyler McCord-Wolber also had 10 points for North Clarion, which had 14 players find their way onto the scoresheet, while Keeven Weaver chipped in five points, four assists and four steals.
Thomas Flinspach had 15 points to lead Cranberry and Brandon Forrest added nine.
REDBANK VALLEY 74, UNION 46
NEW BETHLEHEM, Pa. – A season-high 24 points from Keaton Kahle helped Redbank Valley cruise past visiting Union, 74-46, in KSAC South action.
Nick Smith added 19 points for the Bulldogs who also got 12 points from Brock Barrett.
Lucas Bowser scored 18 points for Union with Nolan Cumberland adding six points and nine rebounds, Reice Saylor four points, eight rebounds and four steals and Hunter Johnston five points and five assists.
MONITEAU 62, A-C VALLEY 54
WEST SUNBURY, Pa. – Ross Tenney led a foursome of Moniteau players in double digits with 20 points, as the Warriors took care of visiting A-C Valley, 62-54.
Ethan McDeavitt and Jared Lominski each added 12 tallies for Moniteau with Tyler McFadden scoring 10.
Eddie Stevanus paced A-C Valley with 15 points with Dalton Callander adding 10.
BROCKWAY 76, SHEFFIELD 54
SHEFFIELD, Pa. – Led by 19 points from Carter Adams, 11 different Brockway players scored in a 76-54 road AML win over Sheffield.
Zane Puhala added 13 points for the Rovers with Anthony Esposito chipping in 12, Noah Vokes 10 and Alec Freemer eight.
Freshman Jake Vinopal had 16 points and seven rebounds for Sheffield with Matt Dunham adding 10 points.
PUNXSUTAWNEY 50, HOLLIDAYSBURG 38
HOLLIDAYSBURG, Pa. – Going on the road, Punxsutawney got a balanced scoring effort to surprise Hollidaysburg, 50-38.
Brandon Matthews led the Chucks with 17 points, Tyler Richardson added 14 and Ethan Blose 13.
Ethan Haupt had 17 points to lead Hollidaysburg, which came into the game 9-5 on the season.
ELK COUNTY CATHOLIC 63, DUBOIS 55
DUBOIS, Pa. – Ryan Newton scored 20 points to help visiting Elk County Catholic to a 63-55 D9 League win over DuBois.
Leo Gregory added 13 points for the Crusaders, who led 50-34 after three quarters, with Logan Hoffman chipping in nine points and Brady Schneider eight.
Chase Husted paced DuBois with 11 points and 10 rebounds. Justin Manduley and Jonathan Cruz both scored 17 points.
JOHNSONBURG 53, DUBOIS CENTRAL CATHOLIC 41
JOHNSONBURG, Pa. – Austin Green and Kacey Raubenstrauch combined to score 23 points to lead Johnsonburg to a 53-41 AML win over visiting DuBois Central Catholic.
Green led the Rams with 12 points with Raubenstrauch adding 11. Tyler SInger and Nick Bliss each chipped in eight.
Justin Miknis paced DCC with 16 points with Josh Solnosky adding nine tallies.
CURWENSVILLE 60, GLENDALE 49
FLINTON, Pa. – Josh Terry exploded for 34 points to lead Curwensville to a 60-49 Moshannon Valley League road win over Glendale.
Terry hit 16 shots from the field, including five 3-pointers.
Devon Barrett added 11 points for the Golden Tide in the win
RIDGWAY 54, KANE 32
KANE, Pa. – Daunte Allegretto netted a game-high 14 points to lift visiting Ridgway to a 54-32 AML victory over Kane.
Neil MacDonald added 10 points for the unbeaten Elkers with Andy Breier chipping in eight tallies.
Chad Greville paced Kane with eight points and Tommy Holt scored seven.