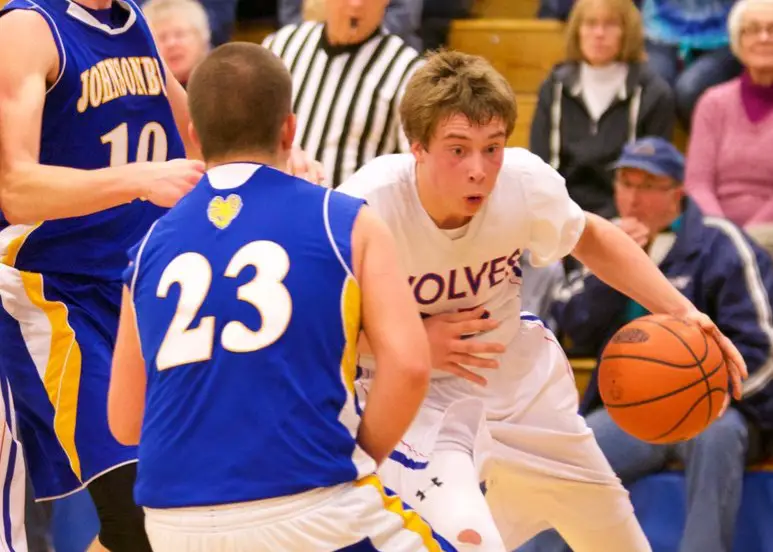 KANE 63, JOHNSONBURG 49
KANE, Pa. – Andrew Bucheit's monster game led Kane to a 63-49 win over visiting Johnsonburg in AML action Monday.
Bucheit had 28 points and 12 rebounds for the Wolves, while Frank Truden added 12 points and Andy Bundy six points and 10 assists. It was the sixth 20-point game in eight contests for Bucheit, who had four 3-pointers in the contest while also going 5 of 6 from the line.
On the strength of 15 first-half points by Bucheit, Kane led 21-19 at the break and increased the advantage to four, 41-37, after three quarters with Bucheit and Truden each scoring seven points in the third quarter. The Wolves then put the game away with a 21-12 fourth-quarter edge that saw Davis Gardner bucket all seven of his points.
Kevin Benson led Johnsonburg with 18 points, including 13 after halftime. Jake Sheldon added 13 points for the Rams.  
ELK COUNTY CATHOLIC 71, SHEFFIELD 26
ST. MARYS, Pa. – Led by 14 points from Frank Singer, 11 different Elk County Catholic players scored to lead the Crusaders to a 71-26 win over visiting Sheffield in AML action Monday.
Jack Wolfe added 10 points for ECC, Brad Dippold chipped in eight and Joe Kucenski seven.
Roger Dunham paced Sheffield with six tallies, and Austin Simmer added five for the Wolverines.  
DUBOIS CENTRAL CATHOLIC 62, CURWENSVILLE 48
CURWENSVILLE, Pa. – Freshman Justin Miknis scored a career-high 23 points, and Christian LaParne added 21 to pace DuBois Central Catholic to a 62-48 win at Curwensville in AML play Monday night.
Miknis hit four 3-pointer enroute to his first 20-point game, while LaParne scored eight first-quarter points helping the Cardinals take a 16-11 lead after one quarter of play.
DCC expanded the lead to 31-19 at halftime thanks to a 9-point quarter from Miknis, who had 14 at the half.
Jake Terry led Curwensville with 16 points while hitting four 3-pointers, and Zach Marshall added 12.
BRADFORD 46, ST. MARYS 41
BRADFORD, Pa. – Deondre Terwilliger scored six of his game-high 18 points in the fourth quarter to help Bradford to a 46-41 win over St. Marys Monday night in Bradford.
The teams were tied at 32 going to the final eight minutes before Bradford, behind Terwilliger, took over outscoring St. Marys 14-9 in the final quarter/
Nate Higbie added 14 points and eight rebounds for the Owls with Andy Pantuso chipping in six points and four assists.
Jeffrey Wehler led St. Marys with 17 points including nine in the first quarter when he helped stake the Dutch to a 16-15 lead.
Parker Housler added 10 points and Brady Bauer nine for St. Marys, who led by three, 22-19, at the break.
KEYSTONE 39, KARNS CITY 35
KNOX, Pa. – Austin Ion scored 17 points, and Keystone rode the wave of a strong first quarter to upset visiting Karns City 39-35 Monday night in KSAC South action.
The Panthers led 9-4 at the end of the first quarter and 21-16 at halftime.
Corey Rapp added seven points and Tanner Wilson six for Keystone, who could have won by more but hit just 11 of 25 free throws.
Karns City, which was 5 of 9 from the line, got eight points from Chandler Turner, five in the fourth quarter, and six from Ben Ealy.
VENANGO CATHOLIC 73, FOREST AREA 43
TIONESTA, Pa. – Brady Kingston and Noah Puleo both topped the 20-point mark to lead visiting Venango Catholic to a 73-43 win over Forest Area Monday at West Forest.
Kingston led all scorers with 25 points, including 19 in the first half, while Puleo added 24 points, 22 after halftime with 15 of those coming in the third quarter. Ian Hindinger chipped in with eight tallies for the Vikings, who led 15-2 at the end of one quarter and 36-23 at halftime.
Nic Smail led the Forest Fires with 12 points, and Seth Berlin added 11. Eight of Smail's points came in the second quarter.
OTTO-ELDRED 59, NORTHERN POTTER 39
ULYSSES, Pa. -Heath Stewart recorded his second 20-point game of the season netting a game-high 26 points to go with seven steals and seven rebounds, as visiting Otto-Eldred picked up a 59-39 win over Northern Potter in North Tier League action Monday.
Stewart scored 10 of his points in a key third quarter that saw the Terrors take an eight-point halftime lead, 30-22, and expand it into an 18-point, 50-32, advantage.
Dylan Close added 13 points and Trey Dalton 10 for Otto.  
Frank Gardner led a trio of Northern Potter players in double figures with 13 points. Blake Jeffers and Tucker Kosa each added 11 points.
COUDERSPORT 67, CAMERON COUNTY 25
COUDERSPORT, Pa. – It was another balanced effort for Coudersport, as the Falcons remained unbeaten with a 67-25 win over visiting Cameron County Monday night in North Tier League action.
Darren Keglovits and Aaron Wolfinger each scored 14 points for Coudy (9-0) with Jared Green adding 13 and Zach Layag 12. Wolfinger and Green both had a team-high eight rebounds.
Coudersport led by just 12, 19-7, at the end of the first quarter but outscored the Red Raiders 26-9 in the second quarter to put the game away by the half with a 45-16 lead.
Jordan Cosby and Derek Rieder each scored six points to lead Cameron County.
SMETHPORT 55, AUSTIN 44
SMETHPORT, Pa. – Austin Crooks scored a game-high 21 points to lead Smethport to its first win of the season, 55-44, over visiting Austin in North Tier League play Monday.
The victory avenged a loss to the Panthers by the Hubbers last week and featured Smethport's first 20-point scoring performance of the year.
Bryce Nelson added 16 points for Smethport , who used a 21-13 fourth quarter advantage to pull away after leading by just three, 34-31, going to the final eight minutes.
Anderson Nicka paced Austin with 17 points with Blake Burgett adding nine.
OSWAYO VALLEY 46, PORT ALLEGANY 40
PORT ALLEGANY, Pa. – Theo Henry scored 13 points to lead Oswayo Valley to a 46-40 North Tier League road win at Port Allegany Monday night.
Henry netted eight of his points in the fourth quarter going 6 of 8 from the line in the frame to help the Green Wave outscore the Gators 17-13 in the final eight minutes.
Ricardo Gross and Brandon Brabham each added nine points for OV, while Tre Garzel led Port with 14 points and Jordan Seefeldt chipped in eight.
WYALUSING 55, GALETON 40
GALETON, Pa. – Despite 13 points and eight rebounds from McKinley Ward and nine points, eight rebounds and five helpers from Mitchell Smith, Galeton dropped a 55-40 non-conference decision to visiting Wyalusing Monday.
Freshman Evan Brooks added eight points for the Tigers.  
Keshon Gardner led Wyalusing with 16 points with Jon Morrison scoring 14 and Ridge Williams 11 for the Rams.