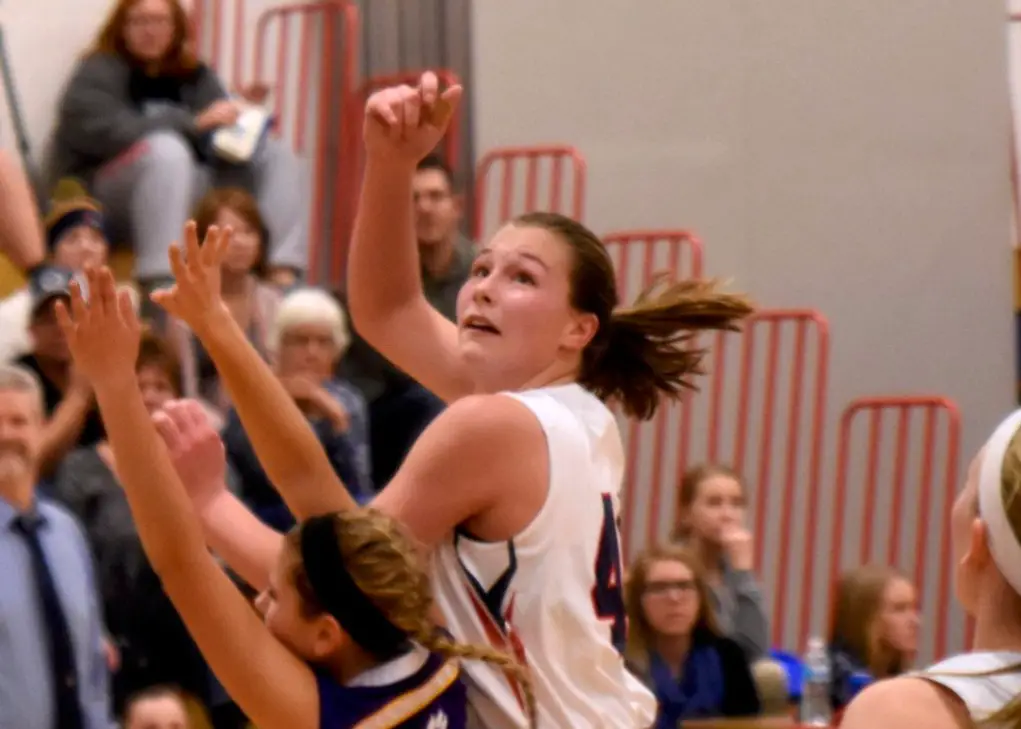 KANE 42, JOHNSONBURG 40
JOHNSONBURG, Pa. – Trinity Clark netted 11 points to go with 18 rebounds, as Kane rallied on the road to beat Johnsonburg, 42-40, in AML action Monday.
The Lady Wolves, who led 25-20 at the break, found themselves down two, 32-30, going to the fourth quarter but outscored the Ramettes 12-8 in the final period with Camryn Cummings scoring six of her 10 points in the quarter. Ella Marconi led Kane with 13 points.  
Cassidy King led all scorers with 14 points for Johnsonburg while adding three steals. Nicole Myers had 11 points and seven steals, and Ashton Watt chipped in with nine points and 12 rebounds.
ELK COUNTY CATHOLIC 46, SHEFFIELD 7
SHEFFIELD, Pa. – Mackenzie Cashmer had nine points and five steals and Mackenzie Gahr added four points and nine rebounds to help Elk County Catholic cruise to a 46-7 road win at Sheffield Monday night in AML play.
Cassidy Cunningham added eight points and Reilly Herzing seven for ECC.
Lexi Lyon had three tallies to lead Sheffield.
RIDGWAY 36, BROCKWAY 29
RIDGWAY, Pa. – Hannah Park, Jessica Kifer and Emily Fullem combined to score 34 points to lead Ridgway to a 36-29 win over visiting Brockway in AML action Monday night.
Park had a game-high 14 points to go with two assists, Kifer added 12 points, eight rebounds, six blocks and three steals and Fullem had eight points, 14 rebounds, six blocks and five steals for the Lady Elkers, who used a 9-2 second quarter to take a 16-9 halftime lead.
Leah Lindemuth paced Brockway with 12 points, and Kaitlyn Morelli had 11.
DUBOIS CENTRAL CATHOLIC 54, CURWENSVILLE 33
DUBOIS, Pa. – DuBois Central Catholic has won a lot of games late this season, but Monday night the Lady Cardinals won one early jumping out to a 14-point halftime lead on their way to a 54-33 win over visiting Curwensville in AML action.
DCC led 15-4 at the end of the first quarter and 29-15 at halftime.
Riley Assalone led the Lady Cardinals with 13 points, Stephanie Rossi added 10 and Caitlyn Manduley eight.
Shawna Guy paced Curwensville with 10 points, and Hannah Dixon added seven tallies for the the Lady Tide.  
ST. MARYS 46, BRADFORD 35
ST. MARYS, Pa. – St. Marys outscored visiting Bradford by nine in the fourth quarter to pull away for a 46-35 D9 League win over the Lady Owls Monday night.
The Lady Dutch held a 32-30 lead heading to the fourth quarter before six points apiece from Rachel Bauer and Rachelle Armanini helped St. Marys outdistance Bradford 14-5 in the quarter.
Michelle Bauer led St. Marys with 16 points, Rachel Bauer added 13 and Armanini 10.
Bri Wells paced Bradford with 11 tallies and Raya Hennigan added 10.
VENANGO CATHOLIC 52, FOREST AREA 13
OIL CITY, Pa. – Ava Homan scored 23 points to go with 12 rebounds, seven steals, two blocks and two assists as Venango Catholic cruised past visiting Forest Area, 52-13, in KSAC North action Monday night.
Destinee Sheffer added 10 points, seven rebounds and four steals for the Lady Vikings, and Tessa Stack had seven assists and six steals.
Venango Catholic led 18-7 at the end of the first quarter and 27-9 at halftime.
Morgan Silvis scored nine points for the Lady Fires.
REDBANK VALLEY 39, BROOKVILLE 34
NEW BETHLEHEM, Pa. – Redbank Valley used a game-ending 18-6 run to erase a seven-point deficit and gain a 39-34 non-conference win over visiting Brookville Monday night.
The Lady Bulldogs trailed 28-21 with five minutes left in the third quarter before holding the Lady Raiders in check the rest of the way.
Brooke Hinderliter led the charge with 15 points and nine rebounds for Redbank Valley, while Becca Dougherty had six points and 11 boards with 10 of her rebounds coming in the second half. Macy King had a strong first half for Redbank Valley scoring all nine of her points before halftime.
Hali Olson led Brookville with nine points and 10 rebounds.
Good free-throw shooting in the fourth quarter helped Redbank Valley with the Lady Bulldogs going 7 of 7 from the line in the final eight minutes and 8 of 10 for the game.
CRANBERRY 61, JAMESTOWN 15
JAMESTOWN, Pa. – Malliah Schreck and Erin Merryman each scored 12 points to lead a balanced Cranberry attack in a 61-15 Lady Berries win at Jamestown Monday.
All nine Cranberry players who dressed scored with Kenda Schreck adding 10 points.
Cranberry played its second straight game without second-leading scorer Bree Swartzfager.
PUNXSUTAWNEY 55, CLEARFIELD 43
CLEARFIELD, Pa. – Hope Bridge scored 16 points to lead visiting Punxsutawney to a 55-43 win over Clearfield in non-conference action Monday.
Bridge scored half of her points in the third quarter helping the Lady Chucks maintain a double-digit, 30-18, halftime lead by outscoring Clearfield 17-16 in the quarter.
Kylee Lingenfelter chipped in 11 points, Emma White added nine tallies and Leah Miller eight for Punxsy.
Rachel Glenny had a game-high 19 points for the Lady Bison with Margo Castagnolo adding nine points and Ally Lindstrom eight.