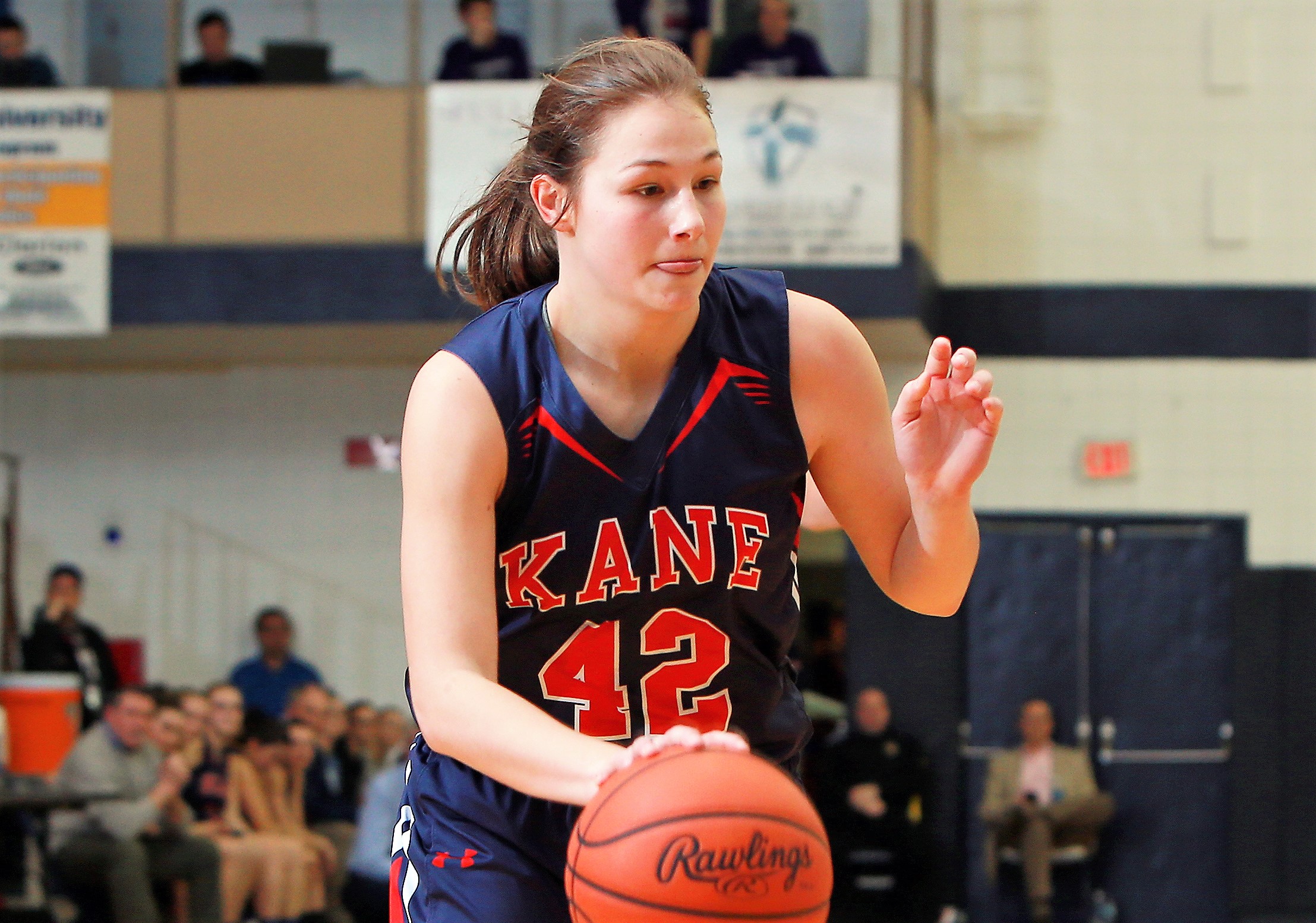 Jan. 4 recaps.
(Photo of Trinity Clark of Kane. Photo by Paul Burdick. Check out more of Burdick's work here)
GIRLS
KANE 55, SMETHPORT 28
KANE, Pa. – Trinity Clark had 17 points, 10 rebounds, five steals, five blocked shots and seven assists to lead Kane to a 55-28 win over visiting Smethport. Ella Marconi added seven points and seven rebounds, while Rachael Morgan had eight points and six boards and Hannah Buhl 11 points and five assists.
Abbey Woodard paced Smethport with 17 points.
ELK COUNTY CATHOLIC 50, DUBOIS CENTRAL CATHOLIC 26
ST. MARYS, Pa. – Nine different Elk County Catholic players scored led by 12 points from Taylor Newton, as the Lady Crusaders rolled to a 50-26 win over visiting DuBois Central Catholic in AML play.
Makenzie Cashmer and Josie Smith each added nine points for ECC with Maggie Dinsmore contributing seven tallies.
Maia Cogley, Shay Gulvas and Alyssa Bittner each scored six points for DCC.
BROOKVILLE 61, JOHNSONBURG 29
BROOKVILLE, Pa. – Marcy Schindler scored 22 points and grabbed 11 rebounds to lift Brookville to a 61-29 non-league win over Johnsonburg.
The Lady Raiders led 30-16 by halftime and outscored Johnsonburg, 22-8, in the third quarter to put the game away.
Morgan Johnson had 13 points and six steals for the Lady Raiders.
Johnsonburg got 11 points from Cassidy King.
BOYS
SMETHPORT 40, OTTO-ELDRED 37
SMETHPORT, Pa. – Caleb Lutz knocked down three 3-pointers and scored 16 points to help Smethport to a 40-37 win over visiting Otto-Eldred in North Tier League action.
The Hubbers led 21-18 at halftime but trailed 28-24 going to the fourth quarter. In the final eight minutes, though, Smethport got five points from Lutz and four from Ian Woodruff to outscored Otto-Eldred, 16-9, in the frame.
Lutz hit a pair of key free throws with 15 seconds left to put the Hubbers up 40-37, and Otto-Eldred had a chance to tie the game only to see a 3-pointer from Dylan Close just miss.
Noah Costa added eight points for Smethport with Conner Alfieri added seven points.
Close paced Otto-Eldred with a game-high 17 points. Sawyer Drummond added eight tallies.
CAMERON COUNTY 81, GALETON 42
EMPORIUM, Pa. – Adam Shaffer exploded for 29 points and added 10 rebounds to help Cameron County roll past visiting Galeton, 81-42, in North Tier League action.
Dino Brown added 16 points for the Red Raiders with Ty Bauer chipping in 11 points and seven assists and Caden Beldon 11 points.
Joel Griffen led Galeton with 20 points with Isaiah Shuemaker adding 10 points.
OSWAYO VALLEY 56, NORTHERN POTTER 49
SHINGLEHOUSE, Pa. – Gavin Babcock, Theo Henry and Nathan Prouty combined for 42 points to lead Oswayo Valley to a 56-49 win over visiting Northern Potter in North Tier League action.
Babcock led the Green Wave with 15 points, Henry added 14 tallies and Prouty had a career-best 13 points.
Carter Anderson had a game-high 22 points for Northern Potter with Holden Cowburn adding 19 points.
TYRONE 63, CLEARFIELD 56
HYDE, Pa. – Parker Mitchell scored a game-high 22 points to lead visiting Tyrone to a 63-56 win over Clearfield in Mountain League action.
Dylan Thomas added 12 points for the Eagles with Jake Meredith and Damon Gripp each adding 11.
Cade Walker tied Mitchell for game-high honors with 22 points to lead Clearfield with Ryan Chew adding 16 points, all in the first half.