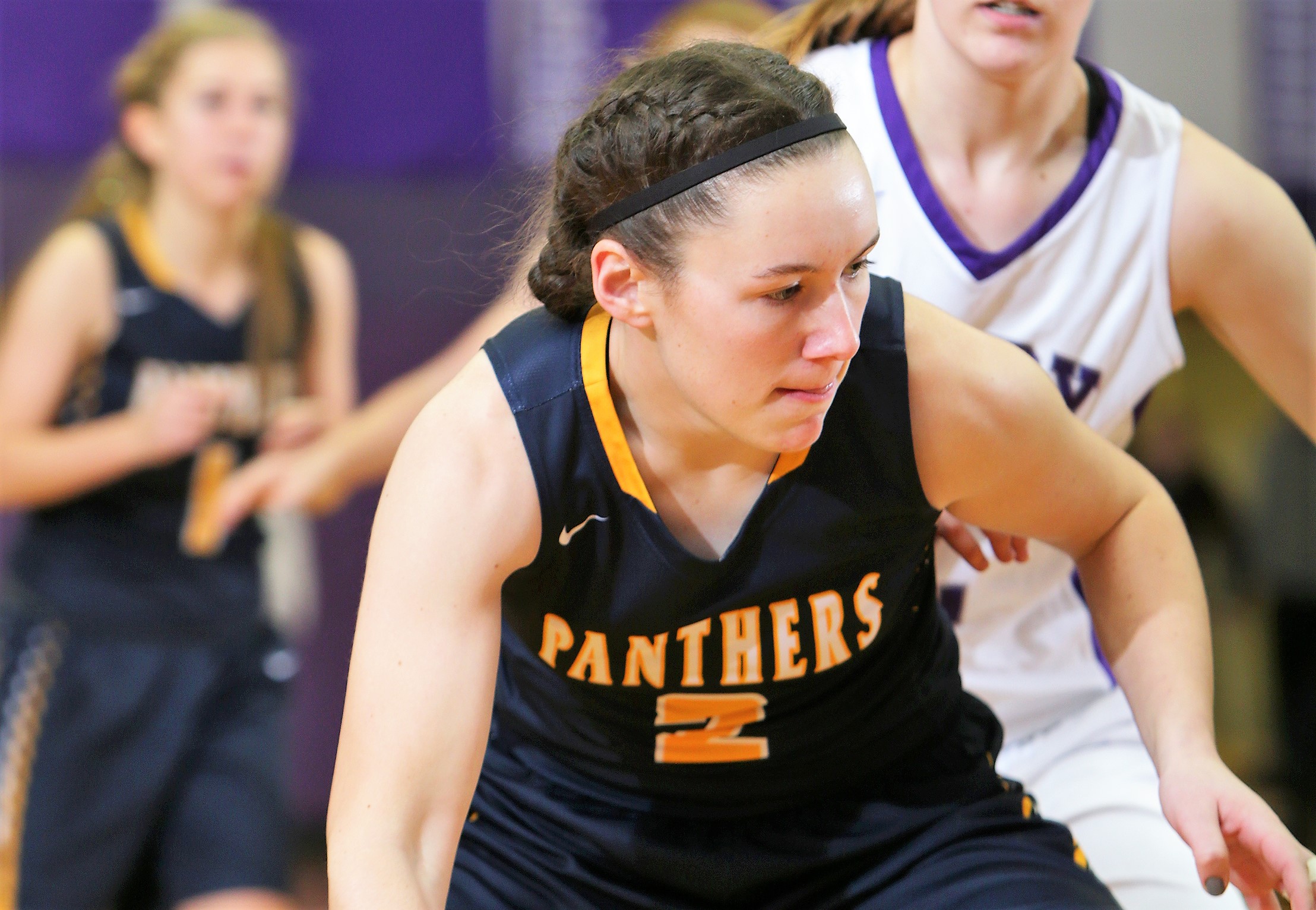 Jan. 4 girls' basketball recaps.
(Photo: Northern Potter's Abbi Anderson helped to spearhead a fourth-quarter comeback over Galeton Friday night. Photo by Paul Burdick. Check out more of Burdick's work here)
NORTHERN POTTER 37, GALETON 34
ULYSSES, Pa. – Abbi Anderson scored eight of her game-high 12 points in the fourth quarter to help Northern Potter rally past visiting Galeton, 37-34, in NTL play.
The Lady Panthers trailed by nine, 28-19, going to the fourth quarter but thanks in large part to Anderson, who hit a pair of fourth-quarter 3-pointer, they outscored the Lady Tigers 18-6 in the final eight minutes to get the win.
Courtney Martin added a double-double for Northern Potter with 10 points and 13 rebounds, including four fourth-quarter points, while Madison Hoopes scored five of her seven points in the fourth quarter.
Katelyn Pagano and Brielle Kalacinski each scored 10 points for Galeton.
OTTO-ELDRED 49, OSWAYO VALLEY 28
DUKE CENTER, Pa.- Reilly Raught led Otto-Eldred with nine points as the Lady Terrors picked up a 49-28 win over visiting NTL foe Oswayo Valley Friday night.
Raught had plenty of help from a number of teammates with Autumn Smith tallying eight points, four rebounds, three assists and five steals. Britney Greeley chipped in eight points, three rebounds, four assists and two steals. Also, Brandi Neureiter brought down six rebounds.
For Oswayo Valley, Faith Coole led with 13 points on the night.
ELK COUNTY CATHOLIC 43, DUBOIS CENTRAL CATHOLIC 38
DUBOIS, Pa.- Taylor Newton tallied 19 points and added 12 rebounds to guide Elk County Catholic to a 43-38 win at DuBois Central Catholic in AML play.
Julia Aikens was the second-leading scorer for the Lady Crusaders finishing with 10 points and Sady VanAlstine chipped in six points.
For DuBois Central Catholic, Haley Pettenoti led her team with 12 points while Ashley Wruble added 10 points.
KANE 64, SHEFFIELD 15
KANE, Pa. – Racing out to a 24-2 lead at the end of the first quarter, Kane cruised past visiting Sheffield, 64-15, in AML play.
Ella Marconi led the Lady Wolves with 19 points and eight rebounds with Sierra Hillman and Audri Marconi each adding 10 points and seven boards. Also for Kane, Hannah Buhl had nine points and seven assists, Emily Bucheit two points and five steals and Sarri Swanson four points and six rebounds.
Annabel Sheldon led Sheffield with nine points.
BROCKWAY 34, CURWENSVILLE 32
CURWENSVILLE, Pa. – Danielle Wood scored a game-high 16 points to help Brockway to its first win of the season, 34-32, in road AML action at Curwensville.
The Lady Rovers jumped out to a 15-5 lead after a quarter and then withstood being outscored 14-4 in the third quarter by Curwensville to get the victory.
Morgan Lindemuth chipped in nine points for Brockway with Selena Buttery scoring two points and hauling down nine rebounds.
Madison Weber paced Curwensville with 11 points with Tara Jacobson adding nine.
ST. MARYS 59, BRADFORD 28
BRADFORD, Pa. – Megan Quesenberry and Kaylee Muccio combined to score 30 points to lead visiting St. Marys to a 59-28 D9 League win over Bradford.
Quesenberry paced the Lady Dutch with 16 points with Muccio adding 14. Kyla Johnson chipped in nine tallies.
Hannah Lary netted 15 points for Bradford with Erica Marshall adding 13.
A-C VALLEY 61, KARNS CITY 31
KARNS CITY, Pa. – Thanks in part to a game-high 20 points from Olivia Boocks, A-C Valley rolled to a 61-31 KSAC South win over Karns City.
Kylee Eaton added 14 points for the Lady Falcons with Cami McNany chipping in 10.
Kate Slaughenhaup, Rossi McMillen and Emma Johns each scored six points for Karns City.
CRANBERRY 62, CLARION-LIMESTONE 26
STRATTANVILLE, Pa. – A monster effort from Malliah Schreck lifted Cranberry to a 62-26 road KSAC North victory over Clarion-Limestone.
Schreck had 34 points, 25 rebounds, six steals and six assists in the win.
Maddie Cornelius added seven points for the Berries.
Maddy Craig's 12 points paced C-L.
REDBANK VALLEY 46, MONITEAU 42
NEW BETHLEHEM, Pa. – Thanks to a career-high 13 points from Karlee Shoemaker Redbank Valley knocked off visiting Moniteau, 46-42, in KSAC South action.
Tara Hinderliter added 10 points in the win for the Lady Bulldogs.
Aslyn Pry had a season-best 18 points for Moniteau.
PUNXSUTAWNEY 50, CLEARFIELD 27
PUNXSUTAWNEY, Pa. – Abby Gigliotti and Sarah Weaver teamed up to score 28 points to lead Punxsutawney to a 50-27 win over visiting Clearfield.
Gigliotti led the Lady Chucks with 15 points with Weaver adding 13 points. Riley Presloid chipped in eight tallies.
Alyana Ryan had a team-best 12 points for Clearfield with Tesa Miller adding eight.
KEYSTONE 46, UNION 25
RIMERSBURG, Pa. – McKenzie Hovis scored 14 points to lead visiting Keystone to a 46-25 win over Union in KSAC South play.
Maddie Dunlap added 10 points for the Lady Panthers with Emily Lauer adding nine points.
Hailey Kriebel and Maggie Minick each scored eight points for Union.
PORT ALLEGANY 46, AUSTIN 11
PORT ALLEGANY, Pa. – Erin Stauffer scored 16 points to lead Port Allegany to a 46-11 win over visiting Austin in NTL action.
Cailey Barnett added 12 points for the Lady Gators with Cierra Lannager chipped in nine points and eight rebounds and Jenna Sprankle added three points, three assists and three steals.
Julia Latimore had five points for Austin.
CAMERON COUNTY 48, SMETHPORT 10
EMPORIUM, Pa. – Alyvia McKimm led a balanced effort with 11 points to help Cameron County to a 48-10 home NTL victory over Smethport.
Kaelee Bresslin and Kamme Guisto each added 10 points for the Lady Raiders with Hailey Hilfiger contributing six points, 10 rebounds and four assists. Morgan Lorenzo chipped in four points and six steals.
Danielle Nelson scored four points for Smethport.
BROOKVILLE 53, RIDGWAY 42
RIDGWAY, Pa. – Pulling away with strong second and third quarters, Brookville won a non-league game on the road in a 53-42 decision at Ridgway.
After trailing 13-10 after the first quarter, the Lady Raiders outscored Ridgway 28-15 in the next two quarters to take control of the game.
Kira Powell led the way with 11 points, all of them in the second half and 10 in the third quarter. Marcy Schindler and Morgan Johnson each scored nine points and Lexis Hatzinikolas finished with eight points.
Alyssa Kasmierski led Ridgway with 12 points. Casey Woodford and Gabby Rohr scored eight and seven points respectively.