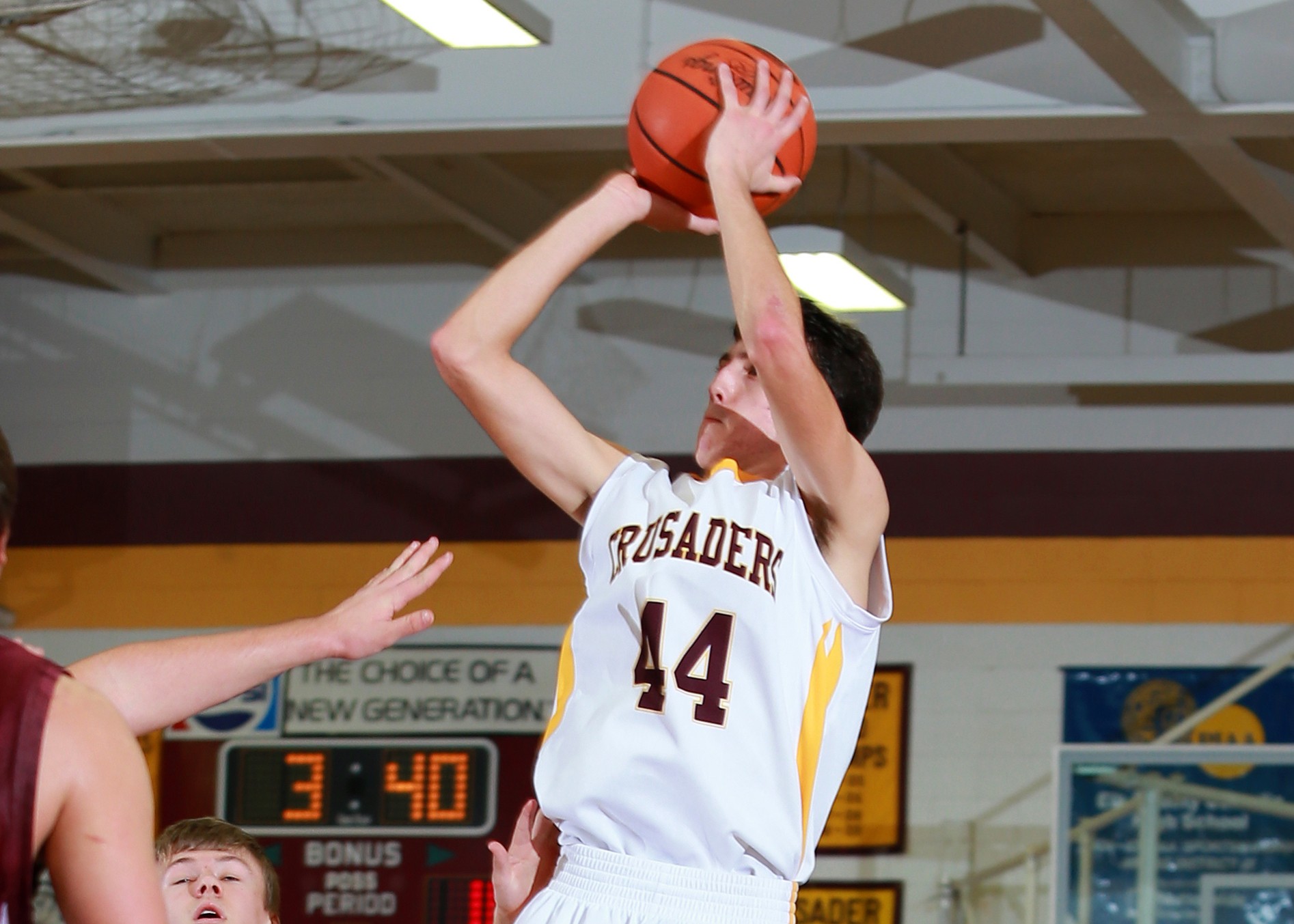 Jan. 4 boys' basketball roundup.
(Cover photo of ECC's Nate DaCanal. Photo by Paul Burdick. Check out more of Burdick's work here)
ELK COUNTY CATHOLIC 65, KANE 36
KANE, Pa. – Nate DaCanal scored 17 points, as Elk County Catholic made a statement in AML play with a 65-36 road win at Kane.
Gabe Kraus added 13 points for the Crusaders, including six in a 21-point second quarter that turned a one-point deficit, 12-11, after a quarter into a 32-20 halftime lead, while Dan Stauffer chipped in 10 tallies.
Andrew Bucheit led Kane with 12 points, including six f Kane's 16 second-half points, while Davis Gardner had nine tallies.
BROCKWAY 70, DUBOIS CENTRAL CATHOLIC 44
BROCKWAY, Pa. – With a game-high 22 points Jarrett Esposito was one of four Brockway players to reach double digits in a 70-44 win over visiting DuBois Central Catholic in AML play.
Carter Adams, Jake Wineberg and Zane Puhala each scored 10 points to help the Rovers cause.
Justin Miknis paced DCC with 13 tallies.
ST. MARYS 61, BRADFORD 56
ST. MARYS, Pa. – Nathan Schneider scored 11 of his 16 points in the fourth quarter to help St. Marys fend off a comeback attempt from visiting Bradford allowing the Dutch to pull out a 61-56 D9 League victory.
St. Marys had a strong opening half while taking a 29-17 lead over the Owls. Matt Marconi scored 10 of his team-high 17 points in the half.
But Bradford behind 18 second-half points from Adam Boyer made it a game. Boyer scored 13 of his game-high 22 tallies in the third quarter helping the Owls climb back within six, 42-36, going into the fourth quarter.
Jeff Wehler chipped in 13 points for St. Marys with Tyler Gigliotti adding 11 for Bradford, who hit 20 of 30 2-point shots but just 4 of 17 threes.
Boyer added seven rebounds and three assists to his 22 points with Danny Manion grabbing a team-high eight boards for the Owls.
CRANBERRY 55, TIDIOUTE CHARTER 28
TIDIOUTE, Pa. – Cameron Daugherty scored 10 points to lead Cranberry to a 55-28 win at Tidioute Charter.
Andrew Gunn chipped in nine for the Berries.
Ryan Williams had a game-high 13 points for Tidioute.
UNION CITY 52, SHEFFIELD 38
SHEFFIELD, Pa. – Nathan Gardner poured in a game-high 20 points to help visiting Union City to a 52-38 win at Sheffield.
Drew Higby netted 14 for the Wolverines.
JOHNSONBURG 56, CURWENSVILLE 42
CURWENSVILLE, Pa. – In non-conference action, Drew Akers scored 10 of his 13 points after halftime to help visiting Johnsonburg pull away from Curwensville, 56-42.
The Rams led by four, 28-24, at the break but outscored the Golden Tide 28-18 in the second half.
Ryan Kilhoffer led Johnsonburg with a game-high 14 points with Jake Sheldon chipping in nine.
Devon Barrett paced Curwensville with 11 tallies.