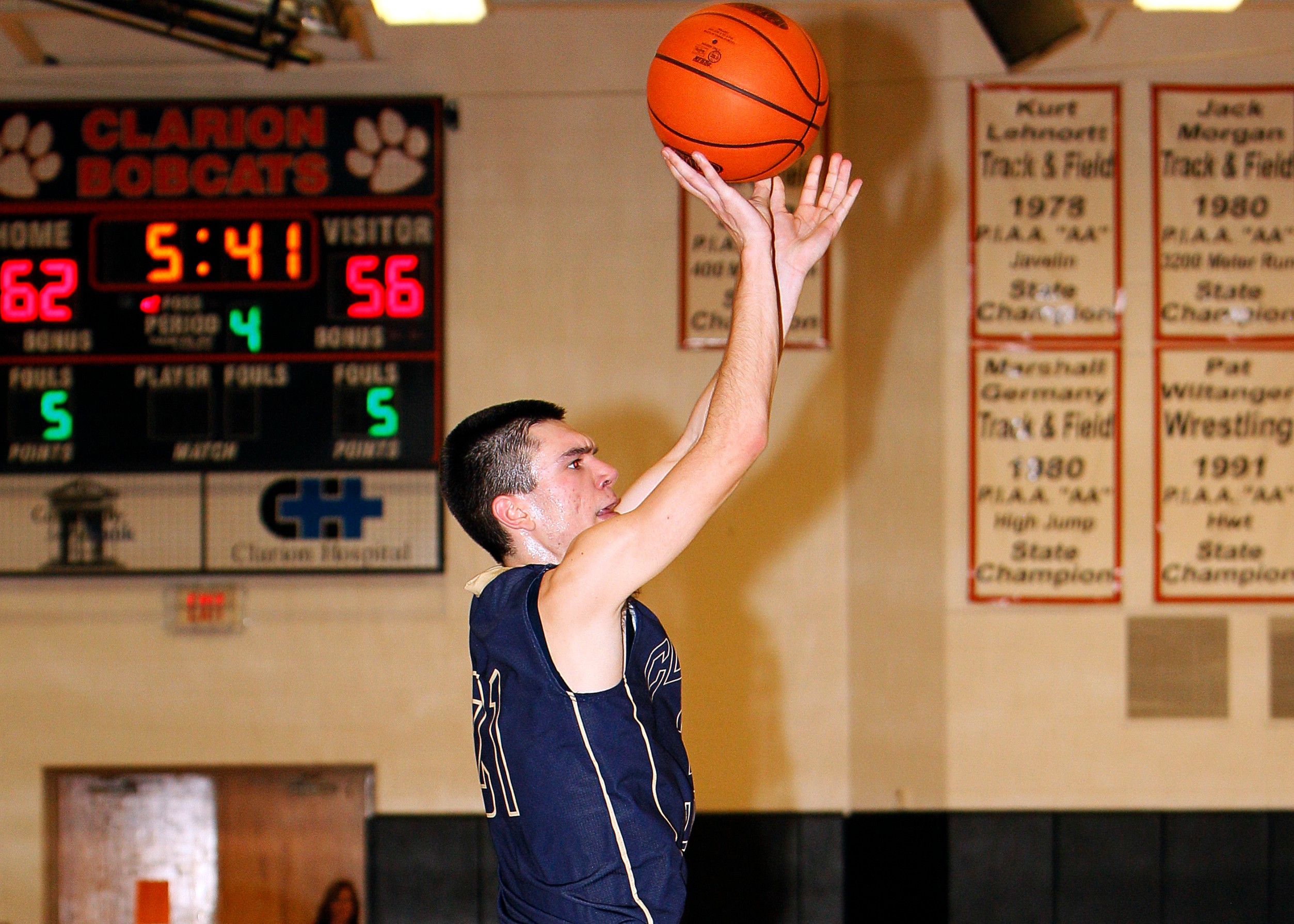 BOYS
CLARION-LIMESTONE 75, UNION 57
STRATTANVILLE, Pa. – Clarion-Limestone used a 27-5 second-half run to erase a two-point deficit and get a 75-57 win over visiting Union in KSAC Crossover play between the first-place teams in both divisions.
The Lions trailed 39-37 following a Cole Morris 3-pointer for Union with 2:25 left in the third quarter but ended the quarter on an 8-2 run taking the lead for good on a three by Taylor Smith with 2:11 left.
C-L then scored 19 of the first 22 points of the fourth quarter to pull away.
Smith led the way for the Lions with 21 points while hitting five threes. Freshman Ian Callen added 18 and his older brother, Dan, back after missing three games with a concussion, added 17 points and 17 rebounds and four blocked shots.
Cole Morris led Union with 20 points, nine assists and three rebounds while hitting four 3-pointers. Hank Murphy added 15 points and eight rebounds, and Lucas Bowser had nine points and eight rebounds.
OTTO-ELDRED 64, HINSDALE (NY) 34
DUKE CENTER, Pa. – Heath Stewart had 14 points, six rebounds and four assists to lead a balanced Otto-Eldred effort in a 64-34 win over visiting Hinsdale (N.Y.) Tuesday.
Dylan Close added 13 points for the Terrors with Sawyer Drummond chipping in nine points and eight rebounds and Trey Dalton 11 tallies.
Dalton Miller led Hinsdale with 16 points.
VENANGO CATHOLIC 64, A-C VALLEY 43
OIL CITY, Pa. – Noah Puleo scored a career-high 28 points to lead Venango Catholic to a 64-43 win over A-C Valley in KSAC Crossover play Tuesday.
Puleo, who has netted 52 points in the last two nights, exploded for 12 of the Vikings 17 second-quarter points helping Venango Catholic build a 38-25 halftime lead.
Brady Kingston added 17 points and hit four 3-pointers for the Vikings giving him double digits in each of VC's first 11 games this season. Tim Wagner added nine tallies.  
Austin Heeter had 15 points to lead A-C Valley with Zach Muhl adding 10 and Joe Manculich eight.
RIDGWAY 48, BROCKWAY 38
BROCKWAY, Pa. – Ridgway outscored Brockway by 11 in the second half to erase a 1-point halftime deficit and gain a 48-38 AML road win Tuesday night.
The Elkers trailed 19-18 at the break but outscored the Rovers 12-7 in the third quarter to take the lead before putting the game away with an 18-12 fourth-quarter advantage.
Jeremy Breier scored a game-high 22 points for Ridgway including 13 in the middle two quarters with seven of those coming in the second quarter.
Neil MacDonald and Justin Kazmierski each added seven points for Ridgway.
Corey Carr led Brockway with 14 points, and Jake Wineberg and Carter Adams each had seven.  
NORTH CLARION 42, KARNS CITY 39
FRILLS CORNERS, Pa. – Three fourth-quarter 3-pointers helped North Clarion rally past visiting Karns City, 42-39, in KSAC Crossover play Tuesday.
Nathan Banner hit the biggest of those 3-pointers drilling one with 47 seconds left to put the Wolves up for good, 40-39.
North Clarion trailed 31-26 going to the fourth quarter but outscored the Gremlins 16-8 in the final eight minutes thanks in large part to a pair of Zander Hargenrader 3-pointers and the triple by Nathan Banner. Zayn Hargenrader also scored six of his game-high 16 points in the final quarter including hitting two key free throws with three seconds left to expand the lead to three.
Banner added nine points for North Clarion, and Zander Hargenrader chipped in with eight.
Chandler Turner paced Karns City, who trailed 6-2 at the end of the first quarter before taking a 17-15 halftime lead, with 12 points. Holden Martin added nine for the Gremlins, who have dropped three straight since upsetting Clarion-Limestone in the West Shamokin Holiday Tournament last week.
CLARION 74, MONITEAU 54
CLARION, Pa. – Cam Craig and Jonathan Smith combined to score 41 points, as Clarion rolled past visiting Moniteau, 74-54, in the KSAC Crossover action Tuesday night.
Craig netted a game-high 23 points for the Bobcats while hitting five 3-pointers, and Smith added 18 tallies.
Ty Burford (12 points) and Ryan Anthony (10) also reached double digits for Clarion, who led 35-25 at halftime.
Aaron Marterella led a pair of Moniteau players in double digits with 14 points. JJ Waid added 12.  
CLEARFIELD 64, BROOKVILLE 48
CLEARFIELD, Pa. – Will Myers scored 22 points, grabbed 10 rebounds and handed out seven assists to help Clearfield top visiting Brookville, 64-48, in non-conference action Tuesday.
Evan Brown added 12 points and David McKenzie 10 for the Bison, who led 27-13 at the end of the first quarter and 43-28 at halftime.
Kurt Schindler led Brookville with 17 points, and Jordan Tosh added 12 points for the Raiders.
GIRLS
NORTHERN POTTER 47, OTTO-ELDRED 30
ULYSSES, Pa. – Kali Cowburn scored a game-high 18 points, including 16 in the second half, as Northern Potter knocked off visiting Otto-Eldred 47-30 in North Tier League action Tuesday.
Behind Cowburn, the Lady Panthers exploded for 34 second-half points after holding a two-point, 13-11, halftime lead.
Cowburn completed a double-double with 13 rebounds, and Gracie Hamilton also had a double-double with 13 points and 11 rebounds with seven of her points coming in a 15-point fourth quarter.
Camryn Thomas paced Otto-Eldred with nine points, and Emily Smith added seven.
Northern Potter outscored the Lady Terrors 19-6 in the third quarter.
SMETHPORT 47, AUSTIN 9
AUSTIN, Pa. – Katie Treat netted a game-high 20 points, including 12 in the first quarter alone, to lift visiting Smethport to a 47-9 win over Austin in North Tier League action.
Marissa Jack chipped in 10 points for the Lady Hubbers.
Jordan Brewer's five points led Austin.
PORT ALLEGANY 55, OSWAYO VALLEY 38
SHINGLEHOUSE, Pa. – Autumn Buchsenschutz scored a game-high 24 points to lead Port Allegany to a 55-38 win at Oswayo Valley in North Tier League action Tuesday.
Hope Howard led the Green Wave with 17 points and 10 rebounds.
COUDERSPORT 57, CAMERON COUNTY 29
EMPORIUM, Pa. – Haley Keck, Ally Easton and Kiara Perkins all scored in double digits to lead Coudersport to a 57-29 win over Cameron County in North Tier League action at Cameron Tuesday.
Keck led the way with 13 points, Easton added 11 points and eight rebounds and Perkins chipped in with 10 points.
Madison Harrier led Cameron County with 13 points.