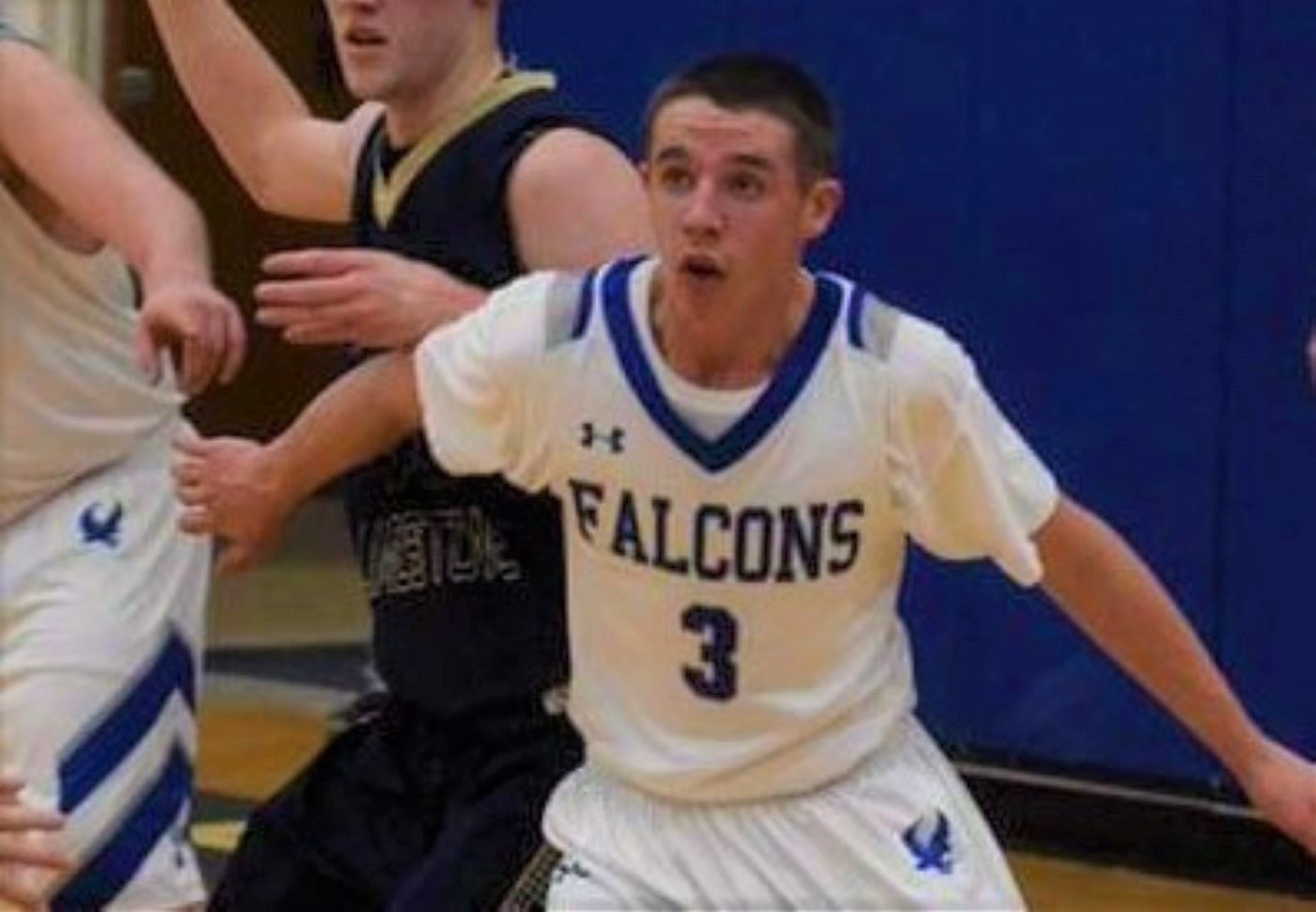 Jan. 6 boys' basketball recaps.
(Photo of A-C Valley's Levi Orton. Orton had 37 points and 18 rebounds in the Falcons win over Union Monday. Photo by Ann Butler)
A-C VALLEY 72, UNION 65
RIMERSBURG, Pa. – Levi Orton exploded for 37 points while adding 18 rebounds to lead A-C Valley past Union, 72-65, for a road KSAC North victory.
The 37 points for Orton, who hit 14 shots from the field while going 9 of 13 from the line and scoring 13 points in the fourth quarter and 22 in the second half, are tied for the second-most in his career and marks the third time this season he has topped 30 points in a game. He is averaging 26.3 points per contest.
Eddie Stevanus also had a double-double for the Falcons with 11 points and 11 rebounds, while Eli Penny, who was 5 of 7 from the line in the fourth quarter, added nine tallies.
Karter Vogle scored a career-high 30 points for Union while adding six rebounds and four steals. Caden Rainey added 13 points for the Golden Knights with Truman Vereb scoring 10.
KANE 56, CLARION 54
CLARION, Pa. – Kane held off two late chances by Clarion to pick up a 56-54 non-conference road win.
Trailing by the two points in the final seconds, Hunter Craddock missed the front end of a 1-and-1 for the Bobcats, but Clarion was able to tie up the rebound with the possession arrow in its favor.
Following a timeout, Nick Frederick missed a shot on the block with about three seconds left allowing Kane to escape with the win.
The Wolves started slow and trailed 18-10 late in the first quarter before using an 18-0 run to take a 30-25 halftime lead.
Clarion fought back and cut the deficit to three, 40-37, going to the fourth quarter.
Zuke Smith led Kane with 21 points and 15 rebounds. Chad Greville added 13 points and Mason Zuzck had 11 points, including hitting three 3-pointers. One of those threes was a key triple in the fourth quarter.
Cal German exploded for a game-high 31 points for Clarion while making 13 shots – one 3-pointer, and going 4-for-5 from the free-throw line. Frederick added 12 points for the Bobcats.
HOLLIDAYSBURG 57, DUBOIS 56
HOLLIDAYSBURG, Pa. – Jaden Delerme hit a fadeaway 15-foot shot with one second left to lift Hollidaysburg to a 57-56 win over visiting DuBois.
DuBois had taken a 56-55 lead with 30 seconds left when Chase Husted hit a free throw.
Delerme led the Tigers with 16 points with Josh Holsoplle adding 15 points and Mitchell Kratzer chipping in 11 points.
Lennon Lindholm paced DuBois with 17 points, Husted scored 15 points and Nick Felix nine.
ELK COUNTY CATHOLIC 75, SHEFFIELD 30
ST. MARYS, Pa. – Twelve different Elk County Catholic players scored, as the Crusaders blew through visiting Sheffield, 75-30.
Jordan DePrator led the Crusaders with 15 points with Carter Lindemuth scoring 10. Isaac Wortman chipped in nine tallies, and Regis Wortman and Mark Kraus each scored eight points.
Tony Richards paced Sheffield with eight points with Mitch McNeal scoring seven and Tyler Hepinger six.
CAMERON COUNTY 54, SMETHPORT 39
EMPORIUM, Pa. – Caden Beldin recorded a double-double of 16 points and 13 rebounds to help lead Cameron County to a 53-39 home NTL win over Smethport.
Dino Brown had a game-high 25 points to go with six steals and five assists for the Red Raiders, who had only four players score. Dylan Guisto chipped in seven points with Hayden Brown scoring six.
It was just a two-point game, 34-32, going to the fourth quarter with Cameron County in the lead, but Dino Brown scored seven fourth-quarter points while going 5 of 6 from the line and Hayden Brown scored all six of his points in the quarter to help the Red Raiders outscored the Hubbers, 20-7, in the final eight minutes.
Layne Shall and Noah Lent each scored 12 points for Smethport with Richie McDowell adding eight tallies.
OTTO-ELDRED 61, AUSTIN 34
AUSTIN, Pa. – Jake Merry scored 15 of his game-high 20 points in the third quarter, as visiting Otto-Eldred raced past shorthanded Austin, 61-34.
Merry, who hit three of his four 3-pointers in the third quarter, added six assists to the win, while Braden Maholic chipped in 11 points and Cole Sebastian 10 points and eight rebounds.
Austin, which was playing without one of its top players Jackson Glover, got 15 points from Parker Glover, who hit three 3-pointers, and 10 tallies and 12 rebounds from Joseph Glover Jr.
COUDERSPORT 56, PORT ALLEGANY 40
PORT ALLEGANY, Pa. – Kolby VanWhy and Hayden Keck combined to score 37 points, as visiting Coudersport stayed perfect in NTL action with a 56-40 win over Port Allegany.
VanWhy led the Falcons, who have won 69 straight NTL games, with 19 points with Keck adding 18. Keck chipped in five steals, while VanWhy and Dillon Keglovits each had seven rebounds.
Jordan Card led Port Allegany with 14 points with Howie Stuckey chipping in 12.
ST. MARYS 40, JOHNSONBURG 38
JOHNSONBURG, Pa. – Cahil Parrish, Drake Caskey and Luke Lasho combined to score 24 points, as St. Marys picked up a 40-38 road win over Johnsonburg.
Parrish led the Dutch with nine points, Caskey added eight and Lasho seven points.
Garrett Gregori led Johnsonburg with 14 points.
PUNXSUTAWNEY 52, MARION CENTER 39
PUNXSUTAWNEY, Pa. – Five Punxsutawney players scored between seven and nine points to lead the Chucks past visiting Marion Center, 52-39.
Ethan Presloid and Micah Kriebel led the way with nine points each with Nick Humble and Andrew Young each scored eight points with Daren Byers adding seven points.
Preston Fox scored a game-high 19 points for Marion Center.