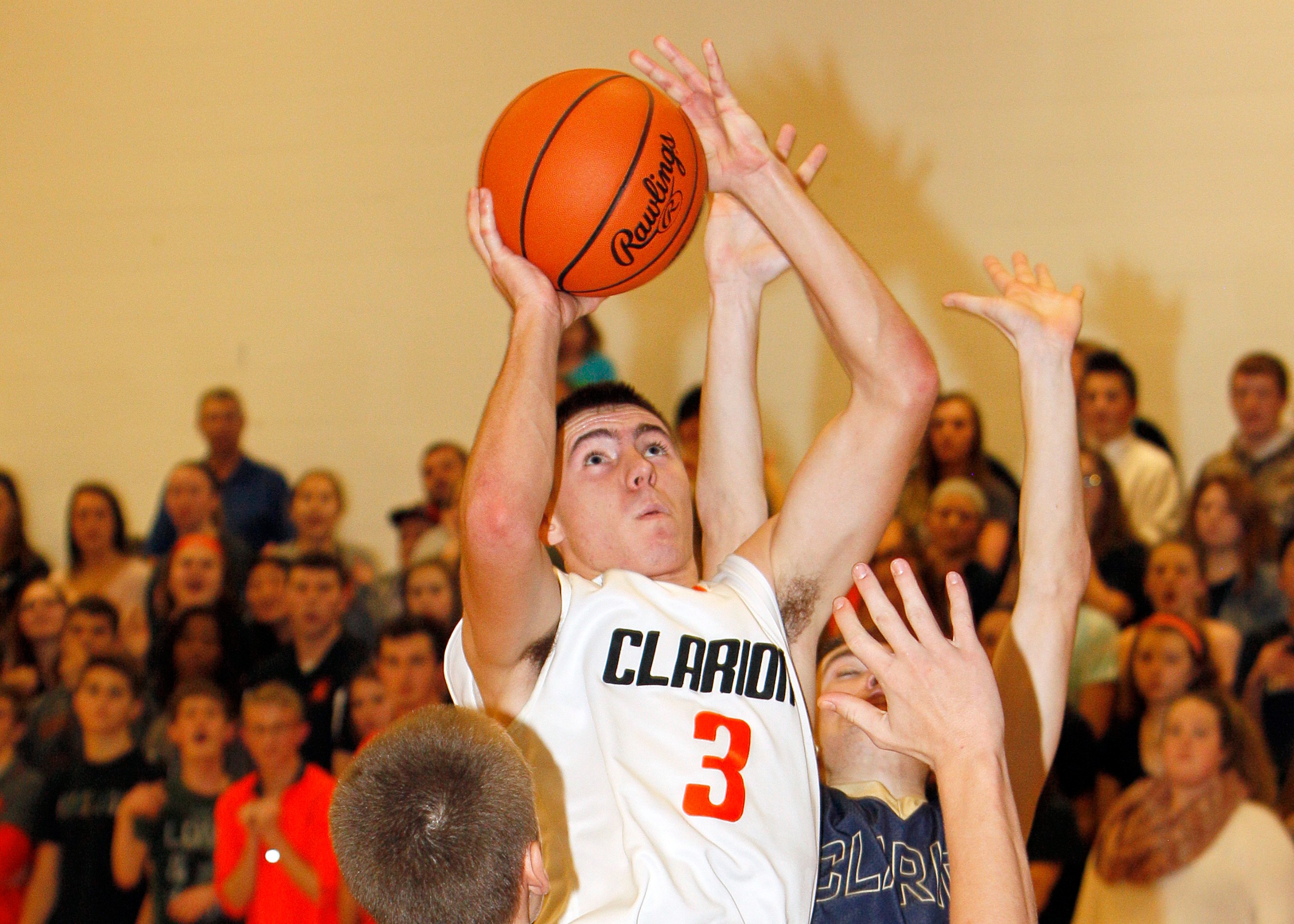 BOYS
CLARION 75, BROCKWAY 70, 3 OVERTIMES
CLARION, Pa. – Clarion outscored Brockway 11-6 in the third overtime to win a thriller of a game, 75-70, over the visiting Rovers in non-conference action Thursday.
The Bobcats, who were without District 9 leading scorer Jonathan Smith (groin), and who lost second-leading scorer Cam Craig in the third quarter when he hit his head taking a charge, got big games from Ceventh Lynch-Skunda (18 points) and Bo Miller (17 points).
Miller hit a 3-pointer with about two seconds left in regulation to tie the game at 50 and force overtime. Miller then hit another 3-pointer with 12.1 seconds left in the first overtime to tie the game at 58 and force a second overtime. That wasn't enough time to decide things either, as the teams were tied at 64 going to the third overtime.
Ryan Anthony chipped in 14 points for Clarion with his twin brother, Reed, scoring 11.
Jake Wineberg and Carter Adams each went over 20 points for Brockway with Wineberg leading all scorers with 23 points and Adams adding 21.
BROOKVILLE 43, JOHNSONBURG 36
BROOKVILLE, Pa. – Led by a big night from senior Kurt Schindler, the Brookville Raiders beat Johnsonburg, 43-36, in a non-league matchup Thursday night.
Schindler scored 23 points while pulling down 11 rebounds and making 7 steals to lead the Raiders, who stopped an eight-game losing streak.
Kevin Benson led the Rams with 10 points and 9 rebounds and had two impressive slam dunks while Drew Akers had 7 points and 6 rebounds.
Brookville trailed 14-13 before closing the first half on an 8-2 run to take the lead for good at 21-16 at halftime. The Raiders led by as many as 13 points twice in the fourth quarter.
GIRLS
COUDERSPORT 70, AUSTIN 4
COUDERSPORT, Pa. – Tiffany Plumstead scored 12 points to lead Coudersport to a 70-4 win over visiting Austin in a North Tier League action Thursday night.
Haley Keck added 10 points, all in the first quarter, while Bryce Line had nine, Tori Crosby seven points and eight rebounds, Skylar Van Wagenen and Ally Easton seven points each and Emma Rae Easton six points and 13 rebounds.
Madison Hooftallen scored all four points for Austin.
PORT ALLEGANY 47, CAMERON COUNTY 46
PORT ALLEGANY, Pa. – After giving up a double-digit fourth-quarter lead, Port Allegany rallied past Cameron County, 47-46, in North Tier League action Thursday night at Port Allegany.
The Lady Gators led by as many as 11 a couple of minutes into the fourth quarter only to watch Cameron County grab a one-point lead late, 42-41. .
But Kendra Pelchy scored a layup to put Port back in front, 43-42, and Autumn Buchsenschutz hit two free throws to make it a 3-point lead, 45-42.
Madison Harrier answered back for the the Lady Raiders with a basket to get them back within one, 45-44,, and then Buchsenschutz missed the front end of a one-and-one. But Hannah Lathrop got the rebound for the Lady Gators and was fouled. She hit both free throws to make it 47-44 before Cameron hit a layup at the buzzer to set the final score.  
Buchsenschutz led all scorers with 22 points on six 3-pointers while dishing out nine assists. Lathrop added 10 points and 10 rebounds for her first career double-double.
Madi Gusito led Cameron County with 17 points with Harrier adding 13.
NORTHERN POTTER 62, OSWAYO VALLEY 26
ULYSSES, Pa. -Gracie Hamilton, Tory McCutcheon, Kalie Cowburn and Becca Morgan combined to score 50 points to lead Northern Potter to a 62-26 win over visiting Oswayo Valley in North Tier League play Thursday.
Hamilton scored a game-high 14 points and completed a double-double with 10 rebounds while McCutcheon, Cowburn and Morgan all adding 12 points apiece for the Lady Panthers, who led 38-10 at halftime.
Kelsi Pease led Oswayo Valley with 10 points, and Hope Howard added six for the Green Wave.
SMETHPORT 43, GALETON 27
SMETHPORT, Pa. – Emma Stratton and Abbey Woodard each scored 12 points to lead Smethport to a 43-27 win over visiting Galeton in North Tier League action Thursday.
Galeton led 8-7 at the end of the first quarter but was outscored 19-6 in the second quarter.
Katie Treat added nine points and Emily Treat seven for the Lady Hubbers.
Olivia Pagano led Galeton with 10 points. Makaya Shadle added eight and Cortney Parsell seven.
DUBOIS 43, BROCKWAY 37
DUBOIS, Pa. – Behind eight second-half points from Dayna DeSalve, DuBois broke a tie game at the half and beat Brockway, 43-37, in non-conference action Thursday at DuBois.
The teams were tied at 25 at the break but DeSalve, who finished with a team-high 15 points, hit a pair of third-quarter 3-pointers to help the Lady Beavers grab a 35-33 lead at the end of three. She then scored four of DuBois' eight fourth-quarter points and finished the night with three 3-pointers.
Courtney Chandler added 12 points for DuBois.
Leah Lindemuth led all scorers with 18 for Brockway with Kaitlyn Morelli adding 13 points.