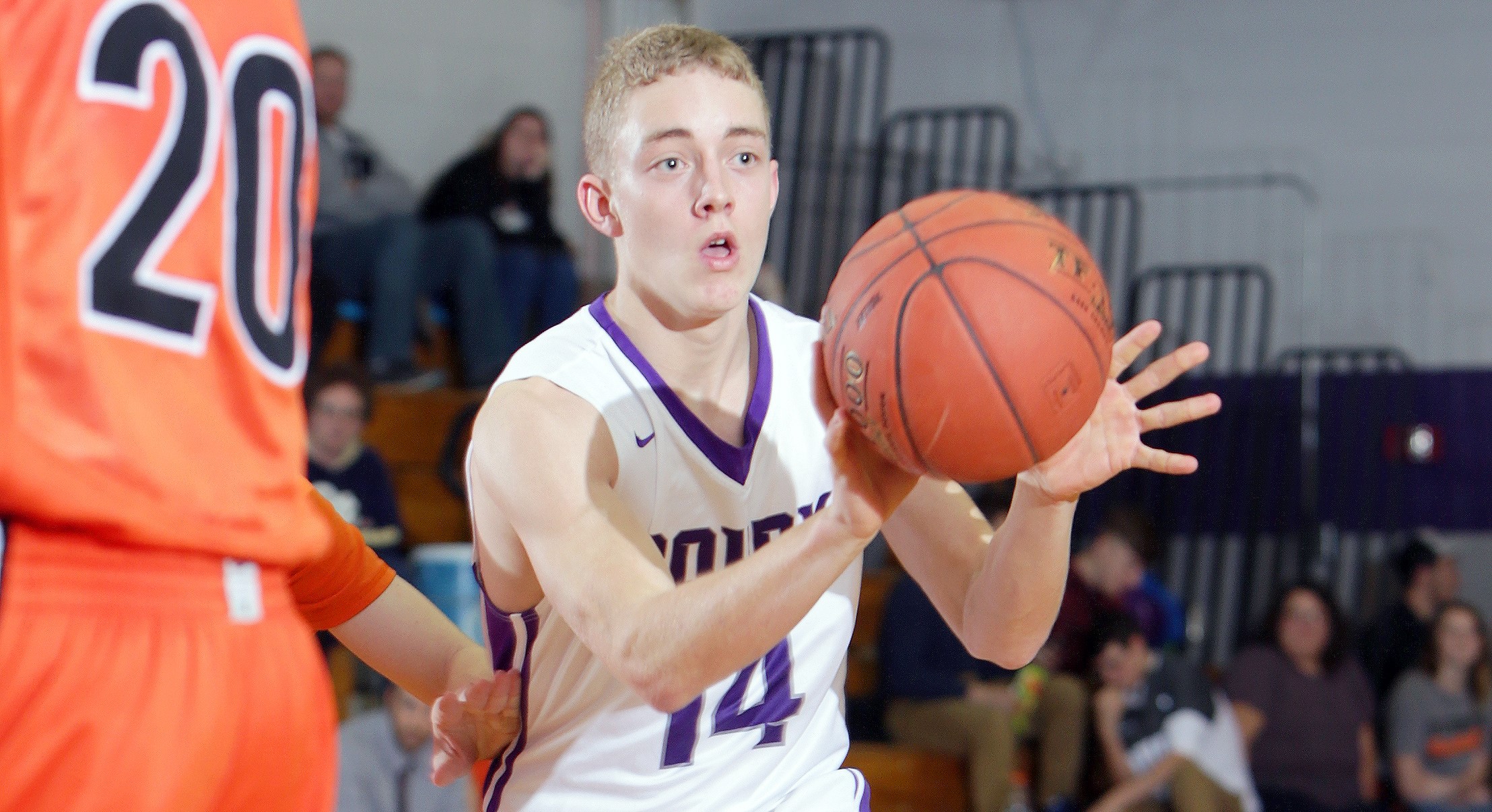 Jan. 7 boys' recaps.
(Photo of Daniel Frame of Coudersport who hit the go-ahead 3-pointer Monday night in a win at Bradford. Photo by Paul Burdick. Check out more of Burdick's work here)
COUDERSPORT 58, BRADFORD 55
BRADFORD, Pa. – Visiting Coudersport used a late 5-0 spurt to hold off Bradford, 58-55.
The game was tied at 48 following a Steven Knowlton 3-pointer for Bradford with 2:09 to play, but a three by Daniel Frame, his only made shot of the game, with 1:50 left followed by a Falcons' layup 20 seconds later made it 53-48 Falcons. Bradford never got closer than three after that.
Hayden Keck, Owen Chambers and Dillon Keglovits led the way for Coudersport.
Keck led the trio with 15 points while Chambers tallied 14 points and Keglovits added 13.
Each team shot 48 percent from the field, but Coudy was effective from the free-throw line shooting 74 percent (14 of 19) compared to Bradford going 3 of 8.
Tyler Gigliotti went off for the Owls scoring a game-high 33 points while Gage Babcock and Donny Pattison each grabbed seven rebounds. Gigliotti added three assists.
DUBOIS 64, MARION CENTER 28
DUBOIS, Pa. – Balanced scoring helped DuBois defeat Marion Center, 64-28.
Alex Beers had a game-high 16 points for the Beavers with Justin Manduley adding 12. Chase Husted chipped in for 11 and Lennon Lindholm 10.
Justin Peterson paced Marion Center with nine points.
AUSTIN 55, PORT ALLEGANY 39
AUSTIN, Pa. – Jackson Glover and Garrett Rees combined for 33 points to help Austin defeat visiting Port Allegany 55-39 in NTL action.
Glover led all scorers with 18 points while adding eight assists and six steals while Rees had 15 tallies. Mason Valenti also chipped in eight rebounds and three steals.
Jordan Card led Port Allegany with 17 points.
CLEARFIELD 56, PUNXSUTAWNEY 50
HYDE, Pa. – Behind 17 points from Karson Rumsky, Clearfield defeated visiting Punxsutawney, 56-50.
Harrison Peacock tallied 13 points for the Bison with Cade Walker and Andrew Lopez each chipping in for 11. Walker finished a double-double with 12 rebounds.
Micah Kriebel paced the Chucks with 13 points, Ethan Blose added 12 and Nick Humble eight.
TIDIOUTE CHARTER 66, FOREST AREA 35
TIONESTA, Pa. – Jared Veasey exploded for 30 points to lead visiting Tidioute Charter to a 66-35 win over Forest Area at West Forest.
Mason Deloe added 19 points for the Bulldogs.
Aiden Quinn led Forest Area with 13 points with Franklin Meals adding eight points.