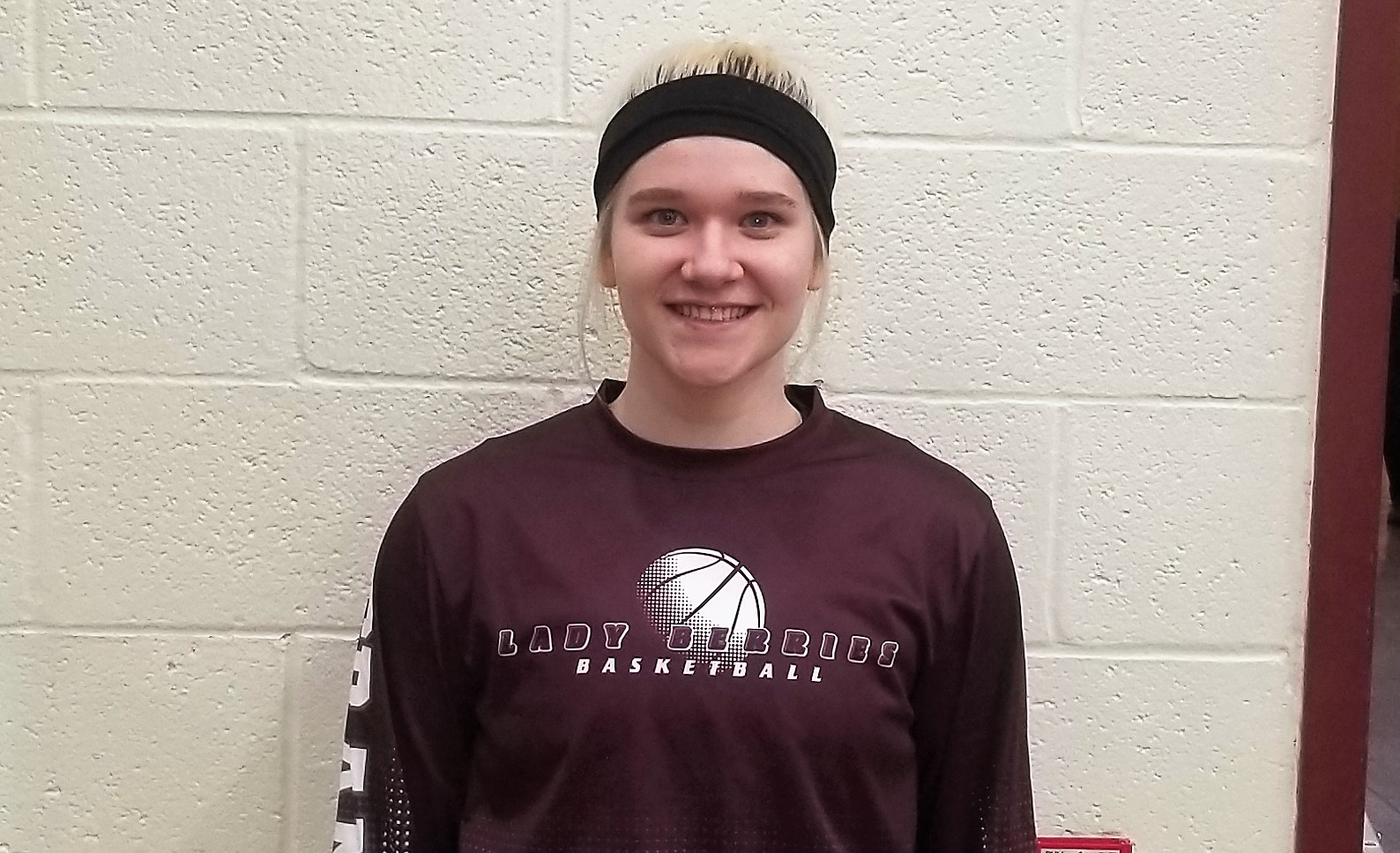 Jan. 7 girls' basketball recaps.
(Photo of Cranberry's Carly Wice)
CRANBERRY 40, KARNS CITY 35
KARNS CITY, Pa. – Carly Wice scored 12 points to help visiting Cranberry squeak past Karns City, 40-35.
The Berries led 33-24 going to the fourth quarter but Karns City rallied behind five points from Alyssa Stitt, who scored a season-high 18 points for the Lady Gremlins.
Maddie Cornelius had six of her eight points in the fourth quarter to help keep Cranberry in front.
Cranberry's Malliah Schreck was limited to just six points on the night.
Emma Johns and Brittney Fritters both chipped in six tallies for Karns City.
PUNXSUTAWNEY 52, A-C VALLEY 39
PUNXSUTAWNEY, Pa. – Abby Gigliotti and Riley Presloid combine for 33 points to help lead Punxsutawney past visiting A-C Valley, 52-33.
Presloid went off for 17 points, including three 3-pointers and Gigliotto tallied 16 points with 3 triples. Sarah Weaver chipped in for six points and Kate Horner tallied five.
Olivia Boocks paced the Lady Falcons, who were without Andrea Meals (illness) with 13 points with Kylee Eaton and Cami McNany each chipping in 10.
Punxsutawney led by just four, 32-28, going to the fourth quarter before exploding for 24 fourth-quarter points, including nine from Presloid and eight from Gigliotti.
KEYSTONE 50, DUBOIS CENTRAL CATHOLIC 40
KNOX, Pa.- Emily Lauer and McKenzie Hovis combined to score 35 points to guide Keystone to a 50-40 win over visiting Dubois Central Catholic.
Lauer had a game-high 20 points while Hovis netted 15 points.
Shay Gulvas paced DCC with 16 points.
BROOKVILLE 65, CLARION 51
CLARION, Pa. – Balanced scoring helped visiting Brookville defeat Clarion, 65-51.
Lauren Hergert led the Lady Raiders with 14 points with Morgan Johnson adding 12, Marcy Schindler chipping in 11 and Lexis Hatzinikolas eight.
Kait Constantino had a game-high 21 points for Clarion with Wendy Beveridge adding 15, including nine on three first-quarter 3-pointers.
MONITEAU 55, CLARION-LIMESTONE 33
STRATTANVILLE, Pa. – Kristen Auvil and Andie Arblaster combined for 31 points to lead visiting Moniteau to a 55-33 victory over Clarion-Limestone.
Auvil tallied a game-high 17 points and had five assists and five blocks for Moniteau with Arblaster chipping in for 16 points and five steals. Aslyn Pry recorded a double-double with 11 points and 15 rebounds.
Maddy Craig paced Clarion-Limestone with 13 points with Francis Milliron adding nine.