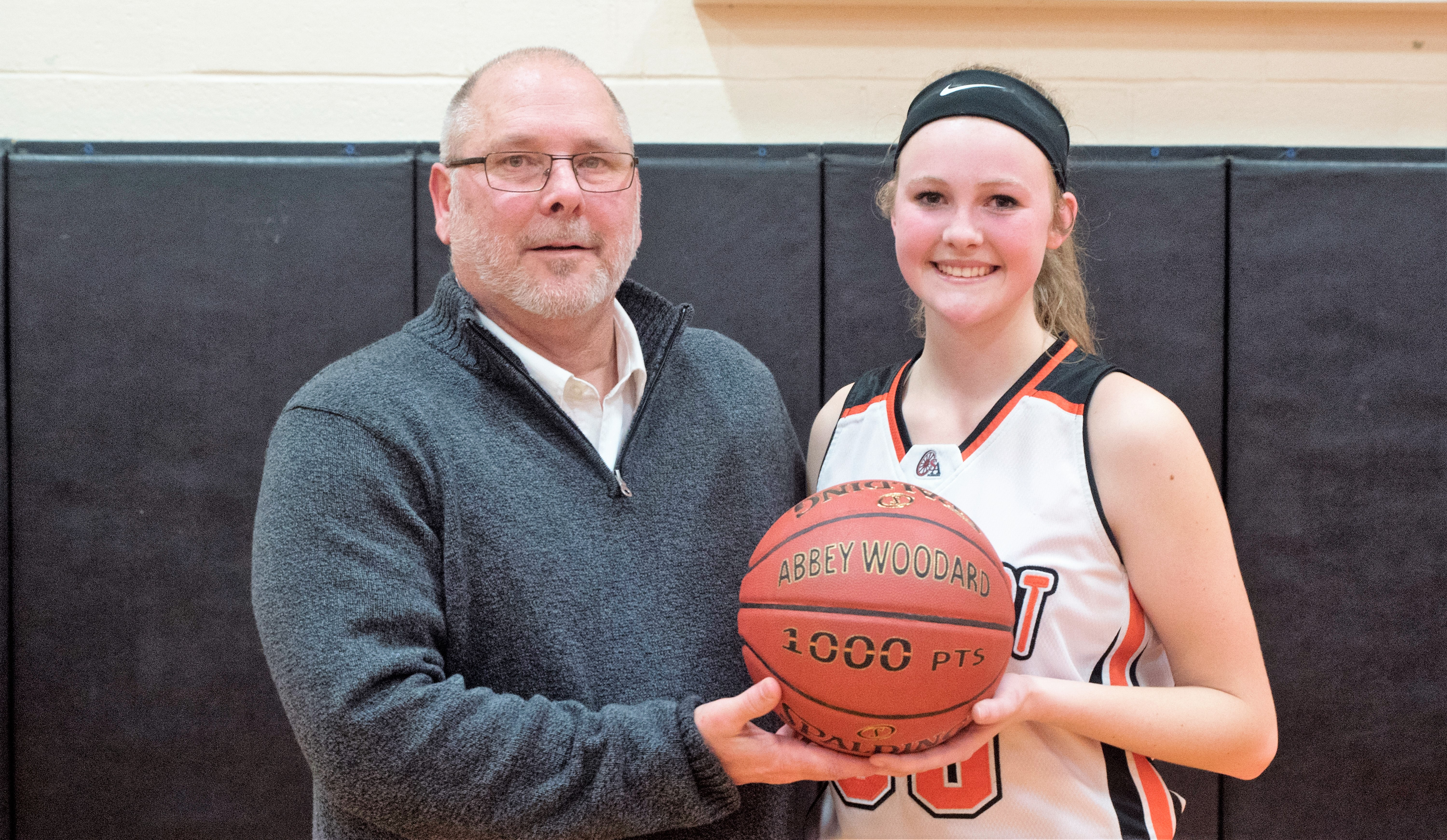 Jan. 8 recaps.
(Photo: Smethport's Abbey Woodard, pictured with head coach Eric Lutz, scored her 1,000th career point Monday in a win over Austin. Photo courtesy of Barb Davis)
SMETHPORT 53, AUSTIN 29
SMETHPORT, Pa. – Needing 18 points to reach 1,000, Smethport senior Abbey Woodard exploded for a season-high 30 points to lead the Lady Hubbers to a 53-29 win over visiting Austin in North Tier League action.
Woodard now has 1,012 career points and is the sixth District 9 girls' player to hit 1,000 points this season joining A-C Valley's Eli Thompson, Coudersport's Haley Keck, Keystone's Taylor Geer, Otto-Eldred's Camryn Thomas and Ridgway's Emily Fullem. Galeton's Makaya Shadle also hit 1,000 points this season. The Lady Tigers play in the North Tier League but are a member of District 4.
On Monday, Emily Treat chipped in 11 points in the Smethport win.
Jordan Brewer led Austin with 13 points.
GALETON 55, OSWAYO VALLEY 49
SHINGLEHOUSE, Pa. – Behind 18 points from Katelyn Pagno visiting Galeton claimed a 55-49 win over Oswayo Valley in North Tier League play.
Jessie Evans added 12 points for the Lady Tigers with Makaya Shadle scoring nine and Haylee Ludington and Cara Parsell eight each.
Karina West had a double-double for Oswayo Valley with 12 points and 13 rebounds, while Shayla Bickel had a game-high 23 points for the Green Wave and McKenzie Gross chipped in five points, eight rebounds and three assists.
ELK COUNTY CATHOLIC 54, SHEFFIELD 28
SHEFFIELD, Pa. – Taylor Newton had 20 points and 12 rebounds to help Elk County Catholic to a 54-28 road AML win over Sheffield.
Makenzie Cashmer added eight points for the Lady Crusaders with Kristin Kirst chipping in with seven.
Lexi Lyon's 12 points led Sheffield.
KANE 51, KEYSTONE 49
KNOX, Pa. – Ella Marconi and Hannah Buhl combined for 29 points to help visiting Kane hold off Keystone, 51-49.
The Lady Wolves led by nine, 43-34, going to the fourth quarter only to watch Keystone rally to make it a game with Taylor Geer scoring six of her game-high 22 points in the fourth quarter for the Lady Panthers.
Marconi led Kane with 18 points, 16 rebounds, five steals and three blocked shots with Buhl adding 11 points and five assists and Rachael Morgan eight points. Trinity Clark also had six points and seven rebounds.
McKenzie Hovis added 11 points while hitting three 3-pointers for Keystone with Emily Lauer chipping in eight points.
PUNXSUTAWNEY 46, A-C VALLEY 39
FOXBURG, Pa. – Kate Horner and Sarah Weaver each scored 14 points to lift visiting Punxsutawney to a 46-39 win over A-C Valley.
Leah Miller added seven points and 14 rebounds for the Lady Chucks, while Riley Presloid scored nine points.
Ellie Thompson paced A-C Valley with 13 points with Cami McNany scoring 11.
BRADFORD 43, CAMERON COUNTY 33
EMPORIUM, Pa. – Hannah Lary netted 13 points to help visiting Bradford to a 43-33 win over Cameron County.
Erica Marshall added 11 points for the Lady Owls in the win with Brinya Moffett contributing nine.
Kamme Guisto's 13 points led Cameron County with Laila Smith adding nine and Alyvia McKimm seven.