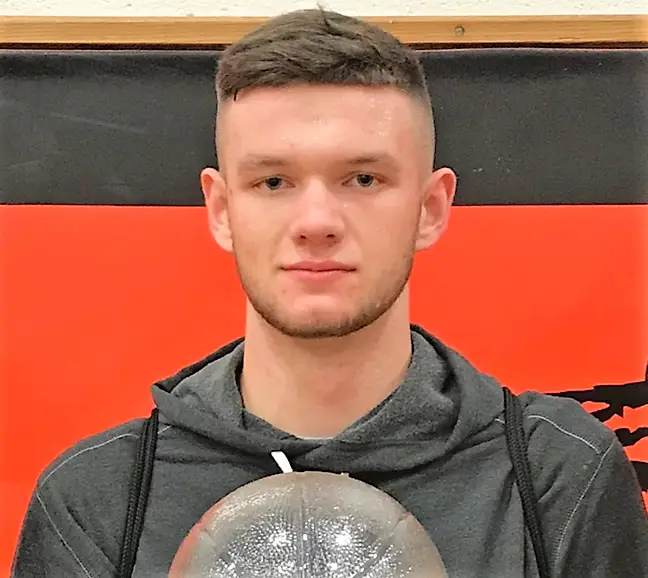 Jan. 8 boys' basketball recaps.
(Photo: Evan Brooks of Galeton scored his 1,000th career point Tuesday. Submitted photo)
GALETON 78, NORTHERN POTTER 43
GALETON, Pa. – Evan Brooks netted his 1,000th career point and Joel Griffen collected his 500th career rebound to lead Galeton to a 78-43 home NTL win over Northern Potter.
Brooks scored a game-high 21 points for the Tigers and Griffen added 18 points and 13 rebounds. Brooks now has 1,006 career points with Griffen having collected 504 career rebounds.
Carter Anderson led Northern Potter with 11 points, Foster Kosa added nine and Ezra Sprow eight.
MONITEAU 66, VENANGO CATHOLIC 52
OIL CITY, Pa. – Jared Lominski scored 19 points and hauled down 14 rebounds to lead visiting Moniteau to a 66-52 win over Venango Catholic.
Ethan McDeavitt added 13 points and seven assists for the Warriors with Gage Neal chipping in 10 points, five assists and five rebounds and Nate Tack 11 points.
Ben Gillispie led Venango Catholic with a game-high 27 points. Andrew Burda added 12 tallies for the Vikings.
DUBOIS CENTRAL CATHOLIC 67, CURWENSVILLE 36
DUBOIS, Pa. – Justin Miknis exploded for 25 points to give DuBois Central Catholic a 67-36 home AML victory over Curwensville.
Josh Solnosky added 11 points for the Cardinals with Jonathan Kurtz chipping in eight.
Christian Bakaysa's 15 points paced Curwensville.
NORTH CLARION 74, UNION 55
FRILLS CORNERS, Pa. – North Clarion big men Tyler McCord-Wolbert and Kyle Mills combined for 40 points and 22 rebounds to lead the Wolves past visiting Union, 74-55.
Both players had double-doubles with Mills scoring 23 points and hauling down 10 rebounds and McCord-Wolvert adding 17 points, 12 rebounds and seven assists.
Also for the Wolves, Logan Minich chipped in 11 points, five assists and four steals, Sam Minich had 11 points and Korey Mills added seven points and five helpers.
Caiden Rainey led Union with 21 points with Luke Bowser adding 16. Quintin Weaver had eight rebounds to go with five points.
RIDGWAY 56, BROCKWAY 43
BROCKWAY, Pa. – Will Thompson netted a game-high 21 points to lift visiting Ridgway to a 56-43 win over Brockway in AML action.
Jake Reynolds added 10 points for the Elkers with Zach Zameroski adding nine tallies and Daunte Allegretto eight.
Jon Wood and Zane Puhala each scored 15 points for Brockway.
A-C VALLEY 81, FOREST AREA 48
TIONESTA, Pa. – Levi Orton went off for a career-high 39 points and 20 rebounds to lead visiting A-C Valley to an 81-48 win over Forest Area at West Forest.
Eli Penny added 16 points in the win for the Falcons. Brady Cullen chipped in eight points and 10 rebounds.
Seth Seidle paced Forest Area with 17 points with Luke Cussins adding 11 for the Fires.
CLARION-LIMESTONE 62, REDBANK VALLEY 48
STRATTANVILLE, Pa. – Behind a game-high 27 points from Deion Deas, Clarion-Limestone toppled visiting Redbank Valley, 62-48.
Curvin Goheen added 14 points and 14 rebounds for the Lions with Hayden Callen scoring 12 points and adding 14 rebounds and eight blocked shots.
Chris Marshall led Redbank Valley with 18 points with Declan Fricko chipping in nine and Keaton Kahle eight.
KARNS CITY 60, CRANBERRY 40
SENECA, Pa. – Nathan Waltman scored 19 points and added seven assists to lead visiting Karns City to a 60-40 win over Cranberry.
Josh Wimer added 12 points for the Gremlins with Chase Beighley scoring 11 and Ethan McElroy eight. Austin Fahlor collected 12 rebounds to go with six points.
JT Stahlman paced Cranberry with 12 points.
ELK COUNTY CATHOLIC 81, SHEFFIELD 32
SHEFFIELD, Pa. – Will Uberti hit four 3-pointers and scored a game-high 16 points to lead Elk County Catholic to an 81-32 road AML win over Sheffield.
Alex Breindel added 15 points for the Crusaders with Brady Schneider and Regis Wortman each scoring 11.
Tyler Hepinger netted 14 points to pace Sheffield.