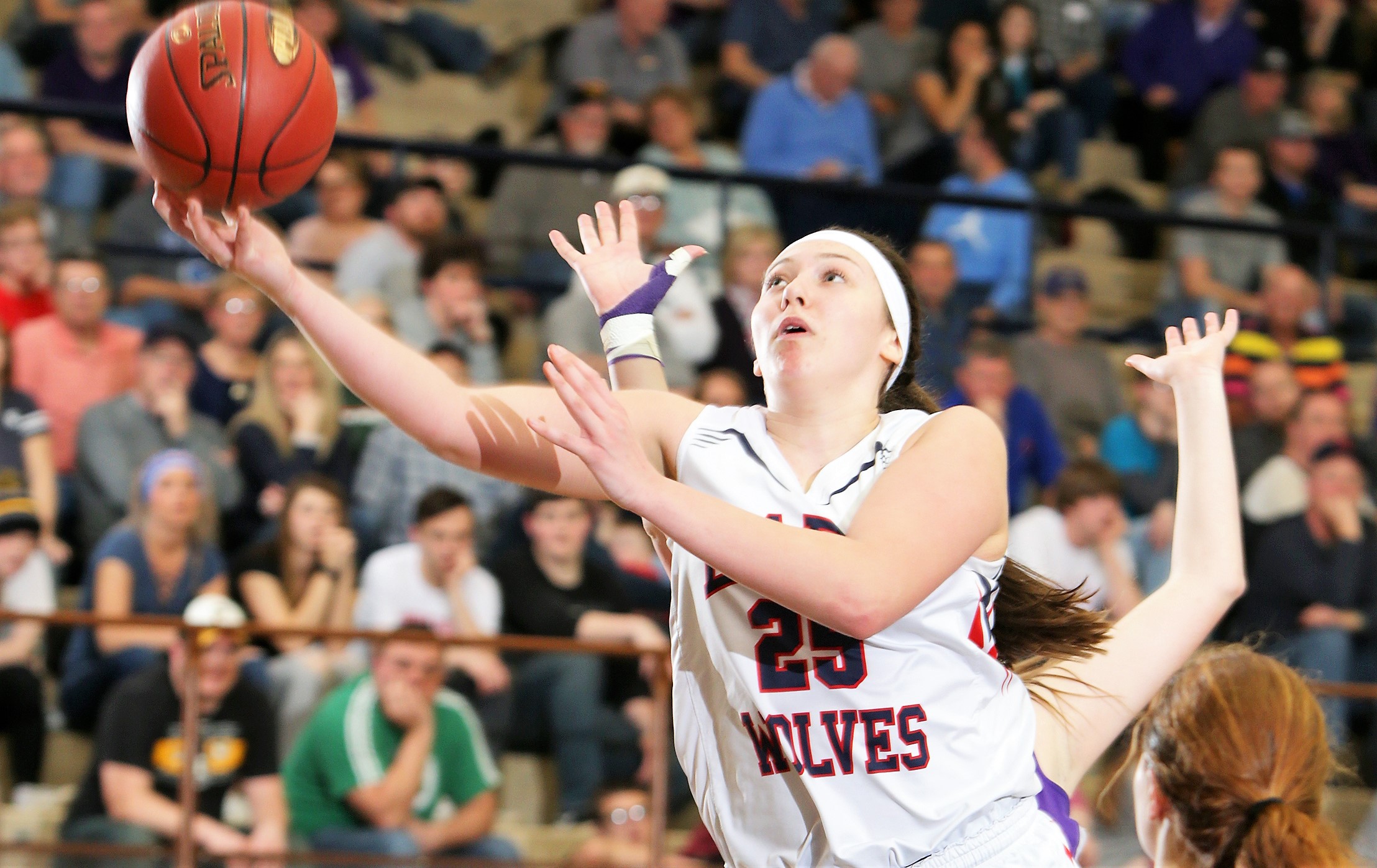 Jan. 8 girls' basketball recaps.
(Photo: Ella Marconi had 29 points and 12 rebounds to lead Kane to a key AML win over Johnsonburg. Photo by Paul Burdick. Check out more of Burdick's work here)
KANE 53, JOHNSONBURG 37
KANE, Pa. – Ella Marconi exploded for 29 points, 12 rebounds and six blocked shots, as Kane avenged a loss earlier in the season to Johnsonburg by toppling the visiting Ramettes, 53-37, in AML action.
Hannah Buhl chipped in nine points and five points for the Lady Wolves, who led 27-17 at halftime, while Emily Bucheit had five points and seven rebounds.
Cassidy King paced Johnsonburg with 12 points with Lindsay Kocjancic adding seven.
ST. MARYS 39, DUBOIS 32
ST. MARYS, Pa. – Megan Quesenberry and Samantha Hayes combined for 23 points to help St. Marys to a 39-32 win over visiting DuBois in D9 League action.
Quesenberry led the Lady Dutch with 13 points with Hayes chipping in 10.
Olivia Johnson led DuBois with nine points, Maddie Smith added eight points and Chelsea DeSalve seven.
RIDGWAY 37, BROCKWAY 28
RIDGWAY, Pa. – Strong games from Gabby Rohr and Alyssa Kasmerski helped Ridgway knock off visiting Brockway, 37-28, in AML action.
Rohr led the Lady Elkers with 12 points, six rebounds, a steal and an assist with Kasmerski chipping in 11 points, six rebounds and two steals. Also for Ridgway, Eve Cobaugh had eight points, five steals and four rebounds and Christina Fullem added five points, eight rebounds, four steals and two blocked shots.
Danielle Wood paced Brockway with 15 points and Selena Buttery chipped in two points and 10 rebounds.
ELK COUNTY CATHOLIC 61, SHEFFIELD 8
ST. MARYS, Pa. – Taylor Newton and Tami Geci combined for 24 points to help Elk County Catholic to a 61-8 win over visiting Sheffield in AML action.
Newton led all scorers with 14 points with Geci adding 10. Also for the Lady Crusaders, Maddie Kear and Sady VanAlstine each scored nine and Ellie Fledderman chipped in eight.
Allison Schmader had four points for Sheffield.
PENNS VALLEY 71, CLEARFIELD 32
CLEARFIELD, Pa. – Bella Culver netted a team-high 16 points to guide Penns Valley past Clearfield, 71-32, in Mountain League action.
Jordan Andrus and Hannah Montminy were the second- and third-leading scorers for Penns Valley with Andrus scoring 14 points and Montminy adding 12.
Alayna Ryan paced Clearfield with a game-high 17 points.
OTTO-ELDRED 57, PORT ALLEGANY 39
DUKE CENTER, Pa. – Haylee Frederick netted a game-high 15 points to lead Otto-Eldred to a 57-39 home NTL win over Port Allegany.
Jade Spinney, Morgan Dalton and Kayley Heller each added eight points for the Lady Terrors. Spinney also had nine rebounds. Also for Otto-Eldred, Lauren Cousin chipped in six points, five assists and four steals, Autumn Smith had four points, four assists, four rebounds and three steals and Reilly Raught three points and seven rebounds.
Cailey Barnett tied for game-high honors by netting 15 for Port Allegany, which shot just 19 percent from the field and 12 of 29 from the free-throw line.
OSWAYO VALLEY 45, SMETHPORT 26
SMETHPORT, Pa. – Faith Coole led a balanced attack in Oswayo Valleys 45-26 victory over Smethport in NTL play.
Coole tallied 14 points for the Green Wave with Karina West chipping in for 13 and Macy West 12.
Erin Herzog paced the Lady Hubbers with nine points.
COUDERSPORT 40, CAMERON COUNTY 34
COUDERSPORT, Pa. – Thanks to a combined 27 points from Shae Black and Sarah Chambers, Coudersport defeated visiting Cameron County, 40-34, in NTL action.
Black had a game-high 15 points with Chambers netting 12 for the Lady Falcons.
For the Lady Red Raiders, Kaelee Bresslin tallied 12 points.
NORTHERN POTTER 49, AUSTIN 15
AUSTIN, Pa. – Mirissa Bliss and Courtney Martin led visiting Northern Potter to a 49-15 victory over Austin in NTL action.
Bliss netted a game-high 17 points for Northern Potter with Martin adding 15. Abbi Anderson chipped in for six tallies while Megan Hyde and Faith Zdrojkowski had four apiece.
Julia Latimore and Kylie Welsh paced Austin with four tallies apiece.
REDBANK VALLEY 47, KARNS CITY 36
KARNS CITY, Pa. – Tara Hinderliter's game-high 26 points helped visiting Redbank Valley to a 47-36 KSAC South victory over Karns City.
Kelsie Elmer added seven points for the Lady Bulldogs.
Alyssa Stitt netted 15 points to pace Karns City with Emily Huff and Emma Johns each scoring six.