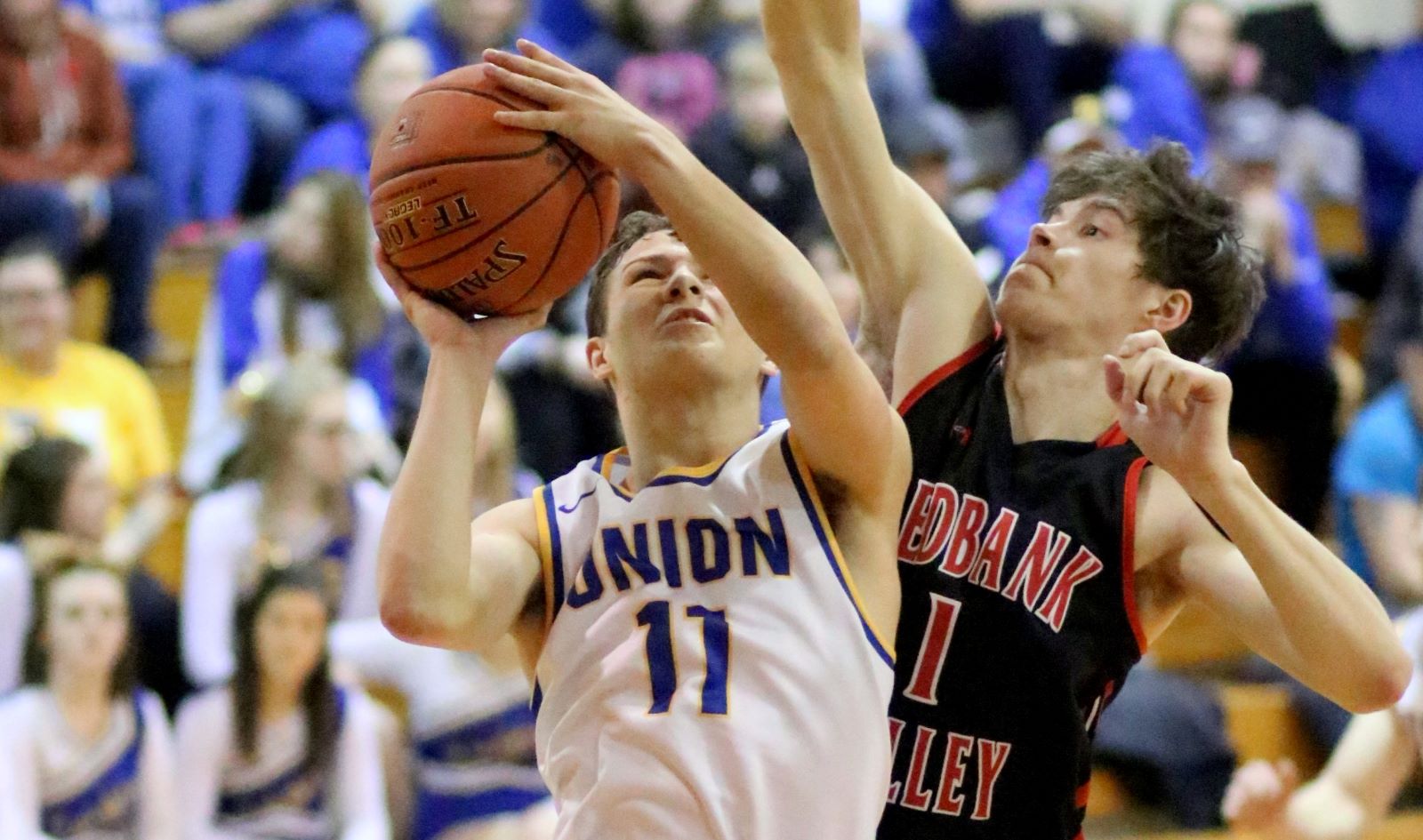 Jan. 8 boys' basketball recaps.
(Photo: Caden Rainey of Union hit a shot from about 70 feet away at the horn in overtime to give Union a 64-61 win over Karns City. Photo by Shelly Atzeni. Check out more of Atzeni's work here.)
UNION 64, KARNS CITY 61, OT
RIMERSBURG, Pa. – Caden Rainey hit a three-quarter court shot as time expired in overtime to give Union a 64-61 win over visiting Karns City.
Rainey came away with a steal and then took a couple of dribbles before heaving up a shot from around the opposing 3-point line to win the game.
Watch Rainey's game-winning shot. Video courtesy of Caitlyn Buchanan.
@D9Sports pic.twitter.com/QVzNCOuFIZ

— Owen (@Owen97996567) January 9, 2020
With Karns City ahead 61-59 in overtime with around 30 seconds, the Gremlins Ethan McElroy missed two free throws, and Truman Vereb grabbed the rebound and was fouled by Micah Rupp.
Vereb then calmly sunk both charity shots to tie the game at 61.
Karns City then held for the last shot, but Karter Vogle played strong defense on the Gremlins Chase Beighley forcing a turnover with Rainey coming away with the steal and the game-winning shot.
With the game tied at 54 at the end of regulation, Union had a shot to win the game. But Rainey threw an errant pass with nine seconds left giving Karns City a chance to win at the end of regulation. But the Gremlins weren't able to score sending the game to overtime.
In overtime, Rainey, who had been limited to just four second-half points, ended up hitting three free throws and the game-winning shot to finish with six of Union's 10 points in the extra session.
Karns City led 36-27 at halftime before Union, behind five points from Brock Jordan and four each from Luke Bowser and Vogle took a 47-44 lead going to the fourth quarter.
Beighley, who scored a game-high 31 points, scored all 10 of Karns City's fourth-quarter point to help the Gremlins forge the tie and force overtime.
But in overtime, all the Gremlins could muster were seven made free throws.
Rainey finished with a team-best 26 points for Union while adding six rebounds. Bowser chipped in 10 points and 11 rebounds with Vereb scoring nine points to go with 12 rebounds and three assists.
Nathan Waltman added 10 points and a game-high 15 rebounds for Karns City with Rupp scoring six points to go with 10 boards.
BRADFORD 78, KANE 67, OT
KANE, Pa. – Down 13 points with a minute left in the third quarter, Bradford rallied to beat Kane, 78-67, on the road.
With the game tied at 61 at the end of regulation, the Owls exploded for 17 overtime points led by seven from Tyler Gigliotti and six from Steven Knowlton, who was a perfect 6 of 6 from the line in the extra session with Gigliotti going 4 of 4 from the line in the extra four minutes.
Evan Schmidt's two free throws with 28 seconds left in the fourth quarter tied the game at 61, and Chad Greville missed a 3-pointer at the buzzer that would have won the game for Kane.
Then in overtime, Gigliotti hit a 3-pointer followed by a pair of baskets from Cam Austin to keep the ball rolling for Bradford.
With Bradford trailing 53-40 late in the third quarter, Knowlton and Gavin Piscitelli got the Owls back in the game with back-to-back 3-pointers in the final minute of the quarter to cut the deficit going to the fourth quarter to a seven, 53-46.
Schmidt then scored five points and Peyton Manion four in the fourth quarter to help force the overtime.
Gigliotti led Bradford with 25 points with Knowlton adding 14, Schmidt 12 and Austin eight. Schmidt completed a double-double with 16 rebounds with Austin adding six boards. Caleb Nuzzo had five assists and five points with Knowlton also dishing out five helpers.
Greville led Kane with 22 points, Zuke Smith added 15 points, Carson Whiteman had 14 tallies and Mason Zuzek scored nine points.
BELLEFONTE 52, BROOKVILLE 48, OT
BELLEFONTE, Pa. – Ben McCartney scored nine of his 15 points in overtime to lead Bellefonte to a 52-48 overtime non-conference win over visiting Brookville Wednesday night.
The Raiders suffered from terrible free-throw shooting, making just 5 of 15 and only 2 of 9 in regulation. Aaron Park and Jace Miner scored 13 and 12 points respectively to lead the Raiders.
Brookville led 21-15 at halftime and 29-26 going into the fourth quarter before the Red Raiders from District 6 forced extra time and outscored the visitors 13-9.
Logan Bernier was also in double figures for Bellefonte with 13 points.
DUBOIS 51, ST. MARYS 48
ST. MARYS, Pa. – Behind 28 points from Chase Husted, DuBois held off St. Marys, 51-48, for a D9 League road victory.
Husted was 10 of 14 from the free-throw line, including 4 of 6 in the fourth quarter when he scored eight of his 28 points. DuBois led 38-34 going to the final eight minutes.
Lennon Lindholm added 17 points in the victory for the Beavers, who were ahead five, 19-14, at halftime.
Cahil Parish and Luke Lasko each scored 13 points to pace St. Marys. Mitchell Reiter added eight tallies.
AUSTIN 48, SMETHPORT 46
SMETHPORT, Pa. – Jackson Glover scored 13 of his game-high 23 points in the fourth quarter to help visiting Austin hold off Smethport, 48-46, in NTL action.
Jackson Glover was 9 of 14 from the free-throw line in the fourth quarter for the Panthers, who led 33-31 going to the final eight minutes. He added nine rebounds, four assists and three steals.
Parker Glover chipped in 12 points, six rebounds and four assists for Austin, which led 16-6 at the end of the first quarter but only by three, 23-20, at halftime.
Layne Shall paced Smethport with 18 points with Noah Lent scoring 10.
The Hubbers had three shots from point-blank range at the end of the game to tie the game but couldn't connect.
EISENHOWER 54, SHEFFIELD 53
SHEFFIELD, Pa. – Visiting Eisenhower used a 15-9 third-quarter advantage to pull out a 54-53 road win over Warren County rival Sheffield.
Jared Nartone led the Knights with 21 points with Drew Williams adding 14 points and Zane Alexander chipped in 12 points.
Tyler Hepinger exploded for 34 points, including 19 in the fourth quarter when he hit four 3-pointers, to lead Sheffield.
COUDERSPORT 71, CAMERON COUNTY 38
COUDERSPORT, Pa. – Coudersport hit seven first-half 3-pointers and took control of the NTL with a 71-38 blowout win over visiting Cameron County.
Both teams entered NTL action Wednesday night at 5-0 in conference play, but the homestanding Falcons made quick work of the Red Raiders to win their 70th consecutive NTL contest.
Kolby VanWhy hit three first-quarter 3-pointers to help Coudersport blitz to a 19-9 lead at the end of a quarter and then added another triple in the second quarter while Dillon Keglovits scored eight points in the quarter to expand the advantage to 37-18 at halftime.
VanWhy led the way for the Falcons with a game-high 21 points with Hayden Keck adding 17 points and five steals. Keglovitis added a double-double with 16 points and 14 rebounds, and Derek Easton hit three 3-pointers to finish with nine points to go with six assists.
Caden Beldin paced Cameron County with 14 points, Dino Brown added 13 points and Hayden Brown eight tallies.
Coudersport, which has finished a perfect 16-0 in NTL action in each of the last four seasons heading into the 2019-20 campaign, last lost an NTL regular-season game, 67-39, to Cameron County at home Feb. 11, 2015, to finish the NTL season 15-1 that year. The Falcons then dropped a 57-54 decision to the Red Raiders two days later in Austin in the NTL tiebreaker game.
ELK COUNTY CATHOLIC 57, PUNXSUTAWNEY 29
PUNXSUTAWNEY, Pa. – Mark Kraus scored a game-high 16 points to lead visiting Elk County Catholic to a 57-29 win at Punxsutawney.
Charlie Breindel and Mason McAllister each added nine points for the Crusaders.
Ethan Presloid paced Punxsutawney with eight points.
PORT ALLEGANY 64, OSWAYO VALLEY 43
SHINGLEHOUSE, Pa. – Howie Stuckey netted a game-best 27 points, as Port Allegany went on the road in NTL action and beat Oswayo Valley, 64-43.
Jordan Card added 10 points for the Gators.
Noah Wichert paced Oswayo Valley with 12 points.
NORTHERN POTTER 61, GALETON 20
GALETON, Pa. – Trey Slawson led a trio of Northern Potter players in double digits with 19 points, as the visiting Panthers rolled past Galeton, 61-20, in NTL play.
Carter Anderson added 11 points for NoPo with Ryan Langworthy scoring 10.
Noah Shott had eight points to pace Galeton.
A-C VALLEY 69, REDBANK VALLEY 52
FOXBURG, Pa. – Levi Orton had a monster double-double of 21 points and 17 rebounds while adding five assists to lead A-C Valley past visiting Redbank Valley, 69-52.
Eli Penny added 17 points, seven rebounds, five steals and five assists for the Falcons who also got a double-double of 10 points and 10 rebounds from Eddie Stevanus. Tanner Merwin chipped in nine points and seven steals.
A-C Valley led by as many as 33 points in the fourth quarter before pulling its starters.
Chris Marshall paced Redbank Valley with 18 points, 11 in the fourth quarter, while Bryson Bain added 16 points, eight in the final eight minutes.
Bryson Bain paced Redbank Valley with 16 points, eight in the fourth quarter
Bain 16 points, 8 in the 4th and Marshall 18 points, and 11 points in the 4th after the starters were pulled.