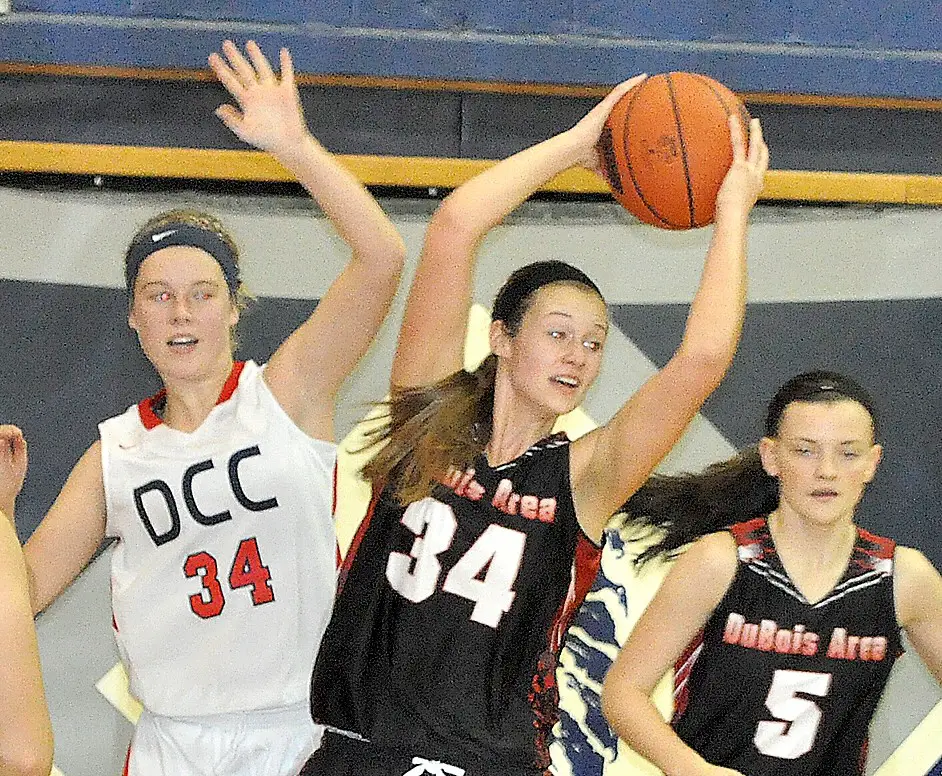 Jan. 9 recaps.
(Photo of Ashley Hallowell of DuBois. Photo submitted by Hallowell) 
DUBOIS 47, ST. MARYS 45
DUBOIS, Pa. – Ashley Hallowell dominated St. Marys with 26 points and 15 rebounds to lead DuBois to a 47-45 win over the visiting Lady Dutch in D9 League action.
Hallowell was strong in the first and fourth quarters scoring a combined 20 points in those two frames including 11 in the fourth quarter, but the middle two quarters were really the difference for DuBois. The Lady Beavers outscored St. Marys 19-9 in those two frames including 13-5 in the second quarter to take a 26-21 halftime lead.
Hallowell's biggest rebound came with eight seconds left and DuBois up 46-45. Chelsea DeSalve, who finished with eight points, missed a pair of free throws but Hallowell collected the rebound and was fouled. She then hit one of two to put DuBois up two.
Following a St. Marys timeout, DuBois' defense came away with a steal to seal the victory.
The game would have been a lot less tight if the Lady Beavers could hit free throws, but DuBois was just 12 of 30 from the line on the night.
Megan Quesenberry led St. Marys with 14 points with Kaylee Muccio adding 10.
CLEARFIELD 45, BALD EAGLE AREA 22
HYDE, Pa. – Freshman Megan Durandetta hit five 3-pointer on her way to a season-best 17 points, as Clearfield dispatched visiting Bald Eagle Area, 45-22, in Mountain League action.
Alyna Ryan added 12 points in the win for the Lady Bison.
Georgia Cingle led Bald Eagle with five points.
DUBOIS CENTRAL CATHOLIC 48, CURWENSVILLE 33
DUBOIS, Pa. – Abbey Pettenati led a balanced DuBois Central Catholic scoring attack with 11 points, as the Lady Cardinals topped visiting Curwensville, 48-33, in AML action.
Haley Pettenati and Alyssa Bittner each added seven points for DCC with Shay Gulvas and Ashley Wruble each tallying six points.
Madison Weber led all scorers with 18 points for Curwensville.
BROCKWAY 49, RIDGWAY 44
RIDGWAY, Pa. – Kaitlyn Morelli exploded for 25 points and 10 rebounds and visiting Brockway overcame an 18-point hole to pick up a 49-44 AML win over Ridgway.
Leah Lindemuth added 12 points and 13 rebounds for the Lady Rovers, while Morgan Lindemuth scored eight points and Maggie Schmader chipped in nine rebounds and four steals.
Emily Fullem paced Ridgway, which led 29-13 at halftime, with 21 points, 18 rebounds, three blocked shots, two steals and an assist. Casey Woodford added eight points and two rebounds and Carley LeBenne had five points and 10 rebounds.
OSWAYO VALLEY 50, AUSTIN 33
AUSTIN, Pa. – Shayla Bickel and Karina West combined for 29 points to lift visiting Oswayo Valley to its first North Tier League win with a 50-33 victory over Austin.
Bickel led the Green Wave, who moved a game over .500 at 5-4 including 1-3 in the conference, with 19 points with West adding 10 tallies.
Jordan Brewer paced Austin with 16 points with Angie Watson adding 10 tallies and Julia Latimore seven points and 15 rebounds.
COUDERSPORT 76, SMETHPORT 35
SMETHPORT, Pa. – Shaelyn Black, Sarah Chambers and Haley Keck combined for 53 points to lift visiting Coudersport to a 76-35 win over Smethport in North Tier League action.
Black led the Lady Falcons with 19 points, Chambers added 18 tallies and Keck chipped in with 16 points. EmmaRae Easton also reached double figures for Coudersport with 10 points.
Abbey Woodard paced Smethport with 18 points.
OTTO-ELDRED 60, CAMERON COUNTY 23
DUKE CENTER, Pa. – Otto-Eldred had little trouble defending its home court with a 60-23 win over visiting Cameron County.
Camryn Thomas had a double-double of 16 points and 10 rebounds to lead the Lady Terrors with Ali Cousins adding 10 points and four steals, Emily Smith four points, seven rebounds and two steals, Haylee Frederick nine points and five rebounds and Autumn Smith nine points.
Alyvia McKimm's nine points led Cameron County with Laila Smith chipping in seven points.
PORT ALLEGANY 48, GALETON 27
GALETON, Pa. – Leah Garzel recorded a double-double to help Port Allegany claim a 48-27 road North Tier League win over Galeton.
Leah Garzel had 12 points and 12 rebounds in the win, while Cailey Barnett led the Lady Gators with a game-high 19 points to go with seven steals. Bree Garzel chipped in with three points and eight assists.
Makaya Shadle led Galeton with 11 tallies.
A-C VALLEY 58, FOREST AREA 16
TIONESTA, Pa. – Led by 13 points from Cami McNany, five different A-C Valley players scored at least nine points to help the Lady Falcons snap a two-game losing streak with a 58-16 road win over Forest Area at West Forest High School.
Eli Thompson chipped in 11 points for A-C Valley with Annie Viertel, Olivia Boocks and Brooke Irwin each scoring nine points.
Jessica Wagner had four points to lead Forest Area.