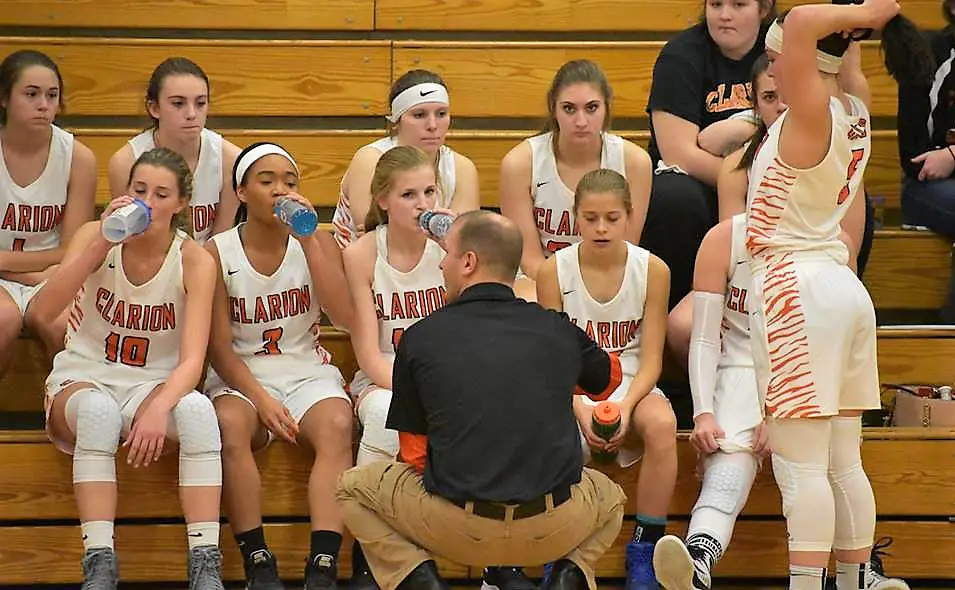 Jan. 9 girls' basketball recaps.
(Photo: Clarion girls' basketball team. Photo by Kim Constantino)
CLARION 55, MONITEAU 40
CLARION, Pa. – Jordan Best and Ali Troese each recorded double-doubles to lift Clarion past visiting Moniteau, 55-40.
Relisten to the game:
Troese had a team-high 15 points to go with a team-best 13 rebounds. She also blocked two shots. Best, meanwhile, added 12 points, 10 in the second half, including six in the fourth quarter, while contributing 10 rebounds, two steals and two blocked shots.
Best, a freshman, talked about the victory.
Kristin Auvil led all scorers with 18 points and completed a double-double with 11 rebounds while adding four blocked shots for Moniteau. Kaitee Chesonis chipped in seven points, four rebounds and three blocks for the Lady Warriors with Aslyn Pry adding five points and 11 rebounds and Andie Arblaster four points and seven boards.
Wendy Beveridge had nine blocked shots for Clarion to go with three points, five rebounds and a steal, and Kate Constantino led the Lady Cats defense with five steals while adding six points and three rebounds. KK Girvin also had four steals and 12 points in the win.
REDBANK VALLEY 70, CLARION-LIMESTONE 27
NEW BETHLEHEM, Pa. – A 31-point outburst from Tara Hinderliter lifted Redbank Valley past visiting Clarion-Limestone, 70-27.
Kelsie Elmer added 12 points for the Lady Bulldogs with Madison Foringer chipping in 10.
Anna Kennemuth and Monica Heath each scored eight points for C-L.
NORTH CLARION 55, UNION 24
RIMERSBURG, Pa. – Behind 14 points, 10 rebounds and eight assists from Abby Gatesman visiting North Clarion rolled to a 55-24 win over Union.
Mackenzie Bauer added 13 points for the She-Wolves with Gabby Schmader contributing 11.
Dominika Logue paced Union with 10 points with Bryn Davis adding eight.
PUNXSUTAWNEY 58, ELK COUNTY CATHOLIC 37
PUNXSUTAWNEY, Pa. – Riley Presloid, Abby Gigliotti and Kate Horner all scored in double digits to lead Punxsutawney to a 58-38 home D9 League win over Elk County Catholic.
Presloid netted 16 points while adding two assists and two steals for the Lady Chucks with Gigliotti adding 12 points and a team-high seven rebounds to go with three steals. Horner chipped in 10 points, seven assists and two steals.
Taylor Newton had a double-double with 16 points and 12 rebounds to pace ECC with Maddie Kear adding eight points.
DUBOIS CENTRAL CATHOLIC 66, CURWENSVILLE 44
CURWENSVILLE, Pa. – Alyssa Bittner scored a team-high 21 points to lead visiting DuBois Central Catholic to a 66-44 AML win over Curwensville.
Shay Gulvas added 17 points for the Lady Cardinals with Martina Swalligan chipping in 10 and Abby Pettenati nine.
Madi Weber had a game-high 25 points for Curwensville with Briana Swindell adding eight.