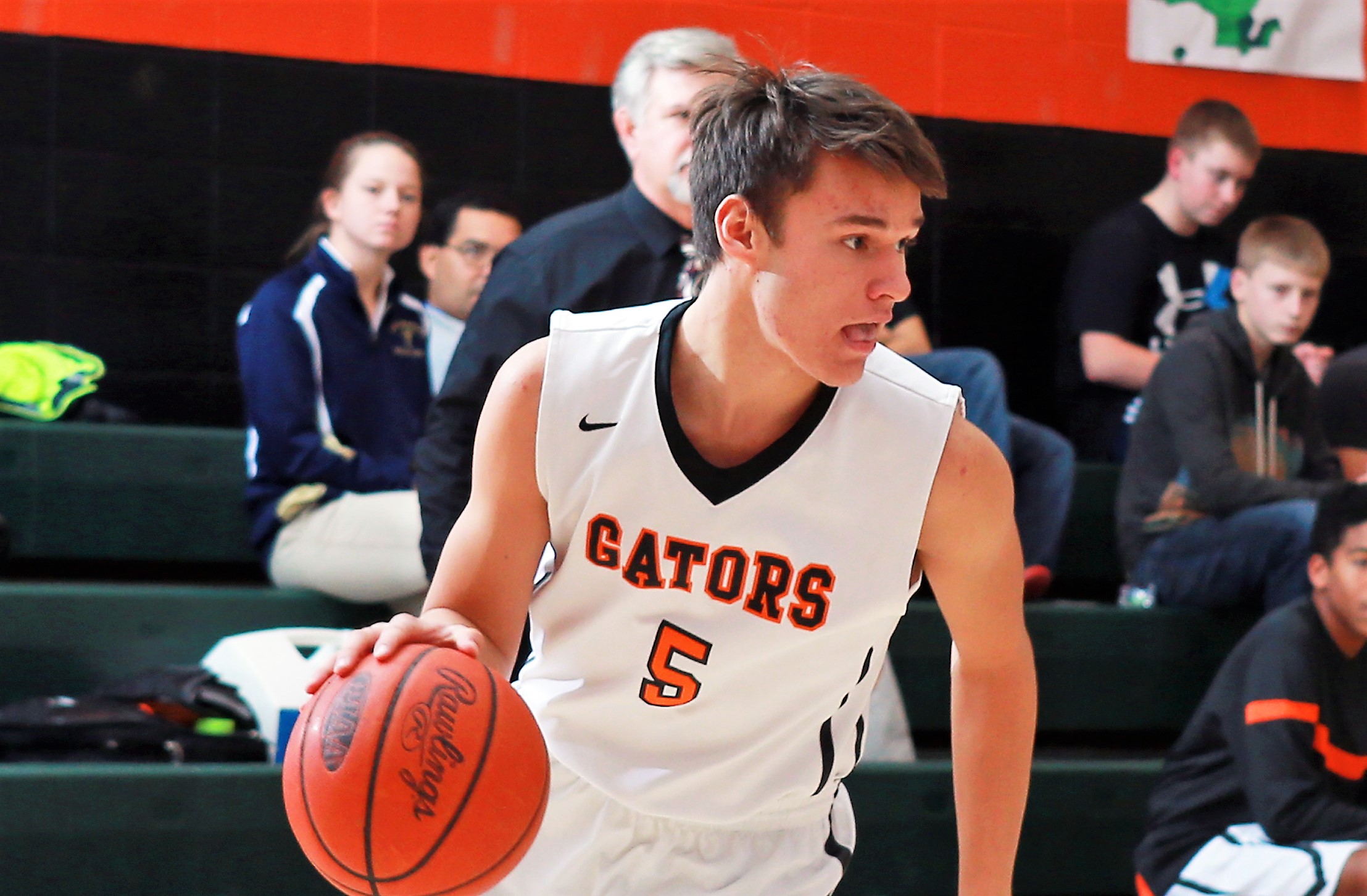 Jan. 9 boys' basketball roundup.
(Cover photo of Port Allegany's David Talkington. Photo by Paul Burdick. Check out more of Burdick's work here)
PORT ALLEGANY 60, OSWAYO VALLEY 57
SHINGLEHOUSE, Pa. – David Talkington scored nine of his 16 points in the fourth quarter to help visiting Port Allegany break a tie game and pick up a 60-57 road win in North Tier League play at Oswayo Valley.
The teams were tied at 44 going to the fourth quarter, but behind Talkington and Howie Stuckey, who scored five of his team-high 19 points in the fourth quarter the Gators outscored the Green Wave 16-13 in the final eight minutes.
Brandon McCaslin, who hit two key free throws late with the Gators up one, also reached double digits for Port Allegany netting 11 tallies.
Garrett Babcock paced Oswayo Valley with a game-high 21 points. Gavin Babcock chipped in 16 tallies, and Garren Black scored 11.
ELK COUNTY CATHOLIC 79, SHEFFIELD 29
SHEFFIELD, Pa. – Ryan Newton scored 19 points to pace visiting Elk County Catholic to a 79-29 win over Sheffield.
Gabe Kraus and Brad Dippold each added 14 points for the unbeaten Crusaders, who had 10 different players score.
Drew Higby scored 11 points to lead Sheffield.
OTTO-ELDRED 57, NORTHERN POTTER 33
DUKE CENTER, Pa. – Dylan Close, Mark Miller and Sawyer Drummond combined for 25 points to lead Otto-Eldred to a 57-33 North Tier League victory over visiting Northern Potter.
Close and Miller each scored nine points with Drummond adding seven. Eleven different Terrors scored.
Tucker Kosa paced Northern Potter with 12 points with Blake Jeffers adding nine.
SMETHPORT 48, AUSTIN 32
AUSTIN, Pa. – Eric Szarowicz scored 13 points with Caleb Lutz adding 10 to help visiting Smethport to a 48-32 win over Austin in North Tier League action.
Mason Valenti scored 11 points to pace Austin with Garrett Rees adding seven, while Ian Woodruff chipped in seven for the Hubbers.
COUDERSPORT 58, CAMERON COUNTY 44
EMPORIUM, Pa. – Owen Chambers and Jared Green combined for 30 points, as Coudersport grabbed a 58-44 North Tier League road win over Cameron County.
Both players scored 15 points with 10 of Green's coming in a 25-point second quarter for the Falcons, who opened a 37-15 halftime lead after taking a 12-2 lead after one quarter.
Aaron Wolfinger chipped in nine points for Coudersport.
Derek Rieder paced Cameron County with a double-double. He had 19 points and 10 rebounds. Adam Shaffer chipped in nine tallies with Mo Yarborough adding seven.
CENTRAL-MARTINSBURG 57, CLEARFIELD 46
MARTINSBURG, Pa. – Behind big second halves from Josh McKnight, Jacob Muthler and Chase Smith, Central-Martinsburg rallied to hand visiting Clearfield its first loss of the season, 57-46.
The Bison led 24-18 at halftime but were outscored 39-24 after the break. An 8-0 run at the end of the third quarter was a big catalyst for the Dragons putting Central-Martinsburg up one at the end of the quarter.
McKnight scored 10 of his team-high 16 points in the second half including four in a fourth quarter that saw the Dragons outpace Clearfield 18-9.
Muthler and Smith each added seven second-half tallies with Muthler finishing with 12 points and Smith with 11.
Will Myers paced Clearfield, which beat Central-Martinsburg, 53-41, at home back in December with 17 points, nine rebounds, three steals and two blocked shots.
Evan Brown added 12 points, seven rebounds, four steals and two blocks with Tommy Hazel chipped in 10 points, seven rebounds, two steals and a block before fouling out and Dave McKenzie adding five points and six rebounds.
It marks the second straight year Clearfield has lost at Central-Martinsburg, and the defeat breaks a 12-game regular-season win streak for the Bison.
DUBOIS 54, MARION CENTER 41
DUBOIS, Pa. – Nick LaBrasca had a monster game with 18 points and 21 rebounds to help DuBois to a 54-41 victory over visiting Marion Center.
Alex Beers chipped in 16 points for the Beavers, who also got seven points and 12 rebounds from Kenny Garvey.
Cody Wise led Marion Center with 12 points with Paul McClure adding 11.
CRANBERRY 40, COMMODORE PERRY 39
HADLEY, Pa. – Cranberry picked up its third straight win with a 40-39 road victory over Commodore Perry.
Andrew Gunn led the Berries with a career-high 15 points with Dan McQuaide adding 10 tallies. Cameron Daugherty chipped in with nine points.
BROOKVILLE 74, PHILIPSBURG-OSCEOLA 59
PHILIPSBURG, Pa. – Jimmy Moore poured in 20 points to lead visiting Brookville to a 74-59 win at Philipsburg-Osceola.
Trenton Gilhousen added 15 points for the Raiders who also saw freshman Aaron Park score 13 and Bryan Dworek chip in 11.
Josiah Davis led all scorers with 27 points for the Mounties.
WEST SHAMOKIN 62, UNION 46
RURAL VALLEY, Pa. – Carson DeWitt netted 17 points to help West Shamokin knock off visiting Union, 62-46.
Ben Vicini added 14 points for the Wolves who also got 10 from Bret Lundgren.
Hunter Johnson scored 12 to pace Union, which also got eight from Lucas Bowser, his second straight game in single digits. Kolby Montgomery and Gavin Hawk both chipped in seven points with Hawk and Bowser both pulling down seven rebounds. Hawk added two steals and two assists with Bowser coming up with three steals.
KEYSTONE 56, SAEGERTOWN 29
SAEGERTOWN, Pa. – Behind a season-high 15 points from Tanner Wilson, visiting Keystone cruised to a 56-29 win at Saegertown.
Wilson was one of three Panthers to reach double digits. Dalton Jones added 11 points and Austin Ion 10 points and six steals to help Keystone to its eighth straight win. Corey Rapp chipped in six points and nine rebounds with Ion coming up with six steals.
Grant Phelan and Nick Brady each scored six points on a pair of 3-pointers apiece for Saegertown.
TIDIOUTE CHARTER 58, FOREST AREA 56
TIONESTA, Pa. – Ryan Williams and Julian Gillenwater combined to score 33 points, as visiting Tidioute Charter beat Forest Area, 58-56, at West Forest.
Williams netted a game-high 18 points for the Bulldogs with Gillenwater adding 15. Maison DeLoe chipped in 12 tallies for Tidioute, which led 30-26 at halftime.
Seth Berling paced Forest Area with 16 points and 13 rebounds with Dillon DiCorpo adding 12 points for the Fires.
ST. MARYS 66, A-C VALLEY 27
FOXBURG, Pa. – Jeff Wehler and Caleb Barackman each netted 14 points to help visiting St. Marys cruise to a 66-27 non-conference win over A-C Valley.
Matt Marconi chipped in 11 points for the Dutch, who had eight different players score.
Joe Manculich paced A-C Valley with eight points with Kody Wolfe adding seven.