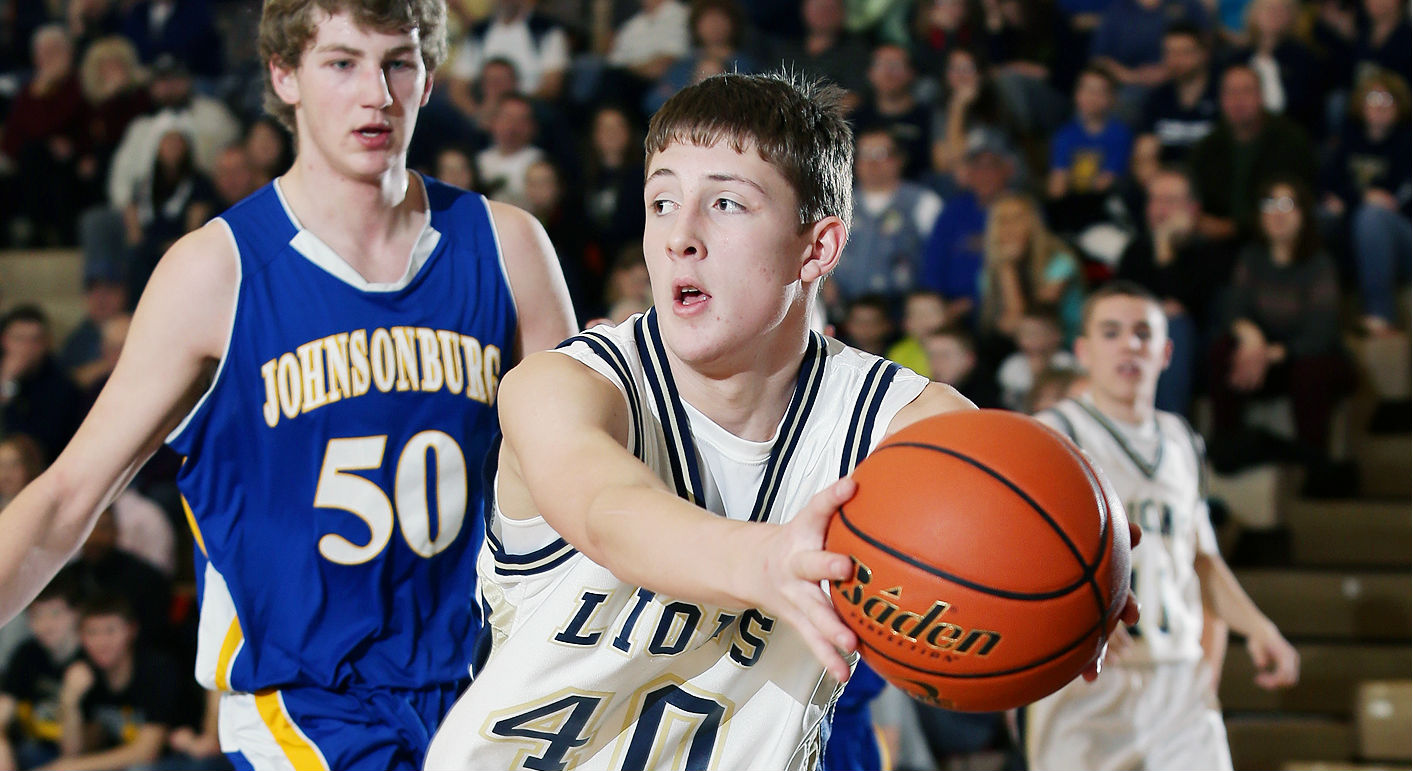 BOYS
CLARION-LIMESTONE 92, ANDREW STREET PROPEL CHARTER 50  
STRATTANVILLE, Pa. — Behind a career-high scoring effort from Dan Callen, the Clarion-Limestone Lions routed Andrew Street Propel Charter, 92-50, Saturday night.
It was the second meeting between the teams in 12 days. The Lions won, 72-47, in the West
Shamokin Christmas Tournament consolation game.
Callen scored 30 points with 10 rebounds and 5 blocked shots in just three quarters of playing time. The Lions were up with the PIAA's Mercy Rule running clock in motion at the end of the third quarter with a 79-36 lead.
Also for C-L, Noah Rankin finished with 21 points, 9 steals and 7 assists. Julian Laugand scored 12 points.
DUBOIS 53, BALD EAGLE 47
WINGATE, Pa. – Zach Sloan scored a game-high 29 points to lead DuBois to a 53-47 road win at Bald Eagle Area Saturday.
Sloan hit six 3-pointers on the night, including three in the second quarter when he scored nine points. He was also 9 of 12 from the free-throw line.
Nick LaBrasca added eight points for the Beavers.
GIRLS
ELK COUNTY CATHOLIC 51, ST. MARYS 36
ST. MARYS – Reilly Herzing scored eight of her game-high 16 points in the third quarter helping Elk County Catholic pull away from homestanding St. Marys for a 51-36 win in D9 League play Saturday night.
The Lady Crusaders, who led 15-3 at the end of the first quarter, were up seven, 23-16, at halftime before outscoring St. Marys 20-5 in the crucial third quarter.
Herzing added eight rebounds and six steals to her 16 points.
Cassidy Cunningham chipped in 12 points for ECC with Josie Smith dropping in 11.
Rachelle Armanini paced St. Marys with 13 points.
The win avenged a 47-33 loss by the Lady Crusaders to the Lady Dutch in the Elk County Tournament just after Christmas.
DUBOIS 57, BALD EAGLE AREA 23
WINGATE, Pa. – Ashley Hallowell and Dayna DeSalve each had double-doubles as DuBois had little trouble on the road in non-conference action at Bald Eagle Area Saturday getting a 57-23 win.
Hallowell had 10 points and 14 rebounds with DeSalve adding 12 points and 10 rebounds. Taylore Uplinger added 10 points and Courtney Chandler eight for the Lady Beavers, who scored 24 points from the free-throw line.
WILLIAMSON 40, GALETON 31
GALETON, Pa. – Despite nine points from Ashley Cizek, homestanding Galeton dropped a 40-31 decision to Williamson Saturday.
Makaya Shadle added eight points for the Tigers with Laura Parsell adding six.  
SAINT JOSEPH 66, DUBOIS CENTRAL CATHOLIC 39
NATRONA HEIGHTS, Pa. – Despite 16 points from Gabby Caruso, DuBois Central Catholic dropped a 66-39 non-conference decision at Saint Joseph Saturday.
Stephanie Rossi added six tallies for the Lady Cardinals.