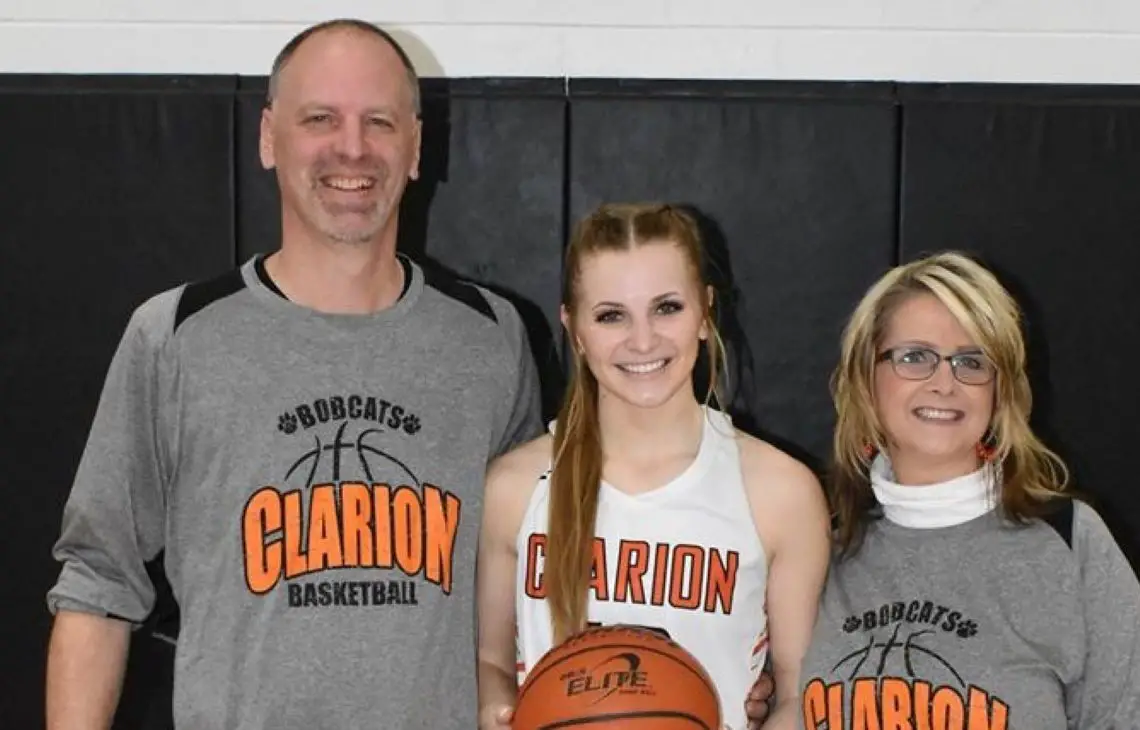 Jan. 9 boys' and girls' basketball recaps.
(Photo: Kait Constantino with her parents Dave and Kim after scoring her 1,000th career point Thursday. Kait joins Dave, who scored 1,000 points at Punxsutawney, in the 1,000-point club. Photo by Roger Walter)
GIRLS
CLARION 67, FOREST AREA 18
CLARION, Pa. – Kait Constantino became the seventh player in Clarion girls' basketball history to score 1,000 career points when she hit the milestone with 4:52 left in the third quarter of Clarion's 67-18 win over visiting Forest Area.
Constantino needed 13 points coming into the night to get to 1,000, and scored points 13 and 14 on a layup off a feed from Jordan Best.
Constantino finished with a game-high 22 points giving her 1,009 in her career. She joins her dad, Dave, in a select group of District 9 parent-child combinations to score 1,000 career points. Dave Constantino, who graduated from Punxsutawney High School in 1988, scored 1,276 career points in high school.
Kait Constantino talked about what reaching the milestone and sharing it with her father means.
The game itself was an easy win for Clarion, which led 12-0 out of the gate, 23-4 at the end of the first quarter and 41-8 at halftime.
Best and Ava Cherico each added 12 points in the victory with Payton Simko scoring eight points and Eva Lerch seven. Simko and Constantino each added six steals with Best coming away with five steals.
Jess Wagner paced Forest Area with six points with Meg Clow and Dez Ginnery each scored four points.
JOHNSONBURG 50, SHEFFIELD 15
SHEFFIELD, Pa. – All 10 Johnsonburg players scored, as the visiting Ramettes picked up their first win of the season, 50-15, over Sheffield in AML action.
Kaci Stelene led a balanced effort for Johnsonburg with nine points with Tess Kocjancic scoring eight and Ella Lundberg, Anna Stauffer, Emma King and Julia Jones each scoring six points.
Allison Schmader hit three 3-pointers on her way to a game-high 10 points for Sheffield.
PORT ALLEGANY 47, GALETON 21
GALETON, Pa. – Cailey Barnett recorded a double-double of 12 points and 11 rebounds while adding eight assists and three steals to help Port Allegany to a 47-21 road NTL victory over Galeton.
Bree Garzel also scored 12 points for the Lady Gators while adding seven steals and three assists. She scored 10 of her 12 points in the first quarter helping Port Allegany to a 20-4 lead after one.
Sharon Curfman and Gracie Archer each chipped in eight points in the win with Curfman adding six rebounds. Evin Stauffer had seven rebounds and three points.
Cara Parsell paced Galeton with eight points, eight rebounds and two steals. Alli Macensky added five points, four rebounds and a blocked shot, while Lauren Sauley had three points, five rebounds and three blocked shots.
COUDERSPORT 49, AUSTIN 10
COUDERSPORT, Pa. – Mikayla Gunn scored eight of her 10 points in the first quarter, as Coudersport used a fast start to roll past visiting Austin, 49-10, in NTL action.
Behind Gunn's eight tallies, the Lady Falcons led 18-1 at the end of a quarter and built the lead to 35-3 at halftime.
Sarah Chambers led all scorers with 15 points for Coudersport with Elizabeth Frame chipping in seven tallies and Lauren Stimaker six.
Taylor Brewer and Kenda Valenti each scored three points for Austin.
OTTO-ELDRED 52, SMETHPORT 13
SMETHPORT, Pa. – Pitching a first-quarter shutout, visiting Otto-Eldred rolled to a 52-13 NTL win over Smethport.
The Lady Terrors led 17-0 at the end of a quarter and 24-6 at halftime.
Jadelyn Spinney led a balanced effort with 11 points, four assists and three steals with Katie Sheeler adding eight points, eight steals and four assists, Reilly Raught eight points and Haley Cousins six points and six steals.
MyKayla Deyarmin had seven points for Smethport with Erin Herzog grabbing eight rebounds while hitting a free throw.
BROCKWAY 57, CAMERON COUNTY 31
EMPORIUM, Pa. – Brockway used a 10-0 run at the end of the first half to fuel a 57-31 win at Cameron County.
The teams were tied at 19 late in the opening half before the Lady Rovers went on the 10-0 over the final minute of the half to take a 29-19 halftime lead and then built the advantage to 13 points, 40-27, by the end of the third quarter. Brockway put the game away with a 17-4 fourth-quarter advantage.
Selena Buttery had a monster game with 20 points and 15 rebounds for the Lady Rovers while Morgan Lindemuth added 17 points, five assists and three blocked shots and hit three 3-pointers. Danielle Wood chipped in 12 points and five assists.
Kaelee Bresslin paced Cameron County, which led 15-14 at the end of the first quarter, with 13 points. Mallory McKimm chipped in nine tallies.
BOYS
PUNXSUTAWNEY 57, A-C VALLEY 54
PUNXSUTAWNEY, Pa. – Punxsutawney built a 10-point lead going to the fourth quarter.
Micah Kriebel and Ethan Preloid combined to score 25 points in the win with Kriebel leading the Chucks, who led 23-19 at the end of the first quarter, 36-31 at halftime and 51-41 after three, with 13 points. Presloid added 12 and Nick Humble had eight.
Eddie Stevanus paced A-C Valley with 16 points and 11 rebounds. Levi Orton had a game-high 17 points, and Cole Dehart and Eli Penny each added eight for the Falcons. Stevanus scored six of his points in the fourth quarter before fouling out.
WARREN 43, RIDGWAY 35
WARREN, Pa. – Using a 13-0 run to start the second half, Warren beat visiting Ridgway, 43-35.
Payton Barnes led Warren, which trailed 19-18 at halftime, with 12 points with Ben Berdine adding 11 and Tom Bablak 10.
Matt Dush led Ridgway, which has lost three of its last four games, with 14 points with Zach Zameroski adding 13.