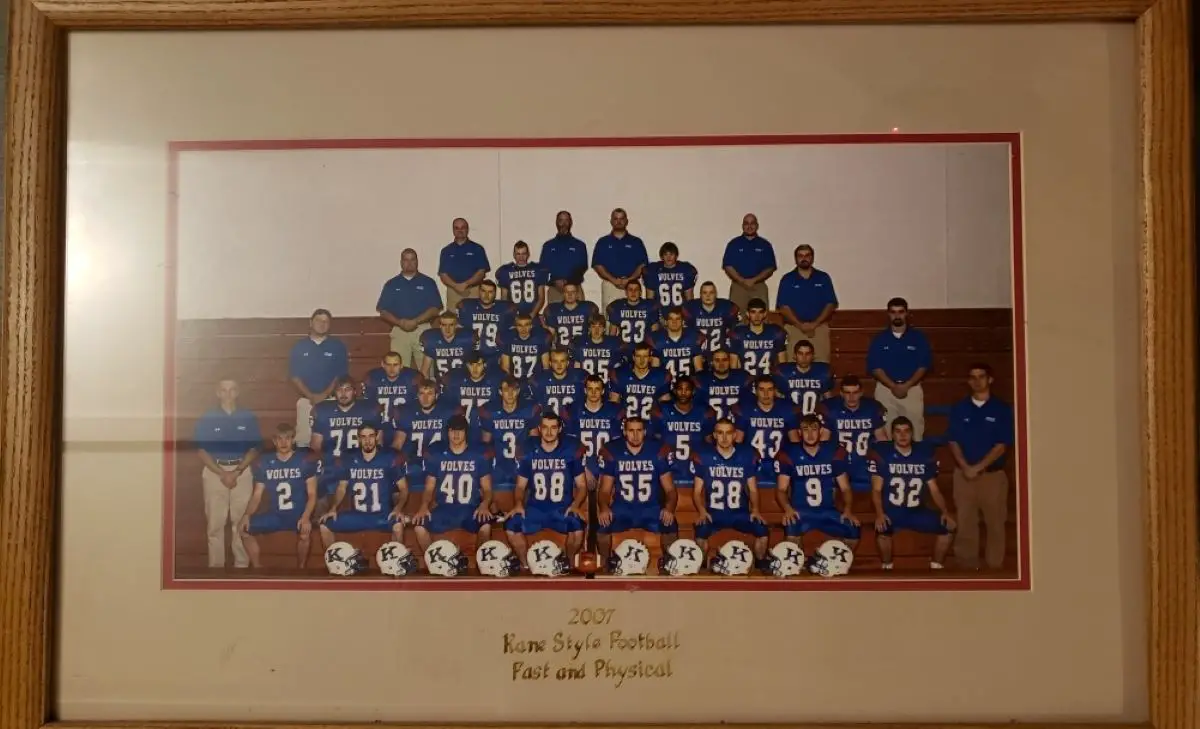 It was a cold Saturday morning following a late Friday night.
(Photo of the 2007 Kane Wolves football team. Photo courtesy of Todd Silfies, an assistant coach on that team who later went on to win a couple of District 9 titles himself as head coach of the Wolves)
Specifically, it was Saturday, Dec. 8, 2007.
That morning, I got up, fed my 1-year old son breakfast and told my ex-wife that I needed to get out of the house. So, we packed up and headed to Wal-Mart to do some shopping.
No sooner did we get inside the store in Warren, I saw a long-time friend, Jason Barner. I shook his hand and we exclaimed the same 3 words to each other. "They were good."
"They" were the Serra Catholic Eagles.
The night before Barner, the head coach, and the Kane Wolves' magical football season came to an end. Kane lost 48-21 to Serra Catholic in the PIAA, Class 1A, Western Finals at Clarion University's Memorial Stadium.
Turns out, we both needed to get away from the reminder for a similar reason. It was an abrupt end to something in which we both had invested a lot of time.
Certainly, his investment was a lot more than mine.
Jason had been investing in this group of kids for a number of years. First, as an assistant coach. Then, as their head coach. When the clock ticked to zero at the end of the final game of 2006, he knew he had something special that was coming back for the 2007 season.
My investment began in October of 2006 when I had joined the hometown radio station in Kane as the morning show host and sports announcer. Throughout the winter, spring and into the summer, I had football in the back of my mind. As football season, 2007 came closer, I got extremely excited.
I was stepping into the role of a legend, a friend, a mentor, and a father-figure (Barry Morgan, with whom I work now at Laurel Media). Barry had set the bar way high for 18 years leading up to that moment. It was no easy task to fill shoes that big, but he wanted me to succeed. He has always wanted me to succeed. In true Barry Morgan fashion, his statement to me then is the line he still says to me every day…
"Let me know what you need, and I'll help you however I can."
Further "help" that I had heading into that season was that I had known Jason and the Barner family for years. At the time, his sister, mom & dad lived five and six houses up from me respectively on the same street in Sheffield. It was extremely beneficial. Mainly because I got the low-down from his mom many times. First, during the offseason. Then, during the summer and pre-season. And of course, I also got her weekly preview before each game on how the team was looking and what to expect. And she absolutely made sure Jason told her the game plan each week. The woman loved each of those kids on the roster like her own.
It was good to know people in certain places!
I also had Bruce Leonard. He was the color commentator alongside of me for the whole season. He had worked with Barry for a while and we picked up where they had left off. He was my other foot. My other hand. My balance.
The tools I was given were simply amazing. Now, it was my job not to screw it up.
The '07 Wolves were a machine. They were simply amazing to watch and to be around.
I remember the names vividly. Zach Anderson, Dustin Moran, Matt Mix, Ross Nicholson, Cory Smith, Deryk Smith, John Bizzak, Chad Gustafson, Nick Dangelo, Mike Punk, DJ Horton, Arie Paup, Kenny Kane and more.
The only time they were really challenged in the regular season was against Ridgway.
The Elkers gave the Wolves one heck of a battle, but Kane pulled away in the second half.
Outside of that, the starters usually could be found on the sideline by mid to late third quarter each week with a lop-sided scoreboard in Kane's favor.
The offense was precision. The defense was scary good. The team lived up to its 'fast and physical' slogan. That was the mantra of the team from head coach to the water boys. From parents to the cheerleaders and band. And it was also the way I attacked my pre-game meal as I remember. Oh heck, I still do that today.
Fast and Physical. Everyone around Kane football lived it.
As the second half of the season went on, the matchup that everyone started to talk about loomed. Cameron County and Kane in the AML title game.
The Red Raiders were an awesome team in their own right that year. Cameron County went undefeated in the regular season and won the AML North. The title game was everything it was built up to be. Kane went away a winner 21-13 after a hard-fought battle.
The next two weeks were more of the same for the Wolves. Defeating Curwensville and Coudersport in the D9 quarterfinal and semifinal respectively.
That set up the rematch. Cameron County and Kane. The District 9 Championship Game.
It was another classic. After a scoreless first half, Kane broke ahead in the third quarter. Then a fourth-quarter TD gave them a 14-0 lead. Cameron County scored late to make it 14-6. After Kane recovered an onside kick, the Wolves had to punt with under a minute left.
Shank!
A 3-yard punt gave the ball back to the Red Raiders with 45 seconds left.
However, as they had all season long, the fast and physical Wolves' defense stepped up.
1st down – incomplete pass.
2nd down – incomplete pass.
3rd down – incomplete pass.
4th down – incomplete pass.
Ballgame!
Kane's first District 9 football title in school history was complete.
I was ecstatic! After a season filled with a ton of hope, effort and guts, the trophy was headed for Kane.
If you've ever listened to me call a game, you know I tend to get extremely excited "in the moment." As you can imagine, when the fourth-down pass went to the Memorial Stadium turf at Clarion University, I was exuberant. So happy for the kids that had worked so hard all season long.
That's when it happened.
I sat down to catch my breath as the final seconds ran off the clock and all of a sudden, a strong 'push' came to my back.
It couldn't be. Could somebody be upset enough at my exuberance that they kneed me in the back???
Sure enough, the Cameron County assistant coach pushed his knee into my back as a sign of his dislike for my joy. Sore loser? Emotion of the moment? I didn't have time to ask. He was out the press box door rather quickly.
Oh well, never fear, all is forgiven (if he's reading this). I don't hold grudges.
I was having too much fun to care.
That fun continued in uptown Kane.
It's tradition in Kane (as it is in many other towns) for the town's fire department to give champions the "ride" around town. You know, to brag and show off what they had done. I made it back in time to catch the parade by the radio station. It was awesome.
But, it was only one step in what the Wolves wanted to complete.
The next week saw the Wolves take on a very good Mercyhurst Prep team in the PIAA Western Semifinal. It was another classic.
Mercyhurst Prep was a physical team in their own right. And it showed. The Lakers had a 7-0 lead at halftime. Kane's offense finally got clicking in the third quarter moving into the Lakers' red zone. In fact, they had a first-and-goal at the 5.
Fumble. Lost out of the end zone. Touchback.
Well, it had to end sometime right? Maybe the magic was gone and it just wasn't meant to be? Many thoughts like that began to creep into my head.
Well, thanks to another great defensive effort, that line of thinking soon was stopped.
Matt Mix ripped off a long TD run. Then it was Anderson to Bizzak to give Kane the lead. The "fast and physical" defense did their thing after that to seal it.
Game over! Kane wins 12-7.
Yes, I was crazy on the air. No, I didn't get kneed this time.
The PIAA Western Finals were set.
Things got real. Really real! A win meant playing for a state title.
It was Monday of the week of the game. I had a little lightbulb click in my head. Every once in awhile, I get an idea that turns out to be a good one.
This is one that neither she or I will forget.
The "she" is Alaina Barner, daughter of Coach Barner and his wife, Michele.
As I said, I've known the Barner family forever. Throw in the Nuhfer family (Michele's side) and they know me all the more. I graduated Sheffield High School in 1994 with Michele's sister, Jennifer. If you want dirt, they have it. Yes, including the extremely foolish stuff I did when I was a kid.
I called Jason and asked if Alaina still believed in a certain Jolly soul from the North Pole who makes a trip around the world on Dec. 24 each year.
He said yes.
BINGO!!!!
Alaina and her Aunt Jodell (Jason's sister) came to the studio after school the next day and recorded her Christmas list.
"Dear Santa, my name is Alaina Barner. For Christmas this year, I would like…"
Honestly, Alaina, I can't remember what you wanted for Christmas that year. The only thing I remember is the last item on your list…
"Oh, and could you please bring my dad and the Kane Wolves a State Championship."
Instant feels.
She executed it as perfectly as I had wanted. And the town loved it. She was part of the on-air promo for the game leading up to Friday. I had multiple calls asking me to play it more often. Alaina was a radio star.
She's a star in her own right now for different reasons. She's a bright kid (I say kid because she's younger than me and I knew her when she was a little girl) with a huge future ahead of her. But I will never forget the magic in her eyes and in her voice.
I just hope she doesn't hold it against Santa for what happened next…
Mid-week saw a typical early-season snowstorm. Most of the area received about a foot to 18 inches of snow. The question persisted. Will they play? Will they postpone?
Clarion University's staff worked hard to clear the field of snow. So the game was a "go."
It was frigid cold that night. If I remember, the game-time temperature was around 30. So cold that there were still remnants of snow and ice on the field. So cold that you saw the breath of the players combine across the line of scrimmage.
So cold that I needed my long underwear. And you better believe I wore it.
Serra Catholic was everything they were built up to be. The WPIAL champs were big, strong and fast.
Bigger, stronger and faster than anything Kane had seen all season long.
Ask any of the kids on the Kane roster and they will recognize the names TJ Heatherington, Chris Loving and Isaiah Jackson. They learned about them quite well that Friday night.
Serra Catholic jumped out to a 21-0 lead in the second quarter. Kane looked shell-shocked. I was trying to paint a positive picture on the air. ANY positive I could find. But I knew that they (the listening audience) knew I wasn't fooling anyone.
Finally, something positive. Halfway through the second quarter, Kane put their offense together and Dustin Moran got Kane on the board with a TD run. The rest of the half evened out leading to a 21-7 halftime Eagle lead.
Then, the magic started to happen again. The "Fast and Physical" defense that had risen to the moment all season long made a huge stop to start the second half. Serra Catholic punted.
On the next drive, the fire got white-hot. Zach Anderson hit Matt Mix for a long TD pass to ignite a heavily-partisan Kane crowd into a frenzy. People jumping around. Stands shaking. Players waiving towels and inciting the crowd even more.
You know, the sort of frenzy that every sports fan experiences in big moments.
Like when Joe Carter hits a home run to walk-off the 1993 World Series.
When Ben Roethlisberger hits Santonio Holmes in the back of the end zone in Super Bowl XLIII.
When Tom Brady finally left the Patriots. Well, that one was frenzy enough for me, anyway.
I digress….
21-14. Could this really be happening? This was the team that was getting kicked around the field in the first half. Now it was 21-14 with just under nine minutes left in the third.
My mind, during the commercial break after the score, began to fill up with logistics.
"I'll have to leave Thursday after my morning show to get to Hershey. Plan a hotel stay, meals, make sure I have the broadcast check for the game…"
Then it happened.
Well, more specifically, Cam Olsen happened.
The ensuing kickoff from that touchdown drive landed in the arms of Olsen at the Serra Catholic 12-yard line. He ran ahead into a pile that moved somewhat forward and toward the sideline. From my vantage point, it appeared as if he was headed out of bounds.
Far from it.
A split-second later, the tiny return man squirted out of the pile and streaked down the far sideline and into the end zone.
Balloon popped.
Air gone.
As high as the previous five minutes of real-time was, it was the exact opposite after the about 15-seconds it took Olsen to get to pay dirt.
Deflated doesn't even begin to cover it.
Kane still battled after that, but for all intents and purposes, the game was over at that point.
Serra Catholic scored again before the end of the third to extend the lead to 35-14.
Zach Anderson hit Mike Punk for a long TD to make it 35-21, but the Serra Catholic 3-
headed monster of a run game couldn't be stopped.
And just like that, the season was over. Serra Catholic was the Western Champions. Not the Kane Wolves.
With all due respect and appreciation to the last four Ridgway Elker District 9 title teams, who are amazing in their own right, the 2007 Kane Wolves were the most complete football team I've ever been around as a broadcaster. I think I feel this way more so because of the connection I had with them. All of them. Coaches, players, cheerleaders, band, fans, parents, administration, school. I still talk about the Serra Catholic game every time I see any of them. And the line I get from each of them is "we were in that game. We had a chance."
What if Cam Olsen went out of bounds? What if Kane wasn't shell-shocked in the second quarter?
"What if" is a dangerous game to play sometimes. However, the 2007 Kane Wolves are all about the "what if" of that game.
And they will be forever.
As I remember it, I think Coach Barner and I were just looking for something to numb the pain of the loss that Saturday morning.
He felt it.
I felt it.
Everyone around that team felt it. And, to be honest, they still feel it today.
Coach and I exchanged pleasantries and our appreciation for each other's contributions to the season and turned our attention to our families.
I couldn't even tell you what we bought in the store.
But I remember that Saturday morning visit.
I remember the games.
I remember the season.
And I remember the ride.
Thank you, 2007 Kane Wolves. You've left this broadcaster with memories for a lifetime!