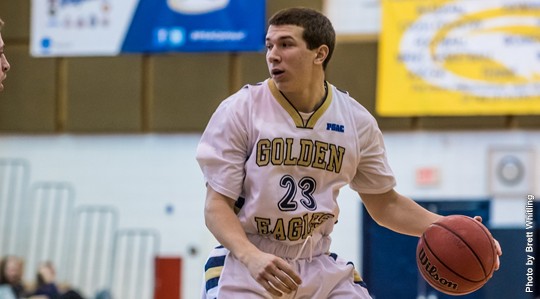 CLARION, Pa. – Trailing by 16 with 17 minutes to play, Clarion rallied to beat visiting Davis & Elkins, 86-84, on two Cameron Grumley free throws with eight seconds to play.
Davis & Elkins (0-4), which led 52-36 early in the second half, had tied the game, the seventh tie of the second half, on a Rickenjee Bellevue layup with 17 seconds to play.
Following a timeout, Clarion (2-4) inbounded the ball and tried to get a pass to Grumley in front of the Golden Eagles bench. But Teron Owens reached around Grumley going for the steal and was whistled for the foul.
Grumley, with none of his teammates around him, hit both charity shots to give Clarion the lead.
For the junior from Johnsonburg, it continued a strong showing at the line this year where he is now 18 of 19 on the season after entering the year hitting just 67.1 percent of his charity shots.
With still plenty of time to get a good shot off, Davis & Elkins called timeout with four second left, and on the inbounds found its best player, Kevin Bracy-Davis, who had a team-high 18 points, open in the corner. But Bracy-Davis 3-pointer was short, and the tip by Bellevue was too strong.
Grumley said the Golden Eagles knew the ball would end up in Bracy-Davis' hands.
Seventeen minutes prior to Grumley's free throws there were few in the sparsely populated Tippin Gym that believed the Golden Eagles were going to win the game.
Coming off a tough weekend that saw Clarion get outscored 195-143 in losses to East Stroudsburg and West Chester, it looked like more of the same for the Golden Eagles when they got behind 45-32 at halftime and then trailed by the 16 following a Bellevue dunk with 16:54 to go.
But a 19-4 Clarion run that saw Clarion hit four 3-pointers – two by BJ Andrews, who had a game-high 21 points, and one each from Grumley and Kwame Morton Jr. cut the Senators lead to 56-55 on a Morton Jr. triple with 12:46 to play.
Clarion head coach Marcess Williams talked about his team's resilience.
"All the credit goes to them guys," Williams said. "We felt we were prepared for last weekend. It kind of got away from us. It's tough on everyone in the program and outside the program, families included. So we just told to not focus on the noise. To come together and play hard."
Listen to Williams complete thoughts.
The son of Clarion's all-time leading scorer, Kwame Morton Sr., Morton Jr., a redshirt freshman who wears his dad's previously unofficially retired No. 24, had perhaps his strongest performance in a Clarion uniform with seven points, three rebounds, two assists and a steal off the bench in 12 minutes of action and played a crucial role in the comeback.
Williams discussed Morton's role in the comeback.
While Morton's triple got Clarion within one, it took the Golden Eagles a couple of more minutes before they were able to tie the game at 63, the contest's first tie since 2-2, on an Akeem Williams layup with 10:16 to play and another 3 ½ minutes after that before Clarion was able to take its first lead since 2-0 at 73-71 on a 3-pointer by Justin Grant.
Even then, Davis & Elkins get pushing with the Senators using a 10-4 spurt to go back up 81-77 on a pair of Bracy-Davis free throws with 2:51 left.
But again it was Grant, who finished with 12 points off the bench, hitting a 3-pointer with 1:18 to go to put the Golden Eagles ahead one, 82-81, and while the game was tied twice more after that Clarion never trailed again.
After a Bracy-Davis free throw tied the game again at 82 with 57 seconds left, Andrews, who scored his 1,000th career points on his final point of Sunday's loss to West Chester, hit a tough fadeaway jumper as the shot clock expired with 28 seconds left to put the Golden Eagles back in front.
Andrews added a team-high eight rebounds, while Powell chipped in with 15 points, six assists and five rebounds and Grumley nine points, eight assists, four rebounds, two steals and no turnovers.
Bellevue had 15 points and nine boards for Davis & Elkins with Kevin Simpson also scoring 15 points to go with three assists and three steals and Jordan McElveen 11 points, five assists and five rebounds.
Clarion is now off until Dec. 3 when it hosts Mansfield at 3 p.m.