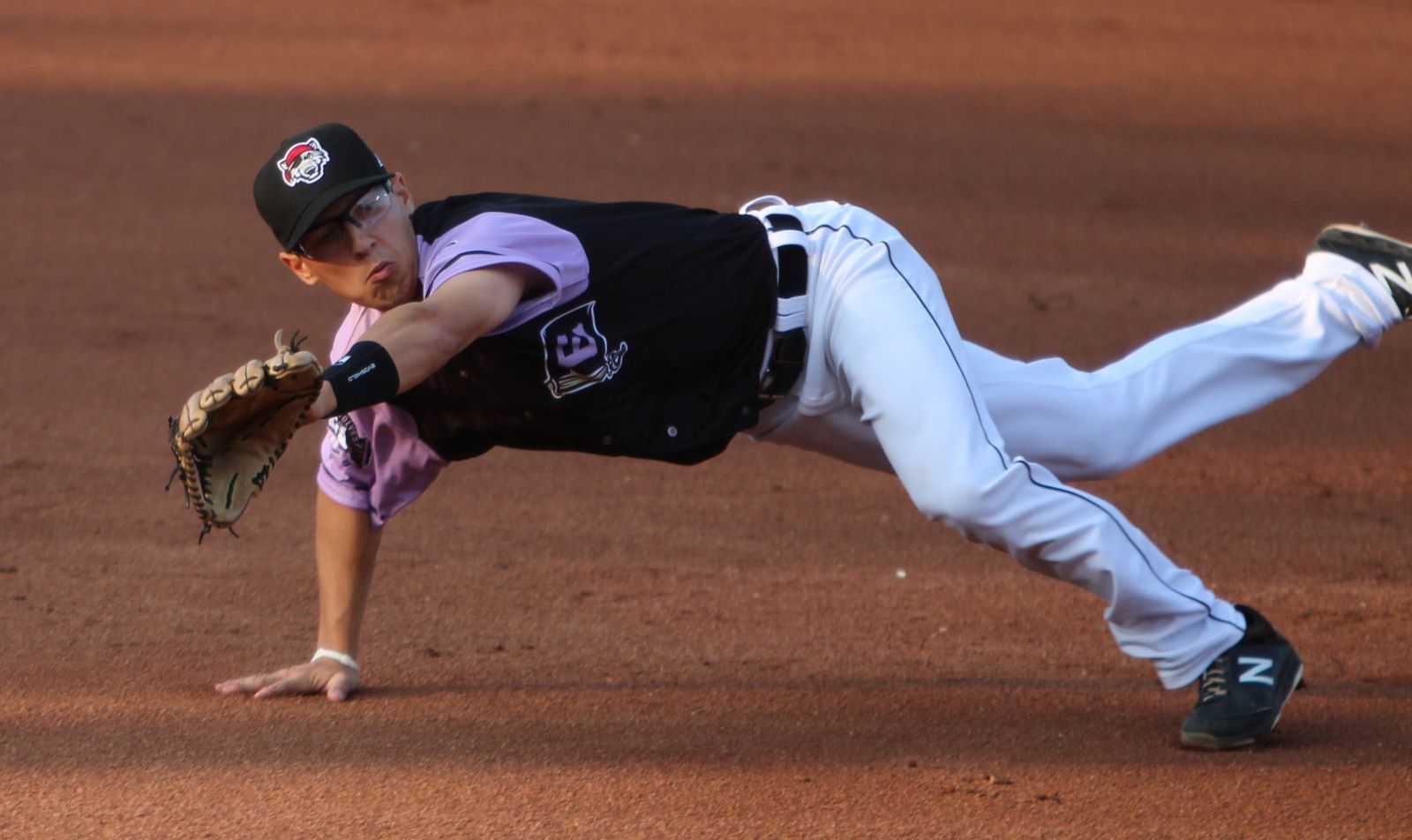 ERIE, Pa. – Cole Peterson, a 2014 Johnsonburg Area High School alum and former St Bonaventure Bonnie, recently was promoted within the Detroit Tigers organization to the Double-A level with the Erie SeaWolves.
(Photo: Cole Peterson makes a diving play over the weekend for the Erie SeaWolves. Photo courtesy of Scott Eddy, Director of Athletic Communications St. Bonaventure University)
Peterson earned the promotion to AA after hitting .292 with 49 hits, 18 runs scored and 11 stolen bases in 49 games with the Class A Lakeland Flying Tigers.
Many have called this as a "homecoming" for Peterson as he grew up around two hours south of Erie and this is as close as he can get to Johnsonburg playing baseball professionally. Over the last few days, hundreds of fans and family members have driven the two hours to Erie to see Peterson shine on the diamond.
Peterson has already enjoyed early success at this next step hitting .350 in his first six games with the SeaWolves and recording multiple-hit games in three of the six contests.
"Keeping my same approach despite moving up a level is key for me," Peterson said. "I am facing better pitchers, but pitchers are only going to keep trying to execute their pitches so I need to keep the same approach as a hitter."
While Cole is used to playing shortstop, the Seawolves have allowed Peterson to showcase his versatility in the field. He has been asked to play second base, shortstop and third base since the call-up, but he has not blinked and continued to flash his leather at an extremely high level no matter where he plays in the infield. On Monday against Altoona, Peterson robbed Bralin Jackson of a hit as he leaped into the air to snare a frozen rope shot that was headed into shallow right-center field.
The chance to play a couple of games against the Curve, a team he watched a few times growing up, was a pretty cool experience for Peterson.
"It's pretty cool because I went to Curve games as a kid and visited Erie regularly growing up," Peterson said. "To finally reach Erie and then play Altoona for the first time is awesome because these are two local cities to our area and to say that I played for one and against the other is special."
The homestand with the Curve concluded Wednesday, June 5, and Erie will be on the road for eight straight games before returning to UPMC Park on Friday, June 14th when they will host the Hartford Yard Goats for a three-game series.