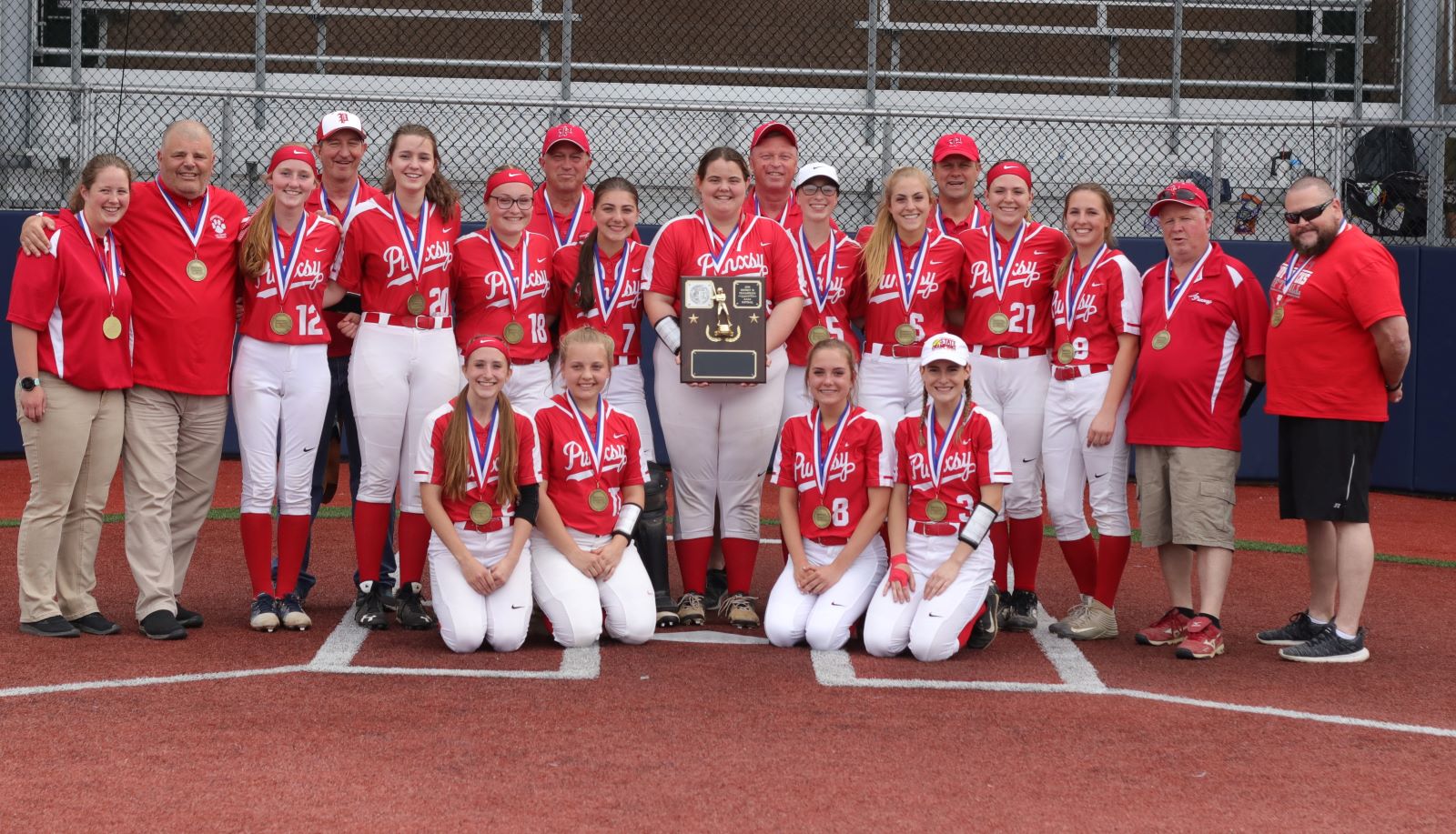 DuBois, Pa. – Kendal Johnston's pitching and a seven-run fourth inning helped top-seeded Punxsutawney secure the District 9 Class 4A title with a 9-0 victory over second-seeded St. Marys at Heindl Field in DuBois.
(Photo by Jared Bakaysa of JB Graphics. See more of Bakaysa's work here)
It was the fifth straight District 9 title for the defending 4A state champion Lady Chucks and their third in a row in Class 4A.
Johnston was a key reason why the title is staying in the southern part of the District. She gave up just three hits and a walk while striking out nine in seven innings of work.
"I was feeling very confident in the circle," Johnston, pitching in her first District 9 title game, said. "It really helped because I was really nervous at the beginning but I settled in."
Watch Johnston's postgame interview.
Of Johnston's nine strikeouts, five came in the first two innings.
"Kendal seems to have a number on this team," Punxsutawney manager Alan Pifer said. "She beat them up there earlier in the year, 6-2, and the second game she threw a perfect game. Tonight was almost as good."
Johnston also opened up the scoring for Punxsutawney when she reached home on a wild pitch to put the Lady Chucks up 1-0 in the first inning.
Holly Hartman extended the Lady Chucks lead in the second inning when she scored on an error by St. Marys' right fielder Briana Grotzinger.
The Lady Chucks then broke the game open with the seven-run fourth.
Abby Gigliotti and Allie Meko scored on a Grace Aikens single to make it 4-0, Laura Rittenhouse reached home when Elliott Ferrent was walked with the bases loaded, back-to-back errors from St. Marys saw Madilyn Fye, Sarah Weaver and Ferrent all score to extend the lead to 8-0 and Riley Presloid scored the ninth run on a wild pitch.
"That was great to see," Pifer said of the Lady Chucks fourth inning. "We've been slumping at the plate the last two games. Five hits in the last two games and we've only scored one run. That was a definite concern. But to our credit, these kids worked hard, they listened, adjusted and the results came out today."
All seven of the Lady Chucks hits came from seven different batters.
Holly Hartman (1-for-4, 1 run scored) and Aikens (1-for-2) each drove in two runs to lead the offense. Ferrent was 1-for-3 with a double, run scored and an RBI while Presloid had a base hit, run scored and an RBI. Gigliotti doubled with a run scored and Weaver singled and had a run scored.
The Lady Dutch managed three hits in the game, all singles, coming from Brianna Grotzinger, Maura Fledderman and Pete Schlimm.
Maura Fledderman took the loss for St. Marys. She gave up nine runs, three earned on seven hits while striking out a pair and walking seven.
The Lady Chucks will face the WPIAL Champion, either Mount Pleasant or Elizabeth Forward, in the first round of the PIAA Playoffs on Monday, June 1 at a time and WPIAL site to be determined. No matter the WPIAL champion, the game will be a rematch of a PIAA playoff game from last year. Punxsutawney beat E-F in the opening round and Mount Pleasant in the semifinals on its way to the state title.
PUNXSUTAWNEY 9, ST. MARYS 0
Score by Innings
St. Marys 000 000 0 – 0
Punxsutawney 110 700 – 9
ST. MARYS – 0
Megan McMackin 2b 3000, Britney Shaw ss 2000, Brianna Grotzinger rf/p 3010, Maura Fledderman p 3010, Lauren Mosier rf 0000, Pete Schlimm c 3010, Hailey Schatz lf 3000, Mekenzie Gillen 1b 3000, Sophie Buttery pr 0000, Emily Vollmer dp 3000, Anna Mattivi cf 2000, Janelle Krug 3b 0000. Totals 25-0-3-0.
PUNXSUTAWNEY – 9
Madison Stonbraker c 3010, Laura Rittenhouse cr 0100, Grace Aikens 1b 2012, Madilyn Fye pr 0100, Kendal Johnston p 3100, Madi Shiock ph 1000, Sarah Weaver cf 3110, Elliott Ferrent 3b 3111, Riley Presloid ss 4111, Holly Hartman 2b 4112, Abby Gigliotti lf 2110, Allie Meko rf 2100. Totals 27-9-7-6.
LOB: St. Marys 5. Punxsutawney 7. Errors: St. Marys 4, Punxsutawney 1. 2B: Gigliotti, Ferrent.
PITCHING
St. Marys
Maura Fledderman 3 ⅓ IP, 7 H, 9 R, 3 ER, 7 BB, 2 K
Brianna Grotzinger 2 ⅔ IP, 0 H, 0 R, 0 ER 0 BB, 2 K
TOTALS: 6 IP, 7 H, 9 R, 3 ER, 7 BB, 4 K
Punxsutawney
Kendal Johnston 7 IP, 3 H, 0 R, 0 ER, 1 BB, 9 K
Winning pitcher: Johnston
Losing pitcher: Fledderman