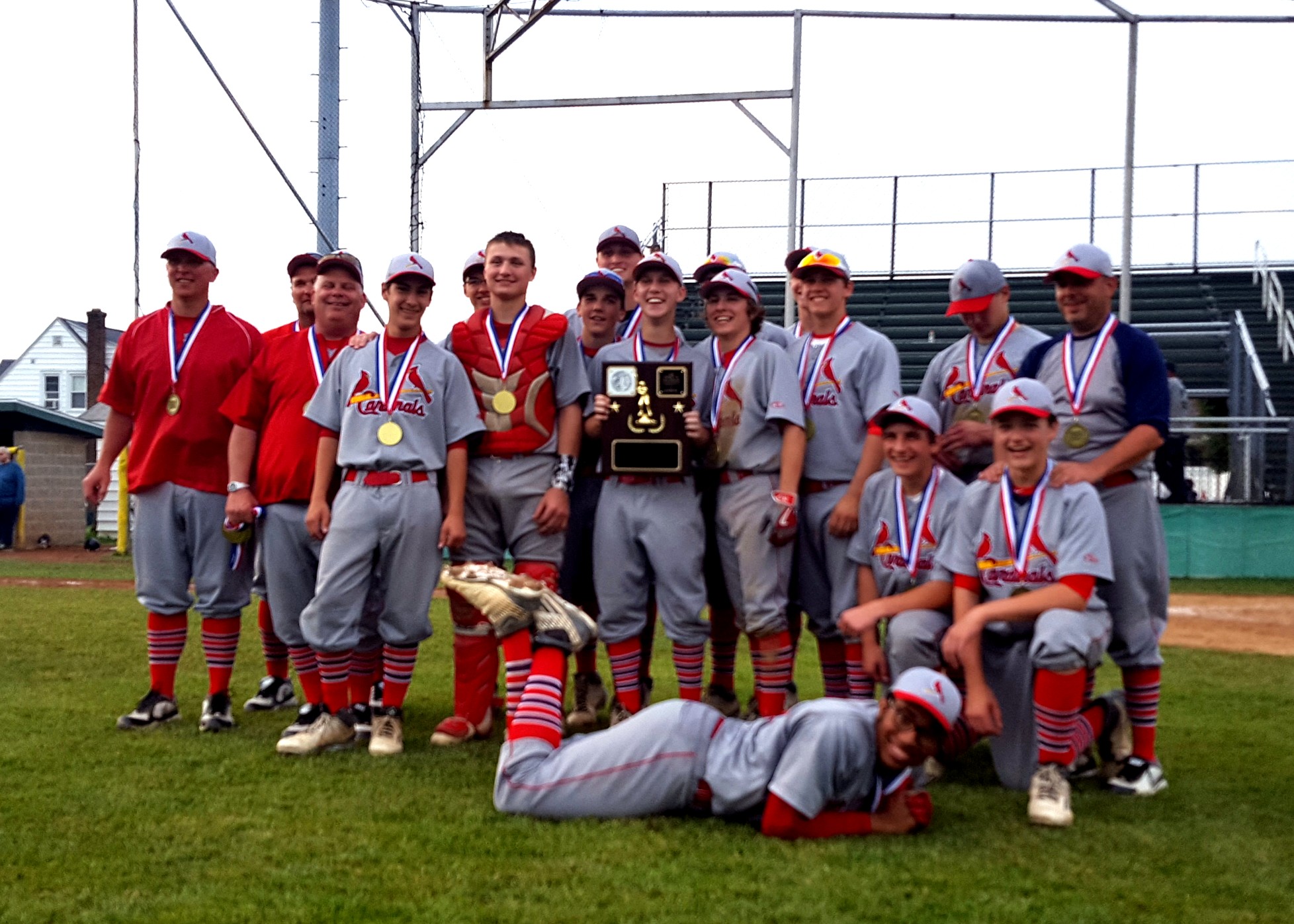 By Chris Rossetti
ST. MARYS, Pa. – Freshman Justin Miknis laced an opposite-field double down the leftfield line with two outs in the top of the seventh inning to score Austin Cogley from third base with the go-ahead run, as DuBois Central Catholic claimed its first District 9 Class A baseball title in 15 years with a 2-1 win over defending champion Oswayo Valley Thursday at Berwind Park in St. Marys.
"I think it means the world to the school," DCC manager Andy Sayers said. "We came from a zero-win season when we took over where we were wondering if we were going to have a program going forward to being able to get here in five years. I'm pleased with that. We turned the program around. We've had a measure of success (the last few years) but we've always fallen short. It means a ton to the school. It means a ton to me as a coach because I feel like we've strengthened the program and brought some vitality back to it. That means the world to me."
Trailing 1-0 going to the sixth, DCC (17-2) took advantage of a miscue by Oswayo Valley starter Brandon Brabham to tie the game.
Justin Miknis led off the inning by drawing a walk, and Jack Frank put down a bunt trying to move Miknis into scoring position. But Brabham, who was fantastic on the day giving up just one run on three hits and three walks while striking out five, threw the ball down the rightfield line allowing Miknis to score all the way from first to tie the game.
After two more walks – one intentional – and a fly out that loaded the bases with one out, Oswayo Valley manager Brad Buchholz made a pitching change bringing in freshman Gavin Babcock.
The move worked when Babcock got Brandon Walker to fly out to rightfielder Jacob Karr in foul territory, who gunned down Frank trying to score the go-ahead run.
But the Green Wave (22-1) weren't so fortunate in the seventh.
Cogley, who was 0-for-2 with a strikeout, led off the inning against Babcock with a single to left.
"Austin can have some terrible at bats, and you are like oh no," Sayers said. "Then he comes up and laces a single without even thinking about it."
Winning pitcher Nick Szczerba then bunted Cogley to second, and a groundout by Michael Misiewicz to second moved Cogley to third.
That brought up Justin Miknis, a freshman in age only, who took a Babcock offering past the third baseman for the go-ahead hit.
Watch Miknis' double.
"Justin is phenomenal," Sayers said. "I don't have to coach Jake (Justin's senior brother) or Justin very much because they're just so good, instinctive baseball players. I knew he was going to come through. I knew he would. He's just a phenomenal baseball player, and he's just a freshman. Can you imagine as he grows and matures? He's a pleasure to coach. He's got the right attitude."
Up for the first time in the game, Szczerba got himself into a bit of a jam in the bottom of the seventh with a one-out walk to Dylan Buchholz and a two-out single to Gage Babcock that put runners on first and second. But on a 3-2 pitch to Grant West, he caught the Oswayo Valley junior looking at strike three to give DCC its first title since 2001, the same year the Cardinals won the PIAA Class A title.
Watch Szczerba strike out West.
Szczerba, the No. 2 pitcher for DCC, allowed one run on a second-inning wild pitch, while giving up 10 hits, two walks and a hit batter.
He found himself in trouble most of the afternoon – Oswayo had runners on in every inning – but worked his way out of its stranding 11 Green Wave runners on the bases including five in scoring position. That included him getting out a bases-loaded two-out jam in the second after West, who had singled leading off the inning, scored on a wild pitch.
"He's a competitor," Sayers said. "We have Jake (Miknis) the ball against Elk County because we know them and we needed to beat Elk County to get here. I knew I had Nick to come back to. Nick's been to the district finals before in soccer. He's such a competitor. He hasn't thrown in a while, but he gets stronger as the game goes on, and he gets more competitive."
Szczerba did get stronger as the game wore on allowing just three hits after the third inning.
Szczerba, Cogley and Justin Miknis talked about the roles they played in the win.
Oswayo had plenty of chances in the first three innings but left seven men on. The Green Wave then hit into double plays in the fourth and fifth before wasting a leadoff single in the sixth and leaving two on in the seventh.
"Certainly you are going to be disappointed," Oswayo Valley manager Brad Buchholz said. "I knew the Miknis boys were going to be for real, and they were. I guess the thing that caught me off guard was how good their outfield was. I don't know if I have seen a better high-school level outfield. We hit the ball hard, and they went and got it. Usually, there is a weak spot somewhere in the outfield in our area. But there wasn't in their outfield. They were phenomenal."
EXTRA BASES
Both teams move into the PIAA Playoffs. DCC will play the third-place team out of the WPIAL, Vincentian Academy, while Oswayo Valley will take on the District 10 champion, which will be determined Friday when Rocky Grove meets West Middlesex in a game that was postponed from Thursday. There is a history of District 9 teams making the PIAA championship game in Class A with Johnsonburg winning the 2013 title after finishing second in District 9 and Elk County Catholic making the title game before losing in 2014 as the District 9 champion. DCC also won a PIAA title in 2001.
A key play in the game may have been turned in by Misiewicz, the DCC second baseman, in the bottom of the second. With two outs and runners on first and second, Garret Babcock hit a ball that looked like it was heading up the middle for an RBI single. But Misiewicz made diving stop on the ball to keep it in the infield and prevent Karr from scoring from second. Szczerba then got Buchholz to fly out to left to end the inning.
DCC has now won seven District 9 Class baseball titles (3 in Class A and four in Class AA back in the old two-classification system) also taking home championships in 2000 and 2001 in Class A when there were three classifications and in Class AA in 1991, 1990, 1987 and 1979. The Cardinals also lost in the 1984 and 1985 Class AA championship games and in the 2002 Class A title game
This was the second straight year Oswayo Valley had made the title game and the second time in school history. The Green Wave are now 1-1 in title games.
Oswayo was trying to become the first public school to win back-to-back Class A titles since Clarion-Limestone won three in a row in a three-classification system from 2002-2004.
This was the first one-run Class A title game since C-L beat DCC, 3-2 in nine innings, in 2002 and the first one that wasn't a 10-run rule game since ECC beat Johnsonburg, 10-7, in 2013. DCC also beat Cameron County by a run, 6-5, in 2000.
DUBOIS CENTRAL CATHOLIC 2, OSWAYO VALLEY 1
Score by Innings
DuBois CC 000 001 1 – 2
Oswayo Valley 010 000 0 – 1
DUBOIS CENTRAL CATHOLIC 2
(Player, Position, AB, R, H. RBIs)
Justin Miknis c 3111, Jack Frank 3b 4010, Jake Miknis ss 2000, Ty Bittner rf, 3010, Tom Grecco 1b 2000, Brandon Walker 3000, Austin Cogley cf 3110, Nick Szczerba p 2010, Michael Misiewicz 3000. Totals 25-2-5-1.
OSWAYO VALLEY 1
(Player, Position, AB, R, H. RBIs)
Brandon Brabham p/3b 3000, Garret Babcock 4010, Dylan Buchholz c 2010, Ryan Graves cr 0000, Garren Black 1b 4020, Gage Babcock 2b 4020, Grant West cf 4120, Alex Bernard lf 2010, Gavin Babcock 3b/p 4000, Jacob Karr rf 3010. Totals 30-1-10-0.
E – DCC: Frank, Oswayo Gage Babcock, Brabham, Karr. DP – DCC: 2, Oswayo Valley 1. 2B – DCC: Ju. Miknis, Bittner, Szczerba. Sac – DCC Szczerba. Oswayo: Bernard
Pitching
DCC
Nick Szczerba 7 IP, 1 R, 1 ER, 10 H, 2 W, 1 HBP, 2 K
Oswayo Valley
Brandon Brabham 5.1 IP, 1 R, 1 ER, 3 H, 3 W, 5 K
Gavin Babcock 1.2 IP, 1 R, 1 ER, 2 H, 0 W, 0 K
Winning pitcher: Szczerba
Losing pitcher: Gavin Babcock