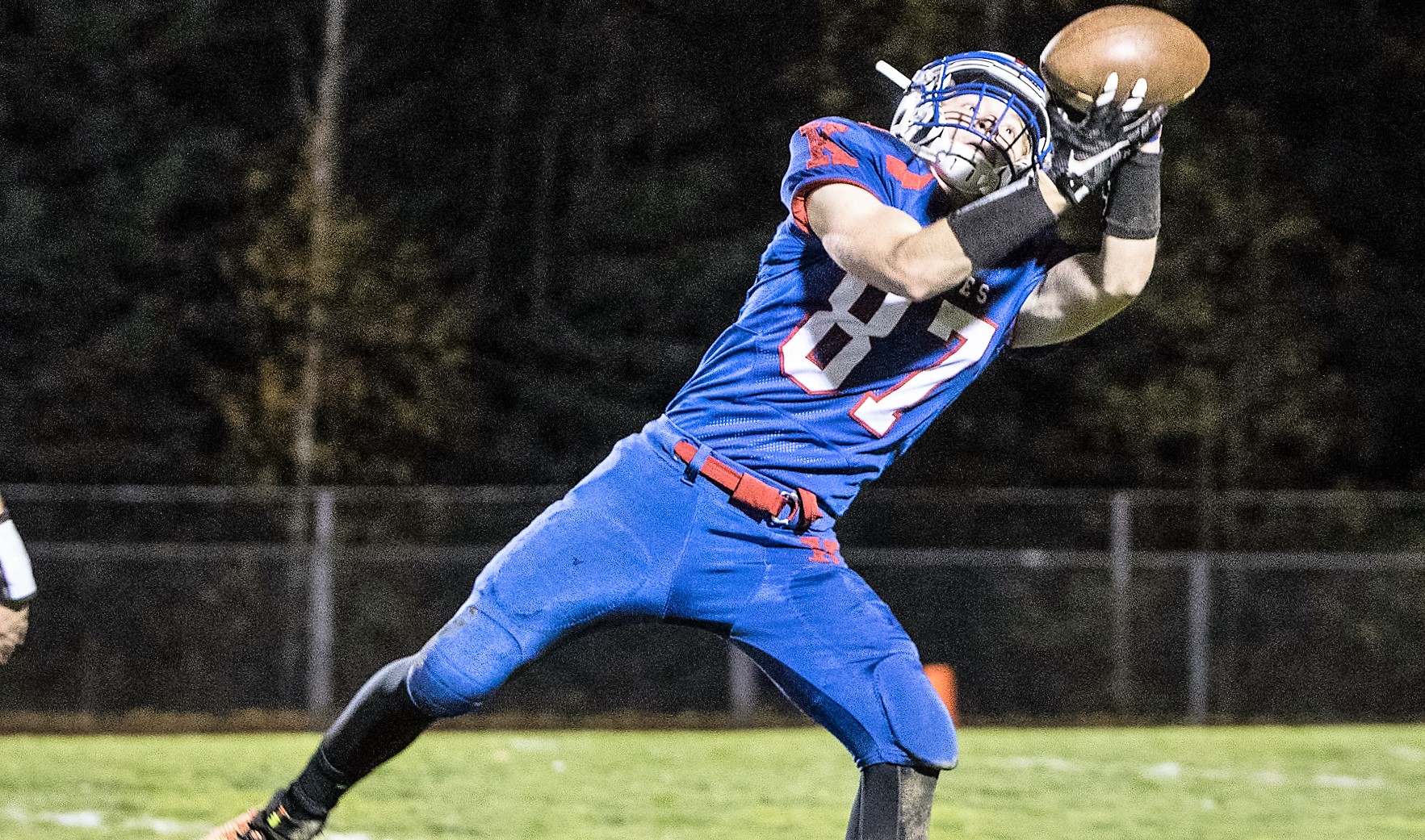 KANE, Pa. – Family is a big word around the Kane football team.
(Cover photo of Ray Maze. Photo by Shawn Murray. Check out more of Murray's work here.)
After the Wolves, who co-op with East Forest, beat Chestnut Ridge, 34-12, fifth-year head coach Todd Silfies told his team how excited he was to spend Thanksgiving week with them again, and this week Silfies talked about how the team wants to keep playing so they can continue to spend time together.
"This year's group is inspired to see how far we can take it and stay together as long as we can," Silfies said.
In order to keep going, Kane will have to raise its game yet again when it faces perennial District 10 power Wilmington (11-1) in the PIAA Class 2A quarterfinals at 1 p.m. Saturday at Slippery Rock University's Mihalik-Thompson Stadium.
"They do just about everything well," Silfies said. "They run the football incredibly well. They are coached by a legendary head coach. Their players are very, very well taught. They also throw the ball efficiently as well. They are a bunch of really good athletes."
The legendary head coach is 1965 Curwensville graduate Terry Verrelli, who has been at Wilmington for 47 years, 39 as the head coach.
Verrelli, who has led the Greyhounds to a pair of PIAA title games (1988, 2008) winning the 2008 Class 2A PIAA championship, is going for a milestone against his home district looking for his 300th win. Verrelli is 299-128-3 as the head coach.
This has been a bit of a bounce-back season for the Greyhounds, who were 6-5 with a young team in 2015.
Offensively, Wilmington likes to keep the ball on the ground and spread it around to a trio of backs – Spencer DeMedal, Kyle Slicker and Cameron Marett.
DeMedal is the leading rusher for the Greyhounds with 929 yards and 20 touchdowns while averaging 8.5 yards per carry. Slicker chips in 796 yards and seven scores averaging 8.6 yards per carry and Marett may be the most dangerous of the three rushing for 795 yards and 10 scores while averaging 10.1 yards per carry.
While Wilmington has a strong ground game, Kane's defense might be the best the Greyhounds have seen this year.
The Wolves (13-0) have allowed 9.6 points per game and allow just 90.3 yards per game and 2.98 yards per carry on the ground.
"I think it starts up front," Silfies said. "The No. 1 thing with our defense is trust, but our defensive line is going a great job at this point in the season being fundamentally sound and doing what Coach Sirianni teaches them to do. You are going to have some success when talented kids work hard and listen to a great coach."
At times this season, Kane has given up some yards through the air, although its pass defense was stout against Chestnut Ridge allowing 93 yards passing while coming away with three picks.
But while Wilmington will pass, it's not what the Greyhounds do best. Quarterback Reese Barger has thrown for 815 yards and seven touchdowns to one interception but hasn't attempted 90 passes on the season. Bryson Verrelli is the leading receiver with 567 yards and four scores.
On defense, the Greyhounds have also been strong allowing less than 10 points in eight of its 11 games, including just 22 points in the last four games since losing 28-20 to Hickory Oct. 14.
"They play strong defensively," Silfies said. "They are a tough team."
The Wilmington defense will be challenged by a Kane offense that averages 40.2 points per game and 388.8 yards per contest including 226 on the ground.
The Wolves rushing attack hasn't lost a beat the last two weeks despite limited contributions from Erik DeLong, the school's single-season all-time rushing leader with 1,677 yards and 21 touchdowns, who has been limited by an ankle injury.
DeLong tried to give it ago last week but was pulled out of the game after four carries for 16 yards.
But Frank Truden stepped right in and produced the first 100-yard game of his career with 117 yards and three scores. That gave Truden 486 yards on the season with 11 touchdowns.
"I'm just impressed with Frank in general," Silfies said. "You don't know how far he has come as a football player. The last couple of weeks has been his coming out party. I'm not surprised by it. He's a special athlete, you see that in basketball. He's become really coachable and team-oriented. I think Coach Smith (offensive coordinator Tyler Smith) has done a great job of game planning and putting our guys in a position to be successful."
It helps Truden and the rest of the Kane offense that junior quarterback Reed Williams has matured into one of the best signal callers in District 9.
Williams has thrown for 2,117 yards and 28 touchdowns on the season while completing 62 percent of his passes (113 of 182) including a variety of passes not often seen with high school quarterbacks. He has thrown just five interceptions.
"(His ability to throw tough passes) is instrumental," Silfies said. "In some ways, we have prided ourselves on being a running team these last few years. Reed is a little-missed wrinkle. We run an old-fashion offense. He delivers the ball on time from under center. His intelligence and film study really show up in the decisions he makes before snapping the ball."
Williams is aided by a pair of superb wide receivers in Ray Maze (36 catches, 860 yards, 10 touchdowns) and Davis Gardner (47 catches, 678 yards, 12 touchdowns). Both receivers have shown a knack for going into coverage to make the so-called tough catch.
"It's really a key," Silfies said. "A lot of the stuff they do works on the outside as well. Davis catches quite a few over the middle, as does Ray. But it's a general philosophy of doing what it takes for each other. It's an old-school approach to over the middle and catch the ball and take a shot."
Playing on Saturday will be a different feel for the Wolves.
"It's kind of unique," Silfies said. "We haven't played on Saturday since our first scrimmage. But our kids are pretty resilient and stay loose no matter what day it is. They are excited to have Chris Detrick, one of the ladies in our booster club, cook breakfast for them. I think that's part of their inspiration to play on Saturday so they can eat her breakfast."
The week is also a little different for the Wolves because Thursday was Thanksgiving, although this isn't anything new for Kane which has been playing the week of Thanksgiving in each of the past few seasons.
"We gave them Thursday off to be with family," Silfies said. "With the game being on Saturday we could do that. We are going to get a good practice Friday prior to the game."
Being a typical football coach Silfies doesn't want to read too much into the fact Wilmington lost to Hickory, which was run over by Karns City last week.
"Karns City is an awesome football team," Silfies said. "I think we play a similar brand of football but I don't think you can read into anything like that too much. Every week it gets a little tougher. I still like our guys. I think Karns City playing tough proves our district, in general, is getting to that level. We don't care what district we play. We are ready to complete and trust the athletes that go to our schools."
EXTRA POINTS
The winner plays the WPIAL champion, either Neshannock or Steel Valley, in the PIAA semifinals
Verrelli has won 13 district titles, 11 in District 10 and a pair of WPIAL Class 1A title (1987 and 88) when the Greyhounds played in the WPIAL
An outstanding athlete at Curwensville, Verrelli, a quarterback for the Tide as a sophomore and a senior, missed his junior year because of "doctor's orders" according to a story in the Clearfield Progress from August 1964. He scored five touchdowns as a senior.
Verrelli was also the sixth-leading scorer in the Moshannon Valley/Clearfield area in basketball as a senior averaging 16.5 ppg in 21 contests for the Golden Tide while being named an All-League Honorable Mention selection