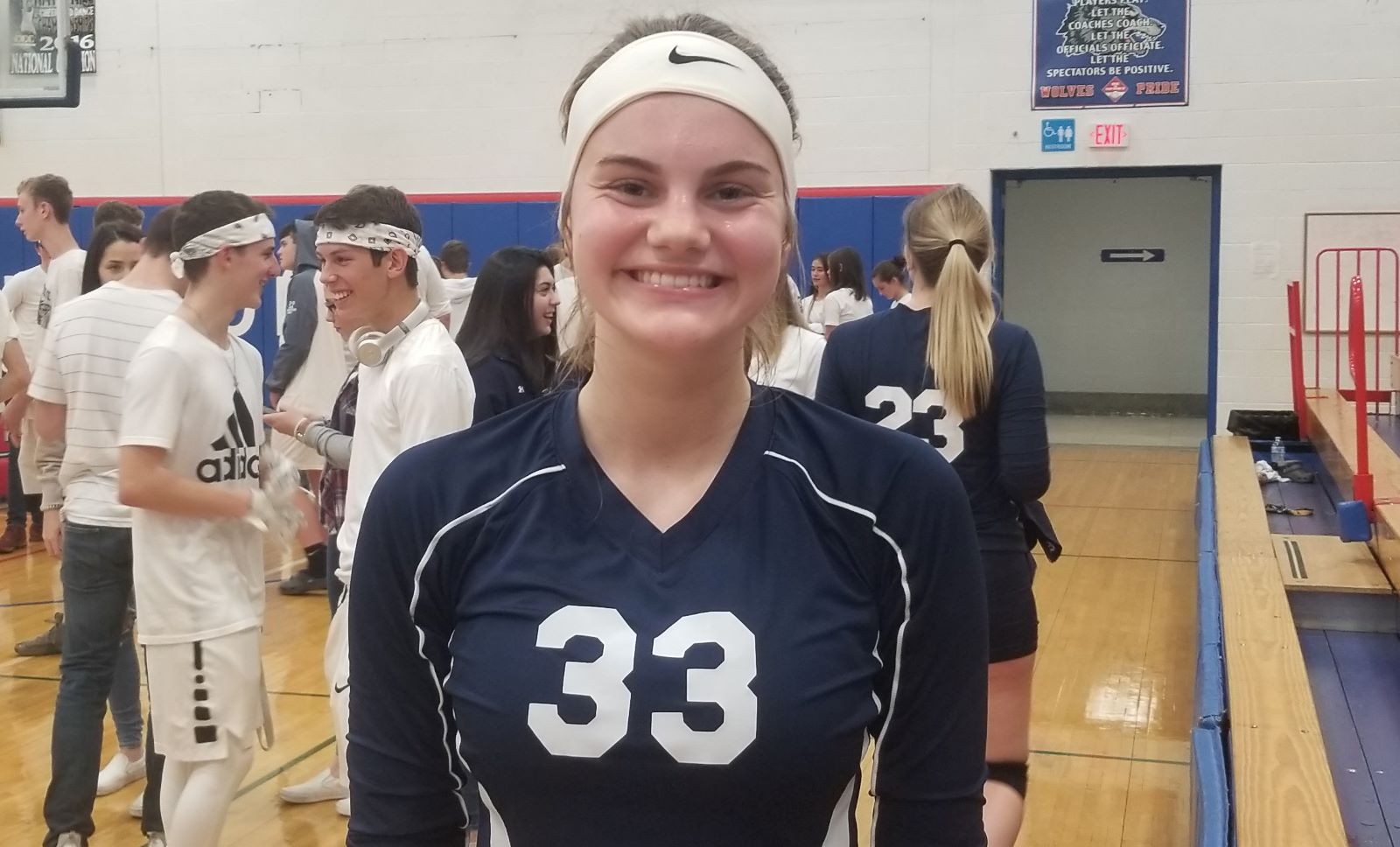 KANE, Pa. – In a match that went back-and-forth throughout the night, Kane's block proved to be the difference, as the Lady Wolves moved into the District 9 Class 2A volleyball title match with a 3-2 (19-25, 25-19, 25-16, 15-25, 15-11) win over visiting Redbank Valley Wednesday night.
(Photo of Sarri Swanson of Kane)
The victory moves Kane, which won the D9 title over Redbank Valley in 2017 after losing to the Lady Bulldogs in the 2016 title game, into the championship game for the third time in the past four years where it will meet Brookville, a 3-0 winner over Moniteau, at 11 a.m. Saturday at St. Marys High School. The Lady Wolves fell to Brookville in the semifinals a year ago.
Relisten to the match:
"This feels great," junior middle hitter Sarri Swanson said. "We lost in the playoffs last year, and it feels great to get back in it."
After splitting the first four sets, Kane jumped out quickly to a 5-1 lead in the fifth set only to see Redbank Valley rally to get back within a point, 12-11, on a Lauren Smith ace.
But Smith followed the ace up with a serve that went too long, and a pair of Redbank Valley hitting errors clinched the match for Kane.
"It means a lot to get back to the title game," Kane's first-year head coach Kelly Johnson said. "At the beginning of the season, I know people had doubts because we lost Ella (Marconi) and Hannah (Buhl) and these girls knew they had big shoes to fill. They are doing a great job of filling the,. That is all we wanted this year was to play this Saturday."
Redbank Valley head coach Matt Darr said he thought his team had a strong chance to win the match after it had rallied in the fifth set from deficits of 5-1, 10-6 and 12-8 to get within the point on the ace by Smith, the last of 11 aces by the Lady Bulldogs.
"They battled back," Darr said. "Kane is a great team. They gave us fits in that second and third set with their block, but we still battled back. When it was 12-10 and Lauren got us to 12-11, I honestly had confidence. I had confidence the entire match."
The block Darr mentioned became the storyline of the match, as Kane had 10 blocks during the match and forced Redbank Valley into 26 hitting errors in part because of the fear of the block.
"We have a strong net, and we have lots of tall girls," Swanson, who had five blocks, said. "We work really hard on blocking, and it really showed tonight."
Watch more of Swanson's postgame thoughts.
Johnson echoed her junior's thoughts on the work the Wolves put into their block.
"We work a lot on blocking," Johnson said. "We knew from watching tape where they hit. We were ready."
Darr said his team hadn't seen teams that blocked like Kane during the regular season.
"I honestly don't think it was anything they were specifically doing," Darr said. "It is just something we haven't seen all year. Taylor (King) is a returning all-state middle. She really hasn't had someone with her size up against her most of the year. We just haven't seen that all year. You get blocked a couple of times and it gets in your head and you start trying to do some things that you normally wouldn't do and you start hitting the ball out. Kudos to Kane."
The hitting errors were most prominent in the three sets Redbank Valley lost with the Lady Bulldogs committing seven of them in the second set, seven more in the third set and six in the fifth set that was only played to 15 while only committing one in the first set and five in the fourth set, both wins.
"Our hitting percentage tonight, if not negative, was close to zero," Darr said.
Audri Marconi, Ella's younger sister, paced Kane with 11 kills while adding four aces and three blocks, while Swanson chipped in nine kills to go with her five blocks. Sierra Hillman also had six blocks while adding three kills, and Moira Stanisch ran the offense with 23 set assists.
Senior Alyssa Oakes also had a strong match with three kills and two blocks.
"Alyssa Oakeson the right side had the night of her life over there," Johnson said.
King led Redbank Valley with 13 kills and three blocks while fellow senior Smith had nine kills and two aces and senior Becca Kunselamn added nine kills with senior setter Tara Hinderliter running the offense with 37 set assists while chipping two aces. The fifth senior, Kianna Shreckengost also had a pair of kills.
"It was a great career for our five seniors," Darr said. "Three district finals, two champions, and they lost to a really good team tonight."
Kane, the second seed, improves to 12-5 on the year, while Redbank Valley finishes the season 14-5 with all five loses coming to teams that either reached a District 9 title match (Brookville and Kane) or are in the Class 1A semifinals (Clarion, Cranberry, A-C Valley).
BROOKVILLE 3, MONITEAU 0
BROOKVILLE, Pa. – After falling behind early in all three sets, top-seeded Brookville rallied in each of them to sweep fourth-seeded Moniteau, 3-0 (25-19, 25-17, 25-16) Wednesday night to advance to the District 9 Class 2A title game for the second straight year.
The Lady Raiders will face second-seeded Kane in the title match at 11 a.m. Saturday after the Lady Wolves beat defending champion Redbank Valley in five sets.
"We struggled at the beginning," Brookville head coach Joyce Reitz said. "That might be nerves because of some girls not playing in something like this before. But it was good and it was nice to play on our floor because we knew what we had here."
Leading the way for Brookville, which won a home playoff match for the first time, was Morgan Johnson with eight kills and five aces while Lauren Hergert added seven kills and block. Maggie Mackins and Leah Kammerdeiner each chipped in four kills, and Madison Johnson had three kills.
Aslyn Pry paced Moniteau with eight kills and two blocks with Ivie Scott adding four kills and Logan Barnhart running the offense with 15 set assists.