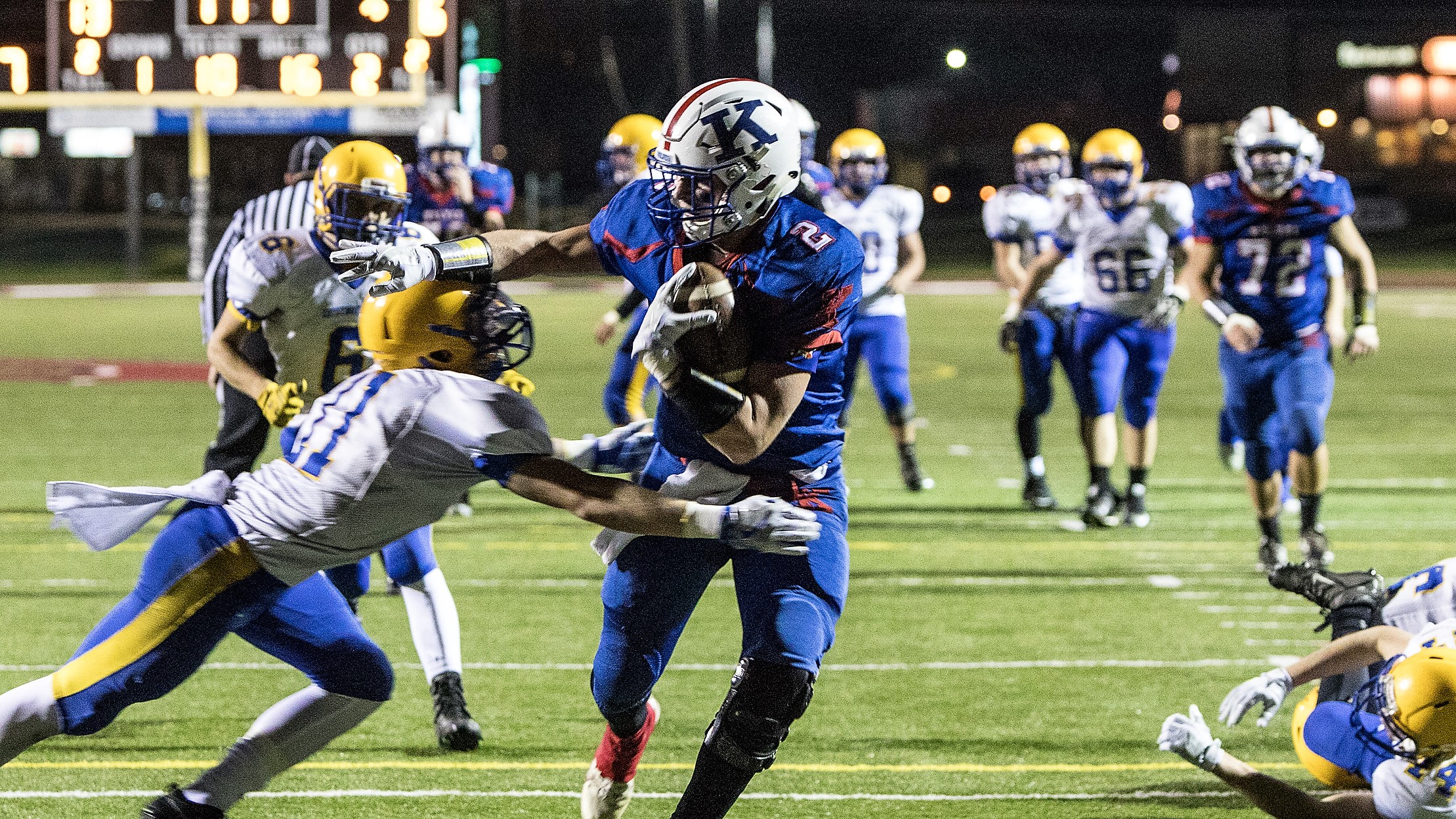 DUBOIS, Pa. – In a game Kane dominated on the stat sheet, the Wolves needed a couple of big plays to go their way to pick up their first PIAA playoff win in nine years with a 34-12 win over Chestnut Ridge at DuBois' Mansell Stadium.
(Photo of Kane's Davis Gardner scoring a touchdown in the first half of Friday's game vs. Chestnut Ridge. Photo by Shawn Murray. Check out more of Murray's work here.)
The District 9 2A champions ran nearly twice as many plays as the District 5 champions (65 to 38) and outgained Chestnut Ridge 346-120 while possessing the ball for 32:50 to the Lions 15:50.
But the game could have easily gone in the other direction if not for a couple of key plays late in the first half and in the third quarter.
With Kane (13-0) ahead 13-6 after a Reed Williams to Davis Gardner 13-yard touchdown pass with 2:29 to go in the opening half, the Wolves allowed a 50-yard kickoff return by Chestnut Ridge's Phillip Dull that gave the Lions the ball at the Kane 25.
On second-and-5 from the 20, Chestnut Ridge quarterback Logan Hauck broke free for what appeared to be a touchdown, but a block in the back called the play back.
That turned out to be a huge call when Kane's Ray Maze picked off a Hauck pass three plays later and returned it to the Kane 38. A late hit on the Lions (9-4) moved the ball out to the Chestnut Ridge 47 with 1:07 to play.
The Wolves were only at the Lions 33-yard line facing fourth-and-4 with 21.6. But Williams hit Gardner with a 17-yard pass to the 16, and then hit Gardner for a 16-yard touchdown giving Kane a 20-6 halftime lead.
Kane head coach Todd Silfies discussed the win, the late first-half touchdown and other key moments in the game after the contest.
In the third quarter, Chestnut Ridge, which had one first-half first down, got itself right back in the game taking the opening kickoff of the half and marching 46 yards in five plays to get within eight, 20-12, on a 23-yard Hauck to Levi Snyder 3:04 into the half.
The Lions then had a golden opportunity to tie the game when Brodie Harabaugh picked off a Williams pass and returned it to the Kane 8-yard line.
But the Wolves' defense tightened.
Hauck ran for two yards on first down and then threw an incomplete pass in the back of the end zone on second down. Then on third down, Gunnar Fryzlewicz stopped Hauck for no gain setting up a fourth-and-goal from the play from the 6.
On the fourth-down play, JT Stewart sacked Hauck for 9-yard loss to the 15.
Stewart talked about the sack and the stop.
Kane then went 85 yards in 11 plays capping off the drive with a 16-yard Frank Truden touchdown run, his second of three rushing scores on the night. Joe Johnson's extra point made it 27-12 Wolves with 32 seconds left in the third quarter.
Truden, playing most of the game in place of the injured Erik DeLong, who tried to give it a go in the early portion of the game but couldn't, ran for 117 yards and three touchdowns behind a Kane line led by Keaton Rounsville.
Rounsville talked about the line play and the victory.
Truden scored the first and last touchdowns for Kane as well.
His 9-yard run midway through the first quarter gave the Wolves a 7-0 lead, and his 1-yard (really 1-inch) dive in the final minute put the capper on the victory.
Gardner, who caught seven passes for 99 yards, scored twice with Williams going 17 of 24 passing for 194 yards, the two touchdowns and an interception.
Hauck, who scored on a 5-yard run on the last offensive play of the first quarter, was held in check going 6 of 17 for 93 yards, a touchdown and three interceptions – one each by Gardner, Rounsville and Maze. He was also limited to six yards rushing on 14 carries while being sacked four times.
Kane awaits the winner of the District 10 2A title game being played Saturday night between Wilmington and Sharpsville in the PIAA quarterfinals next week at a District 10 site.
EXTRA POINTS
In addition to the Kane faithful, a student bus of approximately 20 East and West Forest students made its way to the game to cheer on the four East Forest members of the Wolves
Chestnut Ridge lost fullback and inside linebacker Noah Dillow to a game-ending injury on Kane's last touchdown of the first half. Dillow appeared to hurt his arm and had to be carted off the field
Williams' interception was just the fifth of the season for the left-handed junior
In a touching moment in the second half, former Kane standout Jamie Lingenfelter, who is in the U.S. Navy, surprised his parents by showing up at the game. He hasn't seen them in a year after being stationed overseas.
KANE 34, CHESTNUT RIDGE 12
Score by Quarters
Chestnut Ridge 6 0 6 0 – 12
Kane 7 13 7 7 – 34
SCORING SUMMARY
FIRST QUARTER
K – Frank Truden 9 run (No. 10 PAT), 5:45
CR – No. 5 5 run (No. 91 PAT no good), 0:3.8
SECOND QUARTER
K – Davis Gardner 13 pass from Reed Williams (Johnson kicked failed), 2:29
K – Gardner 16 pass from Williams (Johnson kick), 0:9.7
THIRD QUARTER
CR – No. 13 23 pass from No. 5 (No. 91 PAT blocked), 8:56
K – Truden 16 run (Johnson kick), 0:32.0
FOURTH QUARTER
K – Truden 1 run (Johnson kick), 0:50.2
TEAM STATISTICS
Chestnut Ridge-Stat-Kane
6 First Downs 20
21-27 Rushes-Yards 41-152
93 Passing Yards 194
6-17-3 Comp-Att-Int 17-24-1
38-120 Plays-Yards 65-346
0-0 Fumbles-Lost 1-0
9-60 Penalties-Yards 6-37
3-46.7 Punts-Avg 2-29.5
15:50 Times of Possession 32:10
INDIVIDUAL STATISTICS
RUSHING – Chestnut Ridge: Noah Dillow 4-11, Logan Hauck 14-6, Phillip Dull 2-11, Brodie Harabaugh 1-negative 1. Kane: Frank Truden 25-117, Erik DeLong 4-16, Austin Labesky 4-14, Ange Costanzo 5-18, Reed Williams 2-negative 13.
PASSING – Chestnut Ridge: Logan Hauck 6-for-17, 93 yards, 1 touchdown, 3 interceptions. Kane: Reed Williams 17-for-24, 194 yards, 2 touchdowns, 1 interception.
RECEIVING – Chestnut Ridge: Levi Snyder 2-55, Justin McCoy 2-14, Derrick Weaver 1-10, Seth Harbaugh 1-14. Kane: Davis Gardner 7-99, Ray Maze 5-37, Frank Truden 2-32, Issac Walters 3-26.
INTERCEPTIONS – Chestnut Ridge: Brodie Harabaugh. Kane: Ray Maze, Keaton Rounsville, Davis Gardner.