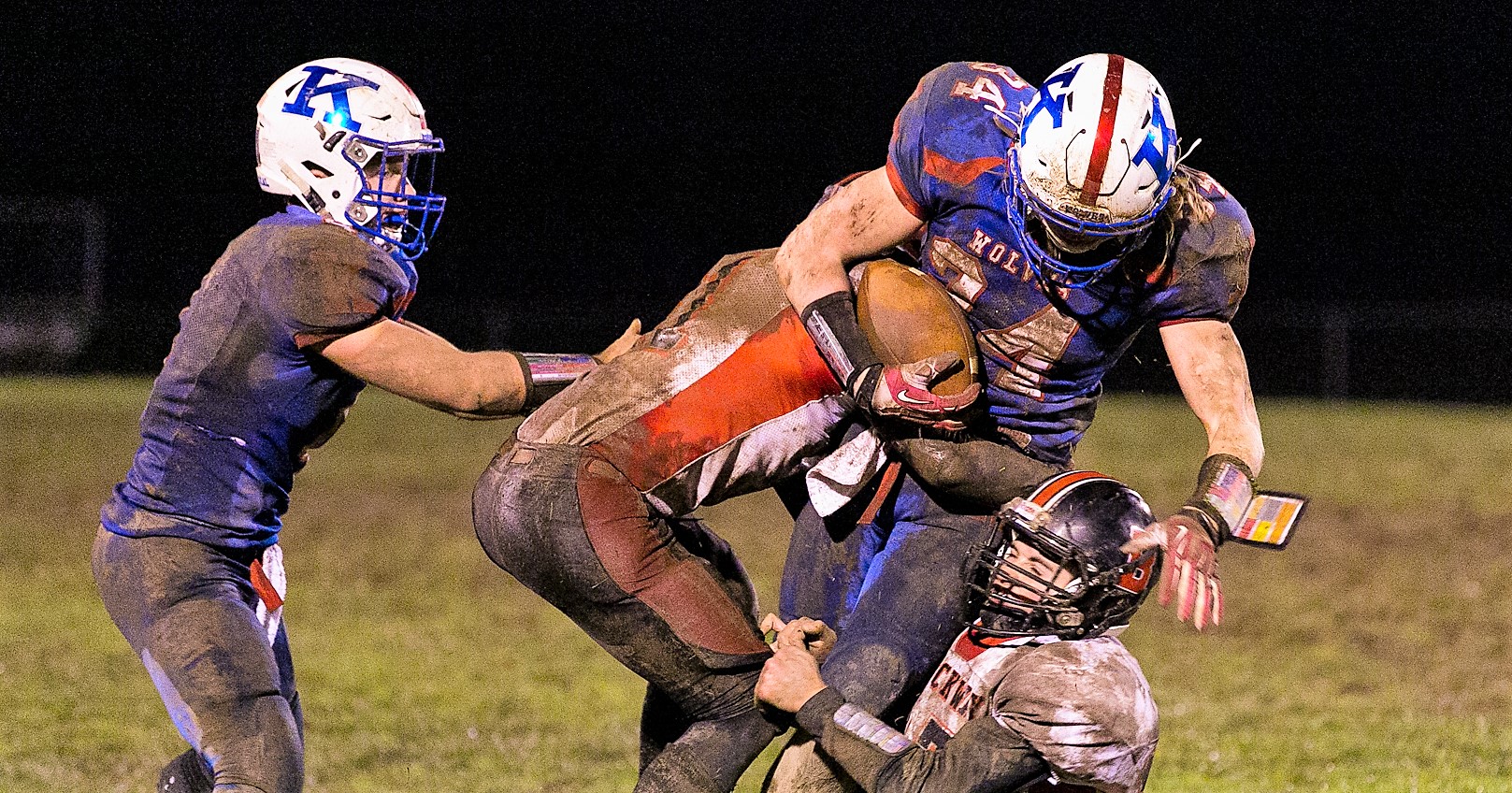 The rematch that has been talked about all year in District 9 Class 2A football will take place after top-seeded Kane and second-seeded Clarion took care of business in the semifinals Friday night to set up a rematch of last year's title game won by the Wolves, 21-14.
(Cover photo of Kane's JT Stewart. Photo by Tessa Boschert. Check out more of Boschert's work here)
Kane beat Brockway, 28-14, and Clarion dismantled Brookville, 55-12.
Here is a closer look at both games:
KANE 28, BROCKWAY 14
KANE, Pa. – Behind two passing touchdowns and a rushing touchdown from Reed Williams, Kane advanced to its sixth straight District 9 title game with a 28-14 win over visiting Brockway.
Williams wasn't sharp in muddy conditions going 9 of 25 for 160 yards but he threw touchdown passes to JT Stewart (3 catches, 38 yards) and Ray Maze (2 catches for 44 yards) and added the rushing score.
Erik DeLong plugged his way for 147 yards and a touchdown on 28 carries for the Wolves as well, while Ange Costanzo had three catches for 62 yards.
Kane led 21-0 at halftime thanks to a pair of first-quarter scores and a touchdown in the final minute of the half.
Maze caught a 17-yard pass from Williams to open the scoring and then DeLong ran in from short distance to make it 14-0. Stewart then hauled in a 5-yard pass from Williams just before the half to open the lead to 21.
Brockway answered early in the third quarter on a 7-yard Peter Downer to Noah Vokes scoring pass. Downer was 17 of 37 for 190 yards, two touchdowns and two interceptions with Vokes catching four passes for 39 yards.
Kane put the game away on a long, time-consuming drive that ended in a 1-yard Williams run with 7:05 to play to make the score 28-7.
Brockway scored the game's final touchdown on a 6-yard Downer to Tyler Serafini flip pass on fourth-and-goal with 3:27 to play, but Kane recovered the on-side kick.
Kane (11-0) gets a rematch with Clarion, a team it beat 21-14 in last year's title game, in the championship game at 7 p.m. Friday in Brockway. The Wolves are looking for their fourth straight D9 title after winning 2014 and 2015 in Class 1A and 2016 in Class 2A. Kane lost the 2012 and 2013 2A titles to Karns City. The Rovers finish the year 6-4.
CLARION 55, BROOKVILLE 12
CLARION, Pa. – There was no trouble the second time around for Clarion, as the Bobcats blasted Brookville for the second time this season, 55-12, Friday night in the District 9 Class 2A semifinals at Clarion University's Memorial Stadium.
Behind running back Colton Rapp, back for just his second game after a Sept. 29 injury, the Bobcats opened up at 33-0 lead in the second quarter before taking a 33-6 lead into the locker room.
Watch game highlights
Rapp, who only saw first-half action rushed for 129 yards and three touchdowns, while Minich had 79 yards on 16 attempts with the two scores.
Keeven Weaver scored the Bobcats (10-0) first two touchdowns on runs of 12 and nine yards; that punctuated 67- and 22-yard scoring drives.
Weaver's second touchdown came four plays after Sterling Conner intercepted Brookville (9-2) quarterback Jack Krug.
Rapp then rushed for three consecutive scores scoring on two 10-yard runs while also adding a 15 yarder.
Brookville was able to score when Bryan Dworek hauled in a 13-yard pass from Krug capping a four-play 42-yard drive in the second quarter.
The Raiders had two chances to close the gap by halftime, but both failed inside the Clarion 10-yard line.
The first came when Dworek recovered a fumble at the Bobcat 22-yard line, but Krug's 4th-and-goal pass, however, fell incomplete.
The second came right before halftime as Krug drove the Raiders 30 yards from the Bobcats 36 to the 6-yard line before a pass intended for Tyer Park on an untimed down following a holding call on Clarion was knocked away by Thomas Hearst ending the half.
Wiser believed the stops at the end of the half, especially the one right before halftime, were huge.
Zak Bauer's interception of a Krug pass led to Logan Minich's 4-yard touchdown run midway through the third quarter that invoked the Mercy Rule with Spencer Miller's two-point rush.
Clarion's defense held Brookville on downs at the Raider 36-yard line, and that led to Brenden Zerfoss's 8-yard run seven plays later.
Brookville scored their second touchdown of the night as Krug and Brendon McGranor connected on a 37-yard swing pass in the fourth quarter.
Krug threw for 170 and two touchdowns while going 15-for-35 passing with two interceptions.
Clarion capped the scoring with Logan Minich's second touchdown run of the game from eight yards with 2:33 remaining.
Clarion now gets a District 9 2A Title Game rematch with Kane, which beat the Bobcats 21-14 last year, at 7 p.m. Friday at Brockway's Varischetti Field.
BOX SCORES
KANE 28, BROCKWAY 14
Score by Quarters
B 0 0 7 7 – 14
K 14 7 0 7 – 28
Scoring Summary
First Quarter
K – Ray Maze 17 yards pass from Reed Williams (Aaron Hottel kick), 7:54
K – Erik DeLong 4 run (Hottel kick), 5:16
Second Quarter
K – JT Stewart 5 pass from Williams (Hottel kick), 0:36
Third Quarter
B – Noah Vokes 7 pass from Peter Downer (Zane Puhala kick),
Fourth Quarter
K – Williams 1 run (Hottel kick), 7:05
B – Tyler Serafini 6 pass from Downer (Puhala kick), 3:27
INDV. STATS
Rushing – Brockway: Jon Wood 14-30, Tyler Serafini 6-14, Cameron Baka 1-negative 3, Peter Downer 3-negative 3, Noah Vokes 1-5. Kane: Erik DeLong 28-147, Ange Costanzo 7-20, Jake Alcorn 2-15, Reed Williams 7-4.
Passing – Brockway: Peter Downer 17-for-37, 190 yards, 2 touchdowns, 2 interceptions. Kane: Reed Williams 9-for-25, 160 yards, 2 touchdowns.
Receiving – Brockway: Wood 4-22, Baka 2-39, Ford 1-10, LeCates 5-74, Vokes 4-39, Serafini 1-6. Kane: JT Stewart 3-38, Ray Maze 2-44, Ange Costanzo 3-62, Jake Alcorn 1-16.
CLARION 55, BROOKVILLE 12
Score by Quarters
Brookville – 0 6 0 6 – 12
Clarion – 20 13 8 14 – 55
Scoring Summary
First Quarter
C – Keeven Weaver 12 yd run (bad snap), 8:50
C – Weaver 9 yd run (Archer Mills pat), 5:36
C – Colton Rapp 10 yd run (Mills pat), 3:18
Second Quarter
C – Rapp 10 yd run (Mills pat), 11:55
C – Rapp 15 yd run (bad snap), 8:29
B – Bryan Dworek 13 yd pass from Jack Krug (kick failed), 7:04
Third Quarter
C – Logan Minich 4 yd run (Spencer Miller rush), 5:58
Fourth Quarter
C – Brenden Zerfoss 8 yd run (Mills pat), 11:12
B – Brandon McGranor 37 yd pass from Krug (rush failed), 7:09
C – Logan Minich 8 yd run (Mills pat), 2:33
Team Stats
B C
First Downs 13 26
Rushes-Yards 25-65 53-375
Passing Yards 170 (-14)
Comp-Att-Int 15-35-2 2-4
Total Yards 235 361
Fumbles-Lost 1-1 1-1
Penalties-Yards 3-20 7-75
Punts-Avg. 3-28.6 1-29
Individual Stats
Rushing: Brookville – Krug 8-(-9), Cabe Park 1-3, Mcgranor 16-71. Totals: 25-65. Clarion – Rapp 19-129, Logan Minich 16-79, Sam Minich 4-27, Spencer Miller 2-40, Weaver 4-52, Brenden Zerfoss 5-49, Camden Boggess 2-1, Team 1-(-2). Totals: 53-375.
Receiving: Brookville – Brandon Mcgranor 2-53, Cabe Park 1-12, Dworek 5-25, Tyler Park 5-36, Ian Thrush 2-21, Nick Keth 2-23. Clarion – Sam Minich 1-(-10), Weaver 1-(-4).
Passing: Brookville – Krug 15-for-35 170 yards, 2 touchdowns, 2 interceptions. Clarion – Spencer Miller 2-for-4 (-14) yards.
Interceptions: Clarion – 2 -Sterling Conner, Zak Bauer.