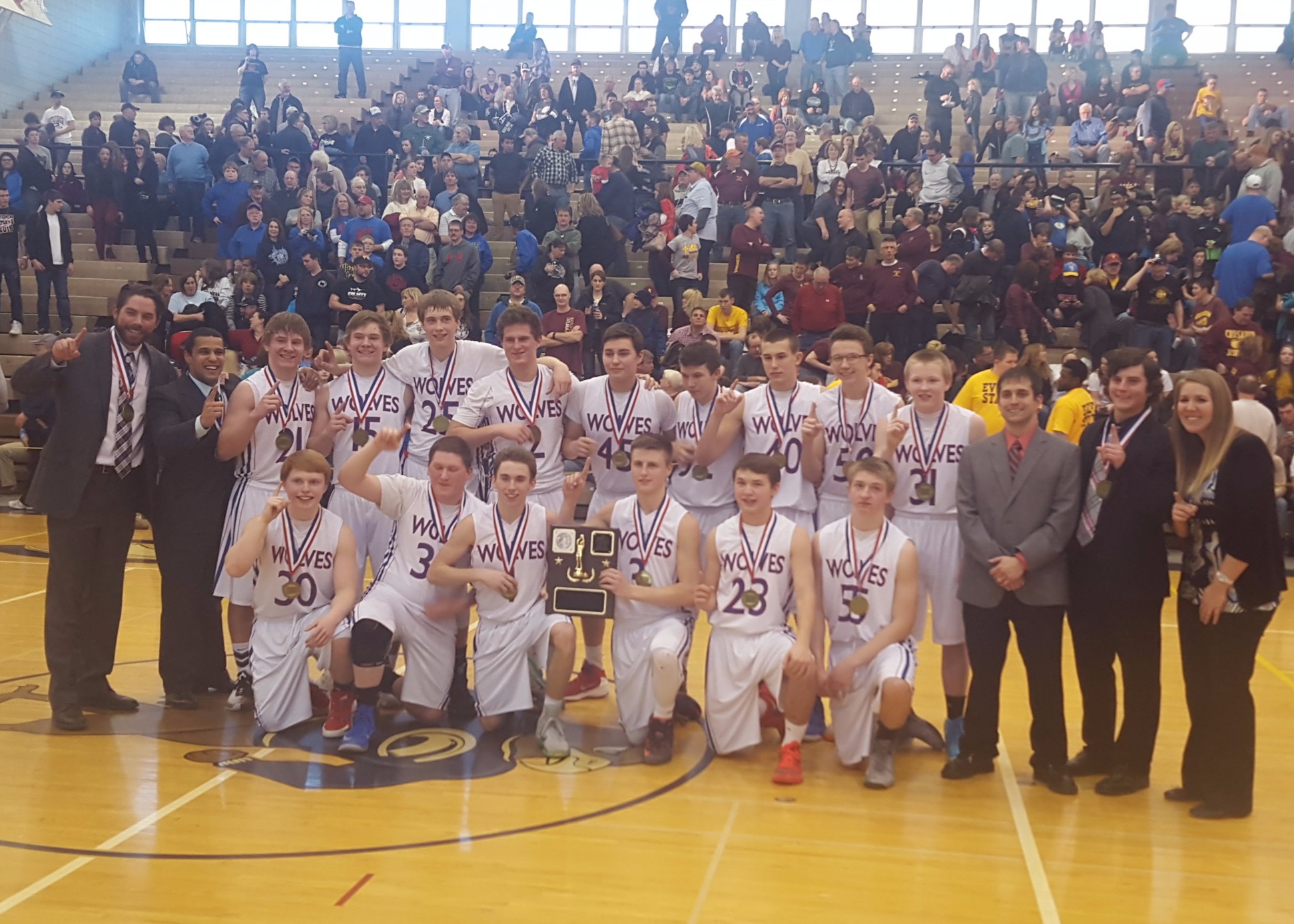 By Chris Rossetti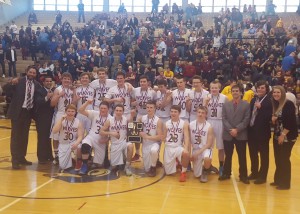 CLARION, Pa. – Hard work.
That was the theme when the members of the Kane basketball team and head coach Matt Gasbarre were asked what the difference was between last year when the Wolves went 3-19 and this year when they won the District 9 Class AA boys' title with a 38-31 win over Brockway Saturday afternoon at Clarion University's Tippin Gym.
Here is Gasbarre's take on the difference and other thoughts from the win.
On Saturday, it was truly a team effort for the Wolves, who used star forward Andrew Bucheit to climb back into the game after a slow start and then used their role players in the third quarter to take the lead and maintain it after Bucheit exited the game with three fouls.
Kane (14-10) scored just three first-quarter points and trailed Brockway 8-3 at the end of the quarter.
But Bucheit scored eight of his game-high 16 points, he finished with a double-double adding 10 rebounds, in the second quarter to help get the Wolves to within two, 16-14 at halftime.
The 6-foot-6 junior then tied the game at 16 with an early second-half layup but also picked up two quick fouls in a span of just over two minutes forcing him to the bench.
But with their star out, the rest of the Wolves stepped up led by David Gardner, who scored five of his seven points in the third quarter with Bucheit on the bench, to give Kane a 28-22 lead after three quarters.
Here are Gardner's take on the win, his contributions and his team rebounding from last year's 3-19 record.
Bucheit was back on the court to start the fourth quarter and quickly gave the Wolves a 30-22 lead on a layup 18 seconds into the quarter.
But Brockway (12-13) answered going on a 7-2 run to cut the deficit to just three points, 32-29, on a 3-pointer by Jake Wineberg with 3:56 to play.
Bucheit and Hunter Miller of Brockway then exchanged baskets to leave Kane ahead 34-31 with 1:15 left before a Frank Truden bucket with just over 40 seconds to play but the Wolves up five.
Bucheit then made 2 of 3 free throws in the final 28.6 seconds to seal Kane's first District 9 title since 2007.  
NOTES – Kane has also won the last two D9 Class A football championships while taking home four straight D9 Class AA track titles … Kane shot 38.5 percent (15 of 39) but 9 of 18 in the second half … Brockway shot 29.3 percent (12 of 41) and only 6 of 25 (24 percent) after halftime … Kane out rebounded Brockway 32-28 … Wineberg led the Rovers with 12 points and five rebounds … Gardner added six boards for Kane … Both teams move into the PIAA playoffs. Kane plays District 6 third-place finishers Penns Valley, while Brockway takes on WPIAL runner-up Lincoln Park.
KANE 38, BROCKWAY 31
Score by Quarters
Brockway 8 8 6 9 – 31
Kane 3 11 14 10 – 38
BROCKWAY – 31
Corey Carr 1-4 3-7 5, Jake Wineberg 5-15 0-0 12, Jarrett Esposito 1-5 0-0 2, Carter Adams 3-7 0-0 6, Quade Lundberg 0-7 2-4 2, Quenton Jackson 0-0 0-0 0, AndrewTrunzo 0-0 0-0 0, Hunter Miller 2-3 0-0 4. Totals 12-41 5-11 31.
KANE – 38
Frank Truden 2-7 0-0 5, Davis Gardner 2-5 3-3 7, Tyler Rolick 1-4 0-2 3, Andy Bundy 0-3 0-0 0, Andrew Bucheit 7-13 2-5 16, Chris Udovich 2-6 0-0 5, Shane Rolick 1-1 0-0 2. Totals 15-39 5-10 38.
THREE-POINTERS – Brockway 2-9 (Winberg 2-6, Carr 0-1, Adams 0-1, Miller 0-1). Kane 3-11 (Truden 1-2, Udovich 1-1, T. Rolick 1-3, Bundy 0-2, Bucheit 0-2, Gardner 0-1)