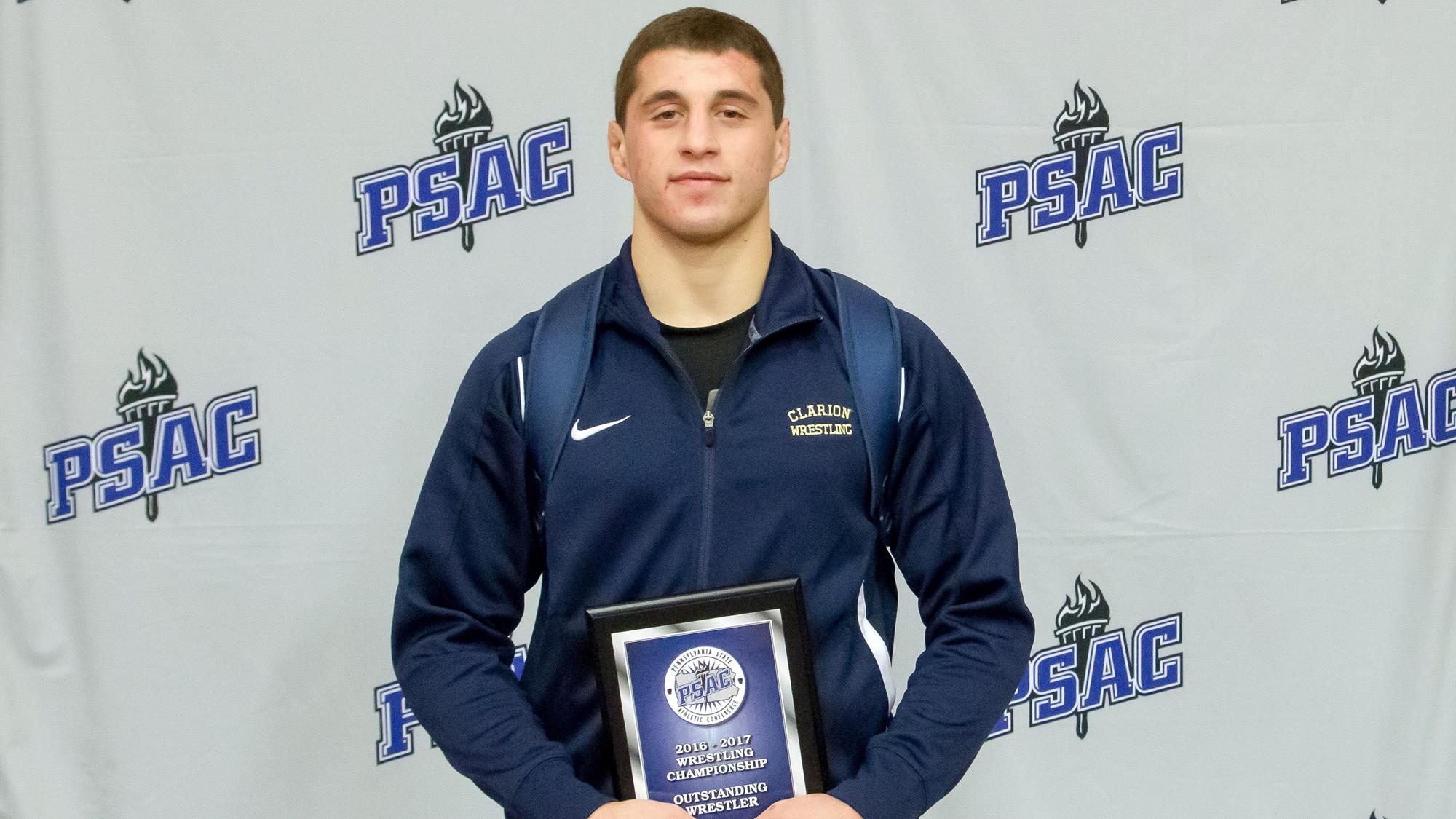 LOCK HAVEN, Pa. – Evan DeLong won the title at 165 pounds and was named Tournament Outstanding Wrestler, and the Clarion wrestling team overcame injuries to take third place at the 2016 PSAC Championships hosted by Lock Haven.
(Photo courtesy of Clarion University Athletics)
The Golden Eagles posted 96.5 team points and had three wrestlers, including DeLong, reach their respective championship matches. Two others took third place, and another fourth, to round out the top finishers for Clarion.
DeLong became Clarion's first PSAC champion at 165 pounds in five years, with the last Golden Eagle to achieve the feat Bekzod Abdurakhmonov at the 2011 championships. He opened with a close 4-2 decision over Lock Haven's Jared Siegrist. He advanced to the semifinals with a much more decisive victory over Gannon's Garrett Smith, winning 8-3, and held on for an exciting 4-2 decision in double-sudden victory over Mercyhurst's Francis Mizia to move on to the finals. DeLong closed the night out with a 2-1 decision over Pitt-Johnstown's Tyler Reinhard to claim the title.
The last Clarion wrestler to win Outstanding Wrestler honors was James Fleming, who took the honor in 2012. Abdurakhmonov was the last 165-pounder to win the award, doing so in 2011.
"Evan took a big step this weekend," head coach Keith Ferraro said. "He stayed composed in really tight matches and he really deserves this award. He definitely grew from his experience this weekend."
Dom Rigous advanced to the quarterfinals on the bye but didn't appear to be rusty in his match with Mercyhurst's Kevin Holman, pinning him just 2:23 into the proceedings to move on to the semifinals. He earned a 4-2 decision over Pitt-Johnstown's John Blankenship to go to the championship round but ultimately had to settle for second place, dropping a tight 6-2 decision to Edinboro's Ty Schoffstall that remained close until the very end.
Scott Marmoll's championship match against Edinboro's Dakota Geer was tied at 2-2 entering the third period, with Marmoll earning each of his first two points on escapes. He started on top of Geer in the third period but Geer countered with a reversal to take a 4-2 lead, and Marmoll ultimately came in second place in his first PSAC Championships experience.
Jake Gromacki responded to an early loss in the 125-pound bracket, rolling through the third-place bracket and ultimately claiming a major decision to take third in the bracket. He started the day with a technical fall over Pitt-Johnstown's Zeke Beatty but fell by pinfall to Kutztown's Austin Petril in the quarterfinals. He pinned Millersville's Austin Carmacci in his first consolation match and cruised past Gannon's Abraham Guarriello for another technical fall. He scored his third tech victory in the next match, beating Bloomsburg's Willy Girard 15-0 to advance to the third-place match, and notched a major decision 14-2 over Lock Haven's Jake Field for the trophy.
Roshaun Cooley also took third place in his bracket, bouncing back from a loss in the semifinals of the 133-pound bracket to claim a win and a spot on the podium. He started the day with an 8-1 decision over Lock Haven's Joe Ghione and followed that up with a 7-5 decision over Seton Hill's Tyler Kenney for a spot in the semifinals. He dropped a 10-1 major decision to eventual 133-pound champion Korbin Myers of Edinboro but squared off with Kenney again in the third-place match, pinning him at the 2:20 mark of the first period for the win.
Taylor Cahill won a couple matches in the 157-pound bracket, ultimately falling in the third-place match to Bloomsburg's Brendon Colbert. Dustin Conti earned a pair of wins in the 197-pound bracket, including a major decision in his opening match, but fell to eventual champion Evan Ramos and finished in sixth.
Edinboro 156.5
Lock Haven 132.0
Clarion 96.5
Bloomsburg 74.0
Pitt-Johnstown 72.0
Mercyhurst 65.5
Seton Hill 57.5
Gannon 57.0
Kutztown 45.0
Shippensburg 30.0
E. Stroudsburg 12.5
Millersville 10.5