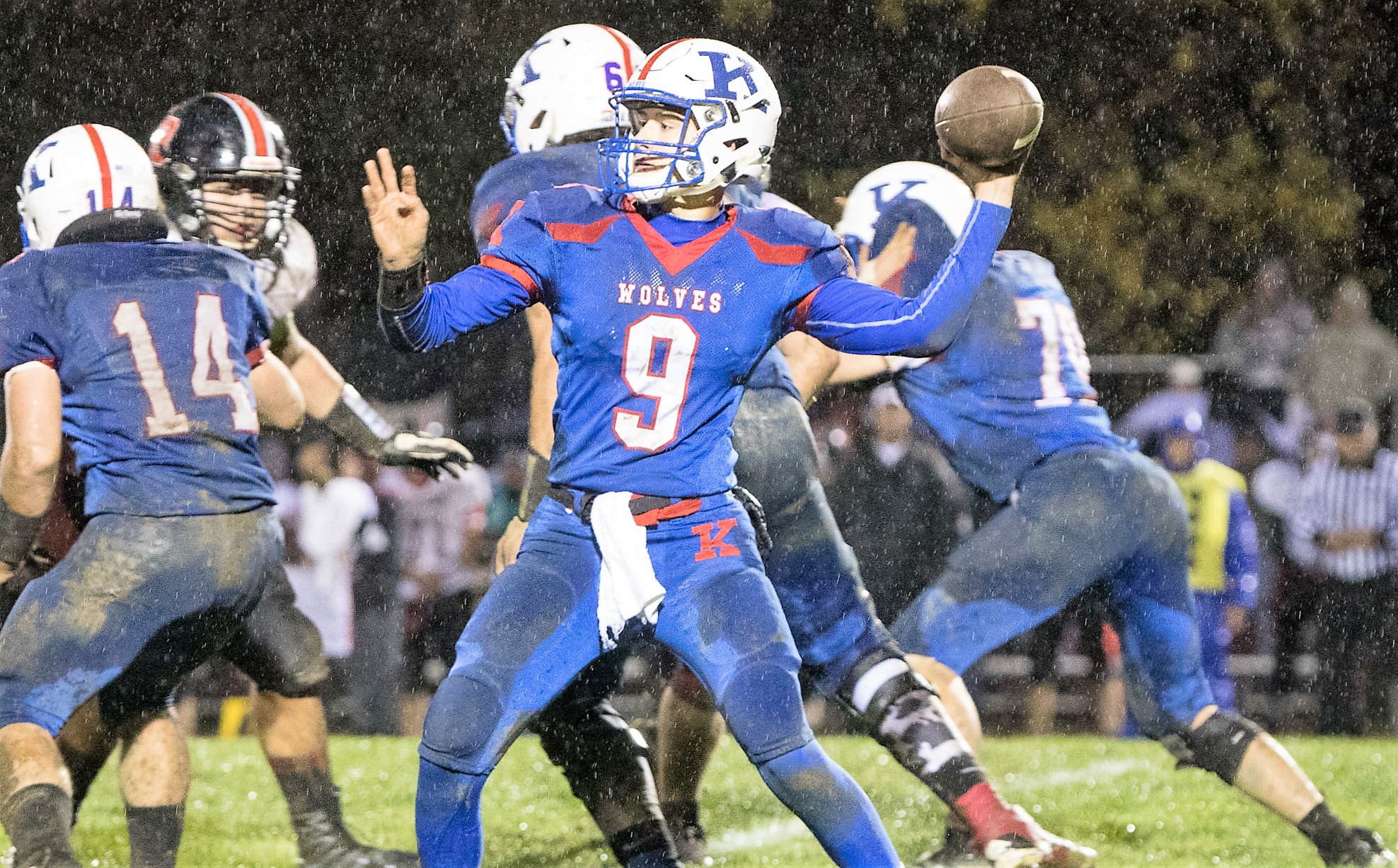 KANE, Pa. – The Kane football team is hoping the third time's the charm.
(Cover Photo of Kane's Reed Williams. Photo by Shawn Murray. Check out more of Murray's work here.)
After losing in the opening round of the PIAA Class 1A playoffs in each of the last two seasons, the unbeaten Wolves (12-0) will try to reverse that trend and get their first PIAA playoff victory since going to the 1A semifinals in 2007 when they play District 5 champion Chestnut Ridge (9-3) in the Class 2A first round at 7 p.m. Friday at DuBois' Mansell Stadium.
"We are excited about the opportunity," Kane head Todd Silfies, whose team lost to Sharpsville, 50-14, in 2014 and to Farrell, 27-6, last year, said. "We've learned a lot. We have a couple of guys who played through both those loses. The intensity level is higher, the speed is faster. You have to come out of the gates and recognize that from the start. We know the competition has been stiff the last couple of years, and Chestnut Ridge is no different. We're looking forward to showing how physical our league is and how tough D9 is."
Kane, which has won 28 of its last 30 games, enters the PIAA tournament with strong numbers on both sides of the football.
On offense, Kane averages 40.7 points per game led by a balanced attack that averages 391.3 yards per game including 231.1 on the ground and 160.2 through the air.
It starts up front for the Wolves with multiple-year starters Keaton Rounsville (6-4, 260), Toby Fox (6-2, 235) and Anthony Smith (5-10, 250) joined by Tyler Snyder (6-0, 225), Gunnar Fryzlewicz (6-3, 185) and Jake Silvis (6-2, 320), who filled in for Smith two weeks ago when he was out with an injury.
"It's been a nice thing over the last few years," Silfies said when asked about his line. "It's a huge credit to offensive line coach Jim Siriani. We can shuffle one or two guys out and one or two in every year. Keaton and Toby have been mainstays as seniors. They picked up the leadership role that (Jake) Shrubb had last year. They fit right into that mold. All of those guys demonstrate a lot of heart, but it comes back to Jim Siriani. He brings out the best in those guys."
The Kane line blocks for a group of explosive skill players led by running back Erik DeLong, who ranks third in D9 in rushing with 1,658 yards while averaging 7.6 yards per carry with 21 touchdowns. DeLong was limited in the 21-14 win over Clarion in the D9 title game last week by an ankle injury that required periodic icing throughout the game, and he did not see any offensive action in the fourth quarter but still managed to rush for 74 yards.
"We are pretty confident Erik will be close to 100 percent," Silfies said. "But these other guys have made plays for us all year. They are incredibly talented in their own right."
The "other guys" Silfies is talking about include Frank Truden, Austin Labesky and Ange Costanzo.
Truden, who ran for 66 yards and a touchdown last week, has 369 yards rushing and six scores on the ground while adding seven catches for 196 yards and two scores.
Labesky has rushed for 329 yards and five scores, and Costanzo has added 102 yards and three touchdowns on just 20 carries.
"Frank is the speed guy, he is fast," Silfies said. "Labesky is the bruiser and Ange is a combo of the two. They are more talented than given credit for."
If Kane has trouble generating yards on the ground, they can always turn to the air where junior quarterback Reed Williams, a southpaw, has been really good all season.
Williams is third in D9 in passing yards (1,922) despite throwing 42 fewer passes the Brockway's Hunter Miller (2,027) and 143 passes less than DuBois Matt Miller (2,506) the two quarterbacks ahead of him. He is completing a D9-best 60.8 percent of his throws (96 of 158) with a D9-leading 26 touchdowns. He has thrown just four interceptions.
"I think the passing game is as good as it has been in my tenure," Silfies, the fifth-year head man who has a record of 51-10, said. "Reed does a fantastic job both situationally and decision-making wise. A lot of that comes back to Tyler Smith, our offensive coordinator, but Reed has done a lot to build trust not only with the coaches but with his teammates."
It helps that Williams has two of the top wide receivers in District 9.
Ray Maze ranks third in the district with 31 catches for 822 yards and 10 touchdowns, while Davis Gardner is tied for 10th in yards with 579 on 40 catches with 10 scores. Both players had touchdown catches last week.
"With Ray, the first thing you think is speed, but he is a great route runner," Silfies said. "He came up with two big catches in a row Friday night. He has gotten some key jump balls over the last couple of weeks.
"Davis is such a competitor. He showed a lot of heart and determination recovering from a significant knee injury. Because of that, he won't accept anything but success."
While Kane's offense has been good, the Wolves defense may be better allowing 9.4 points per game.
That defense will be tested against a Chestnut Ridge team that averages 28.7 points per game led by its quarterback Logan Hauck.
Hauck, a junior, is completing 66.5 percent of his passes (155 of 233) for 2,069 yards with 16 touchdowns and nine interceptions. Six of those picks came in two games – a 3-0 overtime loss to Bald Eagle Area and a 35-21 win over Tyrone. But he has also only thrown three touchdown passes in in his four games despite throwing for 301 yards in a 41-7 win over Berlin Brothersvalley in the D5 title game last week. Hauck is also the leading rusher for the Lions with 909 yards and 12 touchdowns on 171 carries.
"They have an incredibly talented quarterback," Silfies said. "And they have some explosive position players. They are well coached and are fundamentally sound from top to bottom."
The Lions have five receivers with at least 200 yards receiving and at least 16 catches led by Phillip Dull, who has a team-best 44 grabs for 564 yards and eight touchdowns. Dull is coming off a night that saw him grab seven balls for 123 yards and a touchdown.
Justin McCory adds 36 catches for 392 yards and three touchdowns, while Snyder Levi has 20 catches for 362 yards and a score and Jared McGill 20 grabs for 306 yards and a touchdown. Noah Dillow adds 16 catches for 214 yards and two scores.
Kane, at times this season, has had trouble covering the pass most notably in the AML Title Game against Otto-Eldred when Sawyer Drummond threw for 300 yards and four touchdowns against the Wolve's man-to-man coverage.
"Our defense is what it is," Silfies said. "At times, covering passes has been our achilles heel to a bit, and we will need a few different wrinkles put in. But our scheme is in. We will stick with what we do."
EXTRA POINTS
Chestnut Ridge's other two losses have come to Central-Martinsburg, 28-7, and Allegany (Md.), 39-12. The Lions enter Friday's game with a six-game win streak
The Lions do give up 18.6 points per game, although they have given up just 20 in the last two weeks combined
On paper, Chestnut Ridge's schedule is a bit stronger with Lions' opponents putting together a 69-60 (.534) record compared to Kane's opponents which are 63-61 (.508). But Kane's closing schedule has been stronger. The Wolves last five opponents are a combined 34-19 (.642), while Chestnut Ridge's six-game win streak has been built against teams with a combined record of 31-34 (.476)
The winner plays the District 10 champion – either Wilmington or Sharpsville – Nov. 25 or Nov. 26 at a District 10 site