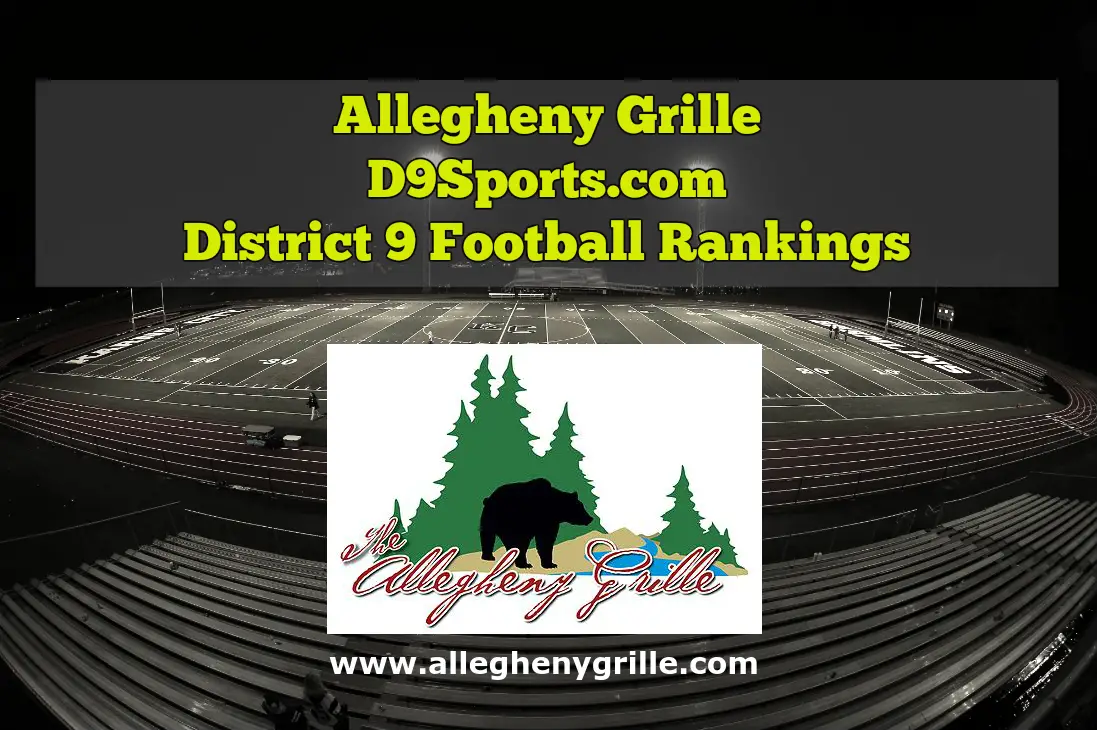 CLARION, Pa. – With some teams having played just one game and others two, the Sept. 6 Allegheny Grille of Foxburg D9Sports.com District 9 Football Rankings remain volatile with nine of the 10 teams remaining the same, including No. 1 Kane, but positions in the top 10 jumping all over the board.
Kane has had an easy time of things in the first two weeks and remains No. 1 for the second consecutive week.
Karns City and Brockway bump up from a tie with Clearfield for third to a tie for second with DuBois dropping from second to fourth after its loss to Conneaut Friday night and Clearfield, which lost to DuBois in Week Zero, sliding into the fifth position.
Rounding out the Top 10 are Curwensville at No. 6, Redbank Valley at No. 7, Ridgway at No. 8, Elk County Catholic at No. 9 and Clarion in at No. 10. Bradford drops out of this week's rankings after losing to Coudersport in overtime.
There is one Top 10 matchup on tap for Week Two with Redbank Valley hosting Karns City.
The Allegheny Grille is a restaurant situated alongside the Allegheny River in Foxburg with breathtaking views, stellar service and fine cuisine. It's open daily at 11 a.m. and on Sunday's features the "Best Brunch in Town" from 11 a.m. to 4 p.m. It's the perfect spot for your luncheons, dinner, meetings, wedding or anything your heart desires. For more information or to make a reservation, call the Allegheny Grille at 724-659-5701 or visit it on the web at www.alleghenygrille.com.
| | | | |
| --- | --- | --- | --- |
| RANK | TEAM | RECORD | LAST WK* |
| 1 | Kane | 2-0 | 1 |
| 2(t) | Brockway | 2-0 | 3(t) |
| 2(t) | Karns City | 1-1 | 3(t) |
| 4 | DuBois | 1-1 | 2 |
| 5 | Clearfield | 1-1 | 3(t) |
| 6 | Curwensville | 2-0 | 6 |
| 7 | Redbank Valley | 1-0 | 7 |
| 8 | Ridgway | 2-0 | 8 |
| 9 | Elk CC | 2-0 | 9 |
| 10 | Clarion | 1-0 | NR |